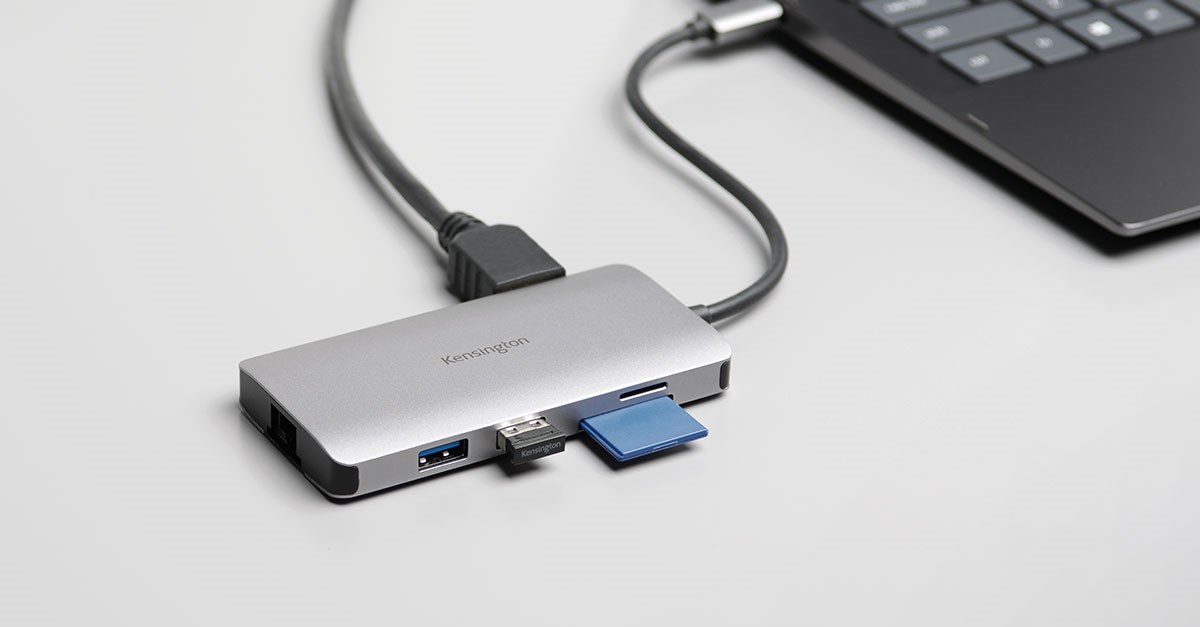 London, October 15 2021 – Kensington®, the worldwide leader in desktop computing and mobility solutions for IT, business and home office professionals, announced today the launch of its new UBS-C Driverless Mobile Dock together with new 100 USB-C Gallium Nitride (GaN) Power Adapters, expanding their comprehensive range of universal docking station solutions.
With the increasing demand for flexible and remote working, Kensington's UH1400P USB-C 8-in-1 Driverless Mobile Dock brings connectivity and productivity wherever you need it. The USB-C Driverless Mobile Dock is an ideal plug and play solution for home and work environments or on the go. Simply connect to your laptop USB-C port to extend your experience. Offering an easy portable solution for any laptop device, the mobile dock is universally compatible with Windows, macOS, ChromeOS, iOS or Android.
Compact but powerful, the USB-C Driverless Mobile Dock features 8 ports for connectivity, including 3x USB-A 3.2 Gen1 ports. The dock supports 85W power pass-through which when paired with the new 100W USB-C Power Adapters allows a laptop to be charged via the dock. Ultra HD video output (Single 4K @ 60Hz) extends visual productivity with high resolution, contrast and colour depth via the HDMI port. A built-in SD and Micro SD 3.0 UHS-I Card Reader makes transferring photos fast, easy and convenient, adding flexibility to your file transfer needs.
Designed to fit in your backpack or laptop case for easy portability, this docking solution allows you to get the full desktop experience with a single cable connection. Its metal finish makes for a minimalistic and sophisticated design to fit with the latest laptop models in the market. As manufacturers shift to making slimmer, more compact models with limited connectivity slots, the USB-C Driverless Mobile Dock ensures you are always connected wherever you are.  
The 100W USB-C GaN Power Adapters utilise Gallium Nitride technology that allows for cooler, faster and more efficient charging in a more compact design. Available in UK (K33821UK) and EU (K33821EU) plug variants, the charger is perfect as a replacement or additional power adapter and includes a 2m USB-C cable.
"We have spent the last year building new solutions to help professionals adapt to the new business landscape. With the rise of hybrid working comes the need for tools that help today's mobile professionals stay connected and productive, as well as enhance our users' device experience, at home or on the go. The USB-C Driverless Mobile Dock together with the 100W GaN chargers are yet another example of our standard to meet our customers changing needs in the workplace through adaptability and innovation", commented Jackie Dowson, Senior European Product Manager, Kensington.
Kensington's USB-C Driverless Mobile Dock and Power Adapters present a solution for everyone, suitable for business professionals, university and at home connectivity. Easily connect all your external devices and accessories and charge your laptop to extend your productivity capabilities in any setting.
Both the UH1400P USB-C 8-in-1 Driverless Mobile Dock and 100W USB-C GaN Power Adapters are backed by a two-year warranty and support.
SRPs:
K33820WW UH1400P USB-C 8-in-1 Driverless Mobile Dock £79.99 / €84.99
K33821UK 100W USB-C GaN Power Adapters £64.99 / €69.99
Resources:
Follow Kensington on:
About Kensington
Kensington is a leading provider of desktop and mobile device accessories, trusted by IT, educators, business, and home office professionals around the world for more than 35 years. Kensington strives to anticipate the needs and challenges of the ever-evolving workplace and craft professional-tier award-winning solutions for organisations committed to providing peak professionals the tools they need to thrive. The company prides itself as The Professionals' Choice, and on its core values surrounding design, quality, support, and sustainability.
In office and mobile environments, Kensington's extensive portfolio of award-winning products provides trusted security, desktop productivity innovations, and ergonomic well-being.
Headquartered in San Mateo, California, Kensington is the inventor and worldwide leader in laptop security locks. Kensington is a division of ACCO Brands (NYSE: ACCO), one of the world's largest designers, marketers, and manufacturers of branded business, academic, and consumer products, sold in more than 100 countries across the globe.
Kensington is a registered trademark of ACCO Brands. Kensington The Professionals' Choice is a trademark of ACCO Brands. All other registered and unregistered trademarks are the property of their respective owners.
© 2021 Kensington Computer Products Group, a division of ACCO Brands. All rights reserved.
Contact us: