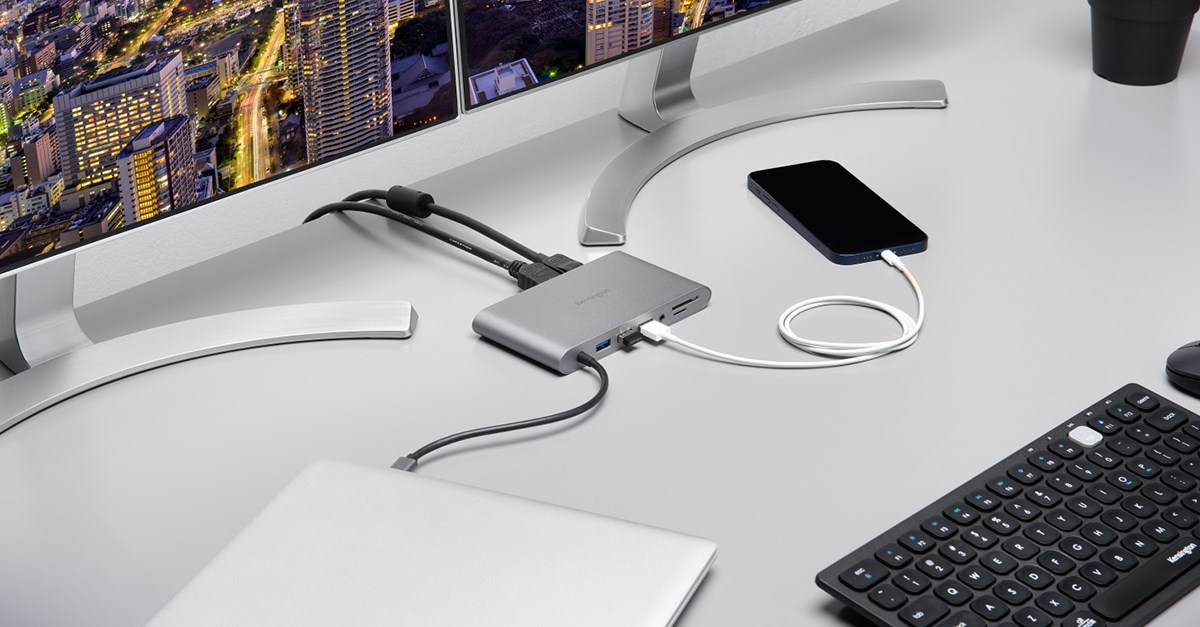 Both Windows laptops and MacBooks are extraordinarily versatile productivity devices. However, they can differ in how they work with external monitor displays. If you use a convenient, portable mobile docking station with your laptop, it helps to understand the differences between the DisplayPort modes known as SST and MST, and how these modes present different display capabilities for Windows and macOS systems. 
What is SST (Single Stream Transport mode)? 
Single Stream Transport mode is based on the original DisplayPort 1.0 technology introduced in 2006. SST mode allows only one external downstream device at a time through a single downstream port. However, SST can allow the second screen to be "mirrored" to other monitors. (In Mirror mode, the display is duplicated so that you see the same picture on all external monitors.)
Here's a link to some of the Kensington mobile hubs and docking stations that can help you make the most of laptops that utilize SST mode for external displays.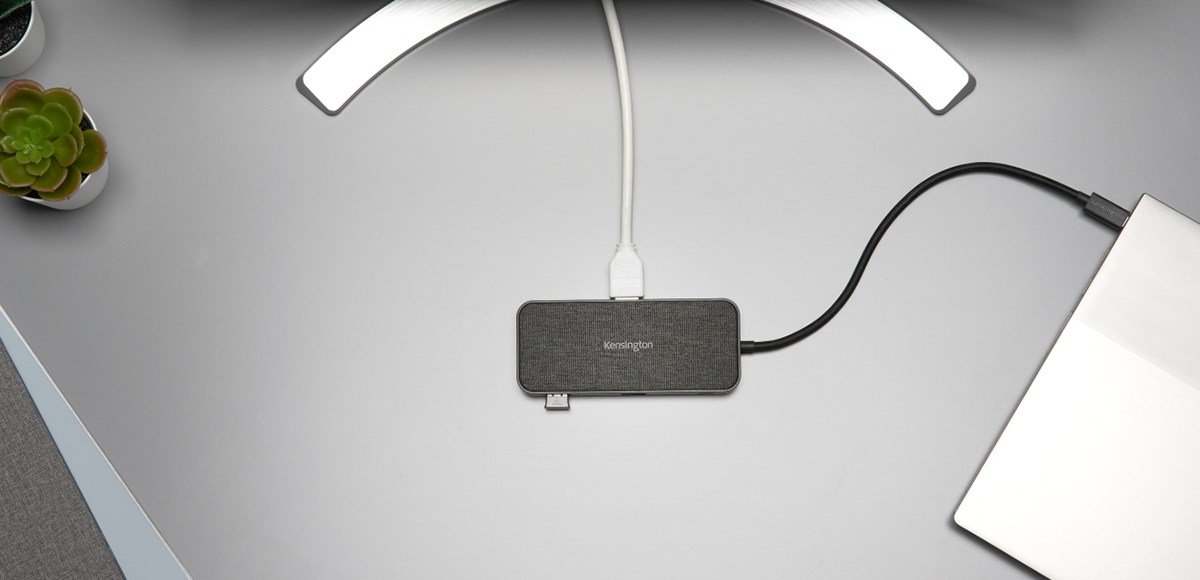 What is MST (Multi-Stream Transport mode)?

 
Multi-Stream Transport was introduced in 2010 as part of the DisplayPort 1.2 standard. Any device with DisplayPort 1.2 or higher now includes MST mode capability, which allows you to stream independent video displays from a single laptop host. Extremely useful for presentations and other display applications, MST can carry a signal for two or more monitors on a single cable, allowing for daisy chaining or hub configurations of multiple 4K monitors.
Here's a link to some of Kensington's USB-C mobile dock solutions for MST-compatible laptops.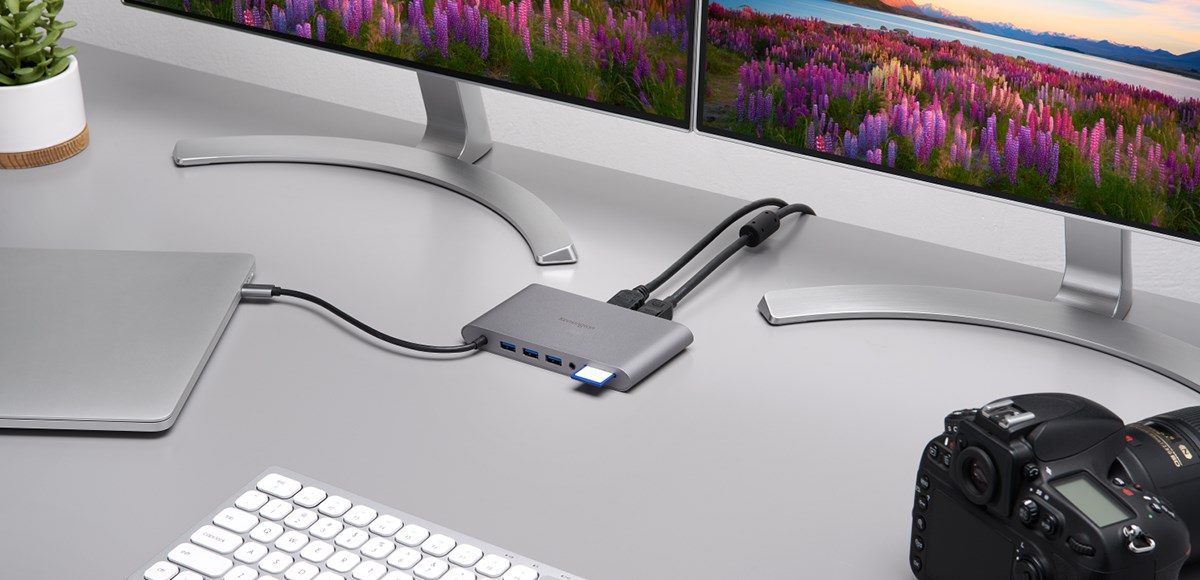 MST vs. SST (aka Windows laptop vs. Apple laptop)
Because of their different operating systems and different chip architectures, Windows laptops and MacBooks handle multiple displays differently. This requires careful consideration of the right laptop docking station to achieve the desired productivity when connecting to multiple monitors. 
If you have a Windows laptop
Windows laptops universally support MST mode. Therefore, using a Kensington USB-C MST mobile dock with your Windows laptop lets you display two external monitors in Extended mode. (In Extended mode, the external display is treated as a separate screen so that you can have different windows open on the laptop screen and connected monitors, thereby extending your workspace or opening up creative possibilities for presentations.) The displays can also have different landscape or portrait perspectives. 
Here's an example of how a Windows laptop can utilize MST mode using the Kensington UH1460P Mobile Dock and multiple monitors: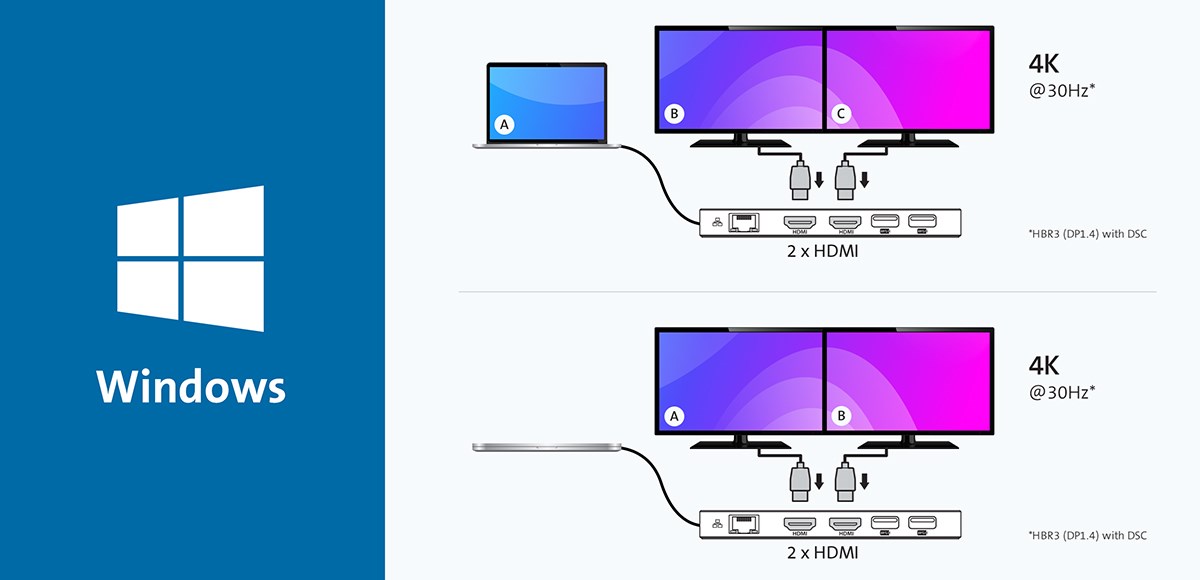 If you have a MacBook
Any laptop running macOS currently supports SST mode only when connected to a USB-C dock. When you use your MacBook with a USB-C MST mobile dock, you can only display dual screens in Mirror mode, with the two displays sharing the same landscape or portrait perspective. 
Here's an example of how a MacBook display using multiple monitors would appear using the Kensington UH1460P Mobile Dock:
Clever solutions from Kensington for MacBook users
As you've seen, macOS laptops currently do not support MST mode with a USB-C MST mobile dock. Due to this compatibility issue, Apple users who need multiple monitors to streamline workflows and complete their tasks have struggled to find a solution. However, there are other ways to set up two monitors for your macOS laptop depending on your base chipset. 
If you need multiple monitor support for your Apple M2 MacBook Air that only supports a single display (or if you have the original M1 MacBook), Kensington has you covered with our range of industry-leading DisplayLink docking stations for two monitor displays in Extended mode. 
Additionally, for M-series Pro, Max, or Ultra-powered MacBooks, Kensington has several Thunderbolt solutions that allow the use of multiple displays in Extended mode.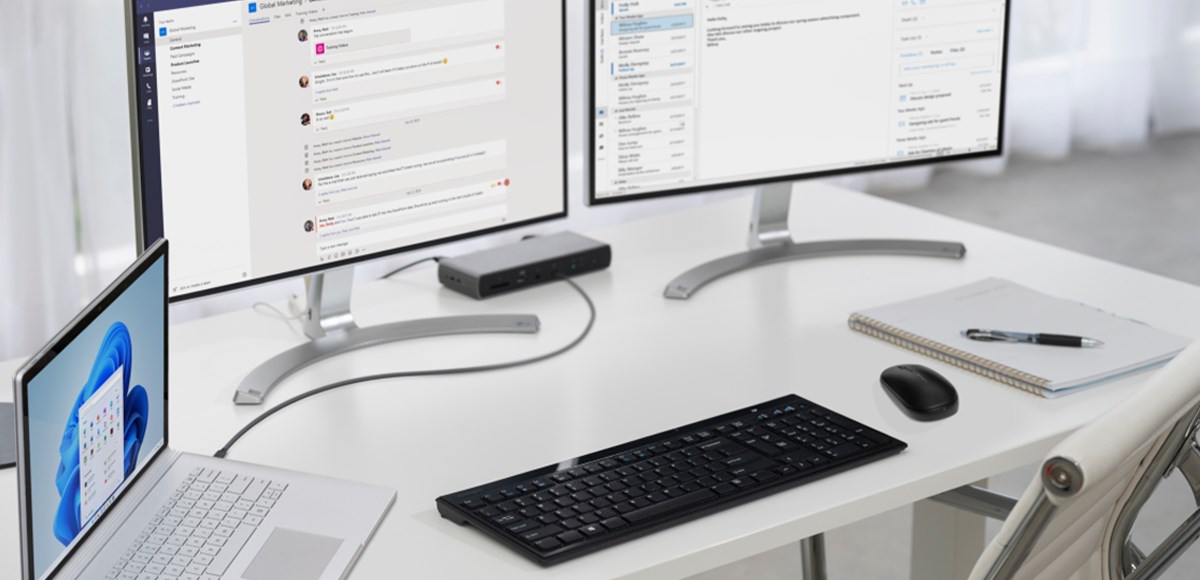 The choice is yours
There are many factors involved as to why some laptop users prefer the Windows environment and others favor the macOS ecosystem. Regardless of your preference, that shouldn't get in the way of using multiple monitors to their best advantage. As new technology emerges, Kensington continues to innovate and provide new solutions for laptop users seeking the best in productivity, regardless of their choice of operating system.