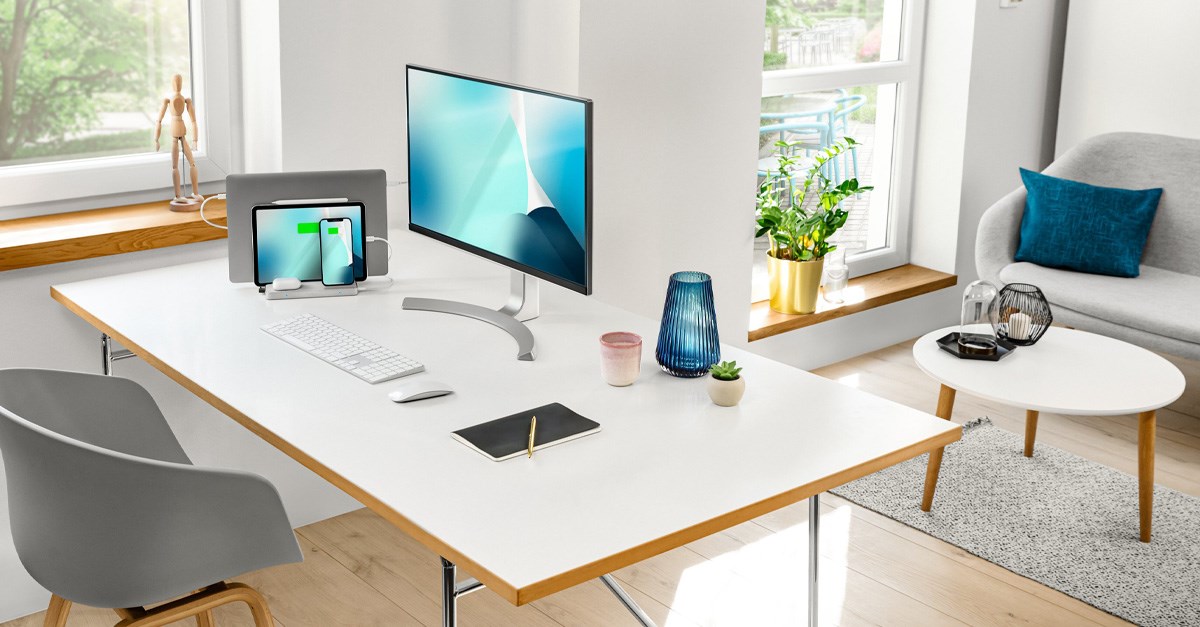 Apple users can look forward to a brilliant future. The company is going above and beyond with innovative designs that enhance productivity, maximizes convenience, and delivers superior performance across the entire Apple ecosystem. If you want a minimalist setup and need to maximize desktop space, don't fret as you can create an arrangement that keeps your devices charged, accessible, and organized with a Qi wireless charging pad.
Arranging a Minimalist Desk with Apple Qi Charging Station
First, you may want to know what is Qi charging.
Qi charging was included in the Apple iPhone 8 and iPhone X since 2017. Instead of having to connect your iPhone to a cable, you could simply place your device on a pad that uses inductive charging to power your phone. Apple continued releasing new devices that use the Qi charging standard and today, you can charge your iPhone and AirPods wirelessly.
Although the new wireless charging pads allow you to charge your Apple products easily, the more devices you have the more space you'll need to accommodate everything. Having devices spaced out on your desk leads to clutter from all your charge cables and creates a disorganized workstation.
To assist you with keeping your desk organized, Kensington built the StudioCaddy™ with Qi wireless charging helps organize all your Apple devices neatly. With the StudioCaddy™, you can reduce clutter, charge your iPhone, Airpods – and arrange your other devices on your desk to save space.
Charging for Your Entire Apple Ecosystem
When you start adding more devices like an iPad, Apple Watch, and AirPods to your desk setup, you're creating an Apple ecosystem. The more devices you add, the more cluttered your desk will become especially if you're working outside the office with limited space.
With the StudioCaddy™, you can arrange all the devices in your Apple ecosystem neatly on your desk, regardless of it's at home, at the office, or in a coffee shop. The consolidated, compact design makes it ideal for charging your wireless-enabled devices and storing your MacBook Pro, MacBook Air, iPad, and iPad Pro (up to 12.9 inches). It provides you with enough space to charge your AirPods, iPhone and Apple watch (charge cable for the Apple watch is not included).
A Space-Saving and Accessible Design
Work from Anywhere (WFA) is now part of the new normal. The StudioCaddy™ gives you integrated storage, charging, and viewing system wherever you may roam. For home offices, you'll have a permanent place for every device and when you are on the move, you can pack up your entire Apple ecosystem and set up your desk anywhere you want.
Turning your Apple ecosystem into a mobile workstation is easy and convenient with the StudioCaddy™.
Ultimate Flexibility that Keeps You Connected Everywhere
The StudioCaddy™ isn't just a vertical storage system – it's also an iPhone wireless charger, desk organizer, and mobile desk solution. The wireless charging pad works with your Apple AirPods, while you can easily attach and detach your iPhone to the wireless charger stand in portrait or landscape modes.
As the iPhone and AirPods charge station is detachable, you can configure your desk the way you want without losing any flexibility. The additional USB-A and USB-C ports give you additional power options for any other devices like your Apple Watch.
A Solid Base to Store Your Entire Apple Ecosystem
A sturdy design means the StudioCaddy™ supports all the devices in your Apple ecosystem. You can store your MacBook Pro, MacBook Air, iPad, iPad Pro, iPhone, Apple Watch, and AirPods. With the StudioCaddy™, your desk is functional, organized, and productive in any work environment.
The new StudioCaddy™ adjusts with you to any of your current work arrangements, giving maximum flexibility and versatility without taking up excessive real estate on your desk. You can charge, view, or store your devices even when having to stay on the move.
Compatible with Your Accessories and Cases
Designed to work with accessories and cases like the Apple Magic Keyboard, Smart Keyboard, and the BlackBelt™ line of protective cases from Kensington, you can rest assured your StudioCaddy™ is ready for any challenge. You won't have to remove your accessories or take your iPad out of the BlackBelt™ case when storing your ecosystem or charging your devices.
For the ultimate versatile storage, charge, and viewing solution, the StudioCaddy™ provides a complete system to reduce clutter while keeping you productive.
Other Apple Ecosystem Accessories from Kensington
Kensington continues to develop innovative solutions that support the entire Apple ecosystem. Wireless charging will become the standard in the future and investing in a smart, efficient, and organized system now will support you long into the future.
Apple is working to include wireless charging as part of their new range of MacBook capabilities, but you'll still have limited space even once this becomes available. Kensington's StudioDock™ and BlackBelt™ Rugged Case help extend your capabilities while supporting all the latest developments from Apple.
Complete Your Workstation with the StudioDock™
Kensington's StudioDock™ gives you the ability to magnetically attach your iPad and iPad Pro to the docking station for improved productivity. You can accommodate all your Apple devices without compromising your minimalist desk setup.
With the StudioDock, you get:
Single 4K HDMI 2.0 Video Support
Charging for your AirPods, iPhone, and Apple Watch (charge cable not included)
USB-C charge port for your iPad and landscape or portrait orientation
A host of ports including USB-C, USB-A, Ethernet, and 3.5mm audio
Protect Your iPad with the BlackBelt™ Rugged Case
Built to military standard MIL-STD-810G, the BlackBelt™ Rugged Case for iPad 10.2 inch provides maximum protection for your device. It comes with a variable kickstand to support your setup in any environment, helping you remain productive from anywhere. A sleek and accessible design means you don't have to remove the case to connect any of your ports, while the firm grip from the handstand keeps you productive even when on the move.
Trust Kensington with Your Apple Ecosystem
Kensington remains committed to developing modern, functional, and space-saving solutions that support your work regardless of your environment. Our new StudioCaddy™ gives you complete versatility without compromising on quality and ensuring you can accommodate all your Apple devices in a single space-saving storage, charging, and viewing system.