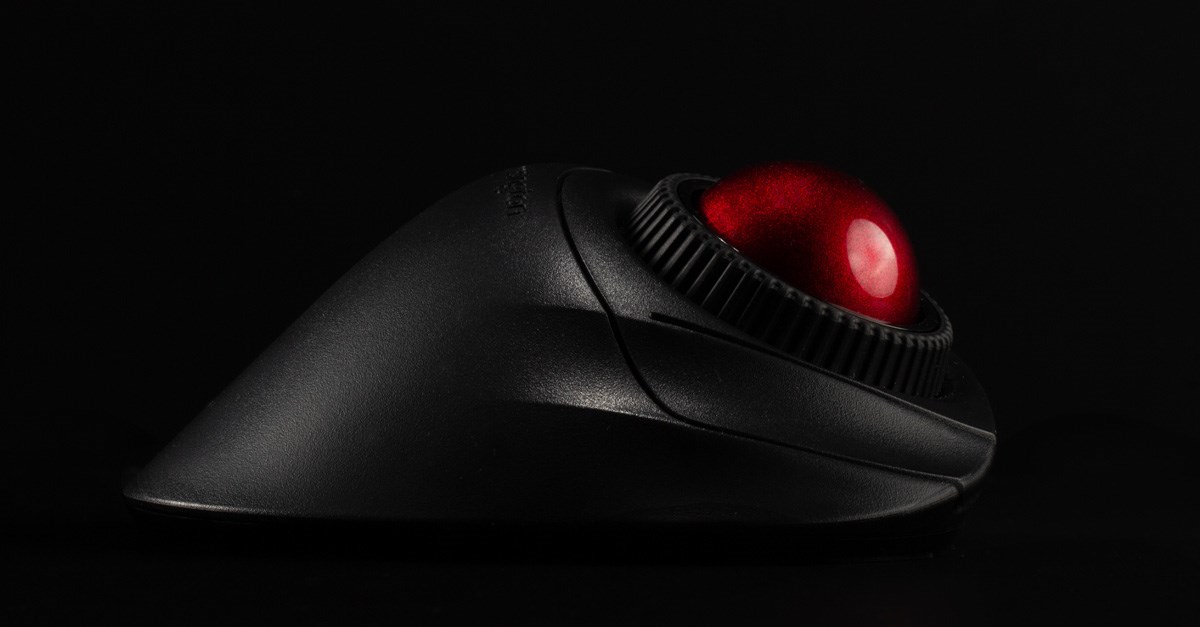 It's more than likely that you have a personal preference when choosing an input device for your computer. These habits form over years of use and once you are comfortable, very little will sway you to try a new product. For decades, the humble mouse and keyboard seemed to reign supreme, with little changes to the designs since the first models.
When you work behind a desk, you're probably used to having a mouse or at least a trackpad for pointing and clicking objects on the screen. The inventor of the mouse, Douglas Engelbart, passed away in 2013 but not before seeing his creation take the computer world by storm after shipping with the Macintosh computer in 1984. What may surprise you is that trackballs predate the computer mouse by more than 20 years.
Why Convert to a Trackball Mouse?
Although most people will make a decision based on their personal experiences, trackballs provide benefits that could be lacking from a regular mouse. The debate over which is best has raged in forums, blogs, and technology review websites all over the internet since the 1990s.
A trackball uses an optical sensor and a ball to manipulate the pointer with either your thumb or forefinger. With a mouse, you need to move the entire device on a surface, making it difficult to navigate when using multiple monitors. Both methods of control use different muscles when working with either type of device. A mouse would also require more effort to execute precision movements.
For gamers and professionals who need exact navigation and want to prevent wrist fatigue, trackballs have become essential devices. Being able to maneuver the pointer easily anywhere on the screen while the device remains static makes trackballs popular with advanced users. For those who worry that the learning curve required to convert to a trackball may be too steep, the Orbit® Fusion™ wireless trackball can help overcome this challenge.
Shaped like a mouse for a familiar look and feel, the forefinger operated trackball and Kensington's patented scroll-ring make this the best option for converting from a mouse to a trackball. Developing the Orbit Fusion took over two years, and our team created many iterations to find an optimal design suitable for both experienced and first-time trackball users.
Say Hello to the Kensington Orbit® Fusion™ Wireless Trackball
Kensington has become synonymous with ergonomic solutions that help you stay healthy and maintain a comfortable posture when spending hours behind your desk. Our newest edition combines the power of a mouse with the precision of a trackball. The Kensington Orbit Fusion Wireless trackball is the perfect solution for those people used to working with a mouse but looking to convert to a trackball instead.
By designing the Orbit Fusion wireless trackball in the shape of a mouse, you'll get the hang of working with the device in no time. After experiencing the superior comfort and ergonomic support of the trackball, you'll likely never think of using a mouse again.
Features of the Orbit Fusion Wireless Trackball
The latest addition to Kensington's ergonomic trackball line of products comes packed with features to improve your productivity and comfort. The layout is similar to a standard mouse but comes with an ergonomically-approved design that provides a more natural position for your hand and wrists when using the device.
The familiar shape makes this the ideal mouse-converting trackball. The trackball is situated below your index finger, helping you adjust to the new input device quickly. Additionally, you'll have the ability to customize your device buttons to suit your daily tasks, making you more productive.
The main features of the Orbit Fusion Wireless trackball include:
Wireless connection from a 2.4GHz nano receiver with a USB-A to USB-C adapter included making it perfect for any type of PC or device with a specific port configuration.
Plug and play connection with no additional software required.
Premium precision from the 40mm trackball, which is easy to remove and clean if necessary.
Longer battery life with up to 14 months of use from a single AA battery.
Easy control over multiple monitors without requiring more desk space or excessive mouse movement.
A patented scroll-ring to make navigation even more convenient.
The triple-DPI switch also makes it easy to change precision levels on the fly. With the sculpted mouse-like design, it also delivers a more natural alignment of your forearm, palm, and wrist position. You also can customize the five buttons for repetitive tasks, providing you with even more efficiency gains. The Orbit Fusion wireless trackball ushers in a new era for those who thought transitioning from a mouse to a trackball would be too difficult.
Customizing Your Mouse Trackball with KensingtonWorks™
To take your speed and efficiency to the next level, you can customize your Orbit Fusion trackball with KensingtonWorks™. KensingtonWorks allows you to change button assignments, add shortcuts to a specific button for repetitive tasks, and launch applications if required.
The software enables you to configure your mouse trackball for any kind of workflow. KensingtonWorks can customize your buttons for different applications, system tasks, or quickly switch between tabs, windows, or virtual desktops.
Make the Switch to a Comfortable Input System with the Kensington Orbit® Fusion™ Trackball
With this product launch, even long-term proponents who believe in the advantages a standard mouse brings will be hard-pushed to deny the benefits. A wireless trackball brings greater convenience and ergonomics to your workstation. It delivers all the comfort of a mouse with the power of a trackball while helping anyone unfamiliar with trackballs to convert to the new device easily.
Trackballs are popular with anyone who spends a lot of time behind a computer performing precision tasks but is also suitable for routine operations like browsing the internet or doing word-processing on their PC. The Orbit Fusion gives you the familiar feel of a mouse but comes with greater flexibility, control, and, ultimately, comfort.
Kensington's Orbit Fusion is perfect for anyone who wants more precise control without needing to retrain their brain to use a trackball.
If you want to find out more about Kensington's Orbit Fusion wireless trackball or purchase one for your set up, see our support page for all the information you need.