The best keyboards for a work from home set-up are:
Slim Type Keyboards

, for those with limited space at their desk.

Pro Fit® Ergo Keyboards

, in case comfortability is the asset you appreciate the most.

Pro Fit® USB Washable Keyboard

, designed to be completely waterproof.
Think all a computer keyboard does is let you create words on a screen? Think again.
The first computer keyboard had 84 keys – today, keyboards with over 100 keys are standard. That's 50-something keys doing something other than entering a letter, number, space, or punctuation mark into that work email.
Another way to look at it: that's 50-something possibilities to elevate your productivity.
But which, oh which, is the best possible combination of functions and features?
That depends on you. Your work style. Your office space.
If you're one of the millions of people setting up your new home office to work remotely this spring, don't start shopping until you've taken a moment to consider the vast array of keyboards and possibilities out there.
We know a thing or two about picking out the best keyboard. Read on to get some ideas.
Table of contents:
How to Choose the Right Keyboard for Me?
Whereas the first keyboards – those found on typewriters – were little more than a lever attached to a stamp, modern keyboards sport a whole range of functions.
What Do You Need?
Working from home presents its own opportunities and challenges – your hardware needs to address both.
If you've found yourself in the market for a new keyboard to handle your newly remote position, consider these things before you start shopping:
1. How much space do you have?
Do you have a dedicated home office space, or will you set up wherever there's free space? That will directly impact the size of the keyboard you need.
2. How will you use your keyboard?
Jobs that involve a lot of typing will benefit from a different type of keyboard than those primarily relying on the computer mouse or input device.
3. Are you mobile?
Whether or not your keyboard will sit in place all the time, or if it will come with you to the coffee shop will influence your decision.
Our Top 3 Favorite Working from Home Keyboards
The best keyboard is a highly personal opinion. From typing style to hand position, make sure you're getting a device fully suited to your unique work style. Here are our recommendations for computer keyboards suitable for working from home.
1. Slim Type Keyboards
For professionals with limited desk space, giant keyboards aren't practical. That's why we developed our Slim Type keyboards. Compact, with a narrow design they'll fit almost anywhere. Choose the wired version if you prefer not to mess with batteries. 
Whichever option you pick, you'll get:
A sleek, comfort-focused design ideal for touch typists
Quick-access keys for accelerated productivity
Universal compatibility with your preferred operating system
Plug-and-play installation to get you typing faster
An easy-to-pack device that's less than an inch thick
2. Pro Fit® Ergo Keyboards
For those designing a full home office, the Pro Fit® Ergo keyboard line delivers comfort and functionality in a single device. Choose between both black and gray versions to match the aesthetics of your workspace. 
You can even trick out your space with a matching mouse to complete the set.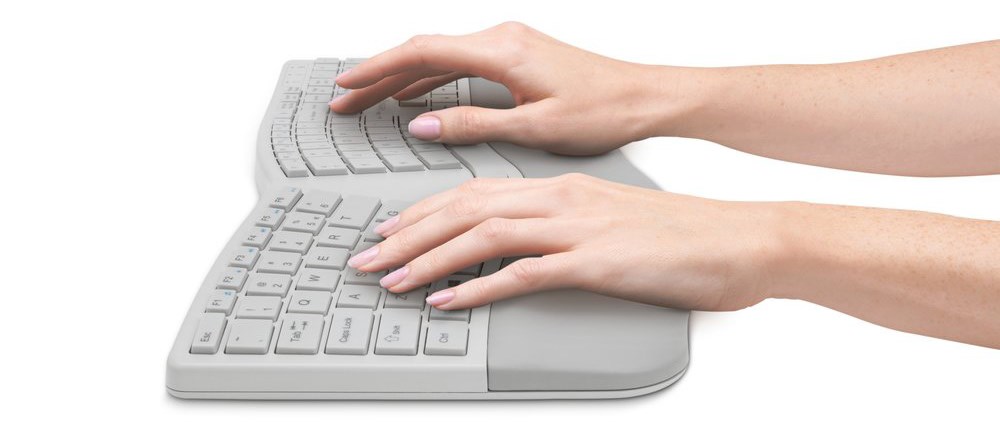 The Pro Fit® Ergo line best suits professionals with keyboard-intense work. Among the many features we've loaded it with for your benefit include:
An ergonomist-approved design: Enjoy a curved surface, adjustable reverse tilt, and built-in wrist rest to keep the pressure off your soft tissue.
A durable keyboard: Get spill-proof, quiet and sleek productivity at your fingertips.
Popular navigation features: Caps lock, numbers lock, scroll lock and all the F-keys you'll ever need are in easy reach.
Plug-and-play installation: Simply insert the USB or receiver and get typing.
3. Pro Fit® USB Washable Keyboard
Spill-proof is pretty neat, but have you ever heard of a washable keyboard? Seriously – they're real. The Pro Fit® USB washable keyboard means never again panicking about spilled coffee.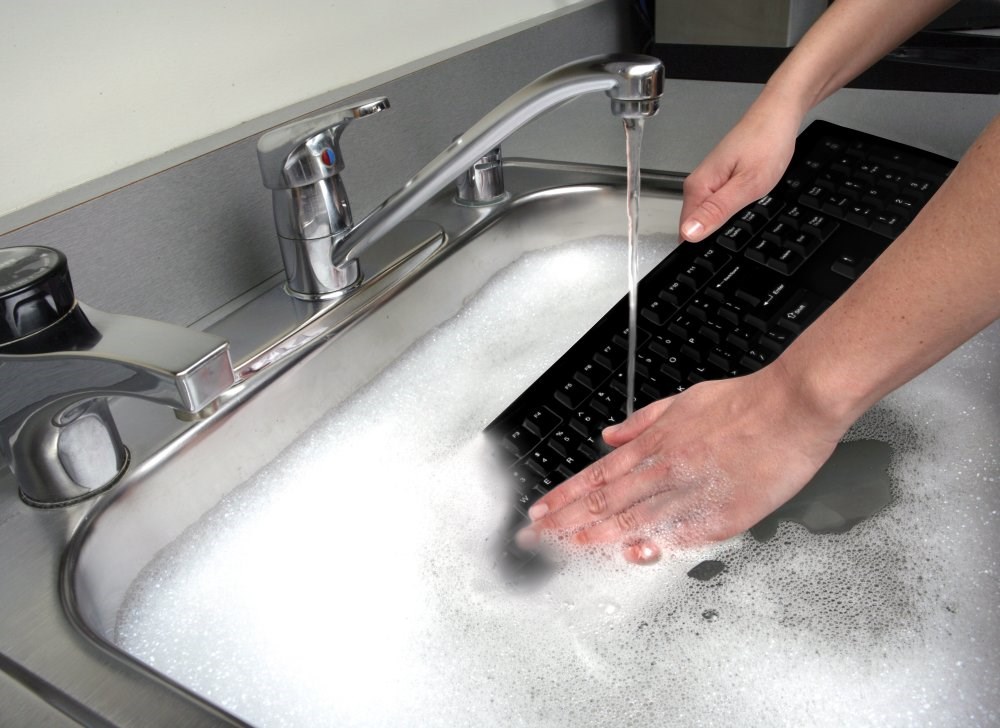 Eliminate the mess by spraying down this keyboard, and enjoy a cleaner level of productivity thanks to:
A fully waterproof design: We've put a thin membrane between the keyboard's internal components and the world.
Antimicrobial ABS reduces spread of bacteria that can cause stains and odors on the product
A lifetime limited warranty: We'll replace it if anything ever happens to it (just don't immerse the USB plug).
Write, Code, and Command in Comfort with Kensington
A computer keyboard is the cornerstone of your digital productivity – make sure you're using the right one. Kensington offers a wide range of devices for every typing style and need.
Whether you prefer a low-profile, sleek device or a full-sized tricked out with all the comfort features, we've got you covered.
Set yourself up to work comfortably and effectively with a remote workspace as personalized as the rest of your home.
We've got something for everyone. Check out our full line of ergonomic keyboards to discover your ideal solution.