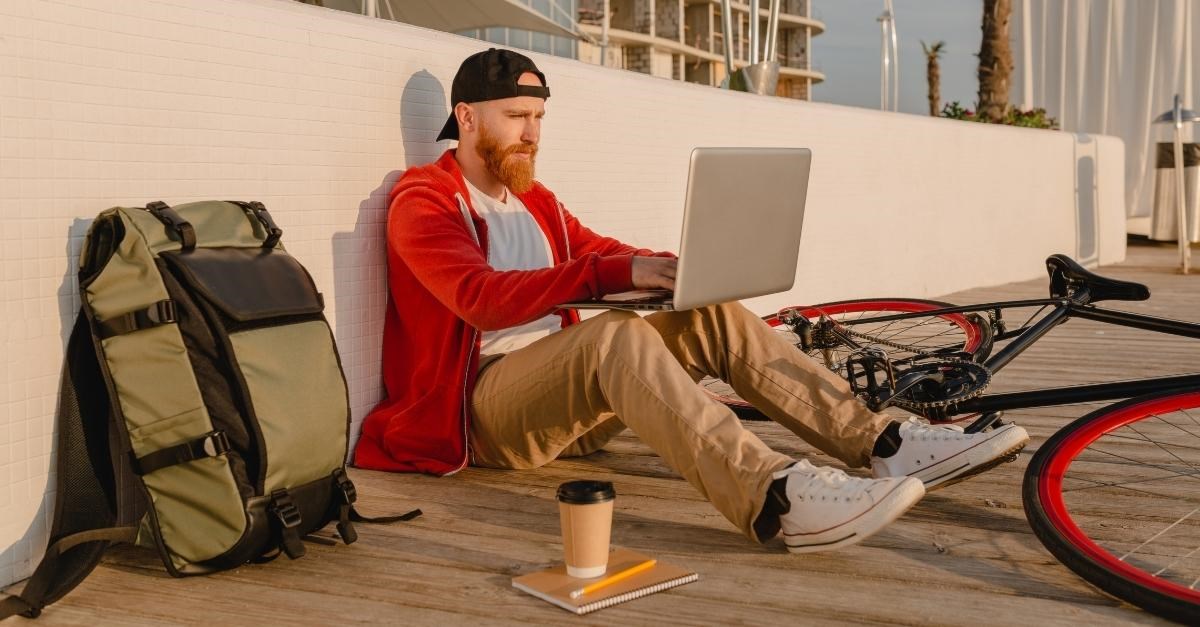 The days of traditional office workstations are becoming increasingly obsolete as organizations recognize the advantages of a remote and hybrid workforce. More people are selecting careers that don't require them to work in an office, factory, or designated location.
Remote workers need portable equipment to remain productive while working outside their home or office. Kensington offers these products for those without a dedicated office space.
1. Laptop Riser
Ergonomics can help reduce the risks of injury due to a musculoskeletal disorder (MSD). An MSD can lead to over 150 conditions that affect an individual's locomotor system. 
People without dedicated workspaces are more likely to suffer from these conditions. This is due to the lack of a proper ergonomic setup. 
The perfect ergonomic solution is a SmartFit® Easy Riser™ Go laptop riser. This Kensington laptop riser combines ergonomics with the benefits of increased air circulation.

Product features include:
A sleek 2-in-1 design with height and angle adjustability 
Promote proper eye alignment
Supports for neck and shoulder comfort 
Adjustable cooling stand that dissipates heat buildup
Padded inserts for a secure fit
Slim foldable design for travel
Stability-focused design
2. Wrist Rest
An ergonomic computing accessory you will need as a remote worker is an ErgoSoft Wrist Rest. You can even use these wrist rests with your trackball.
A wrist rest positions your wrist at the proper angle for optimal comfort. It can reduce the risks of sustaining injuries like tears, sprains, strains, back pain, and herniations. They can also reduce the risk of developing carpal tunnel syndrome (CTS) or other repetitive stress injuries (RSI). 
This Kensington product has a professional-level design and is ergonomist approved. The premium gel-cushioned exterior has an ultra-soft feel for unmatched quality and comfort. 

3. Compact Keyboard
Kensington's Multi-Device Dual Wireless keyboard is another excellent choice for those without a dedicated workspace. Its sleek, compact design makes it easy to take this keyboard with you anywhere.
Connect up to three devices for optimal productivity. Switch from your laptop, tablet, or smartphone with ease in just seconds. 
Your wireless compact keyboard is compatible with Windows, iOS, Mac, and Chrome operating systems. It's even optimized for your Windows 11 keyboard needs. 

4. Wireless Mouse
Every digital nomad and remote worker needs a good wireless mouse. The SureTrack™ Dual Wireless Mouse features adaptable wireless pairing so that you can connect multiple devices. 
The advanced tracking technology means your mouse will work on nearly every surface. Its triple DPI button allows you to adjust the cursor speed settings. 
Its universal compatibility means that it will work with various operating systems. It will boost your productivity with:
Increased connectivity options
Enhanced security
Advanced personalization
AES 128-bit encryption
5. Fingerprint Key
Working without a dedicated workspace requires a level of security office workers often take for granted. Kensington knows the importance of keeping your laptop secure. They have dedicated years of research to the physical security of your devices.  
As a remote worker or digital nomad, you can secure your laptop with a VeriMark™ Fingerprint Key. These biometric keys offer a FIDO Universal 2nd Factor (U2F) authentication that ensures that no unauthorized person gains access to your device.
6. Portable Docking Station
For optimal connectivity, you'll want a USB-C Single 4K Portable docking station with a 100W power pass-through. You can connect your laptop's USB-C power adapter into the docking station to provide pass-through power for your laptop. 
You can use the laptop's battery to power the dock and the connected devices. It's perfect for when you're traveling or working outdoors. 
Product features include:
Versatile video connections (VGA Full HD 1080p @ 60Hz or HDMI 4K @ 30Hz outputs)
A USB-C 3.2 Gen1 port
Two USB-A 3.2 Gen1 ports
A 1Gbps ethernet port
Sleek, compact design
Cable storage clips
Samsung device and USB-C iPad support
Three-year warranty

7. Privacy Screens
MagPro™ Privacy Screens by Kensington (available for monitors and laptop screens) ensure that your private information remains confidential. So, if you're working at a coffee shop, cafe, or restaurant, you won't have to worry about prying eyes seeing what is on your screen.
There is a variety to choose from, including:
Being Productive Without Having a Dedicated Office Space With Products at Kensington
There are some exceptional benefits to being a remote worker, digital nomad, or someone working from home. You work when and where you want to and have freedoms that those with dedicated office spaces don't have. 
Experts recommend creating a schedule with deadlines to help you keep and set routines. This can reduce lost hours and allow you to take breaks so that you don't overwhelm yourself but most importantly, you should invest in high-quality equipment that won't break the bank. You will want to focus on these things for increased productivity. 
Ergonomics is an essential part of working outside of your home or office. Comfort is just as pivotal to productivity as your portable devices.
At Kensington, we understand what it takes to work without having a dedicated office space. We provide products that travel with you as you work from home, in an office, or wherever you feel like for the day.