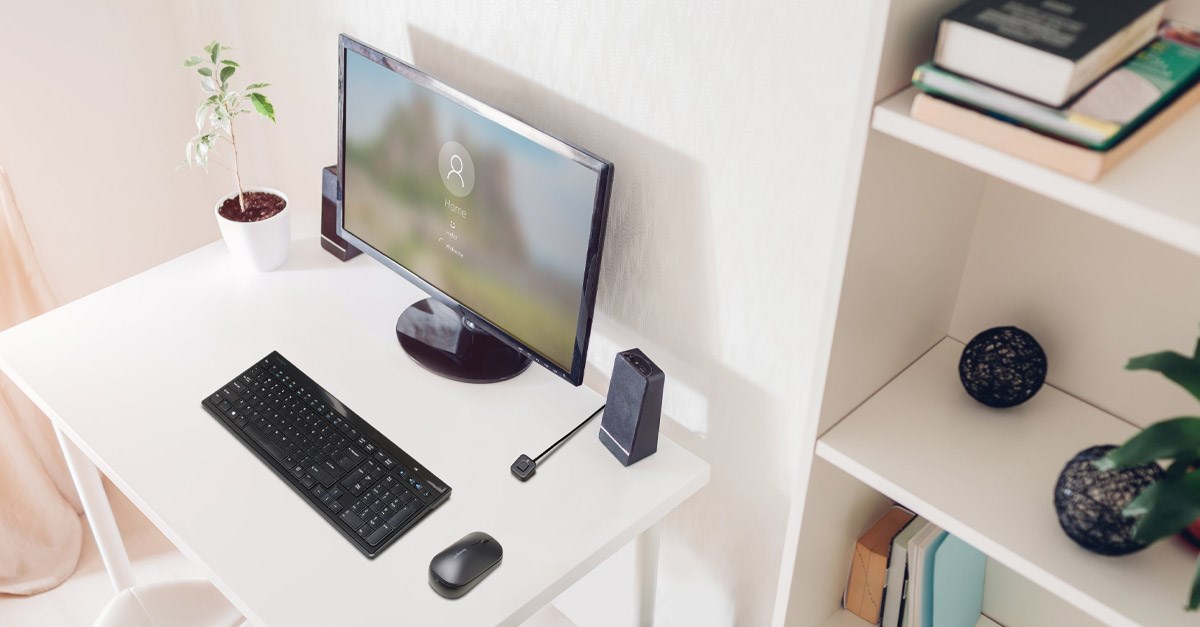 Fingerprint readers are essential for optimal data and device security. The technology within the VeriMark™ reader works by creating several templates of the finger by using the ridges and valley of a fingerprint. With this biometric fingerprint reader, you can store multiple fingerprints. When the information for the stored fingerprints is processed, it is authenticated by the device's pattern analysis and matching software and then matched to one of the registered fingerprints.
The Benefits of Using an External Fingerprint Reader
Biometric technology using a fingerprint reader is not exactly new technology. In 1969, the FBI pushed to make fingerprint recognition automated. Since then, the technology has advanced to include the ability to lock and secure data.
Once fingerprint technology became automated, engineers found ways to harness this power to create access authentication superior to simple password security, SMS-text authentication, and code verification. Fingerprint readers are the fastest, easiest, and most secure method of authentication.   
Reasons to Consider Biometric Fingerprint Authentication
Security using a biometric fingerprint reader is one of the most popular methods to secure your mobile devices, laptops, and computers. This widely accepted technology was once considered necessary only for business purposes. However, the need to safeguard personal computers is essential as well.
These fast and easy-to-use readers are affordable and offer instant access at just a swipe of a finger. Kensington offers a fingerprint reader that is FIDO2 WebAuthn compatible and FIDO U2F certified offering expanded authentication options for FIDO2 biometric authentication services as well as FIDO U2F services requiring security key functionality under Tap-and-Go technology to streamline the login process to one simple step.
Simplicity is not the only reason to consider biometric fingerprint authentication. Take a moment to review the top six reasons to consider a fingerprint security key.   
Unique for Every User  
Fingerprints are impossible to duplicate. For this reason, there is nothing more secure than the unique features of your fingerprint, such as the ridges, valleys, and minutiae points. Fingerprints do not deteriorate over time. Therefore, your fingerprint will never change due to aging.   
Loss-Proof
Unlike a password that you can forget or a pin that you could lose, your fingerprint is always secure. Even if you misplace your fingerprint reader, someone else who does not have your fingerprint cannot access the device or that for which it secures.    
Security
Biometric data is encrypted. This data is digitally signed using a solid 256-bit Advanced Encryption Standard (AES) and Transport Layer Security (TLS) technologies to ensure that your information and devices are secure.
Speed
You may think that your password is secure the longer you make it, but that isn't the case. And the process of entering in a lengthy PIN or password is considerably more time than simply placing the peripheral of your finger on a fingerprint sensor. The process is seamless and almost instantaneous.
Easy Setup
Setup for a fingerprint reader depends on the specific device. However, most have an easy setup process with quick fingerprint registration that you do only once. Many allow multiple fingerprints on the same fingerprint reader.    
User Experience
When it comes to user experience (UX), consumers want the quickest and easiest way to access their desktop, laptop, and mobile devices hassle-free. By offering a one-touch desktop solution, fingerprint readers give customers what they want and need.
FIDO2 and FIDO U2F Technology
The FIDO Alliance published three specifications that are more secure user authentications. These three sets are FIDO Universal Second Factor (FIDO U2F), FIDO Universal Authentication Framework (FIDO UAF), and Client-to-Authenticator Protocols (CTAP), i.e. FIDO2. WebAuthn is a core component of FIDO2.
The FIDO2 protocols also safeguard against phishing and are deployed for many security applications. FIDO2 is public-key cryptography, and the FIDO Alliance developed security features when executed to improve the level of security assurance for the devices and data it safeguards.
The chief differences between FIDO and FIDO2 are that FIDO2 offers a passwordless authentication process, which is the first line of security. In FIDO, the password is the primary access key, using FIDO to authenticate the user after the password is entered. This verification comes through SMS-text or email authentication.
The Match-in-Sensor is how U2F, UAF, and CTAP isolate fingerprint operations away from the host operating system (OS). It is remarkably complex to force the sensor to generate a false positive, manipulate, or alter the match results.
The latest technology used to secure biometric information is:
SentryPoint®: This contains a suite of security features for the Synaptics fingerprint sensor solution. 
SecureLink™: This technology permits strong TLS 1.2 communication channels and allows AES-256 data encryption between the fingerprint sensors to the host.
PurePrint®: Offers Anti-spoof technology to eliminate hacking and detects actual fingers from fake fingers.
Match-in-Sensor™:  Fingerprint templates remain securely matched on the fingerprint sensor silicon. This sensor limits data transfer to the host, giving a simple "yes/no" communication. The match result remains encrypted even if the host is completely compromised.
Quantum Matcher™: This chip features a 192 MHz processor for a hardware-accelerated matcher.
Integration of Biometrics Fingerprint Readers with Microsoft Hello
Windows Hello is a Microsoft solution to desktop security. It allows for a more personal and secure way to access your Windows 10 enabled devices using biometrics with facial recognition and fingerprints and replaces the PIN used on that device. The original version is for personal use, and users do not generally connect to a domain.
Windows Hello for Business began development in 2015 and launched for business applications. This biometric security solution uses a PIN backed by an asymmetric key-mode or certificate-based authentication.
However, to use the asymmetric public/private key-mode, you will need to employ a Windows 2016 server domain or later, or implement Azure AD – Microsoft's cloud-based access management service for employee authentication.          
Advantages of VeriMark™ Desktop Solutions
Launched in March 2021, Kensington now offers a VeriMark™ Desktop Fingerprint Key to support business-class desktop security. Ideal for use on your workstation PC, this security key is FIDO U2F certified and FIDO2 WebAuthn compatible. This device is perfect for Windows Hello for Business.
This single-factor passwordless authenticator is a Tap-and-Go desktop solution that works to secure crucial data in the healthcare, banking, and hospitality industries. There are practical military applications as well.    
At Kensington, we have several models of the VeriMark™ Fingerprint reader for your personal and business security. Check out the fingerprint reader that is right for you.