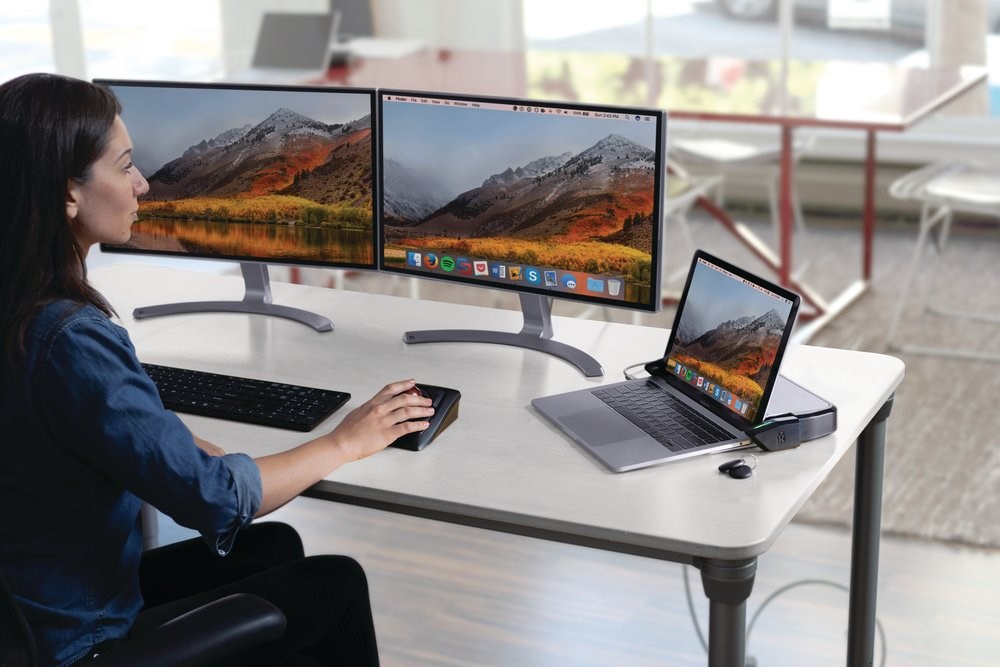 One constant in computing is that it's always changing, and the way we connect our computers to our peripheral devices is evolving to provide ever higher performance. As laptops get progressively thinner and lighter, we need an input/output port that can take the place of all the power, video, audio, and data ports that bulkier computers include. Now, Thunderbolt 3 technology provides a single slim port that delivers lightning fast data transfer, support for two 4K 60 Hz displays, and quick notebook charging. To access this superport's full capabilities, Kensington has designed Thunderbolt 3 docks that enable users to easily connect their Thunderbolt 3 laptops to full size monitors, keyboards, mice, and other desk accessories, while charging the device, by plugging in just one cable. Let's take a look at how Thunderbolt technology got its start, what the current version can achieve, and how to choose the perfect Kensington Thunderbolt 3 dock to meet your needs.
Evolution of Thunderbolt Technology
Thunderbolt's origin story begins with its development by Intel in collaboration with Apple. The technology first appeared on the commercial scene in 2011 when Apple announced that its new line of MacBook Pro laptops would feature Thunderbolt ports. Thunderbolt 1 used the same connector shape as Mini DisplayPort, but was identifiable by a tiny Thunderbolt symbol next to the port. First generation Thunderbolt technology offered 10Gbps data transfer speeds as well as video through the same port—something USB 3.0 ports at the time couldn't handle.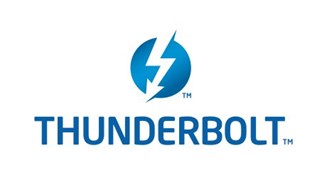 It didn't take long for Thunderbolt technology to progress even further with Thunderbolt 2. When USB 3.1 Gen 2 caught up to Thunderbolt 1 in terms of data transfer speed, Thunderbolt 2 was introduced in Apple's updated 2013 MacBook Pro. Still using the Mini DisplayPort connector, Thunderbolt 2 doubled the previous data transfer speed to 20Gbps and enabled video streaming to a single 4K monitor or dual QHD monitors. Thunderbolt 2 was another big leap forward, but its most powerful version so far required a change from the Mini DisplayPort connector to a new connector shape.
2014 saw the debut of the pill-shaped USB-C connector, which has grown to become a standard port shape for good reason. At about one third the size of a traditional rectangular USB-A connector, the round-edged and reversible USB-C shape is slim enough to work with thin devices like laptops and phones. Although it's smaller, it's also more powerful because it packs more pins (the conduits that transfer power, data, and/or video) into its tiny form. Yet, USB-C shaped ports can have different underlying technologies that transfer different combinations of power, data, audio, and/or video depending on the manufacturer. The technology that makes the most of the USB-C connector type is Thunderbolt 3.
Thunderbolt 3: The Apex of USB-C Performance
2015 marked the arrival of the game-changing Thunderbolt 3 superport. Built on the slim, oval USB-C connector shape, Thunderbolt 3 is the compact port that does it all—transferring record amounts of power, data, video, and audio at the same time. A single Thunderbolt 3 port can transmit data at blazing fast speeds up to 40Gbps, with connectivity to Thunderbolt-enabled devices, USB devices, and dual 4K displays—all while supplying power to the host device.
To put all this in perspective, Thunderbolt 3 today can transfer data 8X faster than USB 3.0, and deliver 4X more pixels than HDMI 1.4. Or, put another way, Thunderbolt 3 can transfer a 4K movie in less than 30 seconds, connect two 4K UHD displays with nearly 16 million more pixels than an HDTV, and provide 85W of power to charge your device—all simultaneously, and using one cable.
A device with a Thunderbolt 3 port opens new possibilities for creating a highly productive desk setup. Some users want to increase screen space by using two or more monitors, while others prefer larger sized monitors. Thunderbolt 3 enables users to transmit a higher information capacity to screens with a greater video resolution output, and can support two 4K video streams at 60Hz or a single 5K video stream at 60Hz. With the right dock, a Thunderbolt 3 device can also provide standard 15W power to peripheral bus-powered devices, which enables higher speed and capacity storage, portable displays, or 10GbE high-performance adapters to boost network speeds. With Thunderbolt 3, you have the potential to create your most productive desk environment.

Thunderbolt 3 also invites us to rethink what we can do with computers. Its 40Gbps data speeds allow Thunderbolt 3 to pass more data more quickly, which can create groundbreaking changes in data-heavy industries like digital photography and video. For example, a 24fps codec like Canon RAW can shoot 1,500 GB/hour, or a drone shooting 4K or 5K can shoot 500GB in 15min. It's now possible for a film crew to shoot a movie in 4K footage and then transfer huge quantities of data so rapidly that scenes can be edited on set—and reshot immediately if necessary. For small workgroups, peer-to-peer Thunderbolt Networking can support transfer speeds over 10Gbps, bridging multiple Mac, Windows, or Linux computers using existing OS infrastructure and simply connecting the computers with Thunderbolt cables. How might Thunderbolt 3's capabilities empower you to reshape your industry?
Although earlier generations of Thunderbolt technology were adopted only by Apple, Thunderbolt 3 is currently being integrated in PCs by Dell, HP, Lenovo, and more. When you choose a Thunderbolt 3 device, you'll know you're getting the fastest and most versatile data, video, audio, and power transfer capacity out there.
Docking Solutions to Take Thunderbolt 3 to the Next Level
If you have a Thunderbolt 3 laptop or other devices, it's important to choose a Thunderbolt 3 dock so that you can take advantage of this superport's full capabilities. Kensington's Thunderbolt docks are designed to simplify things by connecting your Thunderbolt device with a variety of peripheral devices that make up a full desk ecosystem. Which Thunderbolt 3 dock is right for you?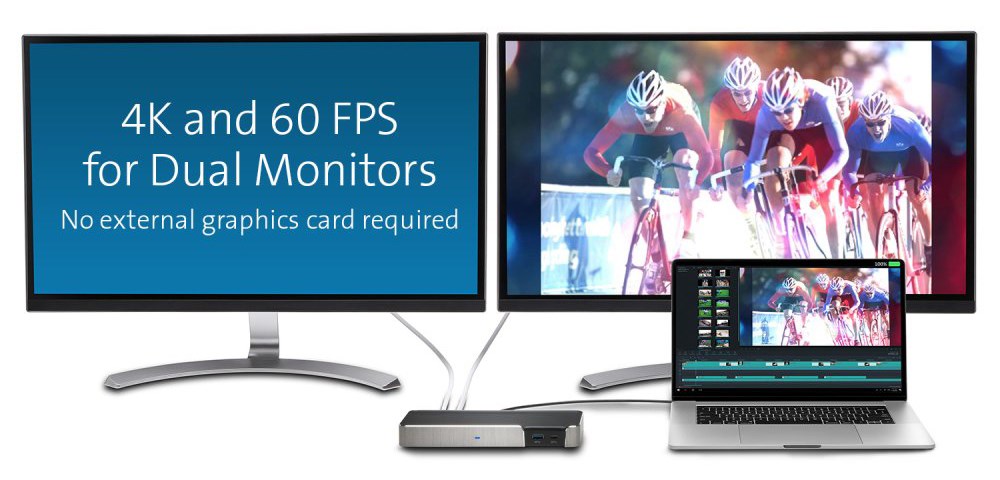 If you're a business professional, designer, or just someone who wants to simplify a 4K workspace, Kensington's SD5200T Thunderbolt 3 Docking Station for Windows and Mac gives you the speed, pixels, and power you need for hyper-productivity. Connect one 5K or two 4K displays with DisplayPort v1.2++ and the secondary Thunderbolt 3 port to support the crisp resolution, contrast and color depth of Ultra HD. Extend your thin laptop's productivity capabilities by connecting your favorite accessories to the USB-C 5Gbps port (supplying up to 15W of power), a rear USB 3.0 port and a front USB 3.0 port with 2.1A charging, a Gigabit Ethernet port, and 3.5mm headphone and microphone jacks. You also have the option to connect up to five Thunderbolt 3 devices by daisy-chaining them together. The SD5200T dock delivers all this connectivity through a single cable that also provides data transfer speeds up to 40Gbps and supplies up to 85W of power to your laptop.
Whether you've got a Windows PC or a Mac computer, the cross-platform compatible SD5200T has you covered. Plug & Play installation means no drivers or downloads are required for the dock to function, but optional, free Kensington DockWorks™ Software ensures optimal connection, performance, and security from your Kensington dock. A Kensington Security Slot™ allows you to protect your technology investment by implementing a cable lock, while Zero Footprint Mounting enables the dock to be mounted to the back of any VESA-compatible external display with an optional mounting plate for a clutter-free desktop. With top data, video, audio, and power transfer capabilities, the SD5200T is the power user's docking solution.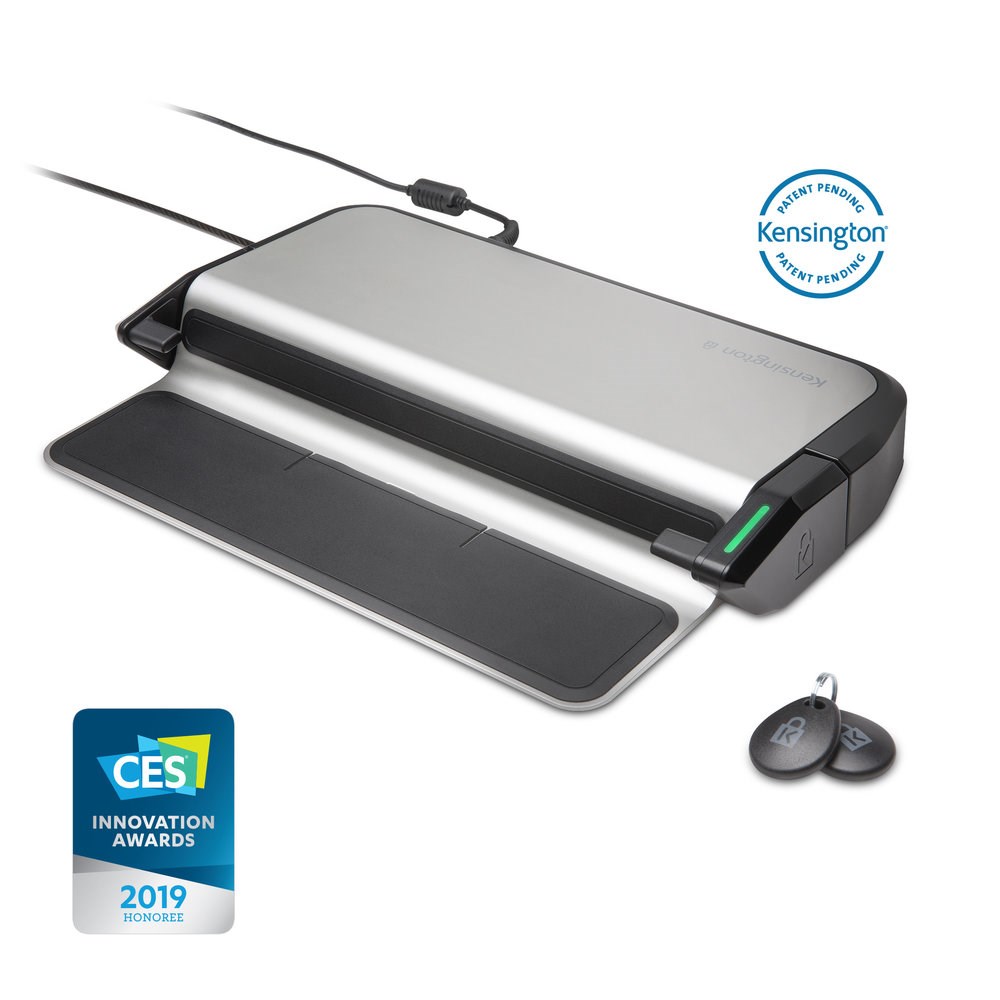 Combining the productivity benefits of Thunderbolt 3 docking with next generation laptop locking technology, Kensington's LD5400T Multi-User or Single-User Thunderbolt 3 Universal Dual 4K Dock with K-Fob™ Smart Lock delivers a 2-in-1 docking and locking solution for both Windows and Mac laptops. The dock turns your laptop into a feature-packed desktop replacement via two Thunderbolt 3 ports—one for power delivery and data transfer, and one for USB-C compatibility or daisy chaining up to five additional Thunderbolt-enabled devices—as well as four USB 3.0 ports (5V/0.9A), one 1Gbps Ethernet port, and a combo audio in/out port. With 5K single monitor or 4K dual monitor connections via DisplayPort and a secondary Thunderbolt 3 port, you can increase your screen space to boost productivity.
The versatile LD5400T dock features adjustable security arms that accommodate 11" to 15" thin and light laptops from Apple, Dell, HP, Lenovo and other manufacturers. Scratch-resistant cushioned bumpers protect the laptop's screen and frame from cosmetic damage. Kensington's professional locking design doesn't compromise functionality—the dock provides unobstructed access to a laptop's side ports, and requires no laptop modifications.
Select the right level of security for your workspace with the LD5400T's two innovative access options. The LD5400T Multi-User Dock provides IT administrators with the benefit of master access to all stations, including those used for hot-desking, hoteling, or shared workspaces. The dock is also available with Single-User access for a simple locking experience for fixed desk users. With K-Fob™ Smart Lock Technology, the dock provides cutting-edge encrypted security with the simplicity of keyless locking to reduce laptop theft and improve compliance with corporate security protocols. If a key fob is ever lost or misplaced, Kensington's Register & Retrieve™ program provides secure cloud-based replacement. The LD5400T Thunderbolt 3 Dual 4K Dock with K-Fob™ Smart Lock joins the productivity benefits of Thunderbolt 3 connectivity with best-in-class laptop locking technology.
If you're searching for state of the art power and data transfer through a single port, Thunderbolt 3 is the answer. By consolidating extra power, video, audio, and data ports into one superport, Thunderbolt 3's multitasking technology decreases clutter on our desks and opens new possibilities for what our devices can do. With Kensington's Thunderbolt docks, you can quickly and easily connect your Thunderbolt 3 laptop to a host of peripheral devices to experience cutting-edge connectivity. If you've got questions about Thunderbolt 3 docks or docking in general, send us an email at dockguy@kensington.com for help choosing the perfect docking solution.
If you'd prefer to test out a new dock before your organization fully invests in it, Kensington's ProConcierge program allows you to try a dock tailored to your organization's requirements, with no obligation to buy. Apply for the ProConcierge program today, and let Kensington take the complexity out of docking.