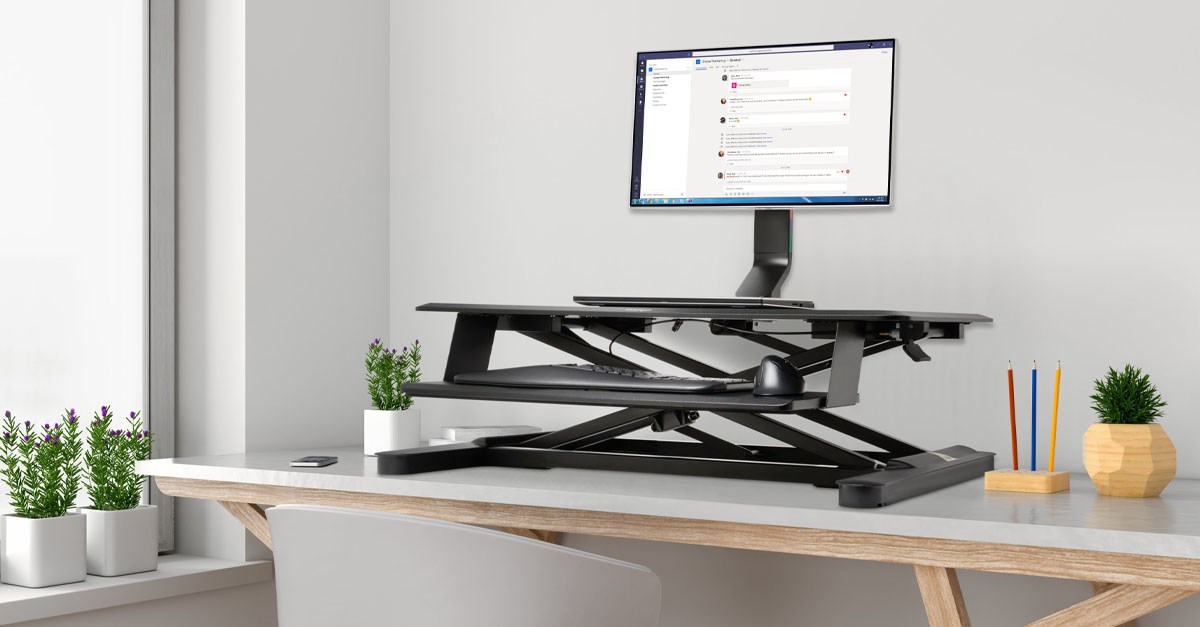 Working from the confines of your home doesn't have to be stifling; you can easily optimize even a limited space with the right accessories. Whether you had to shift gears quickly or have operated from home for some time, there are plenty of ways to create a productive and comfortable workspace that fits your needs.
Your daily rituals are important, but when it's time to sit down behind your desk and get down to business, it shouldn't feel like a drag. Giving yourself a neat, well-structured at-home workspace is just as important as a comfortable chair and a quiet room. Consider Kensington's ergonomic solutions to keep your home office simple, efficient, and clear of clutter.
5 Accessories to Optimize Your Small Desk Space and Home Office
Transitioning to a full-time home office shouldn't affect your long-term health. At Kensington, we create solutions that provide important posture support, preventing repetitive strain injuries from spending hours behind your workstation. Every additional accessory reduces your available space; with these five solutions, you can give yourself room to breathe without compromising on your comfort.
1. SmartFit® Space-Saving Single Monitor Arm
If your space is limited, you can reclaim some valuable real estate with the SmartFit® Space-Saving Single Monitor Arm. The unique design enables you to install it in shallow areas and allows for easy height adjustment (between 239mm and 470mm). You can also tilt or swivel your monitor, or rotate the entire screen to portrait orientation. A quick-release VESA® mount provides maximum flexibility.
2. SmartFit® Space-Saving Dual Monitor Arm
Similar to the single monitor arm, the SmartFit® Space-Saving Dual Monitor Arm has a small footprint while giving you maximum flexibility for two monitors. You can adjust either monitor independently, helping you find the most comfortable position for the task you're currently working on. The SmartFit system will help you find your ideal height and keep you working productively for hours without straining your neck.
With an easy, non-permanent installation and a C-clamp that fits desks up to 85mm thick, you can quickly set up your monitors for a more comfortable arrangement while freeing up desk space. The monitor arms support screens up to 27" side by side and can carry up to 8kg (or 17.6lbs). If you need to declutter your small home office desk, using a monitor arm is a great way to optimize your limited surface area and prevent clutter.
3. Space-Saving Footrest
Maintaining a healthy posture behind your desk requires a footrest that fully supports your lower back and neck while you work. Our Space-Saving Footrest comes in a compact design that fits perfectly under smaller desks. An adjustable tilt setting allows you to set the footrest to either 12 or 18°, giving you plenty of flexibility without sacrificing your space.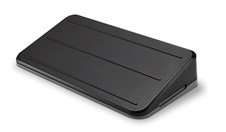 With its non-slip material and easy to clean construction, it's the ideal small-form footrest for a home office. By adjusting your sitting position with a space-saving footrest, you can work more comfortably behind your desk for longer periods of time.
4. Multi-Device Dual Wireless Compact Keyboard
On a small desk, a compact keyboard is essential for freeing up some room for other accessories. The Multi-Device Dual Wireless Compact Keyboard is small, easy to transport, and can connect to three devices at any time. You can quickly switch from your laptop to a tablet or phone when needed.
With macOS, Windows, iOS, and Chrome compatibility, it's the perfect versatile keyboard for working with any device, anywhere. A 128-bit AES encryption keeps your set-up secure while the scissor keys deliver a smooth typing experience. This keyboard is battery operated, so you don't need to worry about being limited by cables. An LED indicator will let you know when it's time to replace the two AAA batteries, ensuring you don't run out of power when you need to be productive in any environment.
5. Orbit® Fusion™ Wireless Trackball
A great way to free up some surface area is to transition from a regular mouse to a trackball. The Orbit® Fusion™ Wireless Trackball is the perfect converting input device for first-time trackball users. It requires less space to operate compared to a mouse, as you navigate using your fingers on the trackball instead of moving the mouse around a desk.
For any kind of precision navigation, a trackball is a perfect solution. Even if you're used to using a mouse, the Orbit Fusion Wireless Trackball is designed to help you smoothly and easily adjust to the new input method. With a patented scroll-ring, you can navigate through multiple pages, documents, or applications efficiently.
Customize your Trackball with KensingtonWorks™
To get even more out of your Orbit Fusion Wireless Trackball, you can use our KensingtonWorks™ software to customize your entire experience. You can assign operations to the different buttons, change your pointer settings, launch applications, and configure your own shortcuts for specific programs.
With KensingtonWorks, you'll take productivity to the next level and make the most of any small desk space. You can bind your personal settings to the cloud and retrieve your preferred configuration at any time; you can also set up your trackball in a way that supports multiple different workflows and load those custom settings in each particular application.
With KensingtonWorks, you can:
Configure your button assignments as required
Change the cursor and pointer settings
Manage your scrolling orientation and speed
Create specific presentation settings for the pointer
For anyone trying to remain productive in a limited home workspace, any of these five Kensington products paired with KensingtonWorks™ software are excellent places to start.
Create Your Perfect Desk with Kensington's Wellness Configurator
The Kensington Wellness Configurator tool can help find the ideal product for your home or hybrid office. By specifying your typical work area, your connection type, and where you desire the most comfort, the Wellness Configurator will select the best products to help improve your set-up.
Kensington products will help anyone who is trying to juggle their limited home workspace with health and productivity. Our range of solutions supports your long-term well-being while adding convenience and comfort to your daily work life.