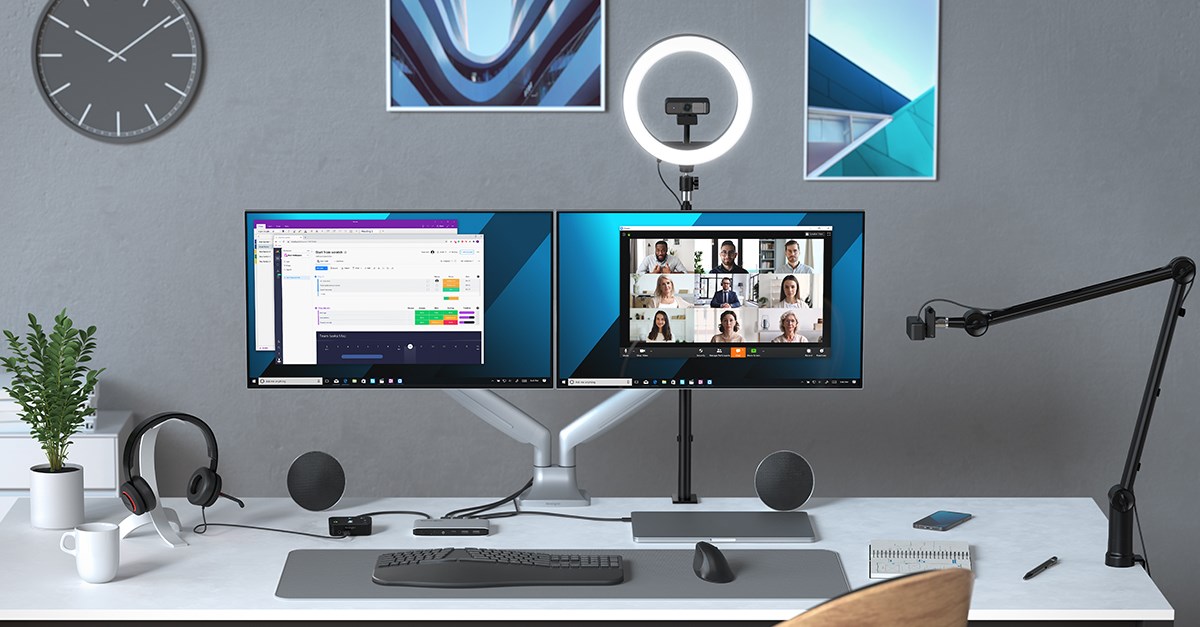 Additions of New Docking Stations, Bluetooth Headset, Mechanical Keyboard, Trackballs, and NanoSaver Locks Enable Professionals to Work More Efficiently and Safely in the Office, at Home, and Everywhere In-Between.
LAS VEGAS – Jan. 5, 2023 – Kensington®, a worldwide leader of desktop computing and mobility solutions for IT, business, and home office professionals and the professionals' choice, announced the addition of a variety of innovative new products to their portfolio of connectivity, input, professional video conferencing, and device security solutions at Pepcom's Digital Experience!® at CES 2023 in Las Vegas.  
Kensington Connectivity Solutions Expand to Enhance Capabilities of a Wider Variety of Devices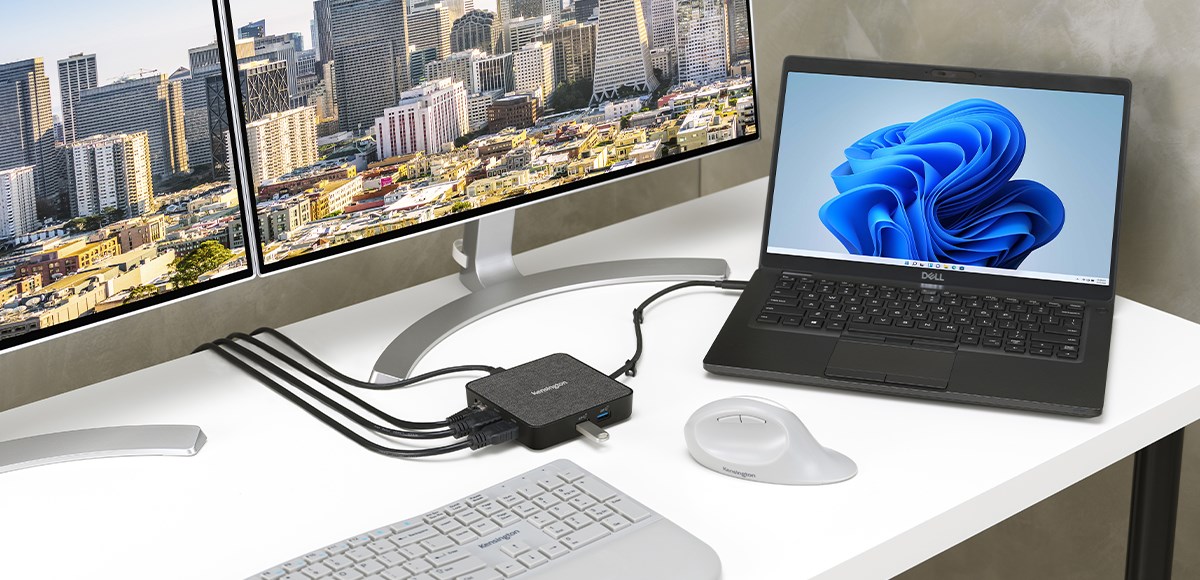 Kensington announced the expansion of its comprehensive portfolio of award-winning, productivity-enhancing connectivity solutions. The addition of four new docking stations provides users the ability to increase their productivity and enhance the capabilities of a wider variety of laptops, tablets, and mobile devices.
The MD120U4 USB4 Portable Docking Station (K32850WW), one of the first mobile USB4 docking stations, enables users to connect a variety of accessories to macOS, Windows, iPadOS, and Samsung DeX® devices through a USB-C 3.2 Gen2 port that supports 100W power pass-through and data transfer at upstream speeds up to 40Gbps. The portable dock also features two HDMI 2.1 ports to support one 8K or dual 4K monitors, a 2.5Gbps Ethernet port, and two USB-A 3.2 Gen2 ports.
The SD5780T Thunderbolt™ 4 Dual 4K Docking Station (K33040NA), the latest addition to Kensington's family of high-performance Thunderbolt 4 docking stations, supports one 8K monitor or dual 4K monitors, features a 2.5Gbps Ethernet port, and allows the user to connect a mouse, keyboard and other USB devices at ultra-fast data transfer speeds up to 40Gbps. SD5780T provides 96W of power to charge the laptop and attached USB-C or USB4 accessories, and is universally compatible with Thunderbolt 4, Thunderbolt 3, USB4, and USB-C devices running Windows (10 or later) or macOS (11 or later).
The innovative SD1700P USB-C Dual 4K Portable Dock with Qi Charging (K32800WW) provides the speed and power of an industry-leading docking station, and integrates up to 10W of Qi charging into a compact, full-featured portable dock, to simplify the workspace and eliminate the need for users to carry a separate charger for their mobile phone. The SD1700P supports Windows, macOS, iPadOS, and Samsung DeX, and provides up to dual 4K @60Hz through two HDMI 2.0 ports. The dock also features one 1Gbps Ethernet port, two USB-A 3.2 Gen2 ports, and one USB-C 3.2 Gen2 port that supports up to 100W power for pass-through charging.
Kensington will debut an innovative universal Thunderbolt 4 docking station that goes beyond connectivity to maximize the usability and productivity of any USB-C, USB4, or Thunderbolt 4-enabled laptop or tablet. Available in Q2 2023, the new docking station enables accessories such as input devices, USB drives, an external monitor, and Gigabit Ethernet to become immediately available to the mobile device when connected using a single USB-C cable. The docking station combines the high-performance dock with an ergonomic riser to convert the mobile device into a complete, ergo-friendly desktop workstation.
Kensington Adds Cutting-Edge Bluetooth Headset to Professional Video Conferencing Portfolio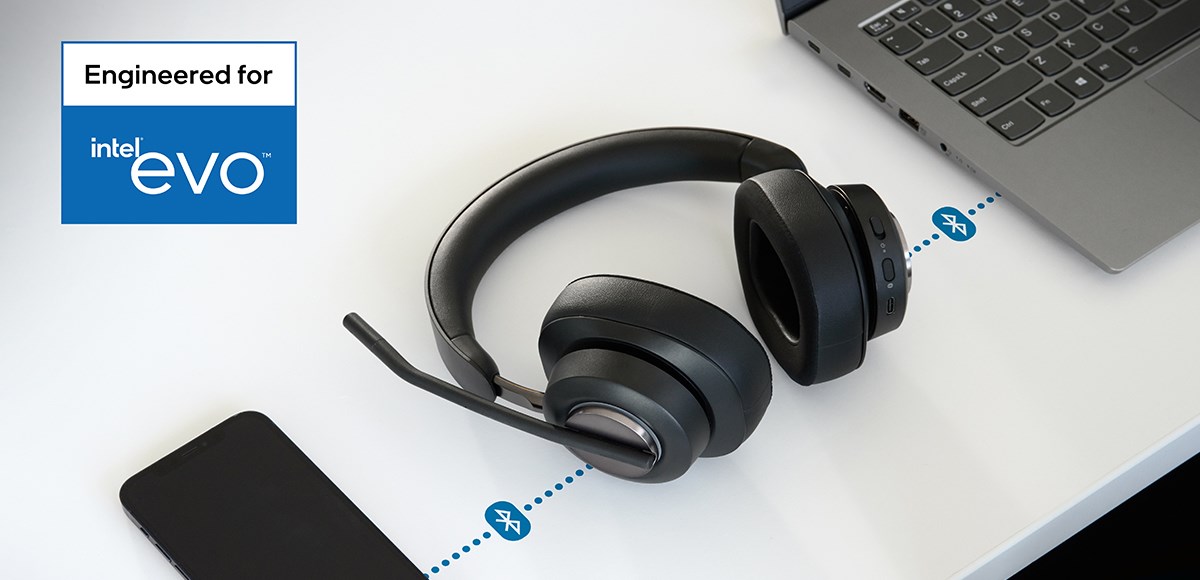 Kensington announced the addition of the H3000 Bluetooth® Over-Ear Headset (K83452WW) to its growing family of professional video conferencing solutions. One of the first headsets certified in the "Engineered for Intel® Evo™ Laptops Bluetooth accessories program," the H3000 combines cutting-edge AI and noise-cancellation technologies to provide a premium audio experience and ensures optimal sound performance regardless of the surrounding work environment. Powered by a rechargeable battery that provides up to 60+ hours for music and up to 40+ hours of calls, the H3000 can be used with Kensington's innovative Universal 3-in-1 Pro Audio Headset Switch (K83300WW) to switch instantly and seamlessly between up to three devices to maximize productivity and efficiency.
Kensington Introduces Quiet Mechanical Keyboard for Use in Noise-Sensitive Environments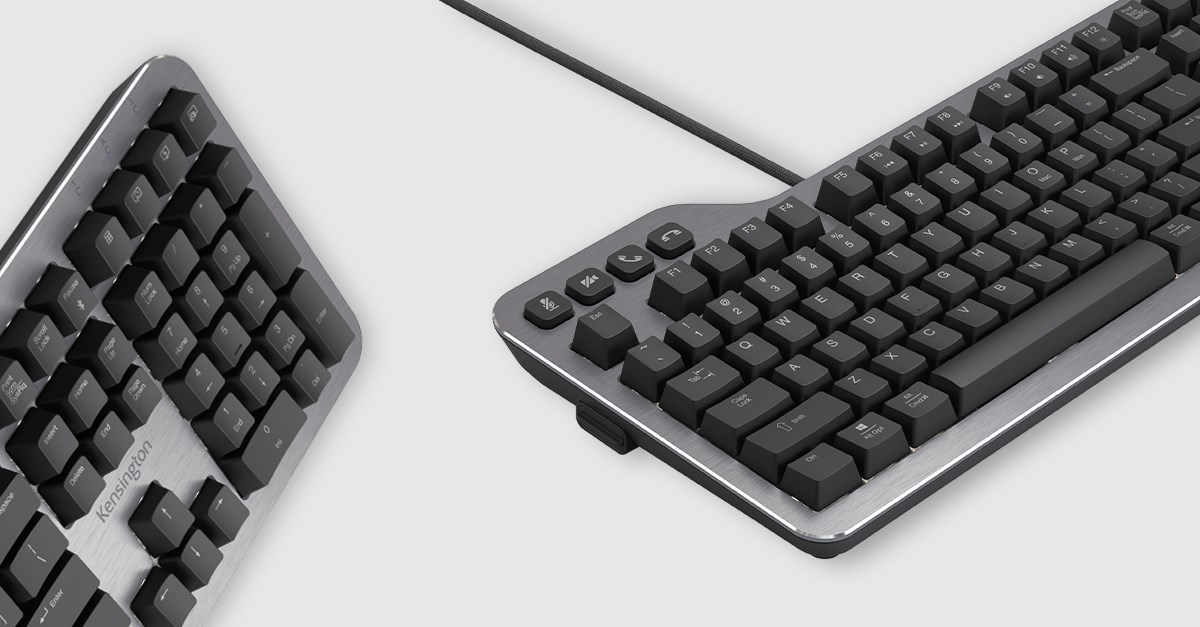 Kensington announced the launch of its first mechanical keyboard, the MK7500F QuietType™ Pro Silent Mechanical Keyboard with Meeting Controls. Designed for use by professionals who utilize their computers in noise-sensitive environments, the MK7500F utilizes high-precision, QuietType keys that are quieter than the level of normal conversation or background music, and provide excellent performance and a tactile feel that greatly improves typing accuracy and speed.
Built-in meeting controls provide convenient camera and audio controls to simplify and optimize the virtual meeting experience with popular conferencing application such as Microsoft Teams and Zoom. Four programmable hot keys and Kensington Konnect™ software enable users to program one-touch shortcuts to increase productivity and efficiency. The rechargeable battery provides an impressively long battery life (90+ hours), even when the adjustable white backlight is set at 100%.
Entry-Level Kensington Trackballs Designed and Priced for First-Time Users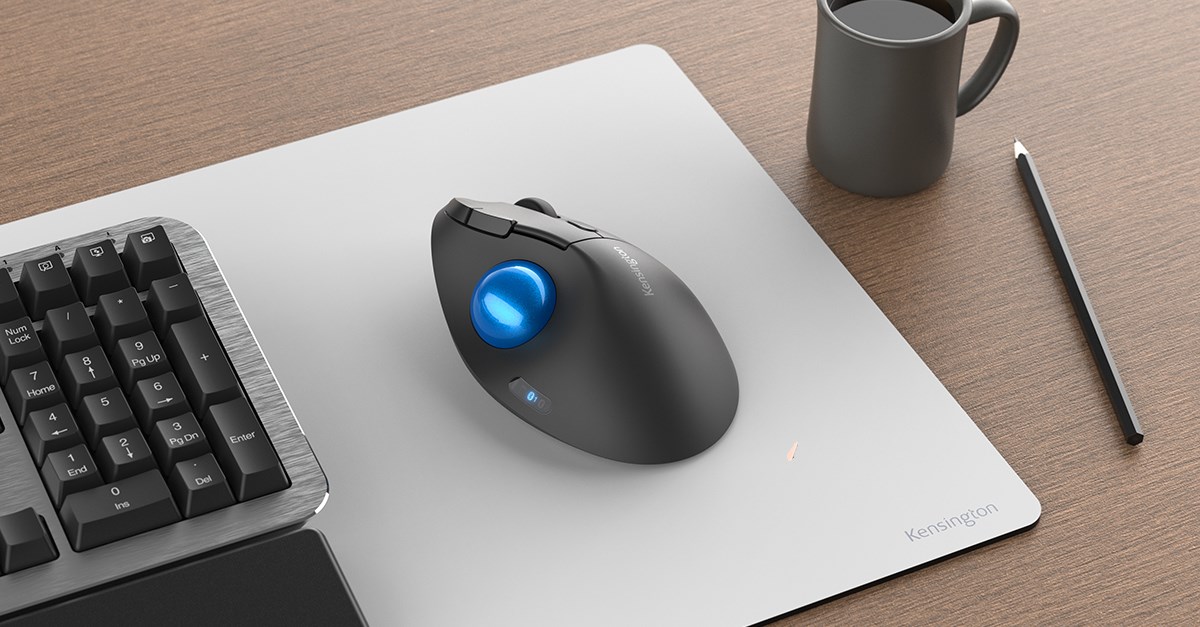 The new Pro Fit Ergo TB450 and TB550 Trackballs are affordable thumb-operated trackballs that feature a unique, ergonomic design and low price points that make them ideal for first-time trackball users who work in tight spaces or want to improve wrist and forearm alignment. Compatible with Windows, macOS, and Chrome OS, both trackballs offer programmable buttons that provide the familiar left click, right click, and scroll wheel of a traditional mouse. The TB550 features an enhanced 4D scroll wheel that provides intuitive four-direction scrolling scroll left, right, up, and down, to provide a comfortable user experience. A built-in, patented, trackball ejection button makes it easy to remove the trackball for cleaning.
Kensington will also showcase the new SlimBlade™ Pro Wireless Trackball (K72080WW), the most advanced trackball the company has produced in more than 35 years of trackball innovation. Featuring a large 55mm finger-operated trackball for outstanding accuracy, comfort, and control, the SlimBlade Pro Trackball incorporates dual sensors to provide highly-accurate cursor tracking, and features twist scrolling for precision scrolling up and down web pages and documents. An ambidextrous design with a low-profile footprint provides all-day comfort for both right- and left-handed users, requiring less hand and wrist movement making it an ideal solution for extended use.
Kensington NanoSaver® Locks Secure Next-Generation of Ultra-Thin Mobile Devices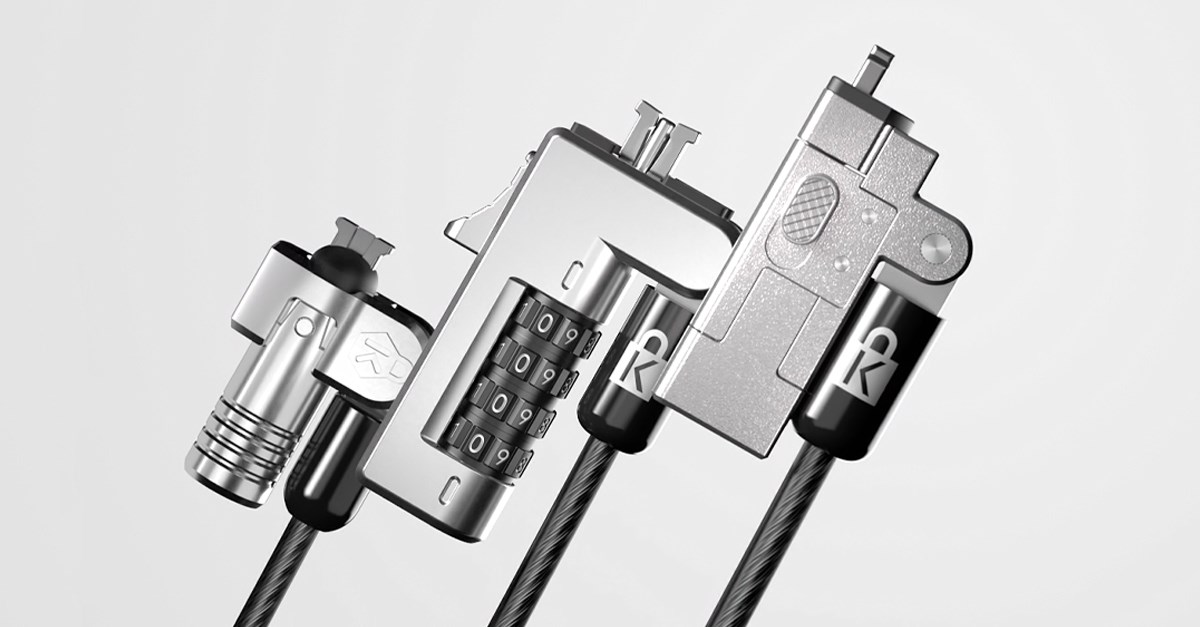 Kensington is also showcasing its NanoSaver family of keyed and combination locks, which address the challenge of securing the next generation of ultra-thin, lightweight devices and desktop peripherals from technology leaders such as HP, Lenovo, and ASUS. Kensington NanoSaver locks are compatible with the Nano Security Slot, which was created by Kensington and is 70% smaller than traditional security slots.
Featuring unique Cleat™ Locking Technology, NanoSaver locks work similarly to cycling cleats, securely gripping the interior walls of a device's Nano Security Slot to create a strong connection between the device frame and lock. The slim nano lock head on the NanoSaver locks swivels to enable ultra-thin devices to lie flat on a surface for ease of use without blocking ports, and provides highly effective physical and visual theft deterrents. The company's patented Hidden Pin™ technology is an anti-pick feature that prevents tampering and is unique to Kensington's keyed locks.
Learn more about Kensington's comprehensive portfolio of products and solutions for consumers and businesses, visit www.kensington.com.
Resources
Follow Kensington on:
About Kensington
Kensington is a leading provider of desktop and mobile device accessories, trusted by IT, educators, business, and home office professionals around the world for more than 40 years. Kensington strives to anticipate the needs and challenges of the ever-evolving workplace and craft professional-tier award-winning solutions for organizations committed to providing peak professionals the tools they need to thrive. The company prides itself as the professionals' choice, and on its core values surrounding design, quality and support.
In office and mobile environments, Kensington's extensive portfolio of award-winning products provides trusted security, desktop productivity innovations, professional video conferencing, and ergonomic well-being.
Headquartered in Burlingame, California, Kensington is the inventor and a worldwide leader in laptop security locks. Kensington is a division of ACCO Brands, the Home of Great Brands Built by Great People, which designs, manufactures and markets consumer and end-user products that help people work, learn, play and thrive.  In addition to Kensington®, ACCO Brands' widely recognized brands include AT-A-GLANCE®, Five Star®, Leitz®, Mead®, PowerA®, Swingline®, Tilibra and many others.  More information about ACCO Brands Corporation (NYSE:ACCO) can be found at www.accobrands.com.
Kensington, Pro Fit, and NanoSaver are registered trademarks of ACCO Brands. Kensington Konnect, QuietType, Hidden Pin, Cleat, and SlimBlade are trademarks of ACCO Brands. All other registered and unregistered trademarks are the property of their respective owners.
© 2023 Kensington Computer Products Group, a division of ACCO Brands. All rights reserved.