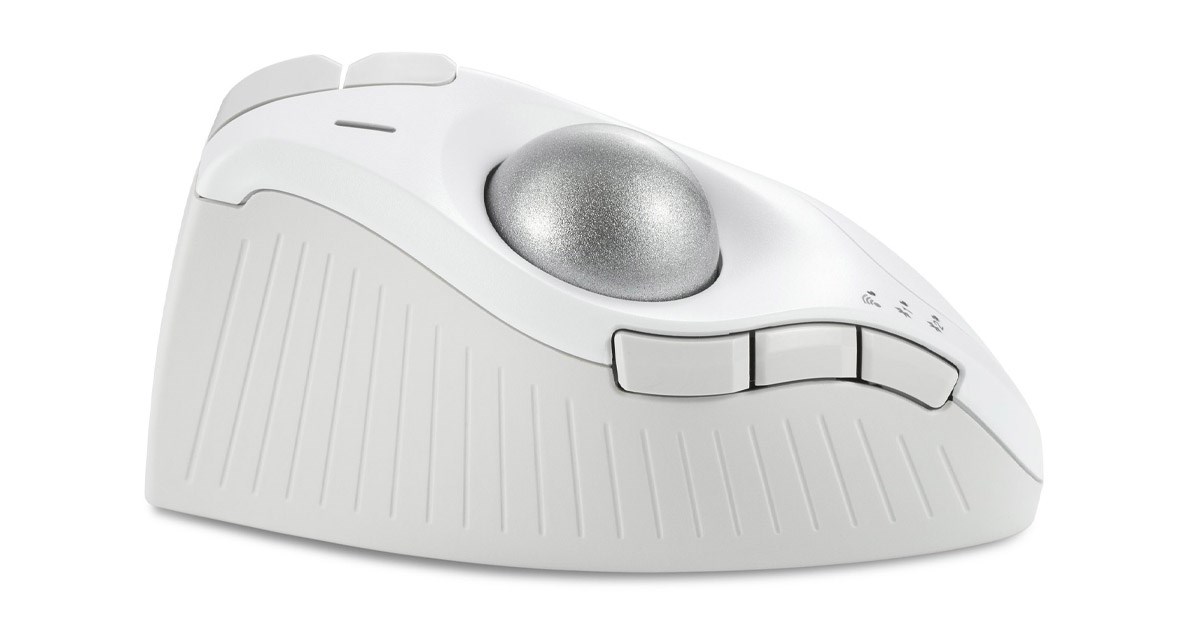 Innovative Pro Fit® Ergo Vertical Wireless Trackball Provides Precision Cursor Control While Maximizing Comfort and Minimizing Potential Strains
SAN MATEO, Calif. – January 26, 2021 – Kensington®, the worldwide leader of desktop computing and mobility solutions for IT, business, and home office professionals and The Professionals' Choice, today expanded its award-winning portfolio of ergonomic wellness products for home and office users with the launch of the Pro Fit® Ergo Vertical Wireless Trackball – White (K75263WW). The newest addition to Kensington's family of workplace wellness solutions features an innovative, ergonomist-approved design that promotes proper wrist, arm and shoulder alignment to minimize potential strains and injuries such as tendinitis and carpal tunnel syndrome.
Ideal for use in environments with limited desktop space, the Pro Fit Ergo Vertical Wireless Trackball features a unique mouse-like vertical trackball design that makes it easy for users to transition from using a mouse to the trackball. To reduce the potential of repetitive strain injuries, the trackball features a 60-degree tilt angle that keeps the wrist in a natural handshake position to improve wrist and forearm posture and comfort.
In addition to the workplace wellness benefits it provides, the Pro Fit Ergo Vertical Wireless Trackball delivers fast, precise cursor control. The speed, accuracy and fluency provided by the trackball can significantly increase productivity for individuals that use high-resolution monitors or multiple screens such as video/audio engineers, CAD designers, mechanical engineers, programmers, and financial or legal professionals.
Features and Benefits of the Pro Fit Ergo Vertical Wireless Trackball - White
Ease-of-use – Quick and easy out-of-the-box installation using default plug-and-play settings or use KensingtonWorks software to set pointer and scrolling options and professionally customize nine buttons to tackle common tasks with one touch.
Premium precision and speed – Provides more accurate and smooth cursor control. Allows users to easily switch between DPI settings for different cursor speed control.
Flexible wireless connection options – Allows stable connectivity for up to three computers.
Unique easy-to-clean design – Features a button to eject the trackball for easy cleaning.
Long battery life – Delivers up to 18 months on two AA batteries (included). Battery indicator light eliminates surprises.
The Pro Fit Ergo Vertical Trackball – White joins Kensington's rapidly-expanding portfolio of award-winning workplace wellness solutions. The company's comprehensive line of innovative ergonomic products promotes health and wellness at home and in the workplace to help people become more productive, confident and comfortable as they live and work with the latest devices.
Resources
Follow Kensington on:
About Kensington
Kensington is a leading provider of desktop and mobile device accessories, trusted by IT, educators, business, and home office professionals around the world for more than 35 years. Kensington strives to anticipate the needs and challenges of the ever-evolving workplace and craft professional-tier award-winning solutions for organizations committed to providing peak professionals the tools they need to thrive. The company prides itself as The Professionals' Choice, and on its core values surrounding design, quality, support, and sustainability.
In office and mobile environments, Kensington's extensive portfolio of award-winning products provides trusted security, desktop productivity innovations, and ergonomic well-being.
Headquartered in San Mateo, California, Kensington is the inventor and worldwide leader in laptop security locks. Kensington is a division of ACCO Brands (NYSE: ACCO), one of the world's largest designers, marketers, and manufacturers of branded business, academic, and consumer products, sold in more than 100 countries across the globe.
Kensington is a registered trademark of ACCO Brands. Kensington The Professionals' Choice is a trademark of ACCO Brands. All other registered and unregistered trademarks are the property of their respective owners.
© 2021 Kensington Computer Products Group, a division of ACCO Brands. All rights reserved.