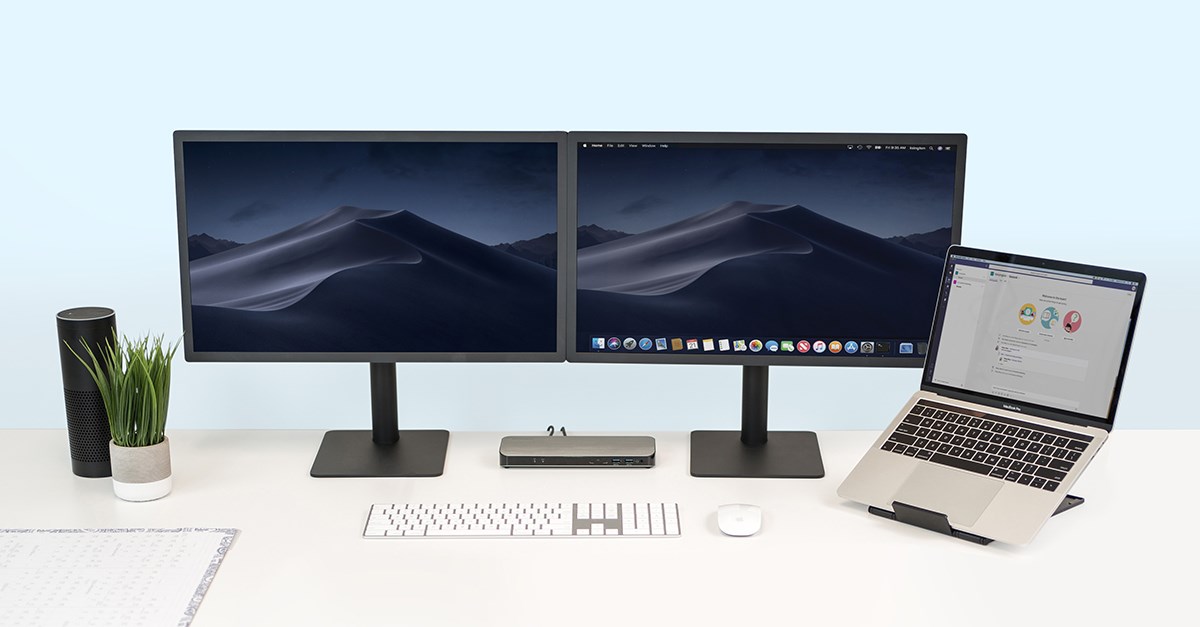 To create the ideal MacBook Pro desk setup for your  home office, you have to:
With the continued growth in popularity of Apple's MacBook Pro amongst remote workers, more and more individuals find themselves looking for the perfect MacBook Pro desk setup; one that enables them to enhance its capabilities with the help of some great add-ons.
Now not every home office will follow the same blueprint. For instance, a designer will likely benefit from a different setup than that of a data analyst or accountant.
Productive WFH workspaces can also differ by the computing device the remote worker uses
So, whether you are setting up your first office (or upgrading your current one) and have a MacBook Pro at the center of your business, there will also be other pieces of technology that you will want to consider as well.
MacBook Pro for the WFH Pro: Why It's the Perfect Telecommuting Device
You probably don't need convincing that the MacBook Pro is a great device. However, there are some specific features that make Apple's professional-class laptop especially good for the WFH set:
Power under the hood: It's not just the processors and onboard NVMe flash in a MacBook Pro that make it perfect for even the most demanding workflows. Its I/O ports can also reliably drive the best external displays, plus accessories like laptop docks.
Software ecosystem: MacOS has a wide selection of applications that are basically tailor-made for remote working. These range from platform exclusives such as the diagramming application OmniGraffle to mass-market video conferencing tools like Zoom.
Audio: A MacBook Pro can be easily paired with AirPods (or, better yet, noise-canceling Airpods Pro) during a conference call. Its best-in-class built-in speakers also make it easier to hear what everyone's saying if you choose to go headphone-free.
With these particular capabilities in mind, how can you ensure you get the most out of them in your home office? Let's take a look at what you can do to set up your MacBook Pro for regular WFH use:
How do I set up my Macbook Pro workstation?
1. Find the Right Docking Station
The MacBook Pro's more modest port selection post-2012 - when its entire design was overhauled, dropping its RJ45 Ethernet jack, optical drive, and many other I/O ports - shouldn't be mistaken for a loss in capability. On the contrary, high-bandwidth Thunderbolt 3 ports make the MacBook Pro more powerful than ever, especially if you can harness that power with a docking station.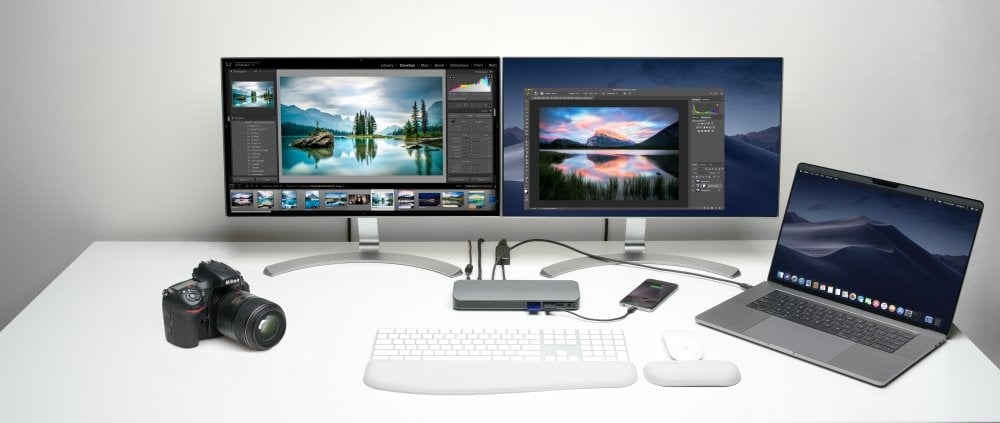 Docks such as the Kensington SD5300T are particularly well-suited to the MacBook Pro's capabilities, thanks to:
Thunderbolt 3 connectivity: The Thunderbolt 3 cable included with each dock can transfer data at up to 40 Gbps, letting you multitask with ease and enjoy dependable performance.
Multi-display support: Drive a single 5K monitor or two 4K displays via dual HDMI or HDMI and DisplayPort.
Plenty of desktop ports: Gigabit Ethernet, USB-A, SD card reader, combo audio jack - it's all here, plus Kensington security slots and VESA mounting holes.
Device charging: Keep your MacBook Pro plus any connected mobile devices like an iPhone or iPad fully charged while connected to the dock.
If you just need a few extra ports, the CH1000 USB-C 4-Port Hub can do the trick. It expands the number of USB-C and USB-A ports, so you can connect an external hard drive, mouse, or other peripheral.
2. Get a Really Nice Monitor
The MacBook Pro is designed to be used with external displays, even ultra high-res ones that require tons of bandwidth. Apple sells its own 6K Pro Display XDR, but there are many other UHD and HD options out there, too.
A Thunderbolt 3 host (like a MacBook Pro connected to a dock) enables users to connect to the best monitors out there. These displays give you a much bigger and clearer digital canvas on which to work with documents, multitask between applications, and collaborate with colleagues and clients.
How much difference can the right display setup make? A Jon Peddie Research study found a 20% to 30% productivity boost from using external monitors.
3. Choose Ergonomic and Versatile Peripherals: keyboards, mice, wrist rest, and headphones
The MacBook Pro can support numerous wired and wireless peripherals. For a home office, the following options may be especially useful:
Ergonomic keyboards
Some MacBook Pros have shallow butterfly keyboards that aren't ideal for prolonged periods of typing, due to low key travel (i.e., the physical distance a key goes with each press) and very hard wrist rests. Ergonomic keyboards like the Pro Fit Ergo Wireless Keyboard are designed for superior comfort and adjustability. Bluetooth connectivity further reduces cord clutter and frees up valuable ports for other USB-C accessories.
Mice and trackballs
The MacBook Pro's built-in trackpad is very responsive and versatile, with lots of available gestures. But if you're setting up your laptop in a home office, it may not be as convenient or comfortable to use as a mouse or trackball. Something like the Pro Fit Ergo Vertical Wireless Trackball can fill in nicely - it's ergonomic, precise, connectable via Bluetooth, and has programmable buttons for enhancing user efficiency and productivity.

Wrist rests and mouse pads
Using a Magic Mouse 2 or Magic Keyboard? Consider getting an ergonomic wrist rest. Kensington ErgoSoft Wrist Rests were designed to work seamlessly with Apple peripherals. ErgoSoft Wrist Rests for Apple's Magic Keyboard, Magic Keyboard with Numeric Keypad, Magic Mouse and Magic Trackpad can bring added comfort to your workspace.
Ethernet adapters
If you have a home office, your laptop is probably stationary most of the time, so why not go for a wired connection? An Ethernet-to-USB-C dongle such as the CA1100E USB-C to Ethernet Adapter will give you a stable, fast internet connection, up to 2.5 Gbps, or fast enough to get the most from virtually any home internet plan.
External hard drives
Running out of storage, or just need somewhere to stash those seldom-used files? A capacious HDD is relatively cheap per GB and can free up some of the faster NVMe flash storage on the MacBook Pro itself for better use.
AirPods/headphones
If you expect to participate in a lot of calls while WFH, grab a reliable pair of headphones. AirPods can sync with your MacBook Pro and provide good call quality. The AirPods Pro also comes with active noise canceling for better focus. Wired headphones are a fine choice as well, as the MacBook Pro has a built-in headphone jack.
With these essentials, you can create a flexible and productive work-from-home environment with ease.
Get other work from home tips and resources by visiting our WFH page