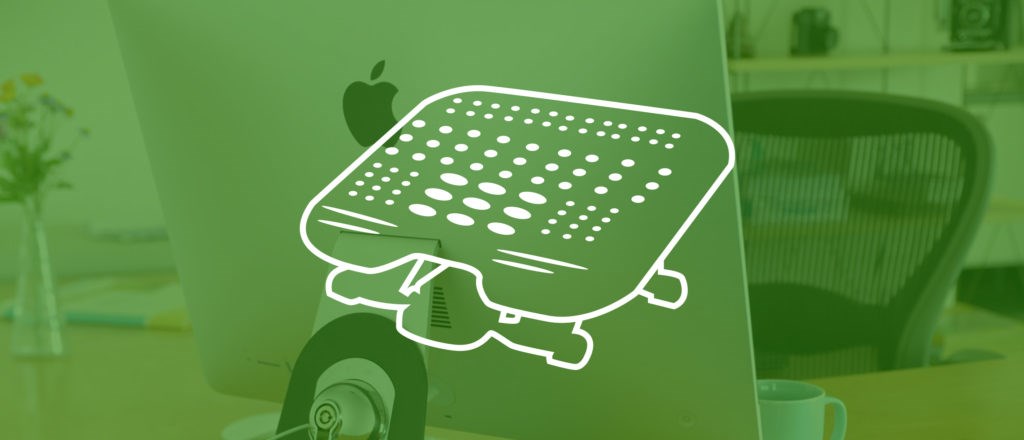 Society is currently in love with everything portable, and as a result, products are getting smaller, lighter and easier to transport. Mac products are at the forefront of this, with products such as the MacBook Air now shrunk down to 11 inches, and the iPad Mini coming in at a tiny 7.9 inches. This is fabulous for those who work on the move and don't want to carry bulky equipment, but this reduction in size can come with some compromise on user comfort, leaving users hunched over tiny screens, or trying to type on a small on-screen keyboard.
Thankfully, ergonomic products are designed to help the user make the most of these products without compromising on comfort. With a wide variety of ergonomic products available, they can be broadly categorised into five groups:
1) Workstations, risers and stands
Sitting at a desk all day can be very damaging. 90% more pressure is put on your back when you're sitting compared to when you stand, which can cause real health problems, particularly for those with existing spine problems. A sit/stand workspace allows the worker to choose whether they'd rather work standing or sitting to use their MacBook or iPad. Standing, even for a short space of time, can increase productivity up to 10% while also improving concentration and reducing headaches, according to Business Insider.
2) Foot rests and back supports
Foot rests and back supports are designed to take some of the pressure off your body. A foot rest which changes the position of the feet or legs can take the strain from your upper legs, which benefits workers who sit for longer periods of time. If you really want a luxurious experience, Kensington's SoleRest features a textured surface which allows the user to rock their feet, and receive a foot massage from the shaped buttons. Back rests are designed to realign the spine, which may have suffered if the user has problems with their posture, decreasing pressure by around 30%. There's no need to invest in new furniture either. Kensington's SmartFit Conform back rest can be fitted onto existing chairs, providing the user with adjustable posture support.
3) Peripherals
Apple's products are designed to look good, and there's no denying that they're aesthetically pleasing. However, some users find it's a case of style over substance, making them uncomfortable in the hand, or forcing them to work at an unnatural angle. Users with mobility problems may also struggle to make their hands fit into Apple's designs. More ergonomic peripherals, such as vertical mice, which are a block which fits into the palm of the hand, and split or curved keyboards which allow the arms a more natural range of movement, can really benefit the Mac user struggling with a conventional keyboard, and are easy to use with either Bluetooth or USB dongle connectivity.
4) Mouse pads and wrist rests
Excessive use of a mouse can cause compression on the blood vessels, tendons and nerves of the wrist joint, which is why you'll often see gel pads on the edge of a keyboard or mouse pad. With slimline MacBooks keeping the wrists so close to the desk, the padding offered by these provides a little more flexibility for the wrist, protecting the user from inflamed tendons. Kensington's Duo Mousepad is curved to match the natural shape of the hand, with ventilation to stop hands getting clammy, or if you really want to customize fit, the SmartFit Mouse Pad has removable inserts which allow you to raise or lower the level of the gel padding for the user.
5) Copyholders
Particularly useful for those who need to refer to documents when typing, a copyholder keeps a document to hand. Traditionally, they'd keep the document near to the user's monitor, which was a distinct improvement on the piece of paper which was just left next to a keyboard, with the user looking up and down all the time. Kensington offer a copyholder which can be clipped to the top of a MacBook screen, keeping the document at an easily viewed level and avoiding the user constantly looking up and down at their desk, which can result in neck injuries.
It's far better to tackle the issue of productivity from the outset. When it comes to employee health, prevention really is better than cure. A healthy workforce is a happy one with minimal absence and access to all the right equipment to make their working day as easy and comfortable as possible.
Ready to send your productivity soaring? Our ergonomic products can help. Take a look at our full range here!