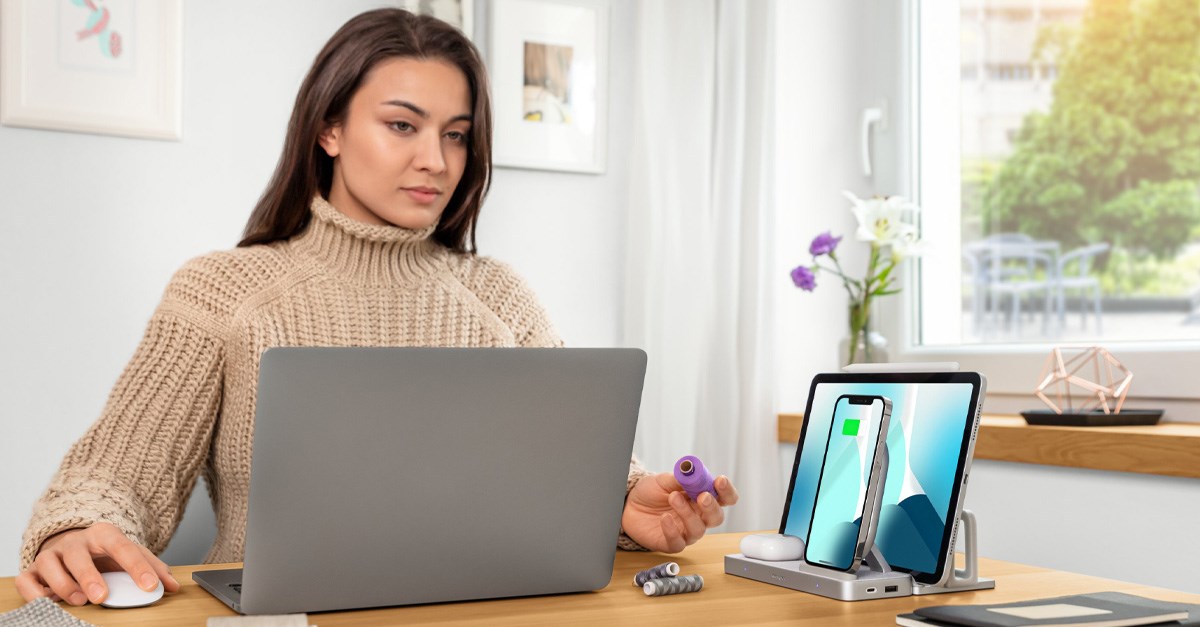 Apple was the first to come out with the smartphone when they launched the iPhone 2g over a decade ago. And it seems Apple has always been ahead of Android when it comes to product innovation. However, in 2011, Android came out with the first wireless charging pad for mobile devices in the U.S. Samsung developed this technology for the Droid Charge.
Apple did not take this lightly and has spent the last few years developing workstations to charge your Apple devices and keep them organized. Kensington's latest solution to your cluttered devices is the best Apple minimalist set-up using a StudioCaddy™ with Qi wireless charging.
Desk Organization Made Easy with the Apple Minimalist Desk Set-Up
Qi wireless charging is an open-interface wireless power transfer device that uses inductive charging at distances up to 4 cm. Samsung developed this technology for its convenience, but it also solved another problem. Now a charging station is the best solution in desk organization. The StudioCaddy™ does that for you, and it works to charge and organize all of your Apple devices, including:
MacBook Pro and MacBook Air
iPad and iPad Pro (up to 12.9")
iPhone
AirPods
Apple Watch
Top Reasons to Organize Your Workstation with the StudioCaddy™
People who value a minimalist lifestyle also desire an organized workstation. By keeping your devices arranged orderly, you streamline your workspace and promote productivity. You also provide yourself with a more comfortable work environment, which will improve your mood. You can achieve this with the best Apple office set-up.  
Here are a few of the other benefits and features of a StudioCaddy™ with Qi:
Space-Saving Desk Organizer: This design saves valuable desk space while keeping your Apple devices charged and organized.
Flexible Design Features: The wireless charger works in either landscape or portrait mode with your iPhone and attaches and detaches from the stand magnetically. So you have the freedom to place it wherever you would like.  
Connectivity Options: There are additional USB-A and USB-C ports for more connection options. That allows you a few wired options while also charging wirelessly.
Reliable Stability: This set-up has a steady base and a sturdy stand for viewing, charging, or storing your iPad or iPad Pro in both landscape and portrait orientation.
Multiple Device Compatibility: This charging station works with Apple Magic Keyboard, Apple Smart Keyboard Folio, and almost every iPhone and iPad case, including Kensington's Blackbelt line of protective cases.   
Maximize Your Workspace with an Apple Desk Organizer
First, when maximizing your workspace, you need to start from scratch. The easiest way to organize is to do so with a clean slate. Take everything off your desk and clean out the drawers. Set things into piles based on how you will place them back on your desk.
The next step is to reduce the number of office supplies and other items that you have. Remove excess furniture, plants, decorations, and anything else that will get in the way of your process. Once you have removed unnecessary items, throw them away. Do not move unwatched clutter to another area. Get rid of anything you do not want, use, or need.
Minimize any paperwork or documents that you can. Store information digitally when you can, and limit the amount of printing that you do each day. Also, get a tray to organize the documents and paperwork that are unavoidable.
Finally, when you begin to set your desk the way that works best for you, remember to keep essential items near and archive non-essential items elsewhere. Create a space within your home or office, away from your workstation, where you can create extra storage.
When you can, utilize wall space for extra storage. There are creative and decorative ways to do this. Label makers are a fun way to set-up your desk so that you ensure everything goes back where it belongs and ends up where it is supposed to go.
Here are three tips for setting up your home office or workstation:
Dedicate a workspace: Choose a place that is dedicated only to work. This space should be open to natural light but closed-off from disruptions.
Make sure the space is comfortable: Improve ergonomics to promote mental clarity and long-term health.
Invest to stay productive: Maximize equipment and devices available to keep yourself productive. Set up multiple monitors, an external mouse and keyboard, and a docking station like the StudioCaddy™ to improve efficiency.  
The only thing left to do when you have finished setting up a home office and organizing your desk space is to add a personal flair. Inspire yourself to work harder or to be more creative. Artwork doesn't have to take up much space.
Kensington Can Help You Organize All Your Apple Devices
Creating an inviting workspace that keeps you organized and your devices charged is the best way to stay productive, and Kensington's desktop solutions are here to help. A vertical MacBook and MacBook Pro stand takes up little space on the desk and offers an ergonomic benefit when placed strategically on your desk.
You could watch hours of do-it-yourself videos of projects that you can do to maximize the space on your desk. Otherwise, you can review the wide range of products available from Kensington that manages all of your problematic clutter from multiple Apple devices.
With the new release of the StudioCaddy™ with Qi wireless charging for Apple devices, tech gurus are now excited for this minimalistic approach to device docking and mobile organization for the desktop. At Kensington, engineers are preparing for what comes next. Technology continues to improve the way to work both remotely and at the office. As technology advances, so do the accessories and our need to organize them.