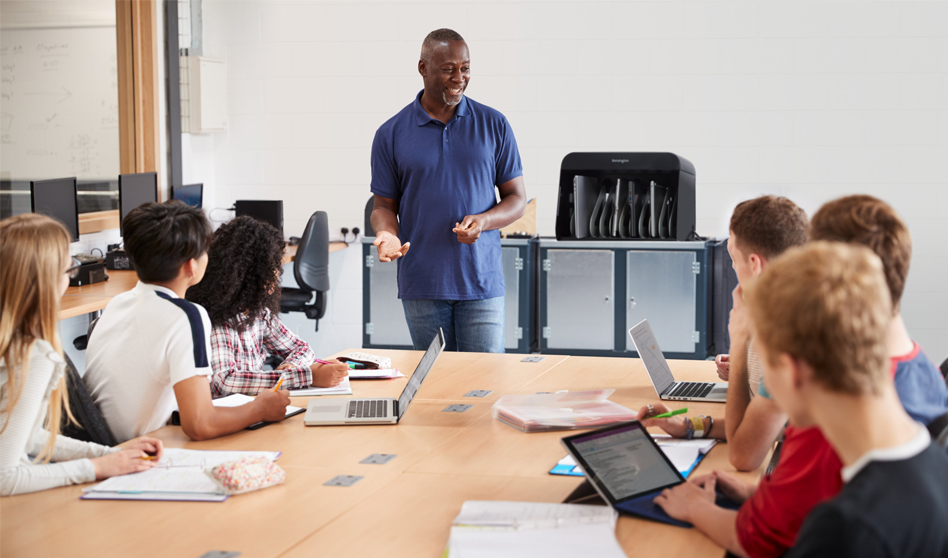 With the Universal AC Charge Station, Kensington has developed the ultimate tool to help organizations leverage mobile computing and keep up to 12 devices charged and organized.
The Kensington Universal AC Charge Station was engineered and rigorously tested to meet the demands of classrooms, healthcare offices and retail spaces that need a durable storage solution for tablets, laptops, and e-readers.
Strong Protection and Flexibility
With the Kensington Universal AC Charge Station, an organization can store and charge 12 AC-powered mobile devices. The Kensington Universal AC Charge Station is equipped with adjustable slot dividers that can be easily repositioned or removed to accommodate devices including Chromebooks, Surface Pro devices, MacBooks, Galaxy Tabs, laptops, tablets, and other 2-in-1 mobile devices. The 14" slots are large enough to easily accommodate thick devices and devices with rugged cases.
The external metal frame of the Kensington Universal AC Charge Station offers durable protection that is stronger and harder than that of plastic or polymer frames. The sturdy metal frame was designed and tested to withstand the demands of everyday use in high-traffic environments while also providing effective heat dissipation to protect devices during storage.
To eliminate clutter, there is ample power adapter storage inside the Kensington Universal AC Charge Station to keep AC power adapters neatly tucked away, and a built-in cable management system to keep power cords organized and ready to use.
To protect all devices from voltage spikes and power surges during charging, the interior of the Universal AC Charging Station provides 12 well-spaced grounded outlets.
To ensure flexibility in dynamic environments, the portable design of the Universal AC Charging Station fits on standard AV carts for easy transport between offices or classrooms.
"Delivery of educational materials at all levels has been transformed by online interfaces and tests that adapt to the level of the user," said Kensington Global Product Manager Louie Yao, "while at the same time, healthcare providers and brick-and-mortar retail sites are using mobile computing devices to deliver a better experience that is custom-tailored to each consumer. With the introduction of the Kensington Universal AC Charge Station, organizations have the solution they need to keep those mobile devices protected when not in use and charged and ready when they are needed."
Supporting mobile computing and technology in the classroom
One example of the Kensington Universal AC Charging Station supporting innovations in education is a school with a dedicated STEM instructor who uses a combination of mobile devices to present enrichment lessons at all levels in an elementary school. With the Kensington Universal AC Charge Station on a media cart, the teacher takes out a MacBook to show kindergarteners a video about clouds and evaporation, then moves the cart to a 5th-grade classroom where students work in small groups to perform a virtual frog dissection with Chromebooks. At the end of the day, the STEM instructor neatly stores all devices in the Kensington Universal AC Charge Station, takes it to the school office, and plugs it in so that all devices will be charged and ready for the next set of lessons.
Transforming customer service with mobile devices
More cafés and restaurants have moved ordering and payment to mobile devices so that their staff have the flexibility to help any customer who needs their help to be served quickly. With a Kensington Universal AC Charging Station, every device can have a dedicated location for storage at the end of each shift. During slow periods, or when the restaurant is closed, the devices are being charged so that they are ready and available to staff when needed.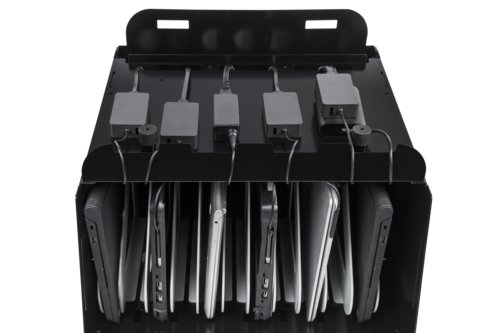 Laptop locker with security for mobile devices
In high-traffic environments, or anywhere that devices contain sensitive or valuable data, it is important to keep them secure in addition to being organized and charged. As the trusted industry leader in device security for decades, Kensington also offers a secure version of the Kensington Universal AC Charge Station with a locking door. The security door is equipped with a Kensington Security Slot that accommodates a standard padlock or a Kensington keyed cable lock to secure devices and the charging station to a fixed object.
To support the flexible needs for security for any organization, Kensington offers the Locking Door for the Universal AC Charge Station that can easily be installed on a Kensington Universal AC Charge Station to provide protection from theft and unauthorized use of devices.
This level of security is vital in a healthcare practice. With a Kensington Universal AC Lock & Charge Station, each device containing sensitive patient records can be kept stored and locked when not in use, but quickly available to medical practitioners to help them provide the best care possible to their patients. A different Kensington Universal AC Lock & Charge Station could be used to store and manage devices containing payment and insurance reimbursement transactions to help an office manage access to sensitive information of all kinds.