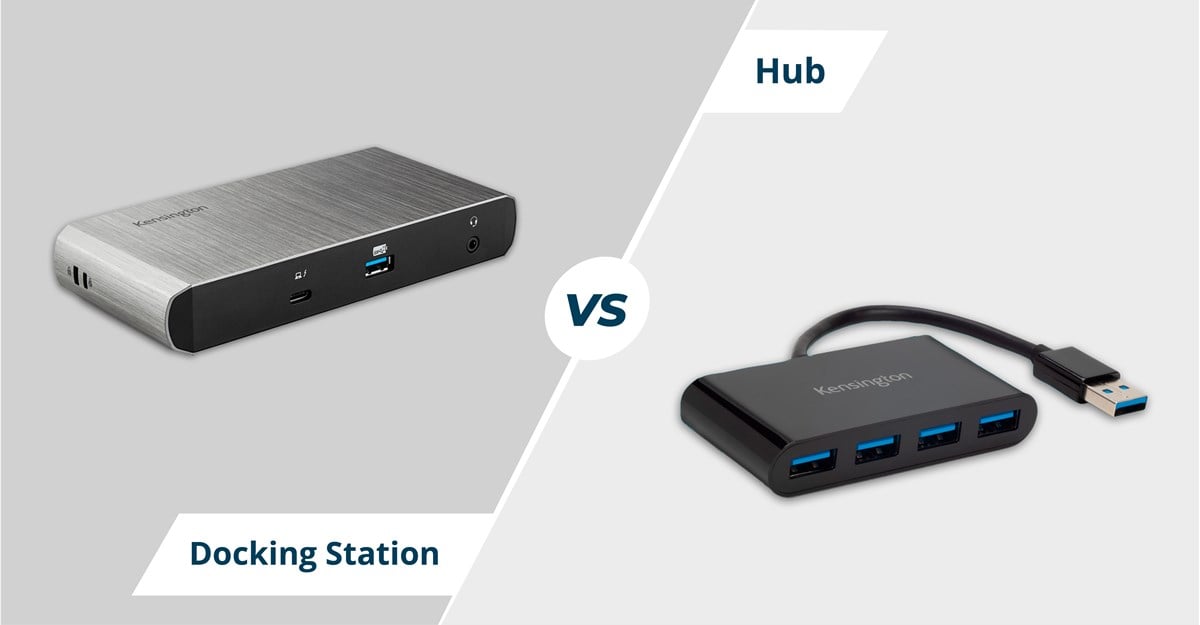 Do I need a hub or a docking station?
Hubs expand the number of ports on your device to connect and/or charge another peripheral. They work like power strips for your computer.
Docking stations are plugged into the wall and transform your portable device into a desktop replacement. A dock is like adding a second engine to your computer. 
There are more options than ever to connect computers to monitors and other devices. It can be hard to tell the difference between hubs and docking stations. Many have overlapping functionality and they often look alike. Both are valuable tools for today's technology, but they each have a unique use.
Laptop and 2-in-1 computers have been streamlined down to Thunderbolt 3 and USB-C connectivity ports. It keeps the device's form factor slim, light-weight, and easy to travel with, but you're often left unable to connect peripherals to your computers. With today's modern technology, you should be able to connect all your devices, charge your phones, and use an external monitor.
This guide will walk you through the differences between hubs and docking stations, so you understand which one is right for you.
Table of Contents:
What is a Docking Station?
Docking stations expand the functionality of your portable device, transforming it into a desktop replacement. A docking station connects via Thunderbolt 4, Thunderbolt 3, USB-C or USB-A and provides workstation power for your entire setup.
Most docks offer four to eight USB-A and two to four USB-C ports with fast charging each independently powered by the dock itself, instead of your laptop.
How does a Docking Station work?
Unlike most hubs, docking stations are plugged into the wall, so they can provide power to both your laptop (up to 100W depending on the model) and peripheral devices.
Video output on docking stations is standard, often supporting one or more monitors. The video ports supported from one docking station to the next can vary though between DisplayPort, mini DisplayPort, HDMI, DVI, or VGA with resolutions up to triple 4K @ 60Hz. Docks also support Gigabit Ethernet, a variety of audio connections, SD card readers, and more.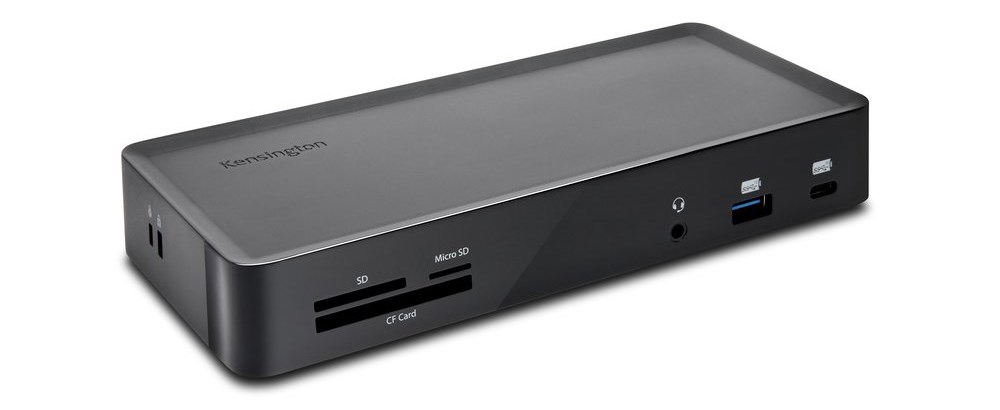 Hybrid docking stations like SD5700T (TB4/Dual 4K/85W), SD5600T (Dual 4K/100W), SD5500T (Dual 4K/60W) are the first of their kind, supporting Thunderbolt 4, Thunderbolt 3, and USB-C laptops. While SD4700P (Dual 2K/60W), SD4750P (Dual 4K/85W), SD4780P (Dual 4K/100W) and SD4900P (Triple 4K/60W) are uniquely adaptive solutions that support USB-C and legacy USB-A laptops. These hybrid solutions allow for ease of management for environments where mixed laptop deployments, or hot-desking, is prevalent.
While charging is natively supported for USB-C devices that support Power Delivery, an optional power splitter is available for legacy USB-A devices that require charging via the barrel connector. This optional power splitter works with SD4700P, SD4750P, SD4780P and SD4900P docking stations and supports devices requiring 20V/60W and comes with eight different power tips that support most 20V/60W laptops.
What is a Hub?
Hubs expand the number of ports on your device. Whether it's USB-A or USB-C, these hubs work as splitters to let you plug more devices into a given port. These hubs typically pull power from the laptop, and their lightweight and small size make them easy to carry around.
Kensington's K39123AM is a 7-port USB 3.0 hub that provides 4-amps of charging power and transfer speeds up to 5 Gbps. It's the perfect hub for travelers with a lot of USB-A accessories, like external hard drives and an external mouse. Meanwhile, the K39124WW is a 4-port USB-C hub with two USB-A ports and two USB-C ports. This acts as a cable converter to use USB-A peripherals with a device that only has USB-C port(s) available.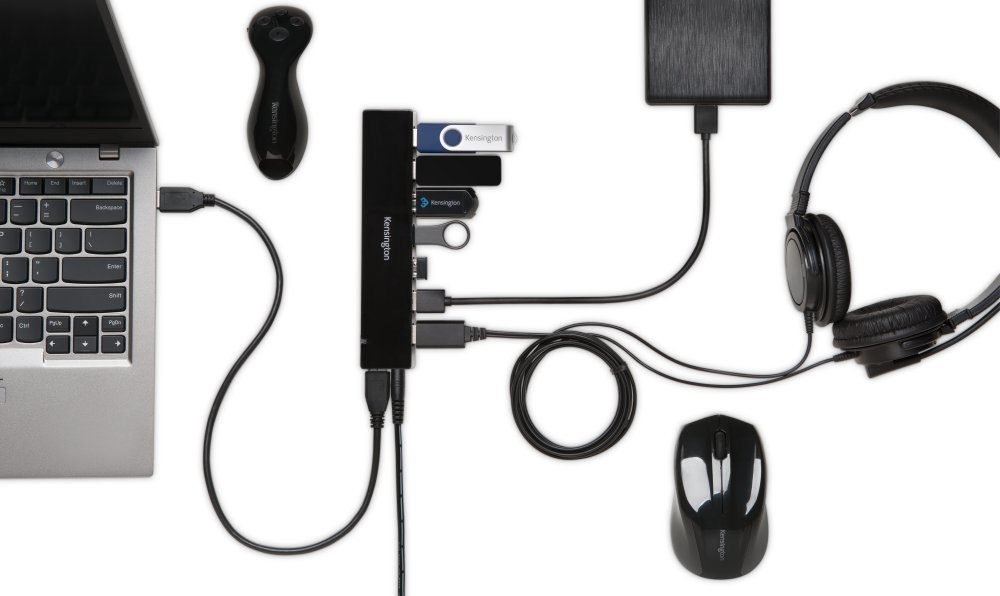 In fact, cable converters can also be useful, especially when converting DisplayPort to passive VGA, like our K33024WW. We also offer solutions like K33475WW, which converts USB-C to Gigabit Ethernet, and K33985WW, which converts Mini DisplayPort to HDMI in 4K. Cable converters are great when you just need to get another connection to fit in your setup.
Hubs are the perfect solution for expanding the power of your existing ports, whether on a laptop or desktop. They're plug-and-play and ensure there's always an available port for connecting and/or charging another peripheral. While some hubs support audio and video, some people need to step up to a docking station.
Hub vs. Docking Station: Which Do I Buy?
The hubs vs. docking stations debate isn't a debate at all as both are useful. However, what you need varies based on what you are trying to achieve.
Docking stations turn your laptop into a desktop powerhouse, providing full connectivity to the office or smart home. This gives you power to use any screen in the building as your 4K extended monitor while hardwiring a reliable internet connection, printer, and more. A dock is like adding a second engine to your computer.
We all have many USB devices to connect these days, from smart, app-based power banks to external hard drives, SD card readers, smart home hubs, printers (2D and 3D), tablets, smartphones, and everything in between. There simply aren't enough ports on today's computers to handle them all, and hubs work like power strips for your computer, expanding the number of devices you can connect.
Keeping Your Desk Secured and Organized
Another area where Kensington docking stations really shine is in our product design. Our docking stations come standard with our Kensington Security Slot(s), which accommodates our award-winning keyed and combination security locks. By adding security to your docking station, you won't have to worry about equipment being stolen when left unattended.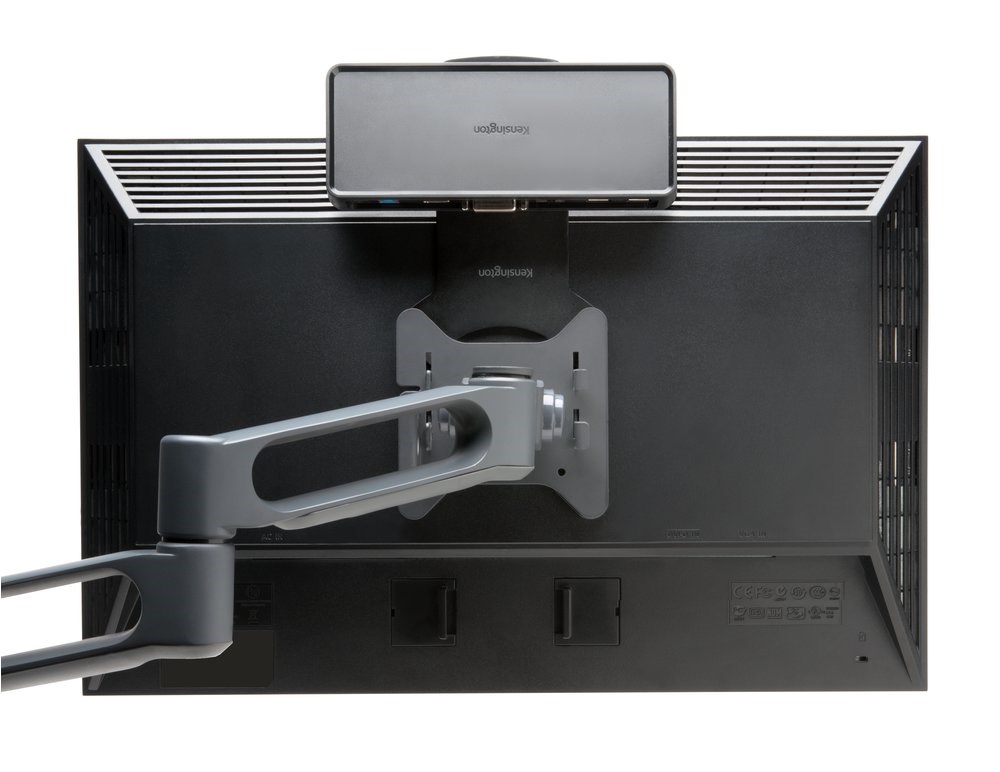 We also offer optional zero-footprint mounting solutions. While K33959WW is designed to mount the docking station to the back of a monitor, K34050WW is designed to allow you to mount the docking station to a cubicle partition wall, monitor stand or arm, edge of a desktop or other accommodating surface for maximum mounting flexibility. Both options reduce desktop clutter, allowing you to make the most of your space.