In today's world, communication is key, and clear and reliable audio is a critical component of effective communication. As more and more professionals work remotely or in hybrid work environments, the need for high-quality audio equipment has become increasingly important. That's why Kensington engineered the H3000 Bluetooth® Over-Ear Headset, which recently won the prestigious Red Dot Award for Product Design. In this article, we'll dive into the making of this award-winning headset, from its design and construction to its innovative features and functionalities. Whether you're a professional looking to optimize your audio experience or simply someone who values high-quality sound, the H3000 headset is sure to impress. So, let's explore what makes this headset a true Red Dot winner.
Red Dot Award: The Gold Standard in Product Design Recognition
The Red Dot Design Award is one of the world's largest design competitions, and one of the most sought-after international marks of design quality.  It is a prestigious international competition with products evaluated by an independent panel of experts based on criteria such as innovation, functionality, formal quality, and sustainability. Winning a Red Dot Award is widely regarded as one of the most prestigious awards in product design, with winners receiving global recognition for their design achievements. The award is highly competitive, with thousands of entries from over 60 countries each year, and only the most exceptional designs receiving the coveted Red Dot label. Overall, the Red Dot Award for Product Design is a symbol of excellence and innovation in the design industry, and winning the award is a significant achievement.
Kensington earned the 2023 Red Dot Award for Product Design for the H3000 Bluetooth® Over-Ear Headset, and was "Recognized for Outstanding Design that Incorporates Aesthetic Appeal, Function, and Innovation".
The Award-Winning Bluetooth Headset Designed for Professionals
Kensington's H3000 Bluetooth® Over-Ear Headset secured the Red Dot Award for Product Design thanks to its innovative features that deliver a premium audio experience. Engineered for Intel® Evo™ Laptops, the headset incorporates cutting-edge artificial intelligence and passive noise-cancellation technologies, enabling professionals to work in noisy environments without distractions or disruptions.
The H3000's superior sound technology contributed to its Red Dot Award achievement. AI-powered environmental noise-canceling (ENC) microphone technology suppresses up to 90% of distracting sounds such as keyboard clicks, printers, and nearby voices so others can hear your voice clearly, sidetone confirms you are being heard, voice guidance confirms mute status, and dynamic 40mm neodymium drivers deliver a superior audio experience with HD voice support—for calls and music.
The H3000's innovative design also played a significant role in its Red Dot Award win. The headset leverages Kensington's INTERSECT design strategy, which focuses on visual innovation to deliver a clean, minimalistic design that stands out among competitors. The flexible boom microphone, which rotates 270 degrees, and the lightweight form factor, which offers cooling gel-infused memory foam earpads and heat-transferring, breathable fabric, provide all-day comfort—maximizing productivity and work efficiency.
"The receipt of the Red Dot award is particularly exciting because it validates our efforts to bring to market innovative products that increase productivity and comfort for professionals whether working in the office, at home, or anywhere in between" stated Erik Campbell, Senior Lead Industrial Designer at Kensington. "This year's award-winning products effectively address the challenges posed by hybrid and work-from-home environments, where desktop space is at a premium, and environmental noises can create distractions during virtual meetings. These awards reflect the value that Kensington brings to the market as we innovate to meet the ever-evolving requirements of the business environment."
A Best-in-Class Headset for Today's Professional
Today's professionals demand headsets that combine wireless convenience with premium productivity.  Tailored to meet the demanding needs of today's office and remote working environments, Kensington's H3000 Bluetooth® Headset is a Red Dot Award-winning solution that delivers an ergonomic over-ear design for an immersive and focused experience, the wireless freedom to roam, and AI-powered environmental noise-canceling technology to suppress distracting background sounds.
Works with Microsoft Teams, Zoom, Windows, macOS, Chrome OS, Siri, and more
Professional ergonomic over-ear design and swivel earcups (up to 90°) for all-day comfort
Rotating microphone (up to 270°) that can be worn on the right or left side
Passive noise cancellation (PNC) technology blocks out surrounding noise
AI-powered environmental noise-canceling (ENC) microphones suppress distracting sounds
Quick access to volume, play/pause, mute, and busy buttons
Integrated busy lights to minimize colleague interruptions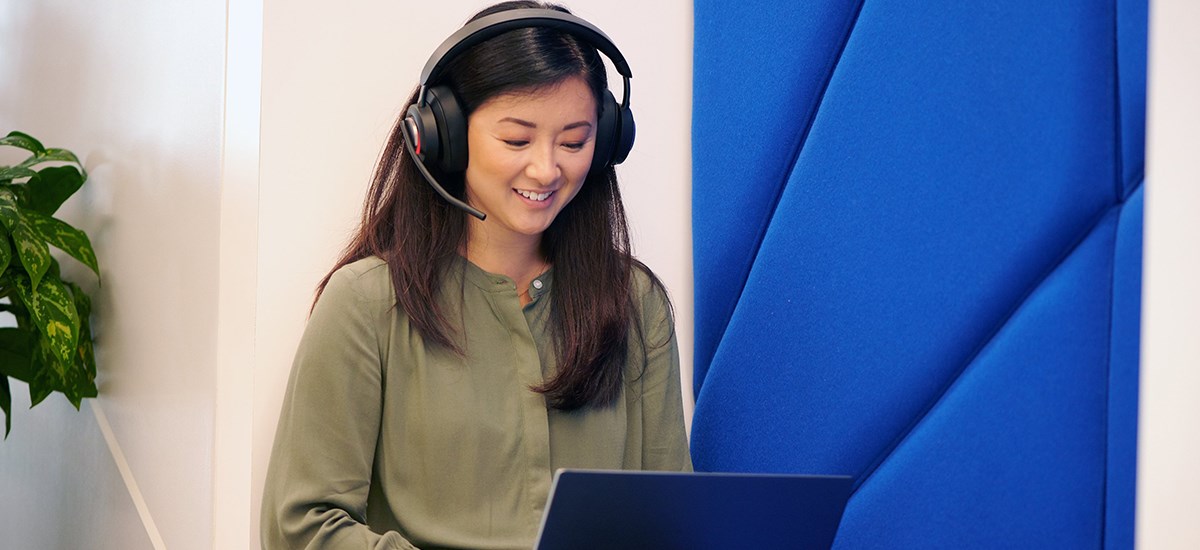 Overall, the H3000 headset's combination of advanced audio technologies, comfort-focused design, and innovative visual aesthetics make it a standout product that is worthy of the Red Dot Award for Product Design. Whether you're a professional working from home or in a busy office, the H3000 headset provides an unparalleled audio experience that will help you stay focused and productive throughout the day.
Learn more about the Kensington H3000 Bluetooth® Over-Ear Headset