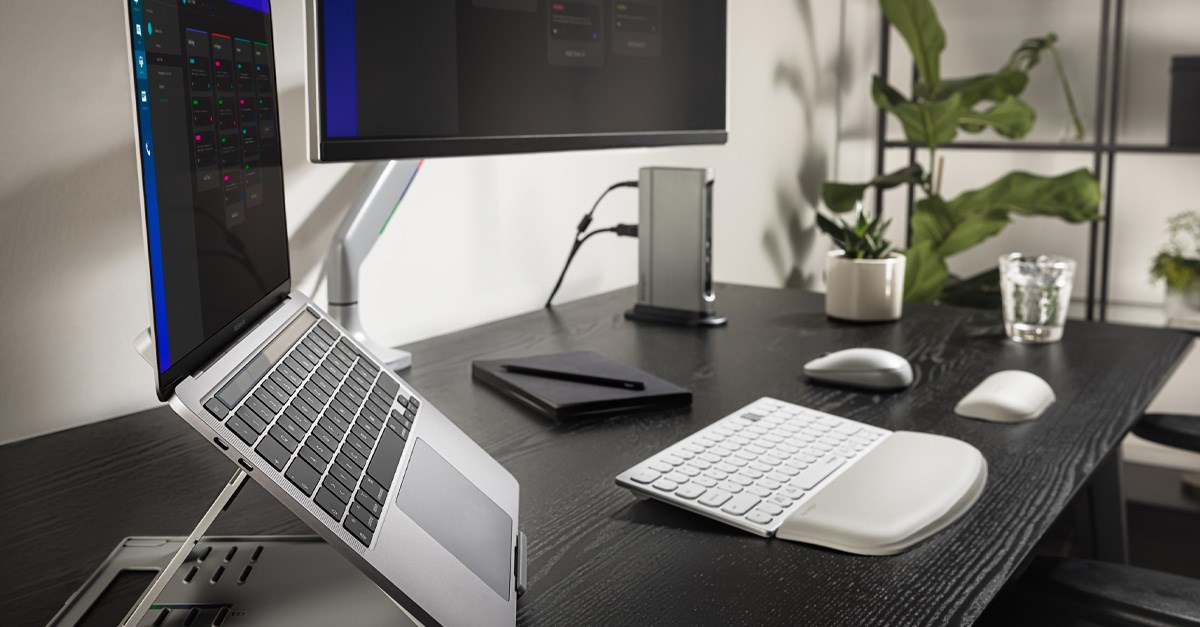 Hybrid work models create a myriad of challenges for the companies that deploy them. Yet, there has never been more of a need for solutions to these challenges. Kensington offers the latest in products to make the difficulties of having remote and hybrid workers manageable.
Whether you are the CEO, IT manager, or HR, ensuring that you prepare staff for a remote hybrid work model is your responsibility. Kensington is here to point you in the right direction and help you manage the challenges of employing a hybrid workforce.
Kensington has created solutions designed specifically for hybrid workers, such as our laptop docking stations, ergonomic keyboards, and accessories. However, our impressive portfolio does not stop there.
5 Reasons Why Hybrid Work Models Remain a Challenge for Organizations
The work from home or hybrid work model has been around for a while now, even before the worldwide pandemic required these work schedules. Yet, it remains problematic to implement these work models at large enterprises.
The question is, why? A recent survey revealed that approximately 47% of workers appreciate flexibility like working from home, or coming into the office two or three times a week and working remotely for the remainder of the workweek.
However, when you get down to the details of these challenges, implementing this type of work model can be more complicated than it seems on the surface. Explore some of those challenges and how they can be solved, so that your enterprises can find success with a hybrid work schedule for employees.
1. Security Concerns
Security is the chief concern for IT managers when it comes to hybrid and remote staff. Employees need full access to the organization for which they work. If it is your job to keep them connected, you know the importance of a secure remote login process.
Kensington can help secure access for remote and hybrid staff with the VeriMark™ IT Fingerprint Key. It features FIDO2/WebAuth for Windows Hello™ and Windows Hello for Business™ and deploys the latest World Wide Web Consortium (W3C) web standards. It is easily integrated into your current IT infrastructure and provides a fast and secure login to Microsoft services for Edge.
2. Universal Compatibility
The concept of remote working is not always compatible with an enterprise-wide system and architecture. Remote workers often use their own devices. These devices may not sync or share data that resides on the network infrastructure of the organization.
Kensington offers a line of universal docking stations for whatever devices your employees are using. Many provide solutions for both Windows and Apple laptops. They have multiple ports for additional devices and allow for large file transfers in seconds. Universal docking stations ensure the most reliable connection while providing IT managers the maximum network visibility.
3. Reserving a Space
Meeting room booking systems are tools for booking conference rooms and other places in a shared office or workspace. This software aids managers in supporting large enterprises by ensuring that planners and attendees have the necessary space for critical meetings. 
The primary purpose of a meeting room booking system is to manage meetings such as team meetings, one-on-ones, sales calls, and brainstorming sessions. With this software, office managers can easily designate specific platforms for individual use. They can also provide the necessary permissions and restrictions to ensure appropriate usage.
Two popular brands of meeting room booking software are Robin and Condeco. Robin specializes in reducing workflow friction by equipping employees with pertinent information. Condeco is the leading provider of office management software, helping you create a more productive and user-centric workplace experience. 
They both provide back-end management software for today's hybrid work culture. With specialized tools for space and desk management, you can get everything you need to help people find each other fast, and optimize how staff uses office space.
4. Nomadic Worker Comfort
Nomadic workers need options for easy transport and set-up of their workstations. When employees go from home, to the office, to working wherever for the day, they need to set up and access their devices quickly and conveniently.
For that reason, Kensington offers on-the-go workers laptop stands, compact keyboards, and portable mouse or trackball options. By supplying items that you take with you, Kensington ensures that employees are ready wherever they work.
5. Work From Home Set-Up
Kensington helps organizations stay agile while maintaining the comforts of their remote workforces with solutions that account for human factors, such as ergonomics for workers on-site and remotely. With their complete line of ergonomic accessories, including the memory foam seat cushion and the SmartFit® Easy Riser™ Go Adjustable Ergonomic Riser, Kensington helps promote proper body mechanics to increase productivity. When you can sit longer, you can get more done. 
If you plan to implement a hybrid work model long-term, getting your team set up with the right equipment will improve efficiency and overall morale.
Challenges for the Hybrid and Remote Worker
Large organizations are not the only ones who struggle with the challenges that hybrid work models present. Hybrid workers struggle with equipment portability issues, but they also have to deal with a few additional challenges. 
Internet connectivity remains unreliable for the 46 million Americans who live in rural areas, or anyone who lacks the broadband speeds needed for consistent, high-quality video connections. 
Furthermore, many enterprises have complex software licenses attached to physical devices such as laptops and desktops that are difficult, if not impossible, for remote employees to access. Without specific pieces of hardware in front of them at all times, remote access becomes the nemesis of hybrid workforces.
Hybrid Work Provide the Best Opportunities for Large Enterprises with Kensington 
With remote work on the rise and more organizations adopting a hybrid work model, large enterprises must understand how these models can help or hurt their bottom line. In addressing the challenges these work models bring, you set up your enterprise and your employees for success.
At Kensington, we have experience in helping corporations and other organizations understand the effects of this new way of working. We do not simply offer product solutions. We focus on and are committed to supporting businesses undergoing a digital transformation. This way, your organization remains ready no matter what happens next.
Hybrid and remote workers create challenges that we at Kensington are prepared to help your business manage. Contact us today to learn more about our proven solutions.