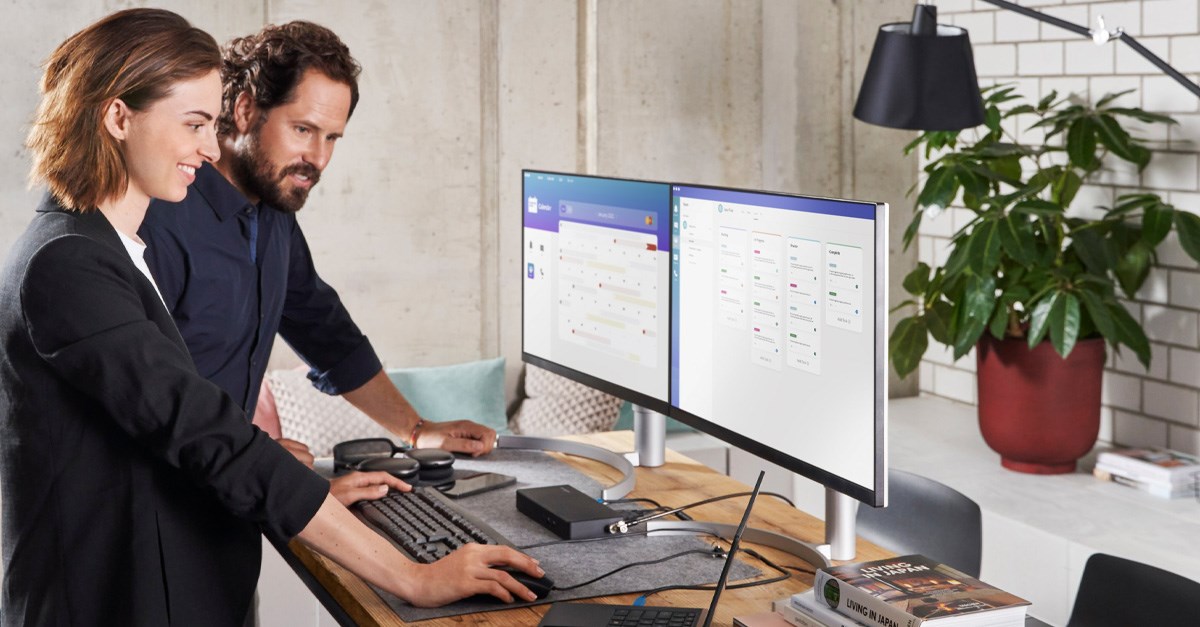 As people return to the office, the hybrid work model, hot-desking, and even the new hoteling desk stations trend – workstations set up for temporary use – help companies have a smaller footprint in commercial real-estate expenses. Yet, shared workspaces are not ideal for many employees. 
Just as people have adapted to the remote work model, they must adopt this other work model and share a workstation with others. And this is proving to be a challenge.
People are used to working from home with their own equipment at their personal workstations. Transitioning to a shared workstation requires being prepared by leaving home with all the equipment needed for the whole workday.
Kensington has you covered. This will discuss five tips for transitioning successfully to a hybrid work model with hot-desking or working from a hoteling desk station.  
What are Hot-Desking and Hoteling?
Hot-desking typically involves sitting wherever there is available space within the office. If one seat becomes vacant, it becomes open for anyone looking for somewhere to work on scheduled days at the office.
The term comes from traditional workspaces where employees "hot desked" their chairs around different unoccupied desks throughout the day, so no individual was permanently stationed at any particular workspace.
Hoteling is the newest trend in office management. Workers have the freedom to reserve a desk or cubicle when they need it for their work.
Hoteling has proved successful because of its reservation-based unassigned seating. This arrangement allows workers to book space on an as-needed basis.  
5 Tips on Successfully Transitioning to a Hybrid Work Schedule
To make this transition to these new work models successful and more manageable for everyone, here are five tips:
Provide Universal Compatibility in Docking
Nowadays, most homes and offices have a mix of Windows-based computers and Mac OS systems. Unfortunately, these two platforms don't speak the same language when connecting peripherals like printers or monitors. Kensington offers universal docking stations where you can simply plug in whichever laptop you have. 
These docking stations accommodate any cord or connection imaginable, taking the hassle that comes from having a mix of Windows and Mac equipment in your shared space.
Provide Adjustable Equipment
Providing adjustable equipment is the best way to accommodate your employees' needs. Who doesn't want a workstation that fits them perfectly? For example, a monitor arm is adjustable according to height, and it is so easy to use. 
These are especially important in large office spaces where it's likely that no two employees will have identical heights or preferences for their workstation layout. Monitor arms help reduce muscle fatigue by allowing users to move their monitors at will within the range. 
With this simple yet revolutionary innovation, people can ensure they have an ergonomic workstation tailored specifically to them. If you are concerned with how to choose a monitor arm, consider these questions: 
How much space do you have on your desk? 
What size monitor do you have? 
What weight can it hold? 
Do you need a wall mount? 
Where will this be installed? 
After narrowing down your search to one type of product, compare their specs, such as adjustability range, height adjustment range, pivot rotation, and swivel radius. Finally, decide which style suits your needs most before choosing.
Provide Easy to Clean Devices
The goal of your office should be to provide an environment that fosters well-being. One way you can do this is by offering easy-to-clean devices around the workplace. 
Provide washable keyboard and mouse options. Employees may be hesitant to return to the office and touch shared equipment. However, with easy-to-clean equipment, employees can keep their equipment free from bacteria and viruses. Provide employees with bleach or alcohol options for this equipment. That way, you provide them peace of mind knowing all surfaces are sanitized.
Provide devices that meet MIL-STD-810H Method 504.3 Contamination by Fluids testing for endurance to decay when exposed to cleaning and disinfecting agents like bleach or alcohol. This way, employees can feel at ease after being in the comfort of their home, knowing they won't damage personal or company-owned equipment.
Have a Case with Lots of Pockets
For the constantly on-the-go worker, backpacks with lots of pockets and a comfortable fit are essential. Choose a backpack or laptop bag that can accommodate everything you must carry. Recommend the same for your employees.
With multiple pockets for laptops, tablets, smartphones, and more, you get convenience without sacrificing anything you always need.
Ask for Frequent Feedback
The most successful work schedules are the ones that evolve and change as employees need them to. By asking for frequent feedback about what works best for everyone, managers can keep their staff happy with how those changes affect them personally.
You can't really know what works for your employees unless you ask them. Therefore, make sure that's a part of the process every time! It will show staff they are valued, which in turn means better productivity on their end.
Asking for frequent feedback makes sense if you'll be adjusting their hybrid work schedules along the way. This feedback ensures success but also creates engagement between employer and employee.
Kensington Can Help You Transition Successfully to a Hybrid Work Schedule
Companies are adopting new work styles that are more flexible and independent. The office environment has employees who can seamlessly transition from working at home to onsite in just one day. The transition to a hybrid work schedule can be difficult and time-consuming, presenting many companies with challenges, such as ensuring their equipment meets all needs for hybrid workers.
At Kensington, we have successfully addressed these concerns. Kensington offers quality products like ergonomic laptop stands, monitor arms, docking stations, holders for tablets, and much more to help make this process easier for you. You can't be a hybrid worker if you don't have the proper equipment. So, make sure you set up your workstations for success!
Get all the tech tools and accessories you need for transitioning to shared workspaces. Shop the latest in Kensington products, and always be prepared for whatever happens next.