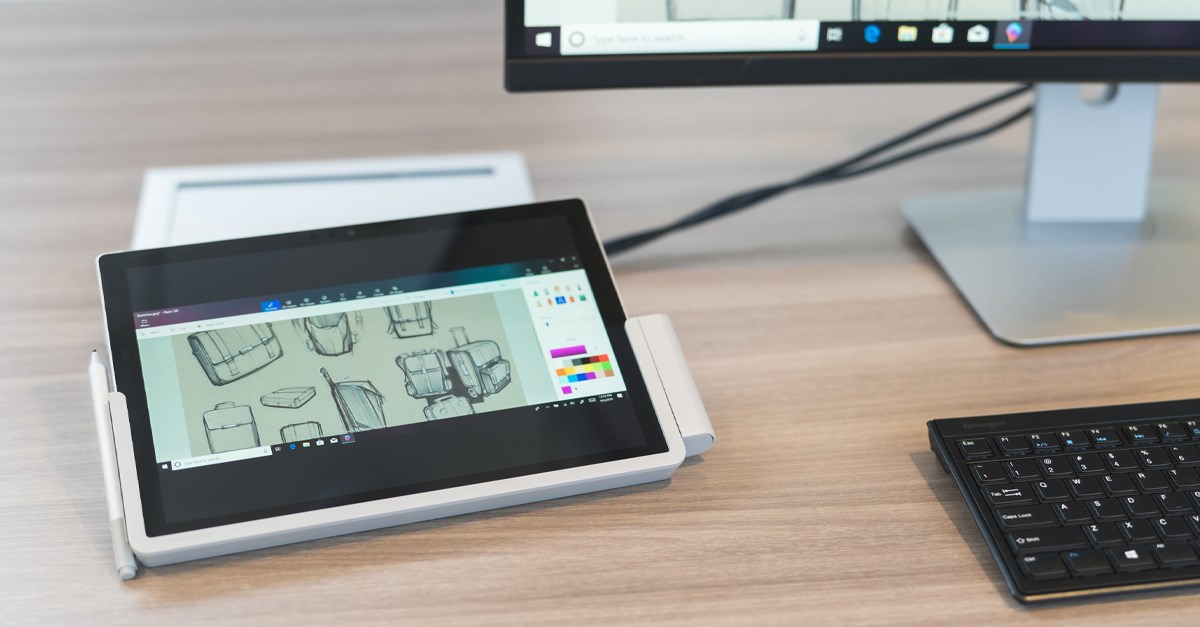 Kensington was founded in 1981 and has worked tirelessly since to innovate the connection between you and your computer. That rich tradition continues with the best Surface docking stations designed in partnership with Microsoft. Read on to learn more about our innovative docking stations that support all major Surface models including Microsoft Surface Go; Surface Pro 7/6/5/4; Surface Book 2; Surface Laptop 3; and Surface Pro X.
In fact, Kensington has a long history of working with original equipment manufacturer (OEM) partners like Microsoft to ensure our accessories meet and exceed expectations, thus ensuring the highest level of quality in each of our products. That's one of the reasons why Windows Central's editorial staff continuously rates our SD7000 Docking Station as the best Surface docking station on the market.
Let's dive in to learn more about what makes these Designed for Surface (DFS) docking stations unique. 
A Legacy of Key Partnerships
Our first product, launched in 1981, was the System Saver, a cooling fan/surge protector designed specifically for the Apple II series of computers. It was one of the first mass-market home computers, and Kensington's solution protected it from overheating and from electrical surges.
These days, it's common knowledge that cooling and surge protection is necessary for computer equipment. They extend the life of any electronic gear. That's not the last time we'd bring innovation to the market either.
In the 1990s, we developed the Kensington Security Slot and MicroSaver® cable locks. Laptops were an emerging category at the time, as mobile computing was a novelty until microcomputing technology advanced. Kensington forged partnerships to include this important security feature. The slot was so useful in theft prevention that it became standard in 99% of laptops manufactured.
The current Kensington catalog is comprehensive, including solutions for locking, docking, ergonomics, input devices and more. Within this article though, we will focus on the power, security, and functionality provided by our docking stations that are Designed for Microsoft Surface.
Discover the Best Surface Docking Stations
Microsoft has been building solutions for consumers and enterprise users from the beginning. Its popular Windows OS made it a ubiquitous name in technology, and Surface brings the desktop power of Windows OS to mobile devices as no other manufacturer can.
Microsoft's DFS team works with partners to create high-quality products to augment Surface products. Products that meet this designation are given a "Designed for Surface" badge by Microsoft. They must not only work with the products, but they must drive the brand experience. This prestigious badge shows Kensington's commitment to exceeding Microsoft's stringent DFS standards.
Kensington's Designed for Surface docking stations match the sleek aesthetic of the Surface while expanding the productivity and connectivity options. Find the right dock for your devices and personal situation from our family of the best Surface docking stations.
Get Creative with Surface Pro
Microsoft's Surface Pro 7/6/5/4 have the same form factor. The SD7000 Surface Pro Docking Station combines Microsoft's proprietary Surface Connect technology with Kensington's DockWorks™ software for a creative powerhouse.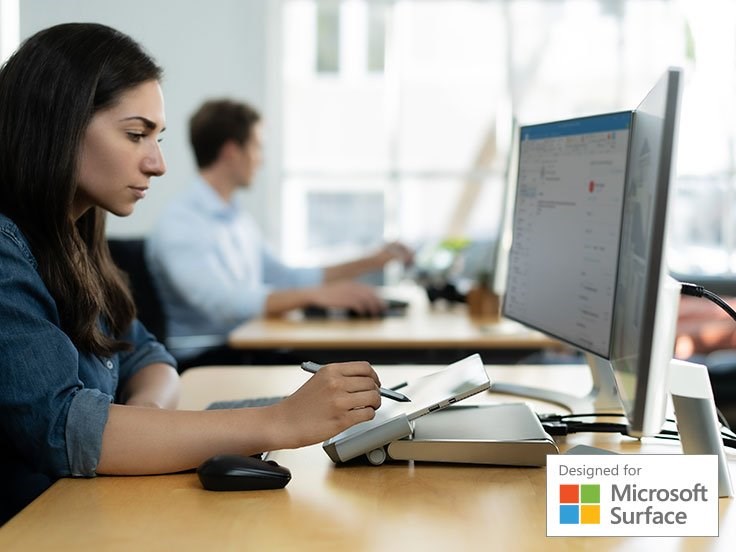 SD7000 fits Surface Pro 7/6/5/4 with a two-position hinge that allows you to use it either as a display or drawing tablet (in studio mode). HDMI and DisplayPort ports enable single or dual-4K external monitor setups. A 1GB wired ethernet port gives you a stable internet connection, while four USB 3.0 ports and 1 USB-C port provide room to plug in all your favorite accessories.  
There's even a magnetic connection on the side to hold your Surface Pen and, of course, Kensington's security slot. It accommodates our optional lock module (K62918WW). With your Microsoft Surface Pro and SD7000, you can unlock your creative prowess in any work environment by turning your Surface Pro into a Mini Surface Studio. That's why it's consistently recognized as the best docking station for Surface Pro.
Unlock the full potential of your Surface Go
Microsoft Surface Go is an ultra-portable device that still packs the punch of Windows OS.
Kensington's SD6000 Surface Go Docking Station is a game-changer for Surface Go. It combines Microsoft's proprietary Surface Connect technology and Kensington's DockWorks™ software to unlock the full potential of the Surface Go.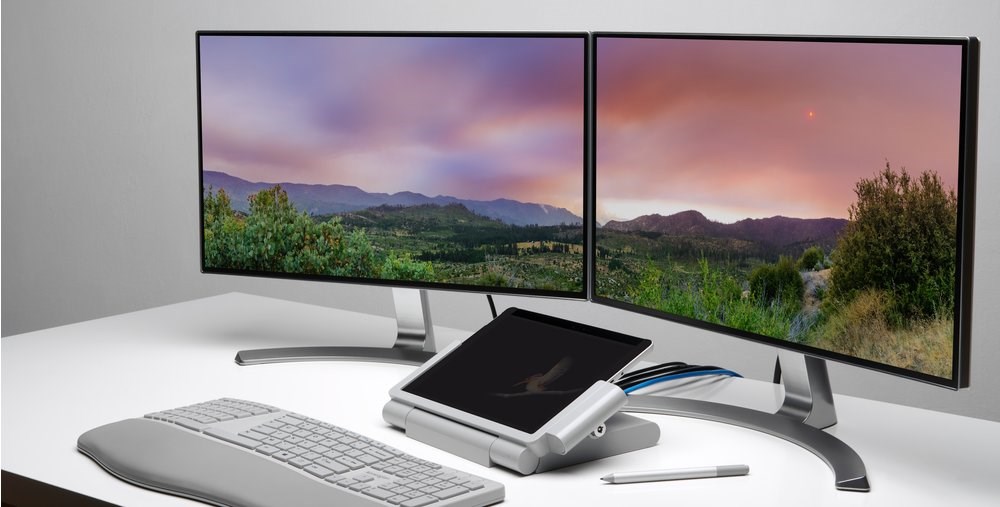 Extend the life of your Surface Go with SD6000's heat dissipation channel and integrated cradle pin. Increase its power with four USB-A 3.1 ports, one USB-C 3.1 port, wired Gigabit Ethernet, 3.5mm combo audio, HDMI, and DisplayPort, supporting Dual 4K video at 30Hz.
Now you can turn Surface Go into anything from a mobile POS to a desktop workstation. Best of all, this dock is exclusively Designed for Microsoft Surface Go, so it matches the sleek aesthetic perfectly. It can even be secured with a Kensington lock module or protected with a privacy screen for ultimate protection.
Dock Any USB-C Surface Product
Microsoft Surface Go, Surface Book 2, Surface Laptop, and Surface Pro X are all ideal for the SD1610P USB-C Mini Mobile Dock. This mini dock has everything you need in a small size that easily fits in your backpack or pocket. Don't let that small size fool you – it still packs a powerful punch that gives you desktop power on the go.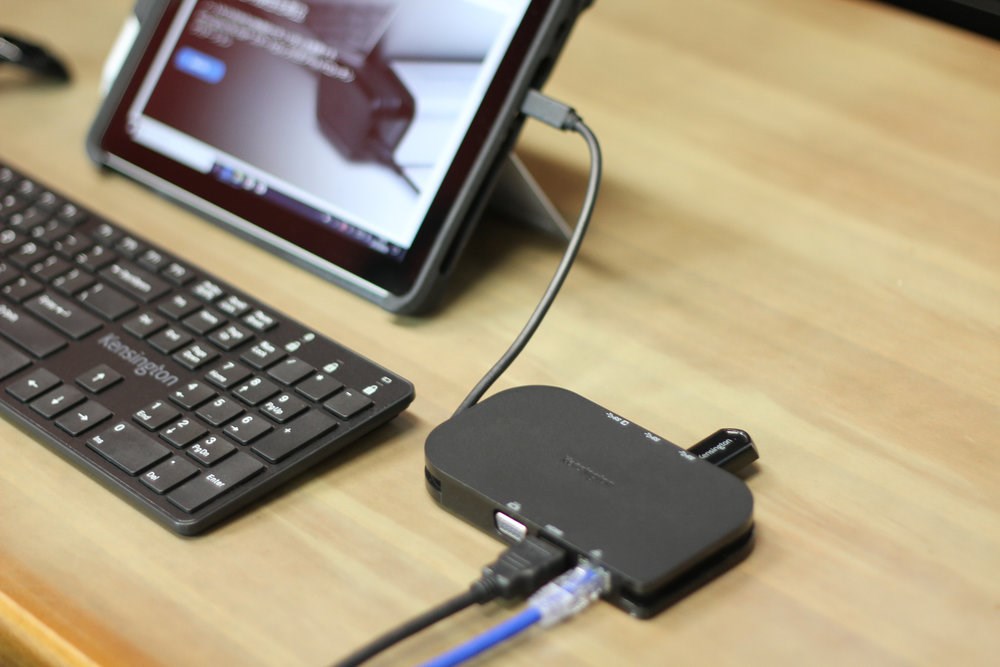 SD1610P enables a single 4K monitor through HDMI or full HD via VGA. This plug-and-play solution has a hideaway USB-C cable to protect it while not in use, wired gigabit Ethernet, and three USB ports to expand the connective capabilities of your Microsoft Surface devices. For users that require charging, SD1610P supports 60W of Power-Passthrough over USB-C (USB-C power supply not included).
It's the perfect solution for busy professionals who are always on the go. SD1610P is Designed for Microsoft Surface, so you'll have no issues getting everything up and running out of the box.
Find the Best Surface Docking Station Today
Kensington has a storied history of providing the right accessories for the right devices. We work closely with our partners to ensure every feature is accounted for, so when you see "Designed for Microsoft Surface" on a Kensington product, you know you're getting consistent quality.
From early personal computers all the way to today's sleek mobile devices, Kensington extends a computer's reliability, power, and capabilities.
Find out for yourself why so many businesses and people trust Kensington to protect and power their devices. We've been in the game since the beginning, and we'll continue to innovate throughout the 2020s. No matter which Microsoft Surface device you choose, there's a Kensington docking station built specifically for it.
It doesn't stop at docks – check out Kensington's full lineup of accessories designed for Microsoft Surface products today!