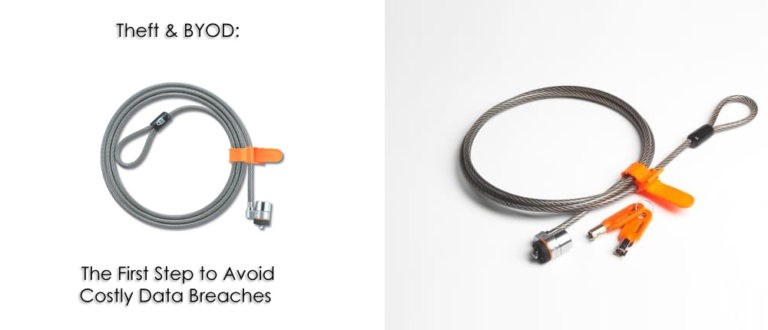 By Rob Humphrey, Director Global Product Management, Security, Kensington
The increased overlap of laptops used for both personal and business use makes the transition from home to work and back home again, virtually seamless (not to mention, making work from home as efficient, if not more so, than working from the office). Not surprisingly, the growing use of personal mobile devices at work (bring your own device, "BYOD"), especially tablet computers and smartphones, continues to change the face of corporate IT management. For today's IT department, the days of locking down the corporate network, handing out company-supplied smartphones and limiting/forbidding the use of personal computers and/or tablets are long gone. Instead, IT managers are now building strategies and making investments that enable the secure use of employee-owned devices, and prevent laptop theft in the office environment.
According to the 2014 Cost of Data Breach Study: Global Analysis by the Ponemon Institute, the average cost to a company resulting from data breaches was $3.5 million — an increase of more than 15 percent more than the previous year. The research revealed that reputation and the loss of customer loyalty does the most damage to the bottom line.  In the aftermath of a breach, companies must spend heavily to regain their brand image and acquire new customers. The report also shows that certain industries, such as pharmaceutical companies, financial services and healthcare, experience the highest customer loss in the aftermath of a data breach. To wit, last March, federal regulators charged a New York-based medical research institute with a $3.9 million penalty following a breach involving the theft of an unencrypted laptop containing data about several thousand patients and participants in a research project.
Clearly, the need for security is more than just about saving the physical device. The greatest potential risk is in the theft of business data (as well as, personal). But, where do you start?  The task of safeguarding every employee's multitude of devices can appear a daunting, if not impossible, task. Recent research has indicated that the logical place to start, and where IT departments are seeing the greatest and most immediate success, is in the physical security of personal mobile devices — i.e., locks and cables. This initial and critical level of security is proving especially useful as thieves are becoming more and more adept at outmaneuvering on-device safety measures, such as GPS tracking. Of course, this is just the first step in securing the personal and business data that lays vulnerable on mobile devices.  Yet, even in its simplicity it is oftentimes the most effective.
The next step?  You need to make the right investment in the right technology provider. Whether you are seeking a straightforward cable or lock, a customized and secure case for a tablet or laptop, you need to seek-out a technology provider ready to respond to your unique and specific needs, and is developing products ahead of the curve.
Kensington's long heritage of providing security products gives us a keen understanding of the first-line-of-defense requirements for laptop, tablet and smartphone protection. As the trend toward BYOD becomes increasingly prevalent, coupled with the heightened number of data breaches across leading industry brands, it is clear that the demand for physical security has never been as great as it is today for devices and the data they store. We are committed to leading innovation in this market with products featuring our T-bar Locking Technology such as MicroSaver® Keyed Laptop Lock, the world's most used laptop lock. Stay tuned, as we prepare to introduce next generation security products, building on what has become known as the industry standard for physical security.