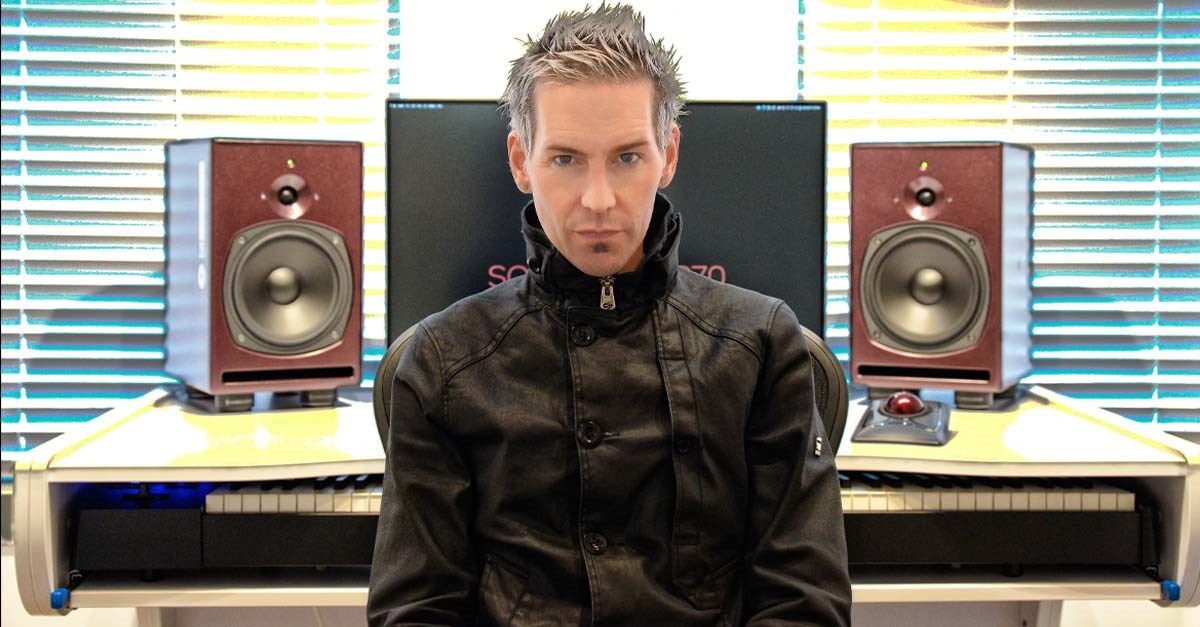 Kensington's Trackball Ambassador Program gives influencers the opportunity to share their unbiased reviews of trackball products. Though these influencers work in a variety of industries, they are united by their daily use of these devices.
Trackball Ambassadors share their thoughts and experiences with others. Not only does this help potential customers decide which products to purchase, it also gives us vital feedback. This allows us to design better trackball products to keep up to date with customers' needs.
We are looking for ergonomics experts, leaders within their industry, and most of all, we need everyday users like you. Our ambassadors have experienced firsthand what this technology can do, both at home or on the job.  
We work with:
Architects
Music Producers
Video Editors
Engine
DJs
Recording Artists
Graphic Designers
People with disabilities
Those with carpal tunnel or other muscular strains
Introducing Tony Vincent
Tony Vincent is a recording artist, producer, and actor. He has spent much of his career balancing life on stage and in the studio. He feels incredibly blessed for his successful career spanning over 30 years.
After 22 years in New York City, he recently relocated to Nashville to inspire and work with tomorrow's future talent. Apart from performing— and being a father— he says there's nothing more gratifying than seeing someone grow as an artist. He loves to watch them develop and help them become greater than they ever dreamed.
Over the years, he has seen many changes in the music industry. One thing that never changed is his love of Kensington's trackballs. They are perfect for musicians who need quick responses during live performances or recording sessions.
Q & A with Tony Vincent
We sat down with Tony to talk to him about his time in the studio, life on stage, and preference for trackballs made by Kensington.
Here's what he said:
Q: When did you start using trackballs and how often do you use one?
A: I have used trackballs for the past 25 years, I think. I have had many because every situation is different. Sometimes you need something quite small to travel with. Sometimes you are working at a desk and need something a bit more substantial. Sometimes you are behind a recording console or monitor that requires you to do more precise editing. With all that said, I use some format of trackball every single day. 
For Mike and those who work on the go, we recommend the Orbit® Wireless Mobile Trackball. Its sleek, compact design allows you to take it with you everywhere.
Q: Which is your favorite Kensington Trackball? Why?
A: That's a difficult question for me to answer because like I said above, every situation has a different need or requirement. When in the studio, the Expert Mouse® Wireless Trackball is a must-have. The weight of the trackball itself makes me feel like I'm in control of the music and production. 
When space is a concern, I'm always using an Orbit® Wireless Mobile Trackball. Being wireless is important to me, and the small footprint of this unit is exactly what I need. 
That being said, I'm growing quite fond of the Orbit® Fusion™ Wireless Trackball. The form of it and how it positions your hand is incredibly comfortable. It's starting to get a lot of use on my end and in multiple situations.
Q: When did you join the Kensington trackball ambassador program & what do you love about it?
A: I joined last year because I wanted to get behind a company who has really impacted my workflow in a positive way. I honestly can't really remember a time that I was making a record without a Kensington trackball. Being able to give feedback to the "mothership" is such a privilege. 
I'm a fan and user, and I want to help give some feedback back to the company. I also want to turn people on to computer peripherals that will transform their workflow. Kensington ticks so many of those boxes for me. I feel very honored.
Q: Do you use KensingtonWorks to customize your Trackball settings? If so, what does that look like?
A: I do, but not drastically. I always tick the Enable Acceleration box and have the slider nudged back just a bit past the halfway mark. I also have the pointer speed nudged one or two ticks past the center point just to make it a bit livelier. 
The other option that I really adore is using a modifier key for Single Axis Movement. This is a massive perk when I'm editing photos. I've been shooting images for almost as long as I've been making music!
Q: Would you recommend a trackball? If yes, why?
A: Nothing feels more ergonomic when working on a computer. Mice feel so incredibly awkward, and their action takes up too much desk space. I want something powerful, and that doesn't take up a large footprint. Trackballs are my solution every time.
Q: Fun fact or something silly about yourself.
A: I actually thought I'd give up music and entertainment, and I went to wine school and became a sommelier in 2007. Obviously, giving up music didn't work, but now I can explore the landscape of wine with a deeper knowledge. Wine, too, is a lot like music. 
There's almost always a story to every bottle and there is a melody that can come out of a bottle, one that is so individual and unique. To me, wine, music, and art are intrinsically connected.
Follow Tony Vincent Online:
If you're interested in learning more about Tony, follow him on social media or explore his website.
We're Looking for Ergonomic Experts, Engineers, and Everyday Trackball Users!
If you are an ergonomic expert, engineer, or someone who uses these trackballs every day, we would like to speak with you! At Kensington, we want to know why you are so enthusiastic about trackballs.
We're looking to give industry experts a way to offer feedback regarding Kensington trackball products. We want your help to improve the products you use daily. 
For example, our customization software lets you personalize your favorite Kensington products. By telling us what you think of this software, we can make the necessary adjustments to help them better suit your needs.
Apply to become a Trackball Ambassador today! We'll get in touch with you soon with more details.
If you're an avid trackball enthusiast, become a Kensington Trackball Ambassador. We are looking for people who have experience with our trackballs and want to share their stories.