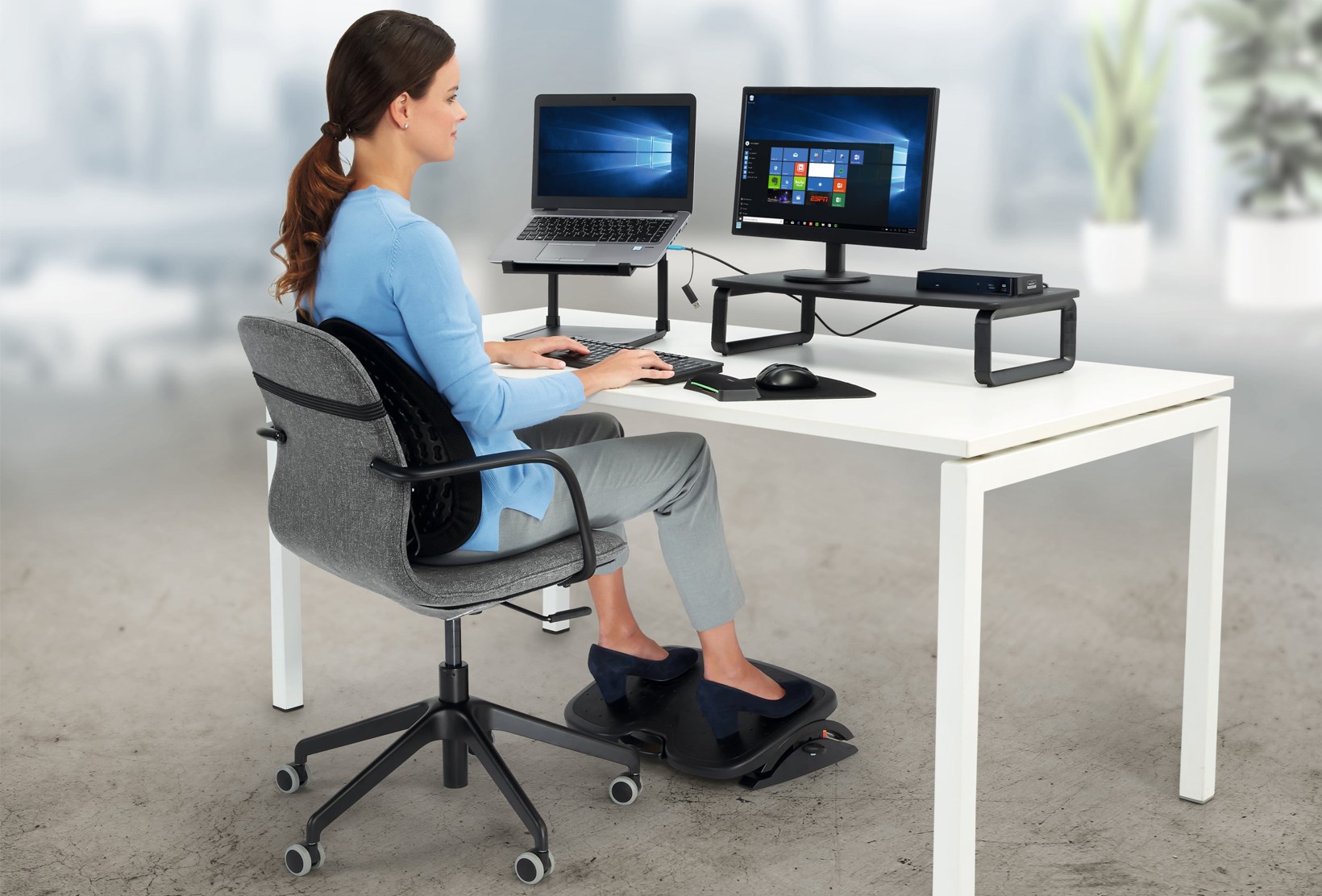 Organizations thrive when employees are at their best, and many workplace wellness programs aim to invest in employee health through programs aimed at smoking cessation or weight management. However, the hours employees spend each day sitting at a desk in the office put stress on the back, neck, and joints that can build to serious injury over time. We can mitigate that damage by looking to ergonomics, the science of fitting workplace conditions to the human user. Frequently, off-the-shelf products in an office environment don't fit employees correctly because we all have different body shapes and unique needs. Companies may lack the resources to outfit every employee with a top-of-the-line, custom-fitted desk setup, but Kensington's ergonomic accessories empower anyone to upgrade a generic office product into one that feels like it's made just for them. And optimizing a desk environment for each employee can make a world of difference for them and their organization.
Investing in Employee Wellness Programs Pays Off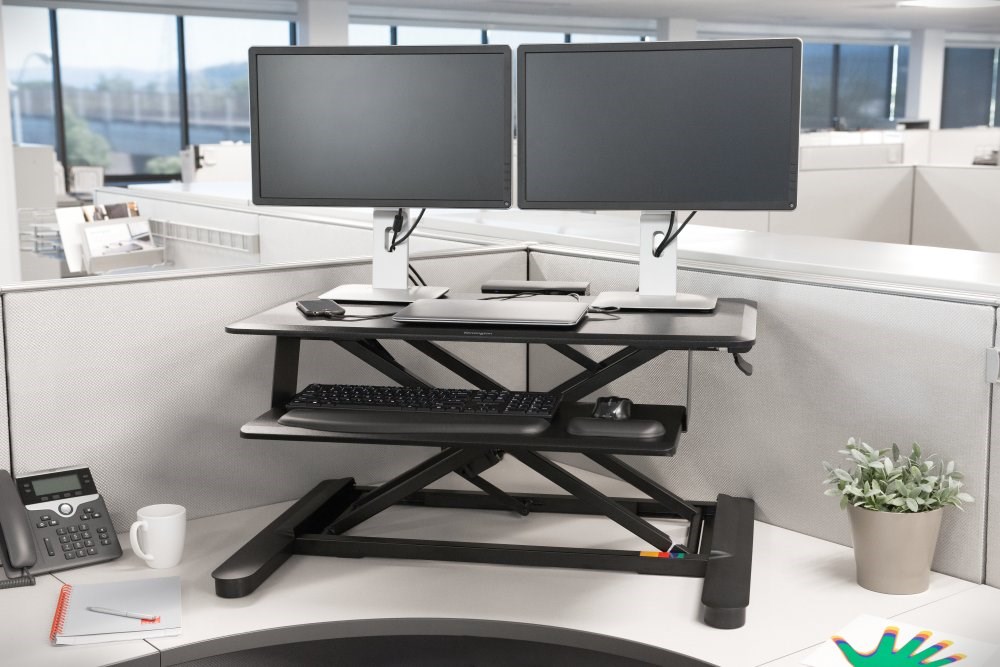 Many U.S. organizations are turning to wellness programs to cut down on rising health care costs, but fostering greater workforce well-being can provide additional competitive advantages. Research has shown that effective workplace wellness programs generate concrete savings on health care expenses greater than the cost of the program. Along with such financial measures of ROI, wellness programs can mitigate costs to employers from health-related productivity loss. Studies have revealed that organizations with well-designed wellness programs also see a reduction in illness-related absenteeism as well as presenteeism, when employees underperform at work due to stress or illness.
Intangible returns can follow as well, and a well-executed commitment to workplace wellbeing can strengthen an organization's culture and develop employee engagement, pride, and satisfaction—as well as increased employee retention. Given the demonstrable advantages that wellness programs provide for employers and employees, it's no wonder that workplace wellness has seen such widespread adoption.
Ergonomics Provide an Affordable, Personalized Fit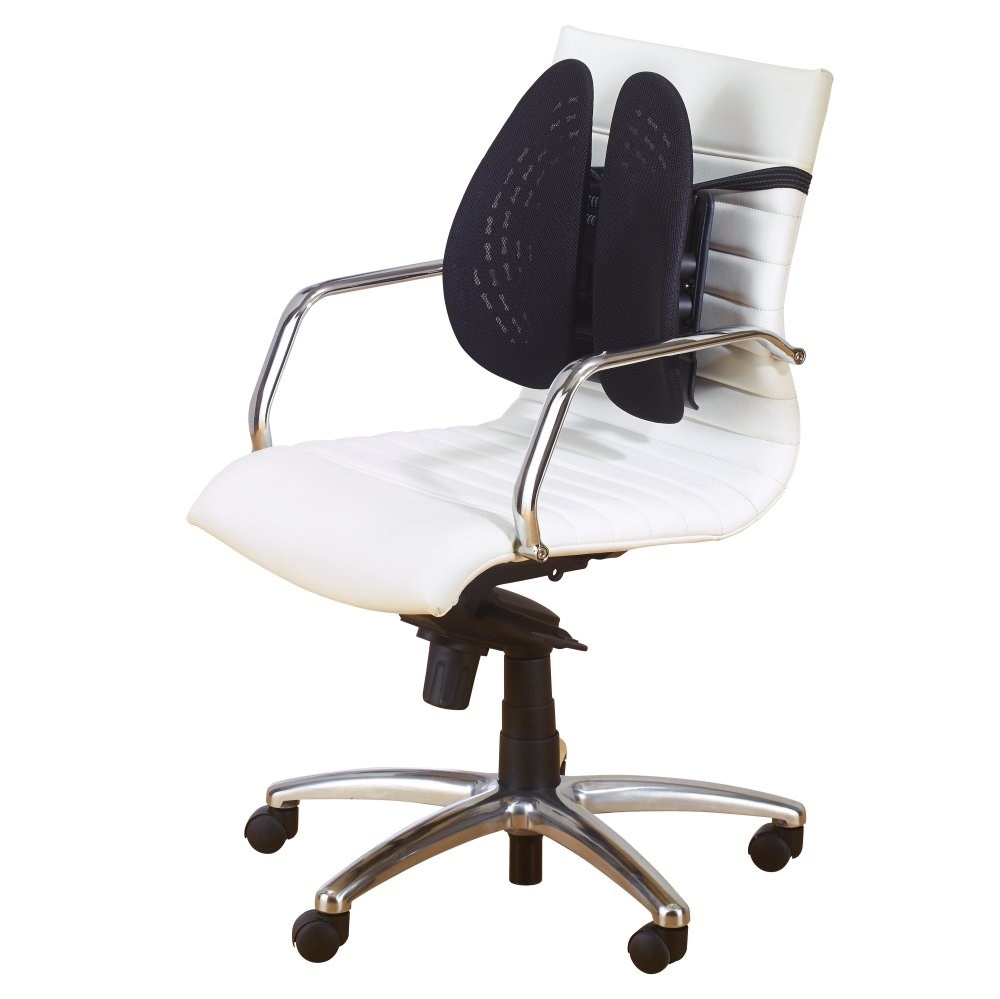 While buying custom-fitted office products can be prohibitively expensive, adding an ergonomic product to a desk environment is a simple solution to increase comfort while promoting good posture to minimize harm to the spine and neck from prolonged sitting. Developed using U.S. Army research that found a direct correlation between hand size and body measurements, the SmartFit® System in many Kensington products demystifies ergonomics by allowing users to select their ideal, personal height setting using the color-coded fitting chart. The SmartFit® Conform Back Rest can turn a regular office chair into one that fits uniquely and comfortably to the user. Its height-adjustable lumbar support provides stability where you need it, and independent springs conform to fit your body shape to promote a healthy spine alignment. It's not uncommon to find ourselves slouching toward the end of a long day, but adding the right ergonomics product is a cost-effective way to help us gently combat our unconscious slumping.
When an office chair is height adjustable but a desk is not, users might end up with dangling feet that put pressure on the feet, back, and legs. Relieve strain on the lower body with Kensington's SmartFit® Solemate™ Plus Foot Rest, which lets you adjust height and tilt to match your personal comfort color setting. Your body knows when it's in a healthy sitting position, and an ergonomic desk environment will feel more comfortable as well. Kensington ergonomics products are an affordable way to transform off-the-shelf office furniture into a personalized fit.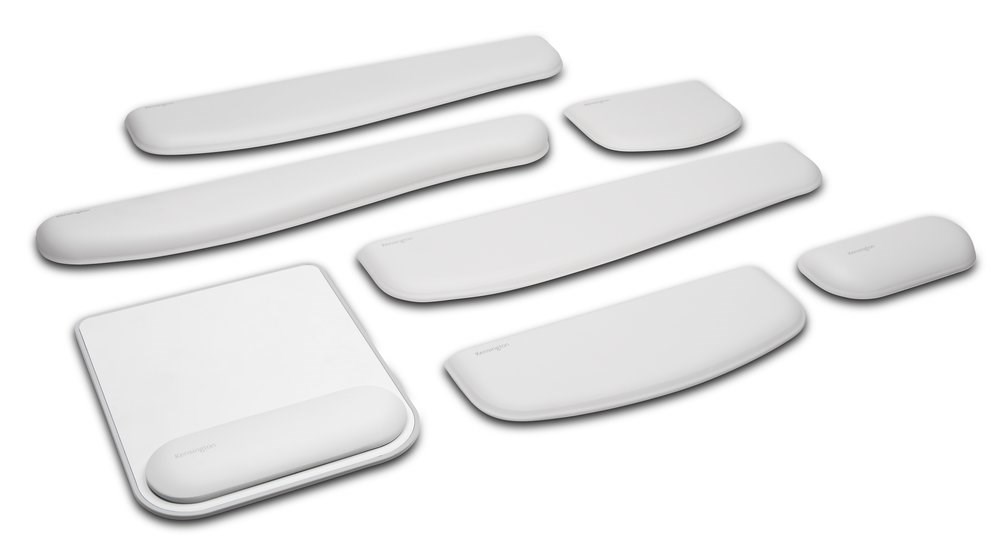 The objects we work with on our desks can also lead our bodies into ergonomically unnatural positions. Raised keyboards can put strain on the wrists by causing us to type with our hands bent backwards. Kensington's line of ErgoSoft Wrist Rests come in a variety of sizes, and minimize the impact of repetitive strain on the hands with proper alignment, tailored dimensions, and a unique curved design. Now available in black and gray, the ultra-soft premium exterior resists sticking to your skin and easily wipes clean, while being supported underneath by gel-cushioned padding. Everyday office products might be unfriendly to the body, but ergonomic products designed to alleviate common stress points can help us regain a healthy posture.
Every body's needs are different, but one thing we all have in common is the danger of developing chronic back and neck pain after long hours in a desk chair. When organizations invest in workplace wellness that reduces strain on the body from sitting over time, the return can be seen not only in reduced health care costs and absenteeism, but in greater employee productivity and satisfaction. Now that's a win-win situation. To learn more about Kensington's range of ergonomics products that can transform your office, visit our Workplace Ergonomics and Wellness offerings.