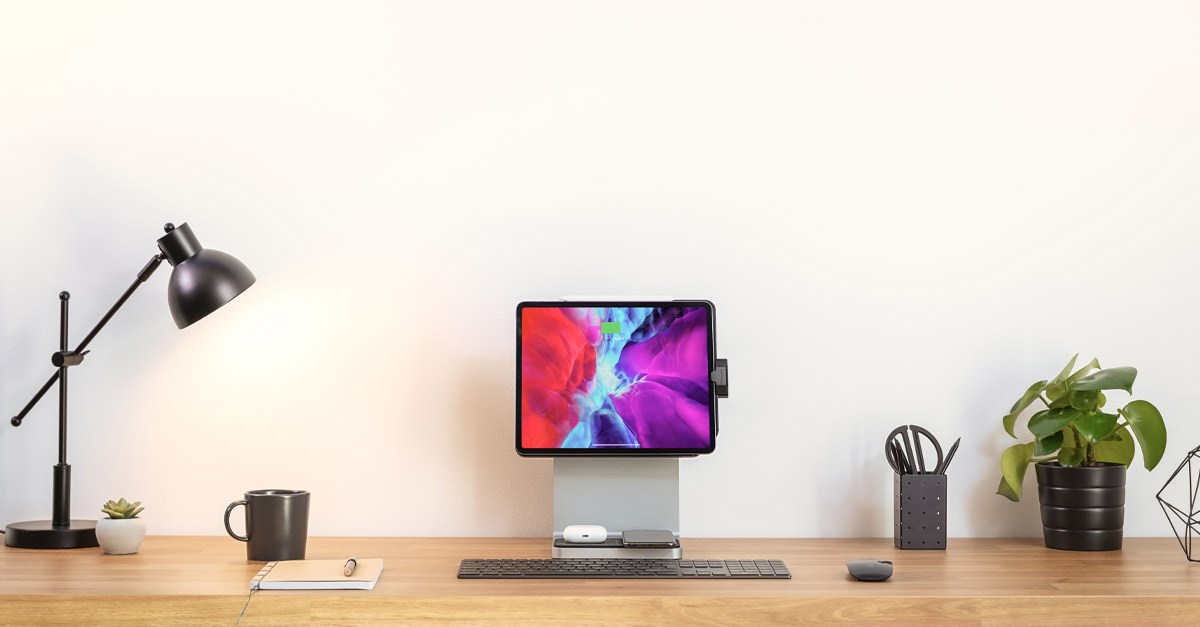 Ten years ago, during one of his famous keynotes, Steve Jobs unveiled Apple's first iPad. Since then, the tablet has grown to become a phenomenon that sparked a new industry worldwide.
Many pundits dismissed the iPad as a gimmick, saying it would never really be able to compete with a laptop, MacBook, or desktop PC. Steve had the last laugh. In the first quarter of 2020, Apple shipped almost 10 million iPads globally, making more than $4 billion in revenues. Consumers loved the iPad, and it has since found a permanent place in many people's homes and hearts.
Always intended to be a handheld device, many reviewers and technology companies pointed out the iPad couldn't replace a dedicated workstation. Well, that's no longer the truth.
Introducing the new StudioDock™ from Kensington for 12.9" iPad Pros (2018+) and 11" iPad Pros (2018+)/iPad Air (2020+). Welcome to a whole new world of enhanced productivity with the ultimate iPad desktop setup.
A New Era in iPad Workstation Productivity
The 2018 version of the iPad Pro had users intrigued. Described as "a magical piece of glass," it came with an optional accessory called the Magic Keyboard. For the first time, it was possible to configure a desktop workstation with an iPad Pro, although you'd need a hub compatible with its USB-C technology.
You could connect an external monitor, attach additional storage drives, and use the keyboard with a trackpad to easily type and navigate your device.  With the 2020 version, these capabilities now make the iPad Pro a fully-fledged computer suitable for any creative workflow or design task.
The StudioDock extends these capabilities beyond what you previously thought was possible.
Minimalistic Design That Enhances Productivity
Engineered to have a minimal footprint without compromising on functionality, the StudioDock maximizes your desktop productivity. The elegant design enables users to get rid of numerous attachments, adapters, and cables, creating a dedicated workstation for the iPad Pro or iPad Air.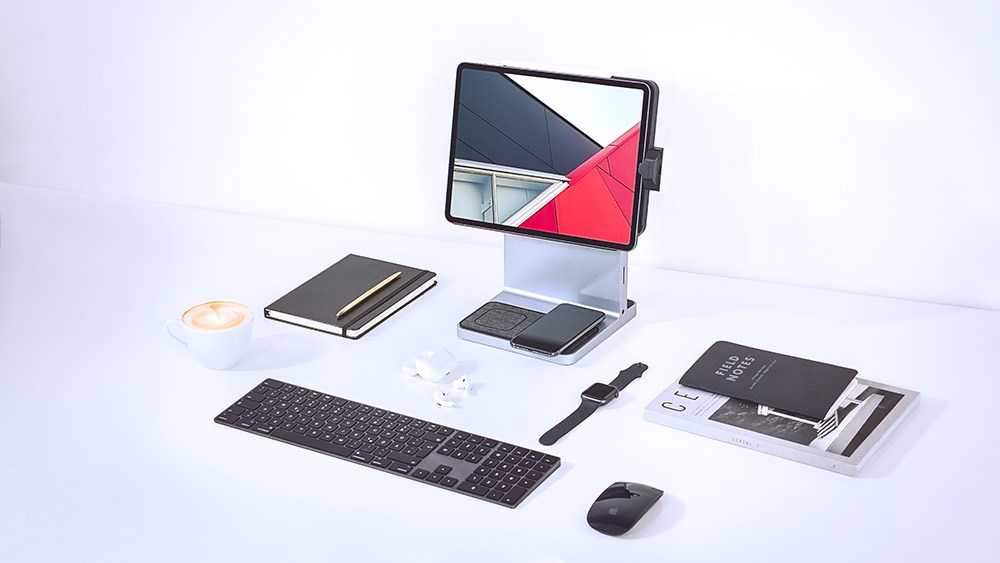 For any user that regularly works on an iPad Pro or 2020 iPad Air, the StudioDock eliminates desk clutter and frees you from frustrating workarounds to help you get the job done. While the Magic Keyboard provides some of the same features, it doesn't have the flexibility (expansion ports) and convenience (Apple ecosystem charging and adjustable angles + tilt) of the StudioDock.
Apple Charging Ecosystem for All Your Apple Accessories
The StudioDock supports Qi wireless charging for your favorite Apple products. Dedicated charge pads for both your iPhone and AirPods and an optional charger for your Apple Watch creates a charging ecosystem for your devices whenever you're sitting behind your desk.
USB-C technology delivers 37.5 watts of power to your iPad, increasing the standard charge rate by 108% compared to the Apple iPad adapter. For the iPhone and Airpods charge pads, you get up to 7.5 and 5 watts of wireless power, respectively. The optional Apple Watch connection also delivers 5 watts of power, so you can ensure your devices are always ready to go when you're on the move.
Expand Your Capabilities with Multiple Connections
To accommodate all your standard devices like wireless mice, keyboards, trackballs, or external storage drives, StudioDock offers a host of expansion opportunities.
Included in the StudioDock, you get:
Three USB-A 3.2 Gen1 (5Gbps) ports for all your accessories
One USB-C 3.2 Gen1 (5Gbps) connection for fast data transfer plus charging (5V/3A or 9V/2.22A)
An SD 4.0 card reader
3.5mm audio jack for speakers or headphones
Gigabit Ethernet jack to ensure a stable and fast network connection
For your desktop monitor, the HDMI 2.0 connection supports single 4K video output at 60Hz to ensure you have the same crisp picture as on your iPad's retina display. For design tasks, you can use both the iPad and external monitor to speed up your work and ensure the best results on both screens.
Stay Agile with Easy Docking
Quickly get back to full productivity when you get to your desk by easily docking your iPad using the magnetic attach feature. Once you need to get to a meeting, just detach the iPad and you're completely mobile again.
To secure your StudioDock when you step away from your desk, the StudioDock comes with both Standard and Nano security slots (locks sold separately).
Keep Ahead of Your Work with Multiple Dock Modes
When working on a design, you can rotate the iPad to landscape mode. If you're reading documents or scrolling through photographs, flipping back to portrait view is quick and easy. With the integrated SD 4.0 card reader, you can expand your workstation's memory and conveniently access your photos, video files, or music without using the iPads onboard storage.
Built to Last with Industry-Leading Quality
Kensington remains committed to developing innovative products that improve your ergonomics and deliver greater productivity every day. Our dedicated StudioDock support team will ensure you can get up and running quickly and help you deal with any issues that may arise.
The StudioDock ushers in a new era in iPad capabilities and comes with a three-year warranty for additional peace of mind. It's ideal for users who want to get the most out of their iPad Pro or iPad Air setup. By expanding your functionality, you can achieve new vistas of creativity with the StudioDock.
A Single Docking Solution for Your Entire Apple Ecosystem
As Apple continues to push the boundaries of what's possible in handheld computing, Kensington remains dedicated to providing innovative solutions that support creative professionals. You can discover new possibilities with an integrated docking solution for your iPad Pro (2018+) or iPad Air (2020+) device without needing a patchwork of cables and adapters.
In a single docking solution, you'll:
Be able to charge all your Apple Devices (iPad/iPhone/Air Pods and optionally your Apple Watch)
Utilize a generous helping of expansion ports for your favorite accessories
Easily attach or detach your iPad Pro 12.9" (2018+) with K34030WW or iPad Pro (2018+)/iPad Air (2020+) with K34031WW
Have access to 4K/60Hz video output with HDMI 2.0
Make use of 5Gbps data transfer using the USB-C and USB-A ports
Rotate between portrait and landscape modes with 120° of supported tilt
Unleash Your Creative Energy with Kensington's StudioDock iPad Docking Station
Easy magnetic docking, proper screen alignment, and maximum expandability will help you remain productive, creative, and, most of all, connected to your workstation. The StudioDock incorporates everything you need as a professional iPad user without the need to have a cluttered, unorganized desk and multiple workarounds to be efficient.
Learn more about the StudioDock and find out when it will be available!