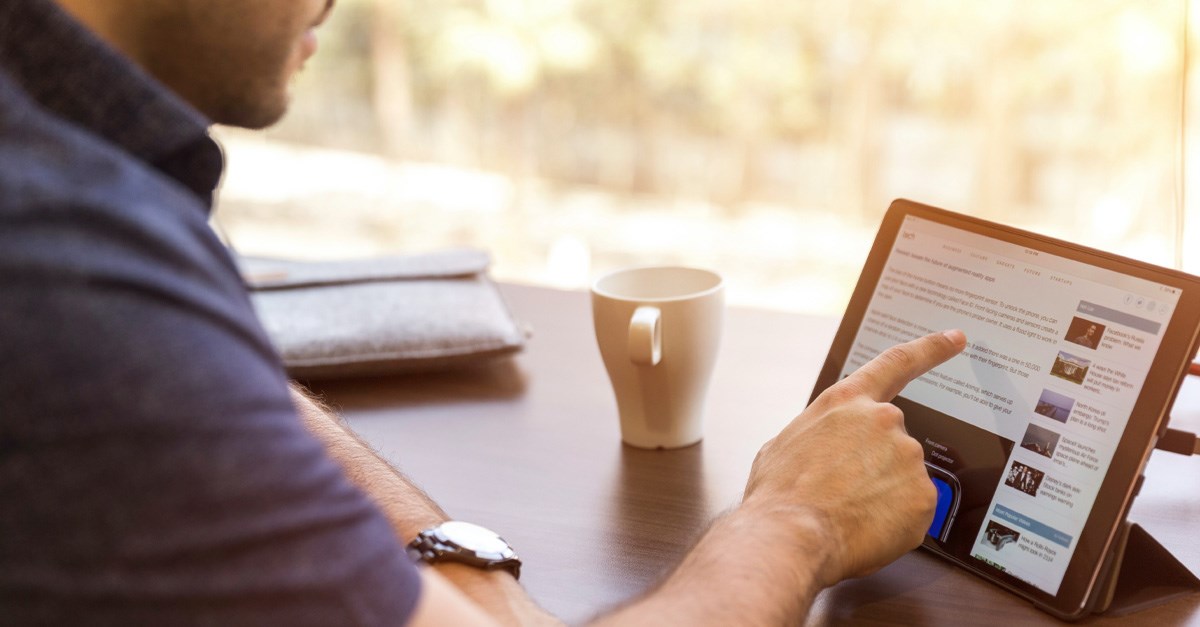 Few can deny that employees who can remain productive from different locations and during various times of the day just became more valuable to companies. Working from anywhere may now be the next big buzzword on Big Tech's agenda. A few years ago, remote workers may have ventured to a local coffee shop and kept track of emails using the free Wi-Fi. Since the start of 2020, things have changed drastically.
According to the latest information from Airbnb, bookings increased recently and exceeded previous years as people started to realize that working from home is just as easy as working from anywhere. Whether you are in a restaurant or running errands, your ability to use your devices and stay connected to business developments during a regular day will become more important in the future. What used to be one of your defining skills just became a daily necessity.
If you prefer to use your new iPad during your daily hustle, see how you can stay on top of things and remain productive from anywhere using Kensington mice or trackballs below.
Work from Anywhere with an iPad and Mouse or Trackball
Apple recently released a revamped OS for new models of the company's iPad devices. From iPadOS 13, Apple surprised consumers by including support for pointing devices like mice and trackpads. By March 2020, iPadOS 13.4 improved on what felt like a finger simulation instead of actual device support to many users.
Apple made the process of connecting your device more straightforward, improved the overall experience, and provided true mouse and trackpad support. According to the latest iPadOS 13.4 reviews, you now finally get access to laptop-like behavior and pointer functionality. To become a work-from-anywhere pro, you can now use your iPad more efficiently by pairing it with a Kensington mouse or trackball product.
How to Connect Your Bluetooth Mouse or Trackball to Your iPad
Using your regular Bluetooth interface, you can connect your Kensington trackball or mouse to improve your set up and quickly respond to a situation from any location. Follow these steps to set up your Bluetooth pointing device:
If you've used your device with another Mac or PC, make sure you unpaired it before starting the process.
To start pairing your device with your iPad, go to your iPad settings app.
Find the Bluetooth settings and ensure you have it switched on currently.
Set your mouse or trackball to pairing mode according to the manufacturer's specifications.
Once your device appears in your iPad's header, click on the device name.
Click on Pair once you receive the prompt, and your device should start working once the connection completes.
Note that you can also connect pointing devices to new iPhones. According to some reviews, you're better off using a third-party mouse or trackball as the connection to the Magic Mouse 2 remains problematic. It's still possible to set up a wired mouse on iPadOS 13.4, but you'll need to go through the same laborious process as with previous versions.
Customizing Mice and Trackball Experiences on Your iPad
Another great improvement in the iPadOS 13.4 update is the additional customizations available for controlling your input device. In your Pointer Devices menu, you can change pointer styles, set up your sizes and colors, or change button configurations, including single, double, and long-press taps.
This doesn't exactly provide the same convenience as KensingtonWorks™ for customizing your experience, but it still gives you control over how your pointing device behaves. You can also change settings for opacity, enable an onscreen keyboard, set your dwell control, and configure your movement tolerance. Even without using KensingtonWorks, you'll still be productive and connected no matter where you go.
Kensington Trackballs and Mice Suitable for iPads
While a wired connection is possible, following this update, you'll want a Bluetooth enabled pointing device to work with your iPad. It provides greater convenience and doesn't require expert troubleshooting skills to get started. Kensington has a variety of Bluetooth pointing devices available that can help you improve your iPad interface for maximum productivity.
Pro Fit® Ergo Vertical Wireless Trackball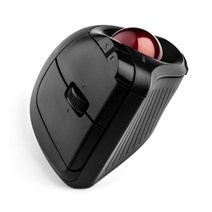 With an ergonomic vertical design, the Pro Fit® Ergo Vertical Trackball from Kensington ensures you maintain a healthy wrist position at all times. It comes with two Bluetooth connections and a wireless dongle for an additional connection to another device. Using the natural handshake position to control the pointer, you'll have greater comfort and improved accuracy using the 34mm thumb-operated trackball. You'll also gain extended battery life with up to 18 months available from two AA batteries, although this may vary depending on your usage.
Expert Mouse® Wireless Trackball
Giving you the best versatility and accuracy, an Expert Mouse® Wireless Trackball has dual wireless technology (Bluetooth and nano receiver). It also comes in an ambidextrous design, improving your ergonomics regardless of your location. When you use the trackball on a normal PC or Mac, you can customize it to suit your needs using KensingtonWorks. You'll also have the latest DiamondEye™ optical tracking, providing you with smooth, precise cursor control on any connected device.
Pro Fit® Ergo Wireless Mouse
If you prefer the traditional touch, the Pro Fit® Ergo Wireless Mouse can help you retain that familiar feel while working on your iPad. It supports 2.4 GHz wireless and Bluetooth 4.0 LE connections, making it a versatile pointing solution for a variety of devices. You have a three-mode power saving switch to ensure it works when required, and with three DPI settings, you can dial in the right sensitivity for your cursor. The Pro Fit Ergo Wireless Mouse is also available in gray.
SureTrack™ Dual Wireless Mouse
For those who have a bit more style and flair, the SureTrack™ Dual Wireless Mouse comes in blue, red, and white (as well as black and grey) options. It has adaptable wireless pairing that helps you connect to a variety of devices, comes in ambidextrous design, and works on almost any surface with advanced tracking technology. You also get a triple DPI button to adjust your cursor speed and supports all major operating systems, including Chromebook, Windows, Android, MacOS, and iPadOS.
Be Productive from Anywhere with Your iPad and Kensington Trackballs or Mice
The latest update to Apple's iPadOS enables you to operate efficiently from any location. If you pair your preferred device with a Kensington trackball or mouse, you can work from anywhere for extended periods comfortably. To improve your work setup either at the office, home, or coffee shop, check out the latest features from the iPadOS 13.4 update, and our Bluetooth enabled trackballs and mice. As you now have full pointer device support, your new iPad is more powerful than ever before.
If you're looking for a pointing solution for your iPad, then take a look at our Bluetooth enabled trackballs and mice.