Does iPad Pro have a Docking Station?
Yes. If you want a desktop experience, that's completely possible!
A docking station lets you connect your iPad with whatever peripherals you might want to use. Simply plug in your keyboard, monitor, external storage, or anything else to the docking station. From there, connect your iPad Pro via a USB-C connection.
For a device that weighs barely one pound, the iPad Pro is pretty spectacular. Loaded with all the components you might need to produce stunning art, it can do everything a computer can do – without being a computer. Thanks to the decision to include a USB-C port, you can now trick out your creative workspace with a USB-C docking station or hub for all your peripherals.
It's no secret that many Apple products are built with the creative professional in mind. With sleek interfaces and true-to-life images, your most creative ideas come to life – in style.
The right connectivity device can help you create in style your way. Let's dive in.
Table of Contents: 
iPad Pro Dock: Support Your Creativity with the Right One
The iPad Pro really shines when you're working on the go, offering a convenient way to keep the creativity flowing without the hassle of bulky hardware. Loaded with powerful components, you can easily run whatever software you need for your next bit of design genius.
What if you wanted a desktop experience? Thanks to USB-C, that's completely possible with a docking station or USB-C hub.
A docking station lets you connect your iPad with whatever peripherals you might want to use – conveniently all in one place. Simply plug in your keyboard, monitor, external storage, or anything else to the docking station. From there, simply connect your iPad Pro via a single USB-C connection, and get creating, all while charging your iPad Pro at rapid speed.
Why Use a Docking Station for iPad? Advantages
The iPad Pro tends to surface among creative professionals who value mobility. If you find yourself working both at the office and at home a lot, a docking station can help you enjoy a larger setup at home even if you have limited space.
With the right docking station, you can:
Connect it once: Once you've configured your desktop setup with the docking station, it's simply a matter of plugging in your iPad Pro with a single USB-C connection. No wire tangles or other timewasters required.
Charge it up: Be productive while your device is simultaneously charged. With rapid charging, you'll get moving with a full battery sooner.
Expand your creativity: External monitor support enables you to extend (or mirror) your display beyond the iPad Pro for applications like Apple TV, iMovie, Keynote, Netflix, and much more.
More control in your hands: Additional USB ports allow users to use the keyboards and mice they know and enjoy. Wired Ethernet also helps to reduce anxiety about unstable WiFi performance.
Keep your ports free: Apple's products have never been known for sporting a cornucopia of ports – the iPad Pro has exactly one. A docking station helps you make the most of it.
Remove compatibility obstacles: Cameras and flatscreen TVs don't always play well with computers or other electronic devices. A universal docking station eliminates the headache of trying to figure out what devices will work together.
Use just one device: The iPad Pro is meant to be your electronic easel – a docking station is your complete fixed desktop solution without the hassle of a second computer.
Think Big Even in Small Spaces
Apple was definitely on to something when they made the iPad Pro large enough to work off comfortably but small enough to take with you everywhere. Creatives like the freedom to find their ideal workspace, no matter how unconventional it may be.
The SD2000P USB-C nano dock is uniquely suited to support that freedom. By keeping your favorite peripherals connected and configured, you'll enjoy the mobility the iPad Pro offers while having a complete creative desktop experience when you get back to your desk.
Whether you're at the coffee shop with just your iPad Pro or moving between your home and professional office spaces, the SD2000P nano-dock is our favorite choice for connecting the iPad Pro to the whole universe of productive possibilities.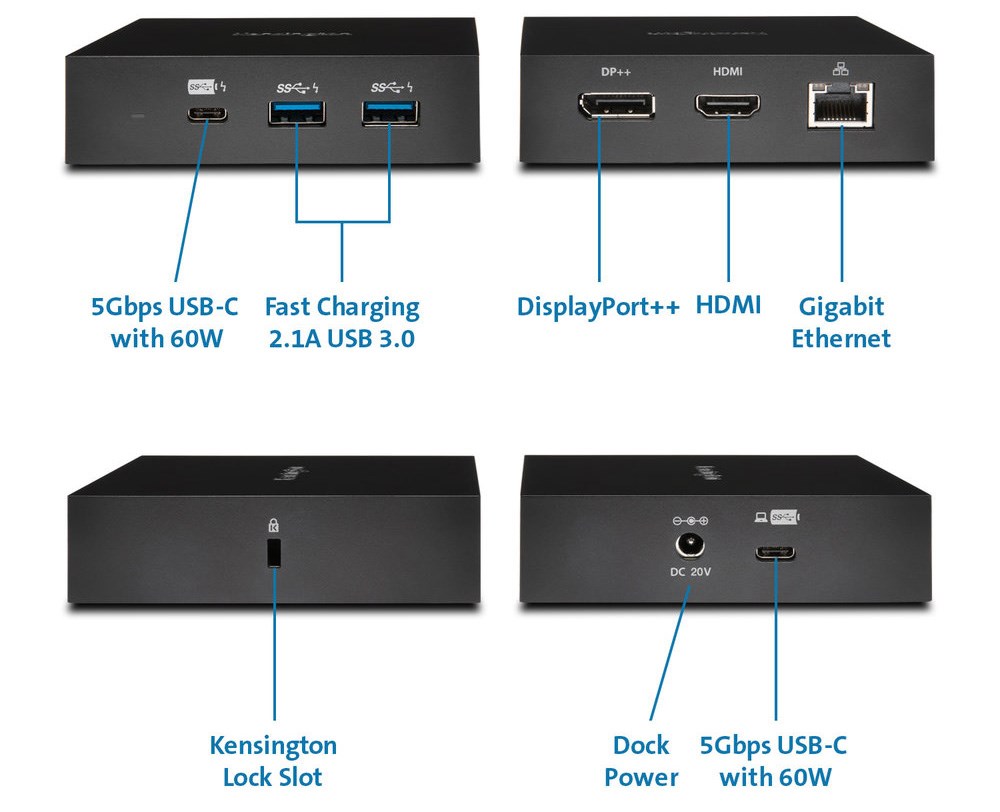 We love it because:
It fits in the palm of your hand. Seriously – enjoy access to extra storage, your camera, your ideal keyboard and more in just a couple cubic inches.
It charges your iPad Pro really fast. Get your iPad Pro charged up to 50% faster than Apple's native USB-C charger – even while other things are plugged into it.
It supports 4K video output. Whether video conferencing, presenting, watching Netflix on an external display, or simply working on a larger screen, you can do so with stunning, true-to-life images on a single monitor.
There are six different connectivity ports. From one USB-C port comes six options for all of your essentials peripherals.
It's also got a security lock slot. Nano docks are snazzy. A security slot for a cable lock ensures that even if other people agree, they can't inspire your dock to walk off.
Zero-footprint mounting. Is table space at a premium in your home office? Or maybe you're practicing minimalism? That's no problem. Mount the nano dock wherever you need it and get to work.
The iPad Pro as a Digital Drafting Table
When the newly redesigned iPad Pro dropped in 2018, Apple described it as a "magical piece of glass" capable of being anything the user desired – with a little creativity on your part.
While Apple has always positioned its iPad Pro as an innovative tool for creative professionals, 2018 was the year it took major strides to increase the usefulness of the device for artists and designers.
Since 2018, the iPad Pro 11" and 12.9" has boasted the capabilities and power of a computer … but also the slick features that creative professionals have come to love. In 2020, that means:
More ways to interact with it: by touch, Pencil, and now trackpad
The Magic Keyboard, featuring a magnetic cantilever design for the perfect viewing angle
Lightning-fast hardware capable of running multiple apps at once
The most color-accurate screen you can get
Functionality in whatever orientation you hold it
A USB-C connector to make life easier
In other words, Apple is working on making the iPad Pro the only tool you'll ever need as a creative professional. But it's not a plain old computer – it's your digital drafting table.
Of course, even Apple recognizes that the workflows and processes of creatives are highly personalized to the individual. While the most recent models of the iPad Pro are sleek workhorses meant to let you unleash your creativity, you can enhance the experience further with a few clever tricks.
Like using a docking station, for example.
Get Creative with Solutions from Kensington
USB-C is rapidly becoming a standard in electronics and Apple certainly hasn't ignored that. Thanks to their decision to include a USB-C port in iPad Pro models after 2018, it's now possible to enjoy access to a whole universe of devices. The right USB-C docking station can support your creative productivity and keep the ideas flowing.
The SD2000P is our choice to complement the compact power of the iPad Pro, and it certainly packs a punch. Whether at your office or at home, this wonderful little nano dock gets you connected and creating.
Check out our full line of hubs and docking stations to start connecting your dream office.