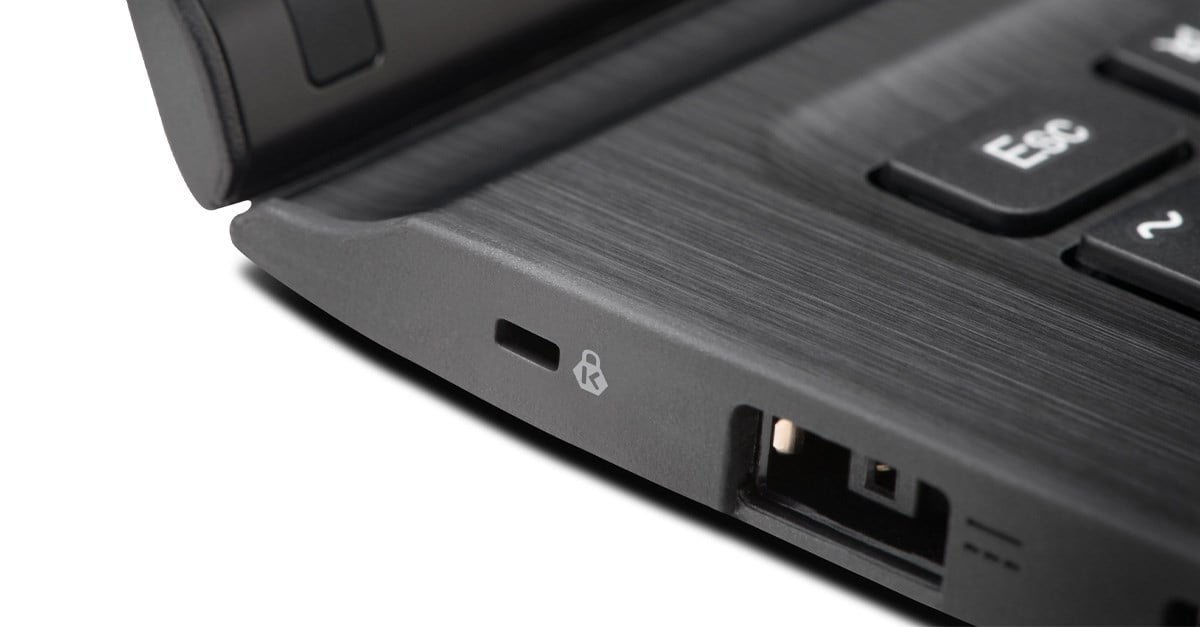 One of the most practical options to prevent data breaches from stolen or missing laptops, are Nano Security Locks.
In this blog post we'll cover:
Did you know that about 15 percent of data, breaches can be traced to a lost or stolen laptop? For an average account takeover, this may cost you around $12,000. For organizations, the average cost of a data breach in 2020 was pegged at $3.86 million.
And since no individual or business is immune to theft or data breaches, it is best to lower your risk of losing or having your laptop stolen. One of the most practical options is to lock it down by physically anchoring the device to a desk or other fixed object.
For such solutions, Kensington is a household name. Since the mid-1990s, the majority of laptops available on the market have included a Kensington Lock slot. With this specially designed small slot that can be paired to a lock, you can anchor your device to something secure.
Let's take a quick look at the different laptop lock options you have from Kensington.
Kensington Security Slot vs. Nano Security Slot
Knowing that security threats go beyond the digital landscape, Kensington has developed solutions that address the need for physical device security.
Kensington is the industry pioneer and leader when it comes to physical device security. The company invented the Security Slot in 1992, and since then has been the standard for physical device security for roughly 30 million products.
In addition, Kensington has been innovating its security solutions for modern devices and developing new solutions such as the Nano Slot.
Here's a quick comparison of the two:
1. Kensington Security Slot
The Kensington Slot is the standard slot that can be paired with a standard security cable lock. Also known as the K-Slot, this device locking option can be used on most brands of laptops, desktops, monitors, and other devices. Associated with the K-Slot is the T-Bar™ which provides a tight fit with the K-Slot.
When it comes to device locking options, you can use the Kensington Slot with keyed locks or combination locks. The former comes with a set of unique keys, just like a traditional padlock. As the name suggests, the latter comes with a four-wheel combination that is used to unlock it.
Kensington's laptop locks are made from aircraft-grade carbon steel and have been specifically engineered to last.
In case your key is lost or stolen, or you forget or misplace your combination code, Kensington has the Register & Retrieve program that allows quick and secure replacement of your key or code.
2. Kensington Nano Security Slot
With laptops and tablets getting thinner and thinner, mobility improves, which can compromise security at times. Some modern devices are too thin to incorporate a traditional Security Slot, so we at Kensington came up with a solution.
The Kensington Nano Slot is the evolution of the K-Slot. The newest nano security slot is about 70 percent smaller than the standard slot. More and more device manufacturers including HP, Lenovo, and ASUS are adopting this new slot because of the following benefits:
Perfect for Ultra-Thin Devices: With newer devices getting smaller and lighter, the Nano Slot is ideal for securing them. The Nano Slot has a volume of 135 mm3 compared to its bigger sibling, the standard slot, which has a volume of 455.25 mm3 .
Can be Easily Incorporated Into the Design of Next-Gen Devices: With the availability of a slot with a smaller footprint for physically locking laptops and other mobile devices, designers and engineers of future hardware have more space to add components.
Trusted by the Biggest Technology Brands: Just like the K-slot, the Nano Slot has won the confidence of companies such as HP, Lenovo, and ASUS, who are transitioning to use the small slot for their new products in the near future.
NanoSaver Security Laptop Locks
Suppose you are looking for solutions to ensure the safety of your team's ultra-thin laptops, tablets, and other devices. In that case, Kensington has several options that offer ease of use while guaranteeing tough security.
The Nano Slot can be coupled with reliable laptop locks such as:
Both come with a 10 mm lock head with Cleat Locking Technology for maximum protection, Hidden Pin Anti-Picking Technology, and a carbon steel cable.
There is also the NanoSaver® Keyed Dual Head Laptop Lock that is perfect for multiple device security. It makes use of Kensington's Cleat Locking Technology and T-Bar Locking Technology.
Another product paired with the Nano Slot is the NanoSaver® Serialized Combination Laptop Lock. This also comes with a carbon steel cable wrapped with a plastic sheath, but the lock head is bigger, with a diameter of 18 mm.
If a keyed locking system is not right for your organization, Serialized Combination Locks provide employees with individual locks while ensuring IT manager access to all locks if an employee forgets a combination. Available as single units or in packs of 25, the Serialized Combination Locks arrive with a unique serial number and pre-set combinations so they can be put immediately to work without the need to set a combo.
IT managers can quickly register all 25 locks at once with one registration code and can keep track of the serial numbers and codes as well as look up forgotten combinations through Kensington's Register and Retrieve program.
How Kensington Ensures Its Security Slots and Locks Won't Fail
Aside from world-class design and using top-quality materials for our laptop locks and other physical security solutions, Kensington also pushes its products to the limits.
To guarantee that our device security locks will meet industry standards and exceed expectations, we carry out rigorous strength testing by subjecting them to the following:
Extreme heat and cold
Salt spray to check resistance to rust
Drop, vibration, and impact tests to check the structural integrity
Pull, tension, and shear protocols to test security capability
Lock picking, bumping, and incorrect key for security testing
Endurance and stress tests for durability
On top of this rigorous testing, we have several layers of quality protocols that meet world-class standards, such as ISO 9001 and Six Sigma, among others.
Differences between Slim and Standard Kensington Locks
Lock Down Your Laptop and Enjoy a Cup of Coffee and Bagel in Peace
Kensington is the industry leader when it comes to security slots and locks.
We offer ideal solutions for enterprises looking for a simple, cost-effective security option that easily integrates into the workplace. Our products serve as the foundation for the security efforts of some of the biggest technology brands today.
So, enjoy the peace of mind that comes with protecting your laptop from being stolen by visiting our Device Security Product page