Disorganized work environments can become stressful and lead you to feel overwhelmed. A regular cycle of decluttering and rearranging your desk can help you calm your nerves and reset for the next work cycle. Although many theories exist for how you can be more productive in any work environment, you'll need to find the right setup that serves your daily routines.
An Instagrammable work set up is a good way to start. Influencers regularly adopt the latest trends and tools for improved work/life balance. It all starts with organization, decluttering, and investing in healthy solutions that can support you during all hours of the workday. With the latest solutions from Kensington and these five tips, you can work from anywhere (WFA) like a pro.
5 Ways to Organize your WFH/WFA Workspace
Whether you want to revamp your existing WFH desk setup or only recently resorted to creating a home office, Kensington has the right solution for you. You can optimize your home or office desk with a range of products that promote healthy posture, keep you productive, and enable you to reach new levels of efficiency.
With our range of home office, work from home, and mobility solutions, you can find the perfect setup that keeps you healthy and focused during every workday. Before the new year strikes, consider these five organizing and decluttering tips for an improved and clutter-free workstation.
1. Reevaluate Your Current Accessories and Desk Knickknacks
From your old mousepad to your overworked keyboard, you should review all the items on your desk. Notebooks from years ago may serve you better if you scan and archive them, allowing you to bin the paper copies. If you only retain the items you need for your regular tasks, you can free your desk and create a clutter-free, calming environment.
To start the new year with a bang, only keep the things you need and get rid of all items that create a distraction or no longer helps you during your daily workflows.
2. Organize all Your Cables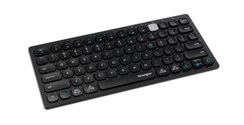 Cables especially can create the feeling of a cluttered, stifling work environment. If you use a docking station with an additional monitor for your workstation, you can maximize your available space with an integrated cable management system.
Kensington provides a variety of solutions that can help you create a minimalist desk and avoid clutter from cables. You can also reduce the number of cables by opting for the Multi-Device Dual Wireless Compact Keyboard and the Orbit® Wireless Mobile Trackball. You can connect the Wireless Compact Keyboard to multiple devices using Bluetooth (3.0 and 5.0) and wireless 2.4GHz with 128-bit AES encryption.
3. Take a Photo for a New Perspective
What may seem organized to you would not pass the test for someone with a fresh pair of eyes. To see how others see your desk, take a step back, then take photographs from different angles. You'll quickly see if your current setup lacks organization anywhere.
Our new Organizing Monitor Stand gives a minimalist design while being packed with features to declutter your desk. Built-in storage allows you to arrange all stationery and office supplies. To help you stay comfortable, you can adjust the height for better alignment with your eyes. You'll also get cable management, and the monitor riser requires no installation.
4. Keep Developing Your Organizational Habits
Decluttering and reorganizing every other month isn't enough. Developing daily habits that keep your desk neat and tidy will improve your mood and increase your productivity. Take time every day to rearrange any new items that land on your desk by deciding whether you should trash, recycle, or store them.
Digitizing your documents and notes can help reduce the amount of paper you use and discard once it is no longer required. By building on these habits every day, you will be able to focus better and concentrate for longer.
5. Design a Place for All Your Equipment
For any items that you will use regularly or need during travel, you should configure your desk set up to accommodate all your equipment. With Kensington's ergonomic solutions, you can create a versatile setup that keeps all your items organized and secure. With docking stations, privacy screens, cable locks, and shredders, it's possible to keep all your sensitive information private while securing your devices to the desk.
For elevated security, Kensington can assist with biometric identification solutions that will keep your data protected on your device. As cybercrime continues to put many companies and individuals at risk, it is essential to include security considerations when designing your ideal workstation.
6. Bonus Tip – Organizing Your Workstation for Wellness
Another consideration is ergonomics. Most workers spend about 7 hours every day clicking, navigating, and typing behind their desks. Using wrist rests for your keyboard and mouse will prevent repetitive strain injuries in your wrist and elbows. Consider adding a space-saving footrest that ensures you support your back while promoting circulation in your legs.
To create the perfect setup, you can use Kensington's new Wellness Configurator tool. Whether it is for a home desk, a mobile workstation, or in the office, Kensington has a solution that will ensure you can create a functional, minimalist, and clutter-free work environment.
Rethink what's Possible with Kensington
Kensington is a leader in developing innovative, space-saving, and ergonomically designed computer equipment. We will help you configure a workstation that optimizes your available space and enables you to work comfortably from any location. Our SmartFit® System will help you dial in your ideal height for optimal alignment, and the SmartFit Space-Saving Single Monitor Arm gives you maximum flexibility while being suitable for small spaces.
By keeping an organized desk and removing all the clutter from your workstation, you can maximize your concentration and gain peace of mind. A chaotic desk is often also a reflection of a person's state of mind, making it vital that you develop new organization and decluttering habits for the future.
An added benefit is that if any clients do visit your office, it will improve their impression of the company. A clean, minimalist workstation shows others that you remain organized and prepared for whatever challenges the next workday will bring.