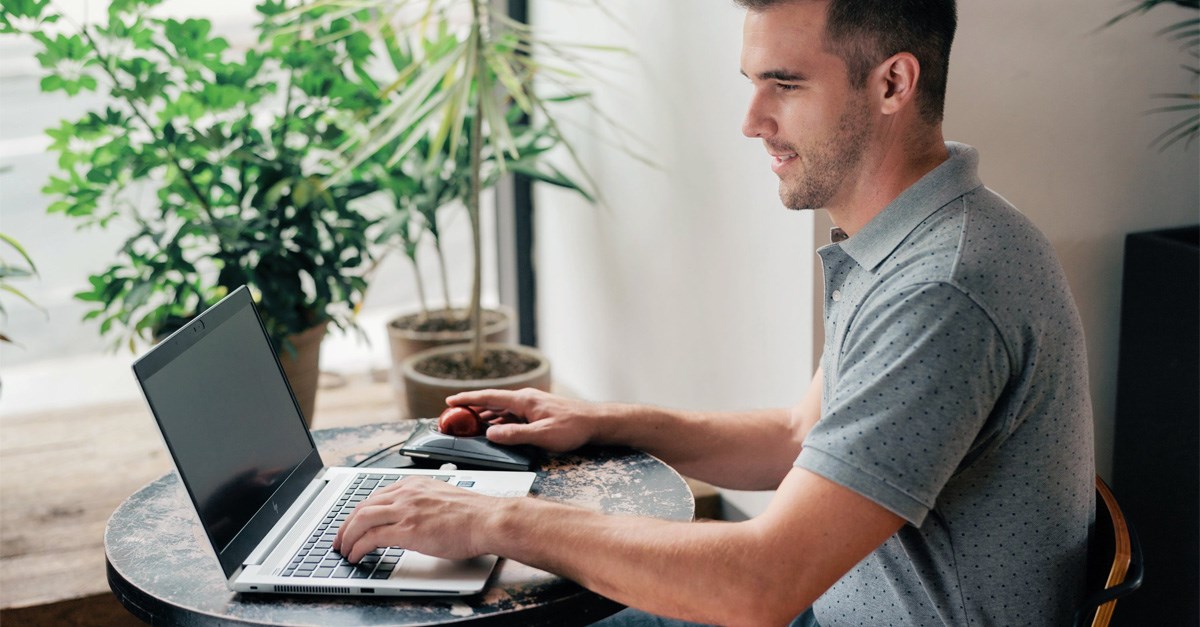 Remote work is becoming more popular, thanks to advances in mobile technology. An analysis from FlexJobs found remote work increased 159% between 2005 and 2017. That trend is expected to continue moving into 2020, as both companies and employees learn the positive benefits remote work has on morale.
Hoteling, hot desk setups, and working-from-home arrangements will be available in your company soon, if they're not already. Taking that leap into virtual work can be scary, though. Computer security is more important on laptops than desktops. One in ten laptops are stolen in their lifetime, and 98% of those laptops are never recovered.
Remote work is a great way to improve your quality of life without impeding on your quality of work. It's the perfect balance to move forward with a focused 2020 vision next year, and Kensington can help.
Transitioning to Full-Time Remote Work
Full-time remote work is a living retirement dream. Sitting on your couch at home (or a coffee shop, beach, hoteling, etc.) and leveraging your skills maximizes your limited time on Earth. Whenever you need to be in an office to be productive, hot desks in office buildings operated by companies like WeWork accommodate remote workers.
Over 170 companies in the U.S. operate 100% virtually, according to FlexJobs. Simple security measures make it possible to remain productive and avoid losing important data or equipment. The start is a lock.
A laptop lock like Kensington's Desktop & Peripherals Locking Kit 2.0 is perfect for protecting most of your accessories. The strong, 10mm lock head fits even the thinnest devices, many of which already have the industry-standard Kensington Security Slot integrated into the design. This allows a cut-resistant carbon steel cable to lock onto the device and keep it safe from theft.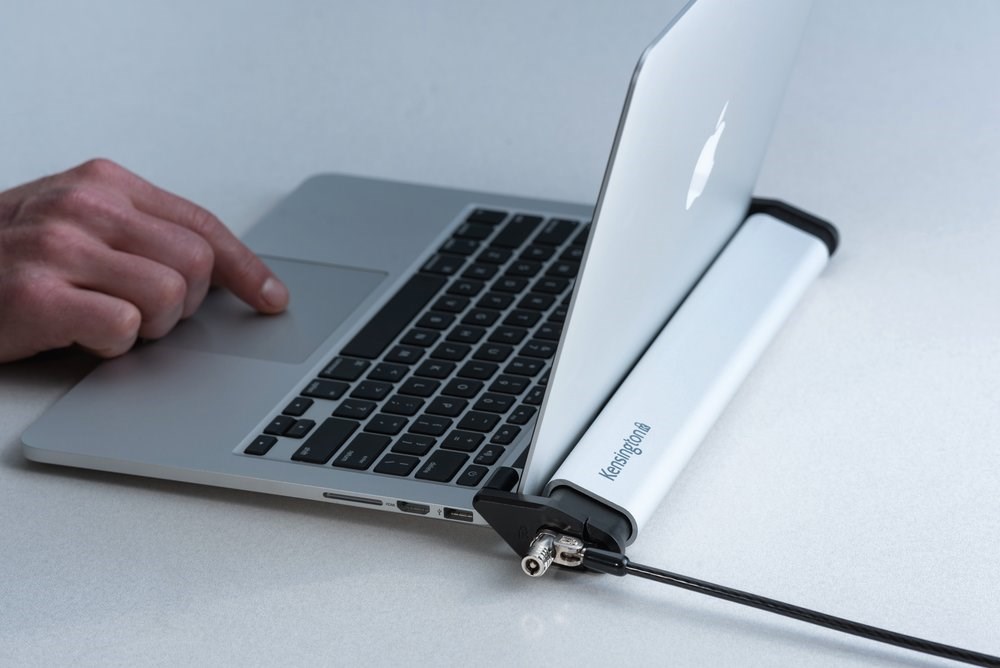 Laptop Locking Stations are also available to secure a device in the home office. It's also something you should look for when choosing a hot desk for temporary office work. If you're using a Microsoft Surface Pro for remote work, the Keyed Dual Head Cable Lock for Surface Pro and Surface Go is a great security solution. iMac® users can use the SafeDome™ Mounted Lock Stand.
Of course, not everyone gets to live the dream, at least not full time. Don't lose hope – there's a solution for the dreamers.
Integrating Part-Time Remote Work
You may not get to work completely from home until retirement. While the mobile workforce is growing, it still represents less than 10% of the population. Still, FlexJobs found 70% of the workforce works remotely at least one day a week. That includes business travelers who stay productive while hoteling.
This means you can live the dream part time, but you'll still have full-time worries of unauthorized laptop access. Kensington's VeriMark™ Fingerprint Key is the answer. It's a two-factor authentication (2FA) device that supports FIDO U2F and Windows Hello™. It seamlessly integrates with popular password managers like LastPass, Dashlane, and Keeper to ensure nobody accesses your computer, even if it's stolen.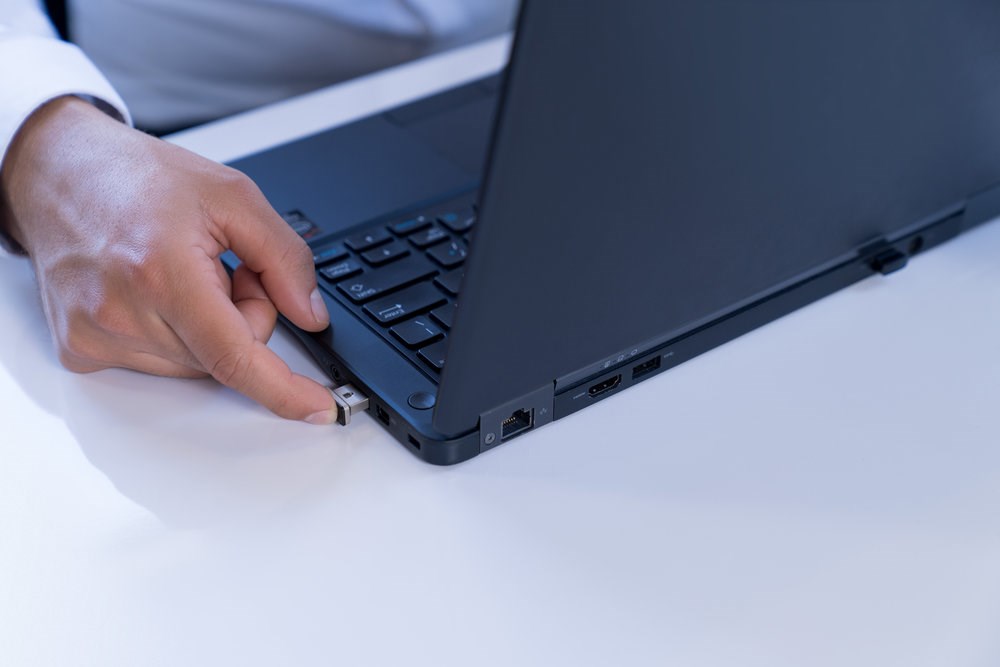 While you're hoteling, your office workstation is left unmanned and vulnerable too. Kensington USB Port Blockers lock USB ports to prevent unauthorized installation of malicious programs and data leakage. One of these TAA-compliant devices also prevents access to horizontally or vertically adjacent ports.
For maximum protection, a USB Port Lock with Square Cable Guard provides the same anti-tamper protection while preventing theft of authorized USB devices (keyboard, mouse, external hard drive). In fact, now that you're excited about working away from the office, let's discover how to recruit others to the remote workplace.
Benefits of Hiring Remote Workers
All these remote workers need employers, and if your boss isn't on board with the idea, Kensington has you covered. The above section was all about computer security while hoteling or working in a home office or hot desk. This one is packed with examples and statistics to illustrate the benefits of remote work.
Companies like Cactus Communications, Wikimedia Foundation, Student Loan Hero, and the United Nations Development Programme are recognized among the top companies using remote work. GitHub believes in remote work – over 60% of its workforce is virtual. Companies like GitHub enjoy three key benefits of using remote workers:
1. Going Green
National Geographic estimates up to 90% of a vehicle's environmental impact is due to fuel consumption and exhaust emissions. When you consider the average American commute is a record high of over 27 minutes, it's easy to see how working from home has environmental benefits.
Every business wants to go green, and employing virtual workers comes with bragging rights. You're not just a profit-driven business – you care about our planet's future.
2. Lowering Healthcare Costs
Health insurance premiums are on the rise in the U.S. for both employers and employees, according to a recent survey from The Henry J. Kaiser Family Foundation. Employer-sponsored plans cost an average of $20,576 for families, representing a 54% increase over the past decade.
Working from home improves sleep, diet, and overall health. You're no longer surrounded by germs, unless hot desking. Employees get sick less, decreasing healthcare costs overall.
3. Widening Hiring Pool
Implementing virtual workers into a business removes geographic restrictions in the hiring pool. You may only have a handful to a few hundred qualified individuals in your town or city. By enabling remote work, your hiring pool becomes global.
This increases the odds of assembling the right team and maximizing performance. Keep in mind that you may end up competing with everyone you don't hire.
Remote work benefits both the employer and employees, creating an overall stronger and more efficient business.
Kensington Empowers Remote Workers
Kensington has been helping workers become more productive everywhere you work for decades. As technology evolves, your workload does too. You need devices that bring your work to the next level and accessories that support that vision. Computer security is at the top of the list, making a tablet or laptop lock the key to moving from desk to desk.
Whether hoteling, using the home office, or at a hot desk, you can't afford to lose data and productivity. Everything from the device to peripherals and even the ports and data within need to always be secure. If you can walk away from your computer feeling as secure as you are while using it, you're living your best life.
Modern connectivity helps you be productive no matter where you are in the world. Remote work at a café, on a boat, in the backyard, or a friend's house is possible. When you're working outside those drab cubicle walls, you feel an unsurpassed level of comfort and freedom.
Check out Kensington's wide range of security products to keep that freedom and comfort secure.