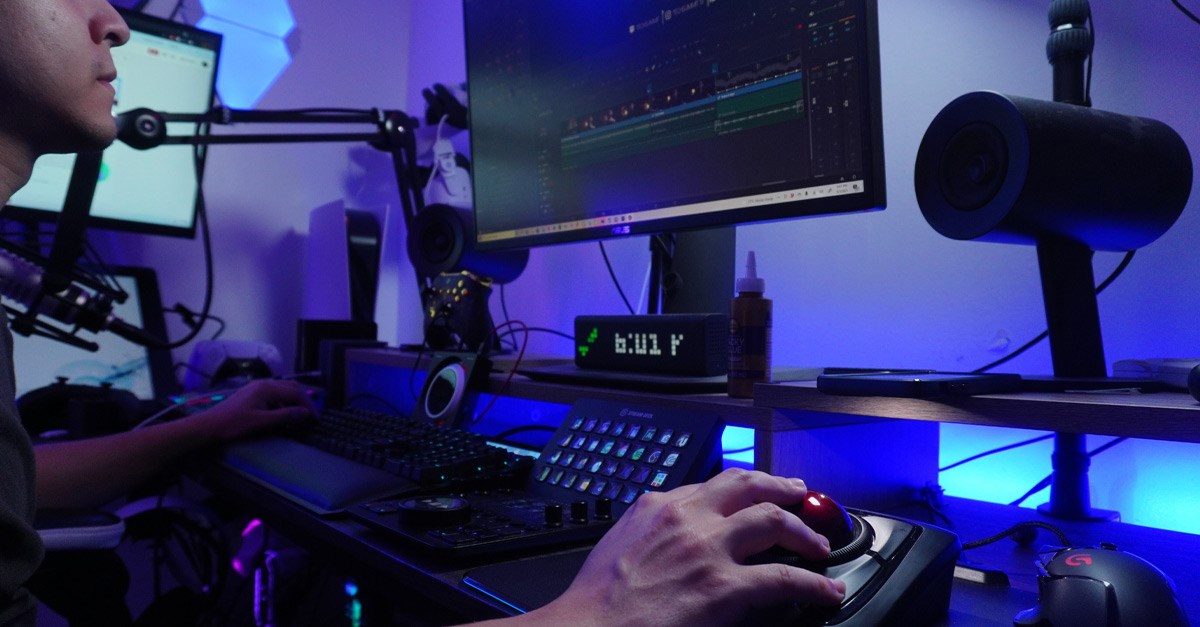 Kensington's Trackball Ambassador Program shares insights from influencers in their industry. The ambassadors themselves provide in-depth reviews of Kensington's trackball products they use daily. 
It's not like being an actual ambassador. It's even better! You get to tell us about our trackball products and what we can do to improve our design and your efficiency. As a result, you help us make the best trackball products on the market.
Our ambassadors are those looking to share insight, opinions, and expertise. From innovative leaders, ergonomic experts, and everyday users, we are looking to work with:
Architects
DJs
Engineers
Graphic Designers
Music Producers
Video editors
People with disabilities
Those who suffer from muscular strains, like carpal tunnel syndrome
Introducing Francisco Ferreira
Tech Summit is known as a reliable resource for tech reviews in the tech products field.
On his YouTube channel and other social media platforms, he evaluates all sorts of tech products from smartphones, smartwatches, headphones, consoles, controllers, microphones, monitors, and PC builds, teaching his audience what will work best for anyone, like students or parents with kids.
As a reviewer covering all sorts of tech products, he seeks to educate users for any given market. Tech Summit aims to cover all bases in analyzing tech products for consumers, sharing his opinion and research with his audience.
His passion for technology is clear from how he talks about new products with enthusiasm, knowledge, and expertise. His reviews are informative, easy to understand, and engaging.
Q & A with Tech Summit
At Kensington, we spoke with Tech Summit to learn more about him, his influence in the industry, and why he uses Kensington products when creating content.
Here is what he had to say:
Q: What is your name and occupation?
A: My name is Francisco Ferreira, and I am a full-time content creator.
Truthfully, he is more than just a content creator. Ferreira is an expert on tech products, with a large following. He provides his opinion and knowledge to people looking for it as he reviews new devices online. Also, he is a professor at the Nova University Lisbon School of Science and Technology.
Q: When did you start using trackballs, and how often do you use one?
A: I started using trackballs about a year ago, and since then, I have found that they are much more efficient than a conventional mouse. I use a trackball just as often as I edit. Which is almost every day.
As an avid lover of tech products and accessories, Ferreira is always excited to share his experiences with all things tech, especially Kensington's trackballs and other ergonomic products.
Q: Which is your favorite Kensington Trackball?
A: As of now, my favorite Kensington trackball is the Expert Mouse.
He can't imagine his Editing Workstation without the Expert Trackball Mouse and other Kensington products to help him get through long days at work and meet deadlines he never misses. Check it out in his YouTube video on his workstation full of Kensington tech accessories.
Q: When did you join the Kensington trackball ambassador program and what do you love about it?
A: I joined the Kensington Ambassador Program in 2020 and what I love about it is that I get to give direct feedback on what I think about my Expert Mouse and what can be added to make using it a better experience.
By providing his expert opinion, Ferreira helps us improve our design and user experience. Although, he admits, Kensington has done a great job of making a product that is difficult to find ways to improve.
Q: Do you use KensingtonWorks™ to customize your Trackball settings?
A: I do use KensingtonWorks™ to customize my Expert Mouse. I use KensingtonWorks with my trackball, mostly when it comes to adding shortcuts.
These shortcuts are very important when editing. So, seeing that they are positioned so well next to the trackball section is incredibly convenient. The scroll wheel is used for scrubbing around the timeline, as customized.
Q: Would you recommend a trackball? If yes, why?
A: I can recommend a trackball to professionals, but it's not something I can give a blanket recommendation for. However, I was someone that went from never touching a trackball to using a trackball for most of my edits. 
I can say that it has drastically improved the speed at which I work. It takes some getting used to, but KensingtonWorks already makes it very easy to customize, so I got used to it pretty quickly.
Follow Francisco Ferreira on His Social Media Pages:
To hear more from Tech Summit, check out Ferreira's media channel today. Tune in and discover the latest tech accessories and how you can add them to your production studio, office, or workstation.
Content Creators, Ergonomic Experts, Everyday Users, and Engineers Wanted!
Kensington is looking for talented content creators, ergonomic experts, engineers, and everyday users passionate about their tech accessories. Especially when it comes to ergonomic trackball designs.
The Kensington Ambassador Program gives influencers and experts in their industry a platform to provide feedback on the Kensington trackball products they use (and love) daily. We want your direct feedback on what could be added or improved about our products, such as our Expert Mouse.
We are open to influencers who are ready to share their thoughts and experiences on what makes Kensington trackballs great. This program is for those who believe in the Kensington Trackball's comfort and accuracy.
Be recognized for your opinion. Apply to be a Trackball Ambassador and a team member from Kensington will contact you about your possible contribution.
Whether you are a trackball fanatic or trying it for the first time, we want your honest insights and opinions. Apply to be a Kensington Trackball Ambassador today!