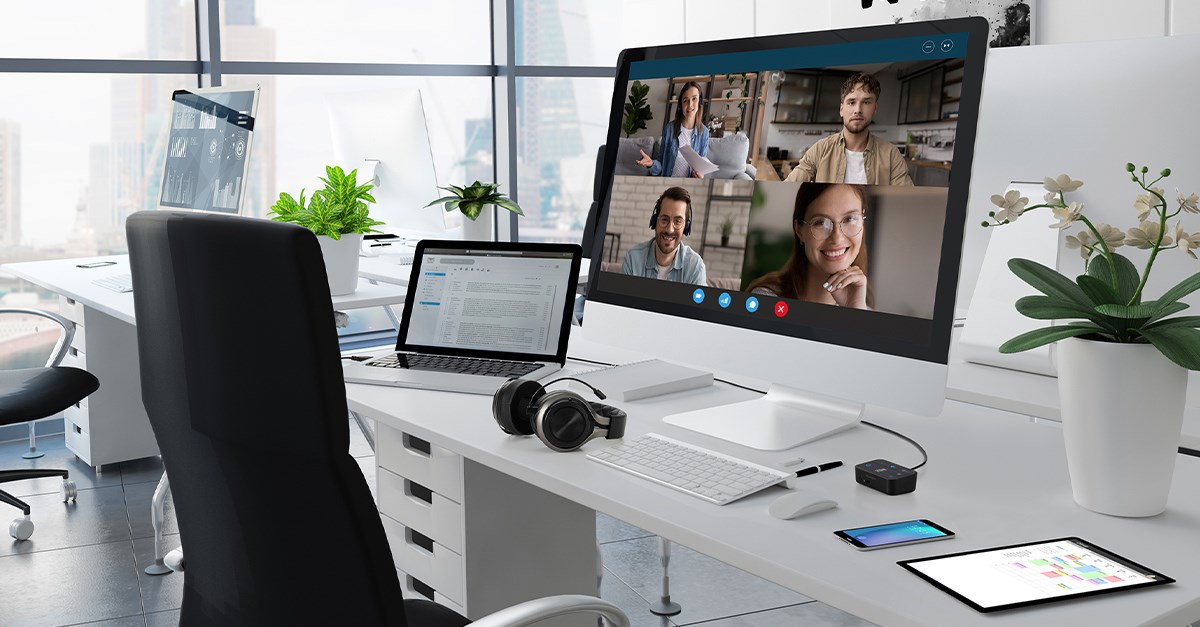 Have one headset but multiple devices – Kensington's Universal 3-in-1 Pro Audio Headset Switch enables you to leverage your headset across multiple devices with the push of a button while also providing features like a large mute button, channel isolation, and much more.
Not being able to connect to multiple devices with one headset is a major frustration for professionals who use a headset for work. Professionals working in the office, or at home need to switch between audio on their laptops, phones, or other devices. 
If you are one of the more than half of working professionals whose job requires the use of headsets for any part of the day, you understand this issue. Whether it's taking a video call, making a phone call, or listening to music, switching between different devices can be complex and time-consuming. 
At Kensington, our passion is enabling professionals to get the most out of their technology. When we noticed that no solution to this problem existed, we developed an audio switch that enables professionals to use a single wired or wireless headset across three separate audio sources. Users can switch seamlessly between their laptop, phone, or tablet, enhancing their productivity. 
The latest addition to our audio line of Professional Video Conferencing solutions, the audio switch features convenient push-button controls for device switching, volume control, and muting to deliver a professional audio experience. 
Introducing Kensington's Universal 3-in-1 Pro Audio Headset Switch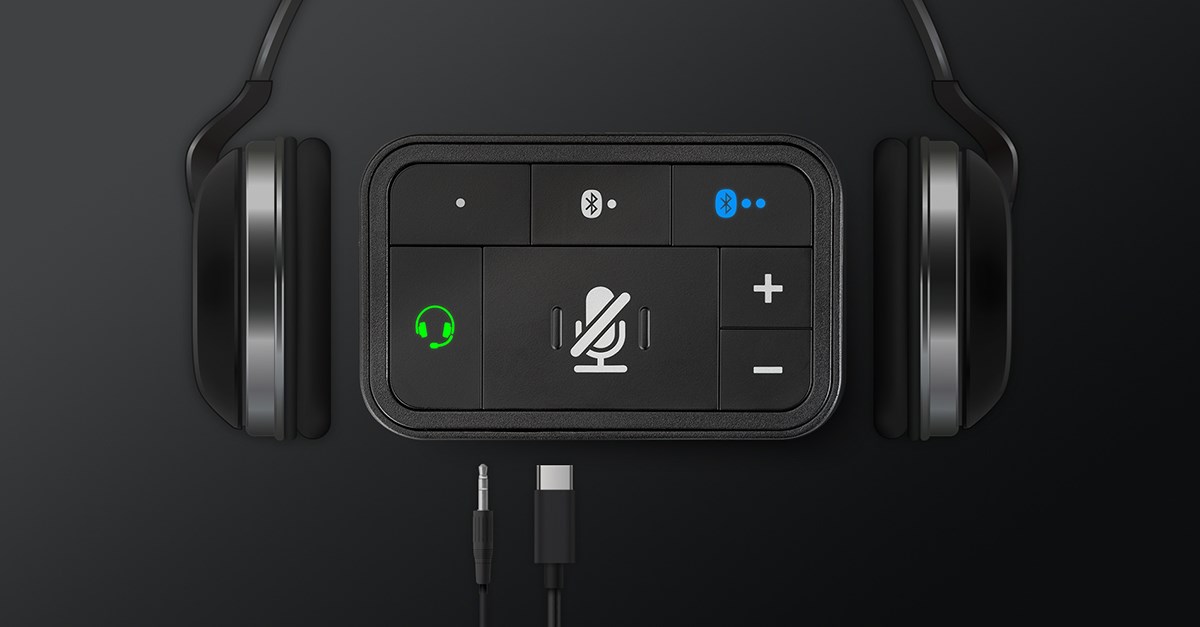 Busy professionals often struggle with cumbersome audio transitions when switching calls between devices or they have to carry multiple headsets or earbuds to connect to their various devices. Kensington's Universal 3-in-1 Pro Audio Headset Switch enables professionals like you to use your favorite wired (USB-C, USB-A, or 3.5mm) or wireless Bluetooth headset as you switch between up to three different devices (laptops, phones, and tablets).
Our audio switch automatically remembers previously paired devices, eliminates the need for multiple headsets, and is perfect for people who spend a lot of time on calls. It works with applications like:
Microsoft Teams
Google Meet
Zoom
WebEx
And more
The Universal 3-in-1 Pro Audio Headset Switch is part of Kensington's Professional Video Conferencing ecosystem - providing an integrated experience so you spend more time being productive. 
Features of the Kensington Audio Switch for Multiple Device Connectivity: 
Universal 3-In-1 Controls   
Universal 3-in-1 Pro Audio Headset Switch enables professionals to use their favorite headsets as they switch between devices. As part of our Professional Video Conferencing ecosystem, this new audio switch by Kensington gives workers the productivity tools they need to communicate, collaborate, and connect with colleagues. 
Take a Zoom call on your laptop, and when you're done, listen to your favorite music streaming from your tablet without switching headsets.
Universal Device Compatibility
Use your favorite headset - wired or wireless - across different devices. Its universal compatibility means that it will work with Windows and macOS operating systems without the need for additional software installation. (Compatible with Windows 10 operating systems or above, or macOS 11 or above.)
Supports a Pro Desktop Setup
Join meetings and transition to music without changing your headset - increasing your productivity and decluttering your desktop. It's a must-have for office workers and remote employees alike.
Simplified Switching & Control  
This audio switch from Kensington provides a convenient way to switch between devices, quickly mute, take calls, join meetings or simply listen to music while you work - all through the same headset.
Smart Technology
Easily transitions between audio sources and automatically connects to one wired and two paired devices. Adaptive Bluetooth 5.0 connection technology automatically remembers previously connected devices and has been tested to work with popular video conferencing applications such as Microsoft Teams, Google Meet, Cisco, WebEx, and Zoom, to name a few.
Plug and Play
A simple connection to your three devices without any additional software required means your Kensington audio switch is ready to work straight out of the box.
Plug in your wired headset (USB-C, USB-A, or 3.5mm) or pair a wireless Bluetooth headset to the switch. You can also easily pair your other devices (smartphone, tablet, etc.) to the switch via Bluetooth.
Using the switch controls, you can simply switch the devices at any time, from taking a call, joining a meeting, or listening to music via your PC, phone, or tablet. Controls such as mute and volume control allow for maximum productivity, while finger guides allow you to easily find the buttons without having to look away from your screen.
What Makes Kensington's Audio Switch the Best Headset Control Device?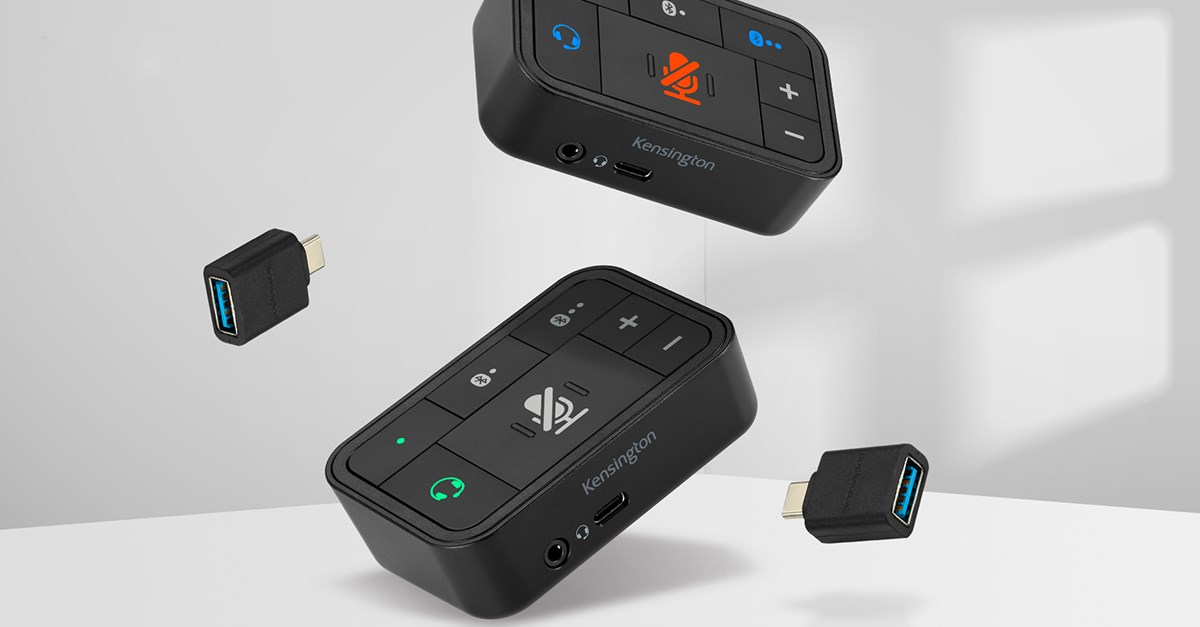 Simple, it enables you to connect one headset to three devices with one central point of control. 
It features three-channel device connectivity, including one for wired devices (USB-A or USB-C) and two channels for Bluetooth devices.
Thanks to the LED display, you'll know what channel you are on at all times, if you are muted and how your headset is connected. A green LED indicates a wired connection and blue LED indicates a Bluetooth device is connected. It's just that easy!
The device's USB-C to USB-A cable connects to the USB-C port in the rear of the device, providing both power and audio to the Kensington audio switch. The audio source offers three channels, including one USB-C and two Bluetooth channels.
Connect Channel 1 to your Notebook, PC, or MacBook, and power the device while remaining connected. Connect your PC, phones, and tablets to Channels 2 and 3 and enjoy 3-in-1 headset connectivity.
Lastly, Kensington offers a 2-Year Limited Warranty should something go wrong with the audio switch.
Kensington's Universal Pro Audio Headset Switch for Multiple Device Connectivity
At Kensington, we understand the needs of working professionals like you. Productivity requires minimizing steps, including manually switching your headphones from one device to another or having to carry multiple headsets or earbuds. 
With the Kensington Universal 3-in-1 Pro Audio Headset Switch, you'll get reliable connectivity across three devices using your favorite headset.