If you take a quick glance around your office, you're bound to see a mix of newer and older devices. Change is inevitable as earlier gadgets get replaced by the latest technology, but we tend to make these updates piece by piece rather than all at once. When faced with the challenge of trying to link up all our different devices, we need a docking station that can connect legacy USB 3.0, cutting-edge USB-C ports, and any future purchases as well. Kensington has designed the SD4700P Universal USB-C and USB 3.0 Docking Station (K38240) to be the ultimate docking solution as the industry crosses over from USB 3.0 to USB-C. Kensington's new optional Power Splitter for SD4700P (K38310) takes the ultimate docking station a step further with the ability to power and charge USB 3.0 computers requiring 20V of power. Together, the SD4700P and Power Splitter offer truly universal docking for our evolving mixed-computer environments.
The Docking Solution to Bridge the Present and the Future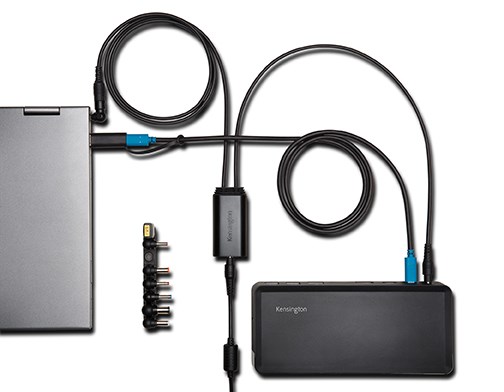 No one wants to invest in a docking station only to discover that it doesn't work with either their beloved legacy devices or their newest acquisitions. The SD4700P Universal Docking Station for USB 3.0 and USB-C is designed to work with your business now and in the future as manufacturers transition from USB 3.0 to USB-C computers. The SD4700P is Windows and Mac compatible—with a simple set-up, you plug in your computer and it works perfectly the first time. It's that easy.
Today's slim laptops lost a lot of ports to gain such sleek portability, but we still love a normal-sized keyboard, ergonomic mouse, eye-height monitor, printer, wired connection, and other peripheral devices. The SD4700P dock extends your laptop's capabilities with six USB ports: one 3V/5A USB-C port and five USB 3.0 ports, one of which offers 2.1A fast charging to power up a tablet or smartphone. The dock supports a single or dual monitor set up with Dual 2K support via one HDMI port and one DP++ video port. Along with transferring video, audio, and data up to 5Gbps, the SD4700P offers 60W of power for USB-C devices that support power delivery. A Gigabit Ethernet port provides a reliable wired internet connection, and a combo headphone/microphone jack lets you connect your favorite headset.
Enjoy an uncluttered working space by attaching the SD4700P docking station to the back of any VESA® compatible external display for sleek Zero Footprint Mounting (K33959). You can secure the dock against theft by deploying a Kensington security cable in its Kensington Security Slot. Protected by Kensington's standard 3 Year Warranty, the SD4700P is the ultimate docking station with the flexibility to support innumerable desk configurations.
Power Splitter Boosts the Ultimate Docking Station 
Kensington's designers are always thinking about ways to make a great product even better, and the Power Splitter for SD4700P gives the universal docking station even more adaptability. Adding the Power Splitter enables the SD4700P to power and charge USB 3.0 computers, making it a truly universal solution. Ideal for mixed-computer environments, the eight different power tip adapters can be dongle connected to ensure a perfect fit with Dell, HP, Lenovo, and other leading manufacturers. The Power Splitter accommodates multiple tips on its 1M long cable, and the included retention rings protect the tips from being misplaced in a hot desking environment. Feel free to ditch that laptop charger in a drawer, the Power Splitter for SD4700P has you covered!
Real Talk about Docking from a School IT Professional
Brian Horton, Director of Technology Operations at the Duke School in North Carolina, knows that underperforming docks mean wasted resources and lost educational time. After being disappointed by failed dock after failed dock, he now trusts Kensington's Universal Docking Station to connect his school's shared devices encompassing older and newer PCs, Chromebooks, and Apple devices. See why Brian calls the SD4700P the "Swiss Army Knife of docking stations," and trusts this dock to keep his school in session.
Conclusion
When Kensington named the SD4700P their "Universal USB-C and USB 3.0 Docking Station," they meant it. Designed to be a scalable solution for companies with evolving mixed-computer deployments and shared workspaces, the SD4700P and Power Splitter have been rigorously lab tested for compatibility with HP, Acer, Asus, Dell, Mac, and other leading manufacturers. As the industry shifts from USB 3.0 to USB-C devices, you can feel confident that the SD4700P and Power Splitter are designed to support your current and future desk environment.
Want to know more about the SD4700P and 60W USB 3.0 Power Splitter
To view our entire line of docking stations, click here.