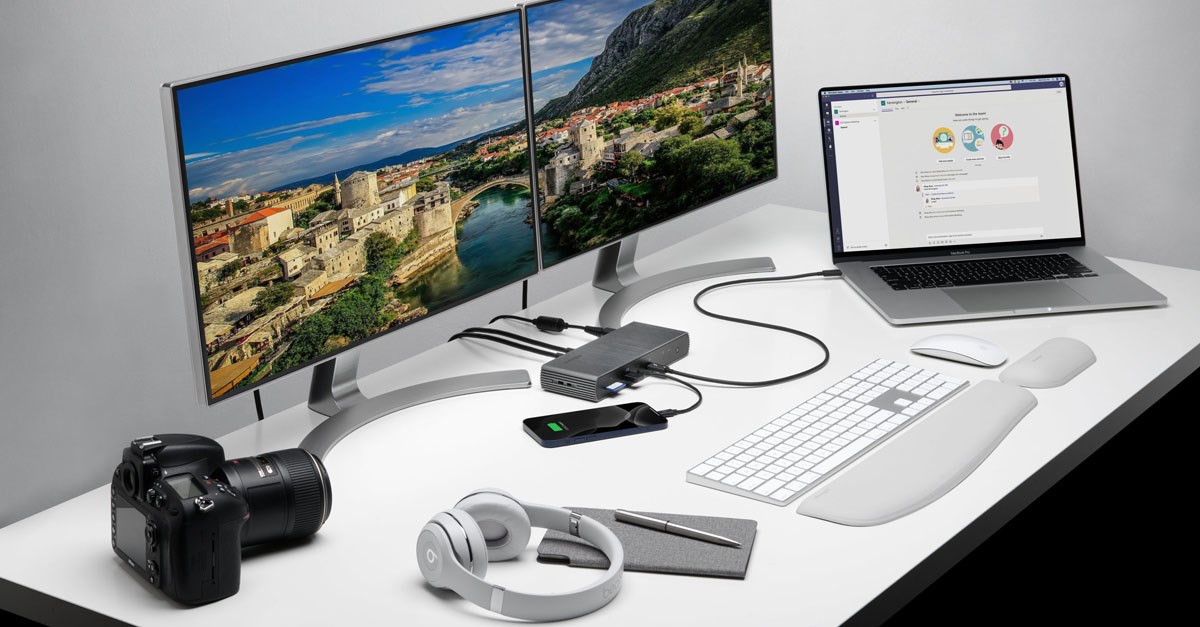 Keeping up with the advancements in connection technologies and high-speed data transfer ports can feel like a drag. Whenever a new device hits the market, you need to check and double-check whether the product will work with your current setup. Verifying forward and backward compatibility is becoming a complex process. With technologies like USB-A, USB-C, USB 3.2, USB4, Thunderbolt™ 3, and Thunderbolt™ 4 all providing different features, knowing what to look for could be a challenge.
Apple devices, known for their innovative designs, especially need double and triple-checking whenever a new connection port comes along. Thunderbolt™ has been part of the Apple device ecosystem for just over ten years with the new M1 MacBooks only support Thunderbolt™ 3 not Thunderbolt™ 4. The new version, Thunderbolt™ 4, is now available in Windows laptops, devices with Thunder Lake CPUs, and on Intel's EVO platforms.
Now that we have Thunderbolt™ 4, the differences may not be as evident between the two technologies as we may have first thought.
Thunderbolt™ 3 and Thunderbolt™ 4: What's the Difference?
In the late 2000s, Intel started working on a high-speed data transfer solution that could support normal information processing and optical data. The intent was to provide a single port for delivering video and high-speed access to external memory devices.
What the tech giant came up with became Thunderbolt™. The first generation of the port blew USB out of the water. It was capable of providing up to 10Gbps of data from a single connector and combined video and data onto a single cable (unlike HDMI that only supports video connections).
Apple embraced this technology for new devices and it wasn't long before other manufacturers also started to include it in their designs. During the first two generations (Thunderbolt™ and Thunderbolt™ 2), the ports used a different physical connection (Mini DisplayPort) and weren't standardized like with USB tech. That changed with Thunderbolt™ 3 when Intel decided to adopt a USB-C port as part of the technology.
We now have the 4th generation (Thunderbolt™ 4), which started featuring in devices in 2020. At first, many people thought it would be a dramatic change in the technology but we now know that Thunderbolt™ 4's upgrades are subtle compared to the previous generation and are more so focused on raising the minimum spec requirements in the devices laptop and accessory makers bring to market. Let's recap what you got from a Thunderbolt™ 3 port before we try to explain the differences in Thunderbolt™ 4.
What You Need to Know About Thunderbolt™ 3 
By the time Thunderbolt™ 3 started featuring in our devices, it was the most advanced port available. It supported data transfer speed of up to 40Gbps, video output, and power delivery. To put this in understandable terms, a 40 GB file would theoretically take about eight seconds to transfer between devices (where the 10Gbps of the previous generation took up to 32 seconds). Actual performance may vary depending on your specific system configuration, external drives, and other peripherals' capabilities. 
When compared to USB 3.2 Gen1 specifications, Thunderbolt™ 3 allowed for eight times faster data transfers. Even when taking USB 3.2 Gen 2x2, Thunderbolt is still twice as fast the new USB specifications.
Compared to USB 3.2, Thunderbolt™ 3 provided:
Support for reversible data transfer between devices at up to 40Gbps speeds
Connected to other USB 3.2 (USB-A or USB-C) devices
Allowed for the fastest video and data transfer using a small form factor port
Transmitted up to dual 4K video with a single cable
If you contrasted and compared Thunderbolt™ 3 to other connections, you'd be hard-pressed to find anything that kept up with the technology. In 2020, rumors about Thunderbolt™ 4 started hitting the news and while speculation was rife, the capabilities of the new standard are now clear.
What Does Thunderbolt™ 4 Bring to the Party?
Initially, the information released about Thunderbolt™ 4 by Intel and other stakeholders weren't clear. Tech publications first reported that there would be faster data transfer but once Intel published the USB4 compliant specification, we learned that would not be the case. Instead, Thunderbolt™ 4 aims to unify connectivity across devices while improving the capabilities of Thunderbolt™ 3.
Specifically, with Thunderbolt™ 4 you'll get:
A unified technology across Thunderbolt™ 4 and USB4 devices
Double the minimum optical output capability from dual 4k video to include single 8K video
PCIe transfer speeds of up to 32Gbps for storage at 3,000Mbps external storage connections
Expanded capabilities including increased cable length (up to 2 meters), wakeup, and Intel VT-d memory access protection
Why the Thunderbolt™ 4 Update Matters
Although you won't get faster data transfer speeds, the underlying updates to the technology still matter. The compatibility with Thunderbolt™ 3 will stay the same but doubling the PCIe connection from 16Gbps to 32Gbps will influence your connectivity and performance. Another element is that USB4 now includes Thunderbolt™ as part of the specification, making universal connectivity with high-speed capacity something we'll hopefully get in all our devices in the future.
Standardizing Connectivity between macOS and Windows Devices
One of the main reasons why we care about standardized connectivity is that attacks like Thunderspy rely on one tech company to defend against it. By adopting the same standard for the underlying architecture, companies can work together to overcome vulnerabilities within the technology.
Thunderbolt™ 4 and USB4 uses the same principles in design and therefore, allows both Apple and Windows devices to secure their ports, enable compatibility across platforms, and give consumers a variety of choice.
How Does Thunderbolt™ 4 Influence Kensington Docks?
Kensington remains at the forefront of docking technologies providing solutions for USB-A, USB-C, Hybrid USB-C (USB-C/USB-A), Hybrid Thunderbolt (Thunderbolt™ 3/USB-C), Thunderbolt™ 3, and Thunderbolt™ 4.
Our Thunderbolt™ 3 compatible devices will work with Thunderbolt™ 4 ports without requiring any additional adapters. You can continue using your Thunderbolt™ 3 as is, or future proof your solution with the first Thunderbolt™ 4 docking solution.
Reliable Connectivity with Kensington Thunderbolt™ 4 Technology
Kensington is committed to developing innovative, ergonomic, and productive solutions that empower and engage users. Our latest range supports all of the newest specifications including Thunderbolt™ 3 or 4 and USB-C.
If you need a reliable docking solution that is backward and forward compatible with Thunderbolt™ 3 and Thunderbolt™ 4, check out our SD5700T or find the ideal solution for your setup with our docking station product finder.
---
This is the second in a five-part series, view the other blogs below: