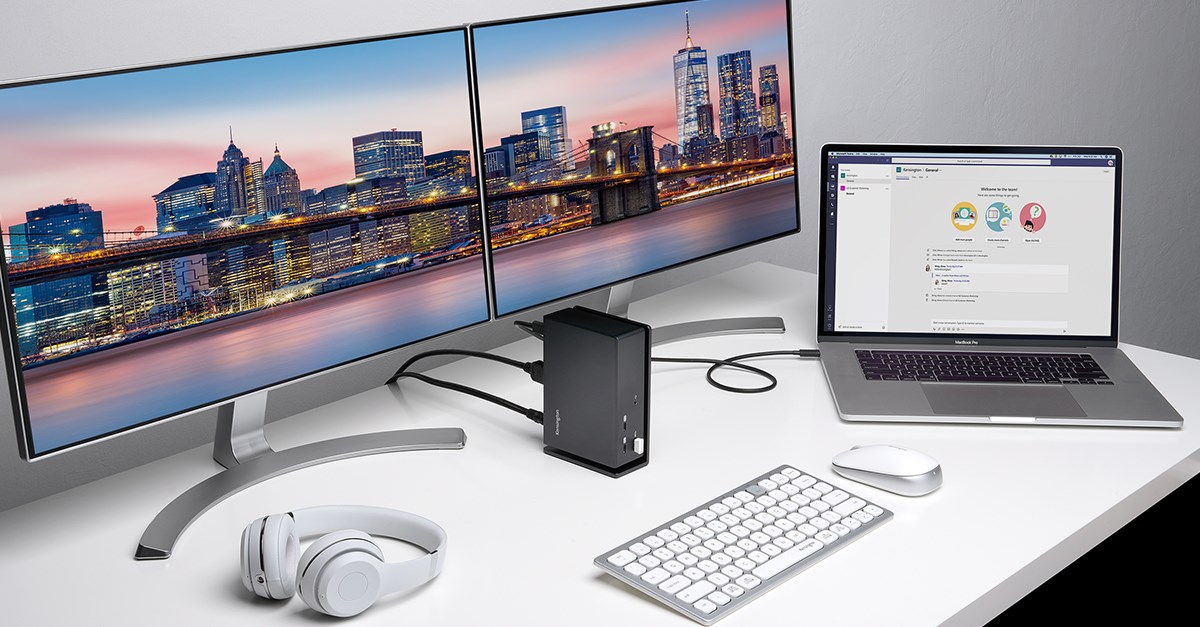 Thunderbolt™ is more than a data-transfer technology that enables a USB-C port to deliver faster data transfer speeds.  It's about providing gamers, content creators, and professionals with a powerful, single-cable connection that de-clutters the desktop and ramps up productivity and response times.  It's technology that quickly moves massive files, enables multiple high-quality displays, adds the efficiency of daisy-chaining, and provides access to more accessories, like docks and hubs, while simultaneously charging the laptop over a single cable.  If you're thinking about purchasing a Thunderbolt-enabled laptop or wanting to maximize the power of one you already own, it's important to understand the benefits, the ports, the data speeds, types of connections, and how to connect to external accessories, like docks and monitors, so you can have the best experience possible.
What are the Key Benefits of a Thunderbolt™-Enabled Laptop?
It's best to think of the key benefits of a Thunderbolt-enabled laptop in terms of what you can get from it.  Whether you are working, learning, creating, or gaming, Thunderbolt's guaranteed standards for power, data, and video are notable and allow you to get the most from a variety of connected technology:
Docking Stations: A Thunderbolt™ dock or hub is a hassle-free way to connect to multiple accessories with a single cable connection to your laptop. This offers a quick one-step connection to monitors, external hard drives, additional USB ports, and more.  It also tidies up your desktop.
Displays: A Thunderbolt 40Gbps high-bandwidth connection supports premium visual quality with maximum resolution, refresh rates, and color accuracy.
External Storage: Thunderbolt™ technology allows you to connect to PCIe-based drives and free up valuable storage space on your computer.  It also makes it possible to game or create directly from an external drive.
External Graphics: Thunderbolt™ allows you to connect to an external high-end desktop GPU. For creators, that means significantly reducing rendering and export times. For gamers, it means being able to play at higher frame rates, even on thin notebooks.
Streaming: Whether you are watching frames from a highlight reel or capturing your gameplay at up to 240 FPS in full HD, Thunderbolt™ audio/video capture cards are incredible. 
Daisy Chain: Thunderbolt™ allows you to connect multiple Thunderbolt™ devices together so data and video signals can flow from the laptop down the chain into as much as five accessories.  Thunderbolt™ 4 technology provides up to four Thunderbolt™ 4 ports so users can connect more Thunderbolt™ devices into a single hub or dock.
How Do Thunderbolt™ Ports Differ from USB-C Ports?
While Thunderbolt™ ports use the same oval-shaped USB Type-C connector as other USB-C ports, Thunderbolt™ ports require higher minimum standards for power, data, and video.  Other USB-C ports, cables, and devices may be limited to a variable range of data speeds, with no guarantees for display quality or simultaneous laptop charging. 
The following chart helps break down the core differences between the current USB Type C ports.  It's important to note that while some Thunderbolt™ 3 and USB4® laptops are capable of certain features listed in the chart, they are not required to meet them like Thunderbolt™ 4.
 

|   | Thunderbolt™️ 4 | Thunderbolt™️ 3 | USB4®️ | USB 3 / DP |
| --- | --- | --- | --- | --- |
| USB Type-C connection | X | X | X | X |
| 40Gbps bandwidth | X | X |   |   |
| Minimum bandwidth available for data transfer | 32Gbps | 16Gbps | 20Gbps | 0Gbps |
| 15W power to run accessories | X | X |   |   |
| Mandatory testing and certification | X | X |   |   |
| Dual 4K @ 60Hz monitors | X |   |   |   |
| Required PC charging on at least one computer port | X |   |   |   |
| Universal 40 Gbps cables up to 3m | X |   |   |   |
| Up to 100W of laptop charging available on at least one port | X |   |   |   |
| Up to 4 Thunderbolt™️ ports on accessories | X |   |   |   |
| System wake from sleep required | X |   |   |   |
| Intel®️ VT-d based DMA protection required | X |   |   |   |
| USB4 specification compliant | X |   | X |   |
Basically, while the latest USB-C ports are much faster than their predecessors, Thunderbolt™ 4 requires higher minimum standards for power, data, and video.  Other USB-C ports may offer a variable range of data speeds, no guarantee of display quality, and variable power output. It is worth noting that Thunderbolt™ 5 is in the works and will likely, once again, redefine the minimum standards for performance.
How Do I Know if My Device Has Thunderbolt™ Ports?
While a Thunderbolt™ logo next to any USB-C port is a simple indicator that you have access to Thunderbolt™ technology, there are a couple of other ways to determine which type of USB-C port your system has:
Do Thunderbolt™ Certified Cables and Accessories Matter?
Yes, the types of cables and accessories you purchase for your Thunderbolt-enabled laptop or PC matters.  Thunderbolt™ certification mandates higher minimum performance and capabilities for cables and accessories for greater reliability across devices and operating systems.  Thunderbolt™ 4 certified cables and accessories are backwards compatible with prior generations of Thunderbolt, as well as millions of USB 3 and USB4 products. By purchasing Thunderbolt-certified cables, docks, and hubs, you are guaranteeing the opportunity to maximize the performance of your investments.  However, it's still important to look at the specifications of your Thunderbolt™ cables and accessories to make the best decisions for your setup since your setup may have unique needs for monitor connections or power. 
For example, take the SD5700T Thunderbolt™ 4 Dual 4K Docking Station – it supports up to two 4K Thunderbolt™ 4 monitors via Thunderbolt™ 4 ports and offers up to 90W of laptop charging. But what if you need HDMI and USB-C based video connections?  Then, a better choice would be the SD5560T Thunderbolt™ 3 and USB-C Dual 4K Hybrid Docking Station since it is compatible with Thunderbolt™ 4, but also supports HDMI and USB-C monitors. 
Getting the most from your Thunderbolt-enabled laptop is the ultimate goal. Having a Thunderbolt-enabled laptop can be a life-changing experience if you know how to maximize the power of your investment. 
Learn more about how Kensington supports Thunderbolt-enabled laptops