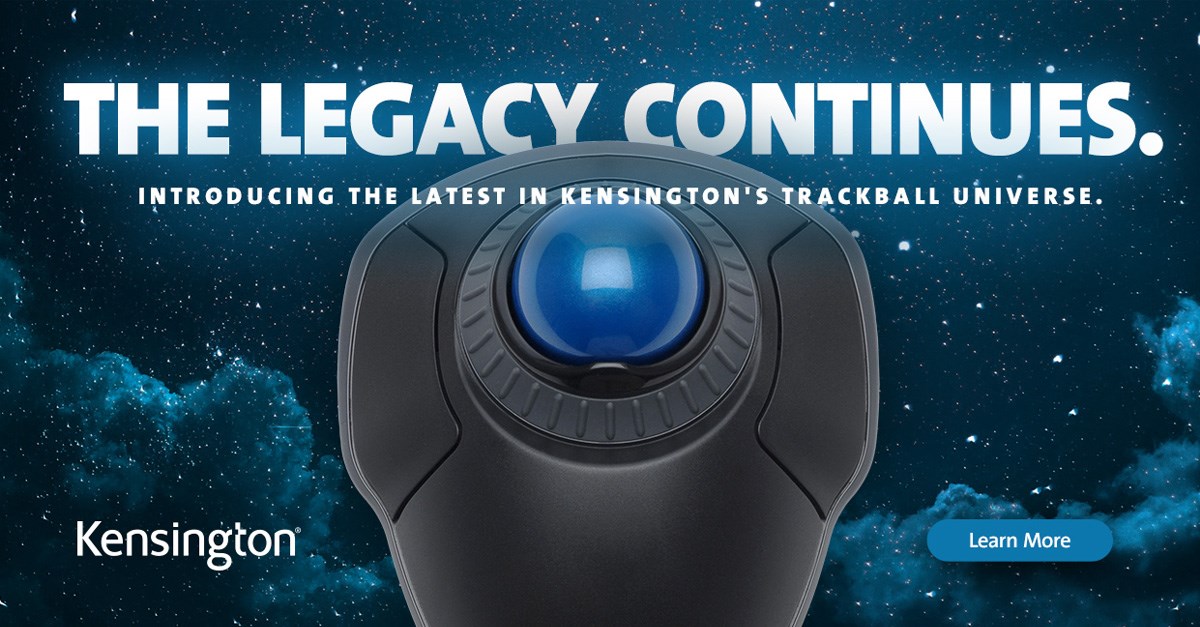 You never have enough space.
Whether it's the people coming in and out of your office, the pile of work on your desk, or the barrage of windows open on your monitor, work feels like it extends across the endless void of the universe. Meanwhile, you feel like a mouse stuck in a tiny pod, wondering if you'll ever get to explore the world beyond your window.
Kensington's trackballs use less desk space, while giving you unprecedented levels of precise control compared to a mouse or trackpad. Now you can engage hyperdrive and enter warp speed to discover new planets of productivity.
Say goodbye to the old world of the traditional mouse and enter a new galaxy of power and comfort.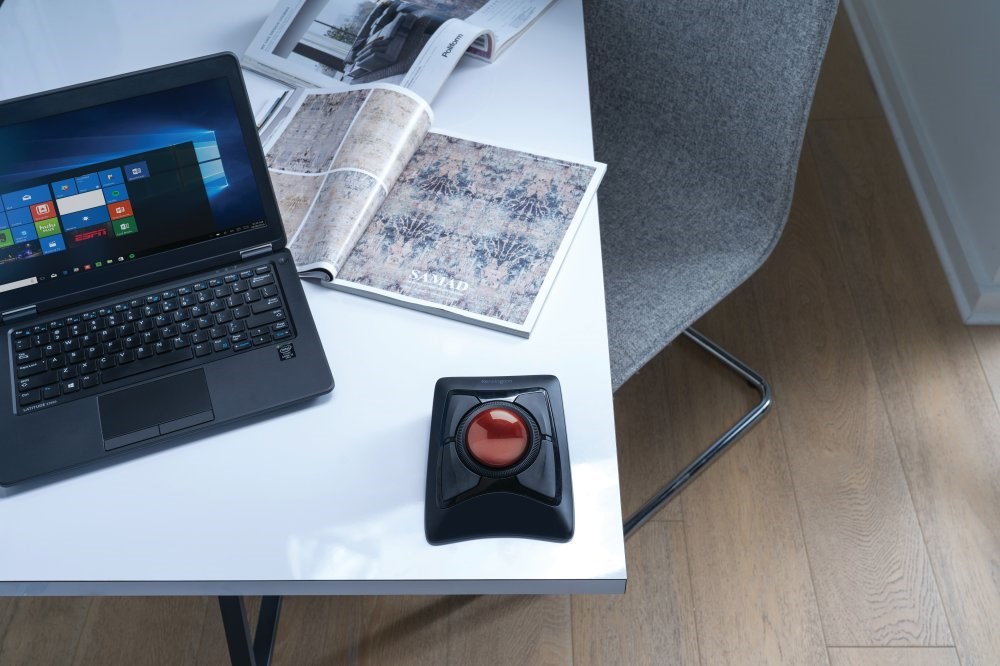 The Expert Mouse Wireless Trackball uses Kensington's world-class TrackballWorks app and drivers for full control over functionality of 4 customizable buttons. Armed with a large, 55mm ruby trackball and trademark DiamondEye optical tracking, you'll experience a smooth ride as you cruise among the planets.
It's a wireless trackball that uses both 2.4Ghz Wi-Fi (using a USB nano receiver) and Bluetooth 4.0 LE, so it's compatible with desktops, laptops, and mobile devices. That extra USB port will come in handy for an extra hard drive when using Bluetooth. This untethered workhorse also has a detachable wrist rest, which provides an ergonomic design wherever you are in the galaxy.
Like the rings of Saturn, our award-winning scroll ring enables fast, efficient navigation for both right- and left-handed users. You can save time and space without ever having to lift a finger. Save AA battery life too with auto sleep mode. If only it came with autopilot too!

The Expert Mouse Wired Trackball shares the same features as its wireless brethren, but with a reliable wired USB connection. This brings your level of control beyond the final frontiers of the universe with unparalleled precision.
Kensington's trademark DiamondEye optical tracking capture every angle of the large, 55mm gray trackball. When combined with an award-winning scroll ring and 4 programmable buttons, this trackball can navigate through the thickest of asteroid fields with ease.
Use our trademark TrackballWorks software to adjust cursor and scroll speed, along with programming the 4 buttons. The detachable wrist rest and less arm movement mean you can venture deeper into the galaxy for longer without the strain of Carpel Tunnel.
Kensington's SlimBlade Trackball is more than just functional – it's aerodynamic and ergonomic. And the sleek metallic finish gives it the aesthetic of being part of a well-oiled fleet. Our laser technology combined with trademark TrackballWorks software provides unprecedented responsiveness in this large, luxurious, 55cm ruby trackball over a traditional mouse.
Plug-and-play installation means you can shift into warp speed without the need of installing drivers. The 150cm USB cable gives you plenty of space to put your desktop rig out of the line of fire. Four customizable buttons, along with media control, give you full authority over whatever planets you find yourself exploring next.
This slim-form trackball takes up less space on your desk while providing highly accurate steering of while you're exploring the digital space.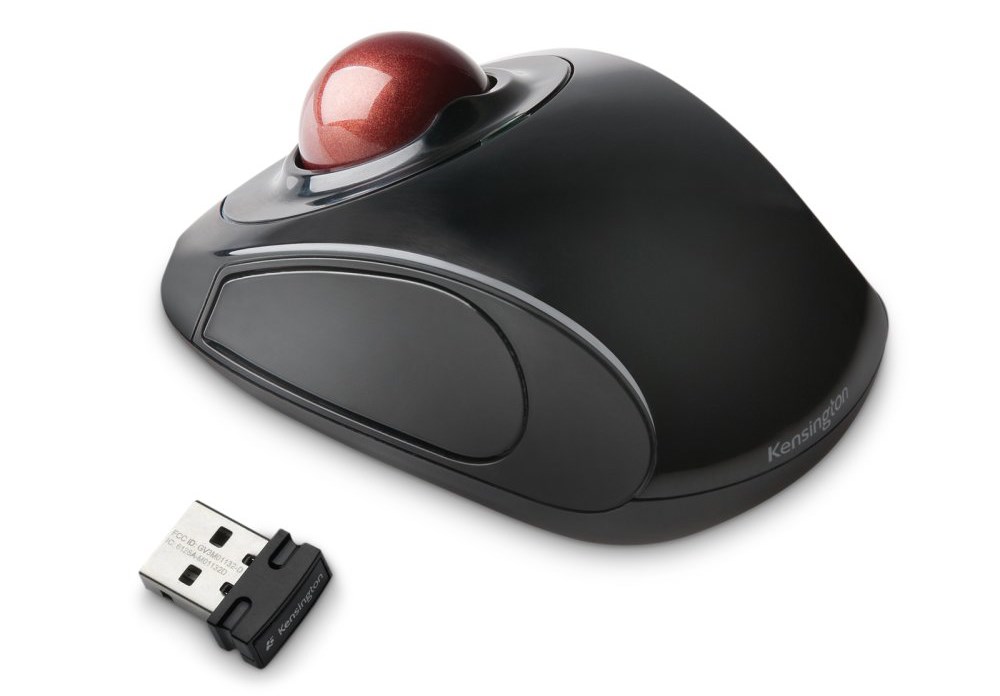 Get ready to launch into Orbit. The Orbit Wireless Mobile Trackball is portable and powerful enough to give you meticulous control over your cursor, wherever you are in the universe. Blast off with our unique touch scrolling, which makes it easier than ever to navigate the worldwide web.
Kensington's optical tracking technology uses laser technology to provide perfect fidelity between the small, 32mm ruby ball and on-screen cursor. A 2.4 GHz nano USB receiver works perfectly without the need for a driver or bulky device sticking out your USB port. The last thing you need is faulty equipment when exploring deep space.
The Orbit Wireless Mobile Trackball saves space on your laptop while also saving power with its auto wake/sleep features. Two programmable buttons, along with cursor and scrolling speeds, are controlled through our trademark TrackballWorks software.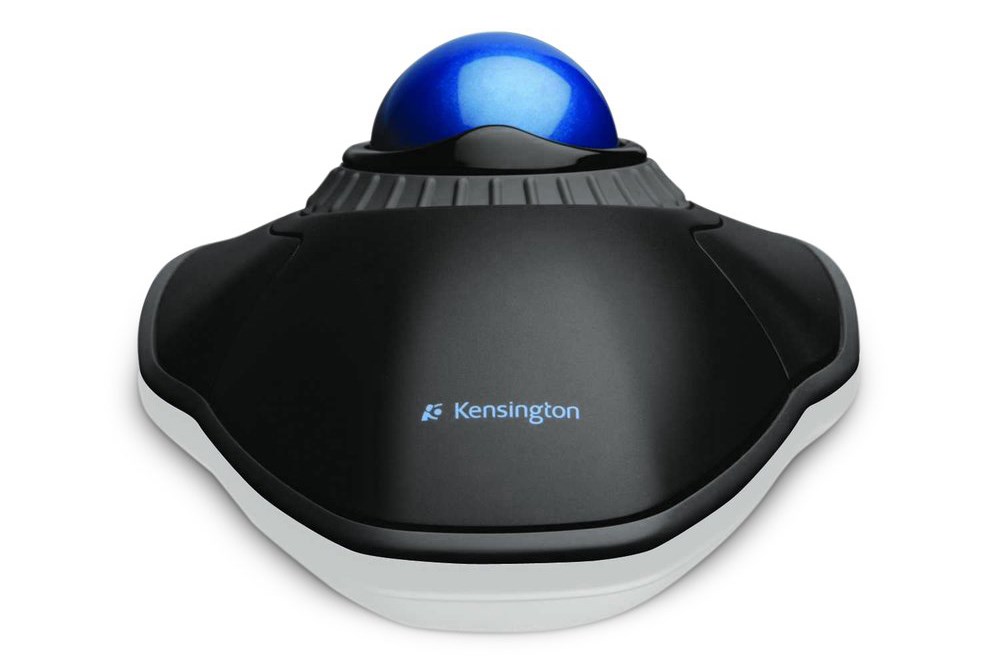 The Orbit Trackball with Scroll Ring hits the sweet spot between a mothership and escape pod. This wired USB trackball uses laser-based optical tracking technology to provide remarkable accuracy in tracking the movement of the medium, 40mm blue ball.
Its detachable wrist strap supports your wrist to extend computer usage without straining your joints. It's plug-and-play, so there's no need for drivers, and solid wired connection ensures nothing gets lost during a pivotal moment. Whether you're rushing to meet deadlines or Naruto-running to see an alien at Area 51, the Orbit Trackball with Scroll Ring has you covered.
Kensington's trademark TrackballWorks software provides full customization over cursor and scroll speeds, while letting you assign a wide variety of program functions to its two buttons. It's the perfect balance of size and performance for those lacking desktop space.

The Orbit Optical Trackball is our entry-level into the Orbit line of products, but it can still travel the cosmos. Its internal optics provide unrivaled tracking accuracy of the medium, 40mm ball. Orbit's compact footprint is useful for both desktops and laptops, and the ambidextrous design accommodates any way you want to use it.
When using a mouse on the go, you need to carry a pad, have room, and can easily lose accuracy. Our trackballs eliminate the problems of using a mouse while providing a more ergonomic method of controlling your cursor.
Orbit Optical Trackball is plug-and-play through a wired USB connection, and it uses TrackballWorks to adjust cursor and scroll speeds, as well as customize the two programmable buttons. Its sleek silver color is simply out of this universe. You won't find this level of control in another mouse!
A New Universe Awaits
Kensington's accessories and peripherals have been trusted by professionals for over 35 years. Now we're taking things out of orbit to another dimension of quality.
You need more space on your desk and desktop, so we're expanding our lineup to bring better control in smaller packages. The optical tracking technology in our trackballs is the closest any other mere humans are likely to get.
We come in peace, but it doesn't mean we're exploring the universe without the most powerful tools on the planet.
Learn more about our Trackballs.