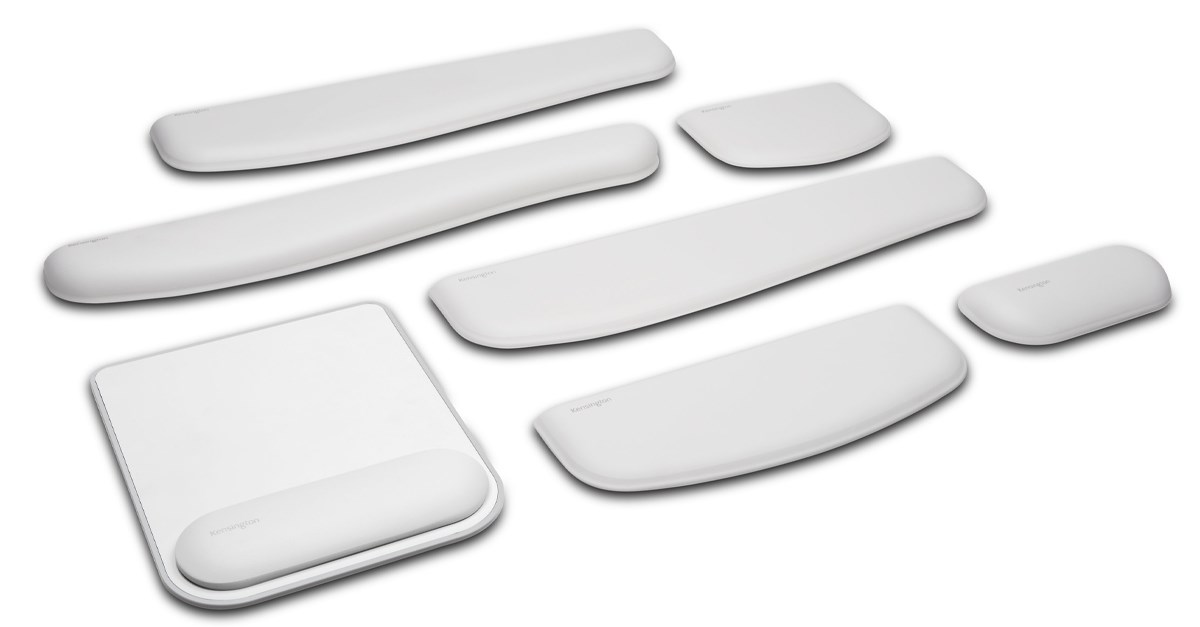 The best keyboard and mouse wrist rests to relieve wrist pressure are:
-
Keyboard wrist rests have become more and more popular over the years especially as people work on the computer for longer periods of time. They help you keep your wrists in a comfortable position and also prevent them from being strained. 
Because, while you're focusing on the wellness of other body parts, like your neck and back while working on a computer or sitting all day in the same position, you can also be overlooking the effects it can have on your wrist.
Just like you, your wrists don't perform as well under pressure. That's why Kensington developed ErgoSoft™.
Why You Need a Wrist Rest
Ergonomics isn't just some new-age science. The point is to make people more efficient and productive in their work environments. This certainly benefits companies, and it also benefits employees. Studies show healthcare spending increased 51% in the past decade, and your work environment directly impacts your health.
Carpal tunnel syndrome develops when repetitive hand motions cause wrist pressure. Anytime there's pressure on the carpal tunnel of your wrists (which protects the nerves from the bones in your joints), the blood circulation in your hands is affected. Carpal tunnel syndrome refers to the long-term symptoms developed by this lack of circulation.
Using a cushion or wrist pad is just as vital as a mousepad. Some mousepads even come with built-in wrist rest, and you should also have one for your keyboard. Of course, there's a common misconception that you should rest your wrists on a wrist pad. That's incorrect ergonomics – your hands are in control of resting wrists.
When you type, you're resting the fatty part of your palms on the desk. The cushion on the wrist pad is meant to elevate that part to relieve the angle your wrists sit. It's like how your mom always told you to sit and stand up straight so your air passages have optimal airflow. So, it's more of a "palm" than a "wrist" pad, despite the misleading name.
Finding the Right
Keyboard and Mouse 

Wrist Rest

Wrist rests aren't one-size-fits-all. Each has a unique shape and size that's specially developed for the way you work. Whether you're using a Mac, gaming gear, or standard PC-based office equipment, there's an ErgoSoft™ wrist rest to relieve your carpal tunnel.
1. Slim Keyboards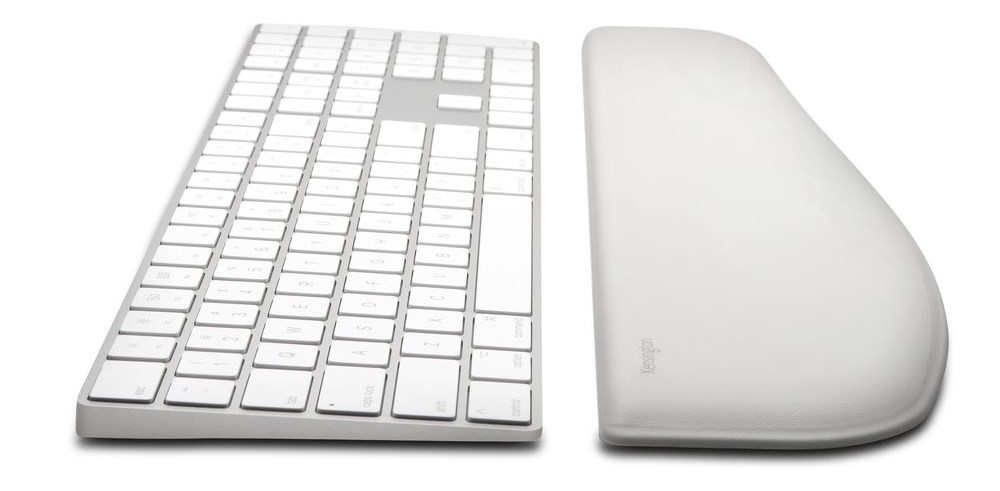 Slim keyboards fit all the necessary keys into a compact footprint of under one foot (typically 11"). They're often used by mobile professionals. Kensington's ErgoSoft™ Wrist Rest for Slim Keyboards has an elegant, low-profile design that includes an anti-skid rubber on one side and gel-cushioned padding on the other to relieve wrist pressure. It's available in black or gray to match any aesthetic.
Purchase Slim Keyboards and Accessories 
2. Compact Mac Keyboards

Some people stick to Apple's proprietary accessories. Apple's Magic Keyboard for Mac has an ultra-compact design that requires an even more compact slim wrist rest. Once you go Mac, you never go back. The ErgoSoft™ Wrist Rest for Slim, Compact Keyboard has a non-toxic, faux-leather exterior to match that sleek Mac design while staying easy to clean. Its contoured shape is ergonomist approved to cushion your palms and make resting wrist face your new default.
3. Pro Fit® Mouse

Kensington's satisfied customers already know the benefits of Kensington's Pro Fit® Full-Size Wireless Mouse. Either that or the Pro Fit® Wireless Mid-Size Mouse is best used with the ErgoSoft™ Wrist Rest Mouse Pad for Standard Mouse. It pairs a best-in-class mouse pad surface with the comfort and protection of ergonomic wrist pads. Of course, some people have a favorite mouse pad, and the ErgoSoft™ Wrist Rest for Standard Mouse adds the ultra-soft feel to the mouse pad of your choice. Both options are available in either black or gray, so get creative.
4. Apple's Magic Trackpad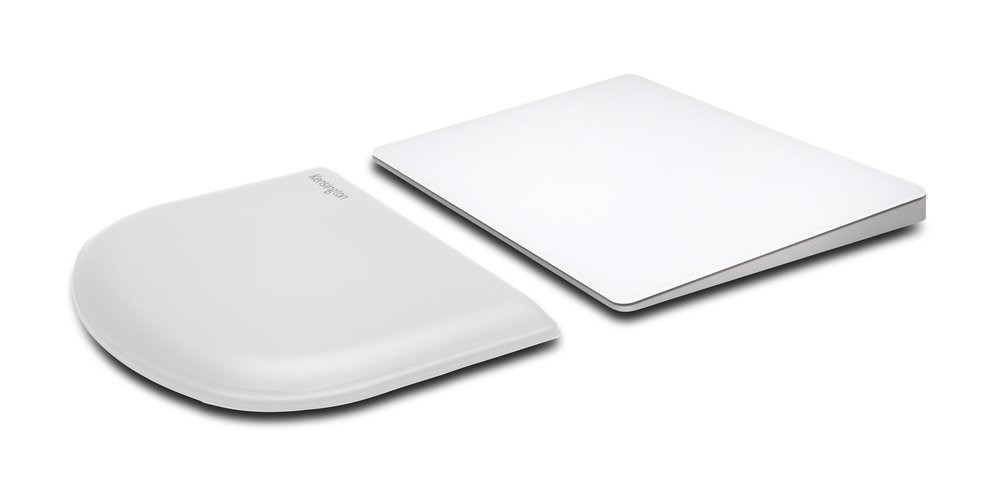 Creative professionals depend on their Macs for precision, and the Magic Trackpad provides that. Kensington's ErgoSoft™ Wrist Rest for Slim Mouse/Trackpad pairs perfectly with this Apple mainstay so your resting wrist gets a break on every input device. This professional-level design accommodates any slim mouse, so you never have to worry about it being too small to fit. Also, both the black and gray versions are the same size, so you can design a workstation that fits your unique style.
5. Standard Keyboards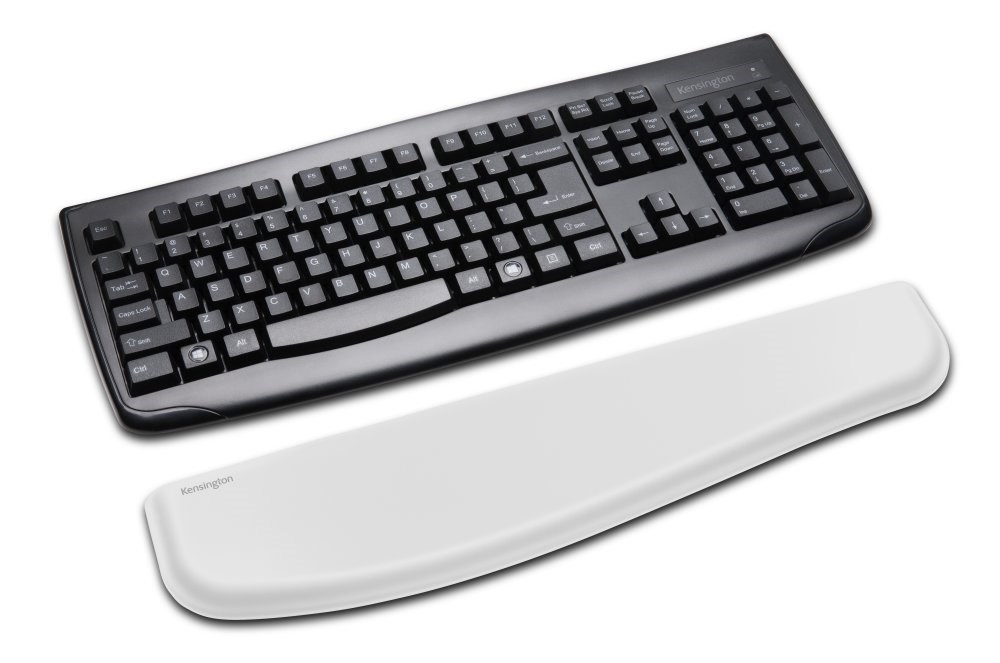 Steady wins the race, and the standard keyboard became a standard for a reason. Some people stick to the one classic they're used to, and Kensington's ErgoSoft™ Wrist Rest for Standard Keyboards ensures you don't have to change positions. All you're doing is providing more cushion for your palms to maintain the proper angle for your wrists while typing. This slight change gives you resting wrists without disrupting the workflow you're used to.
6. Gaming Keyboards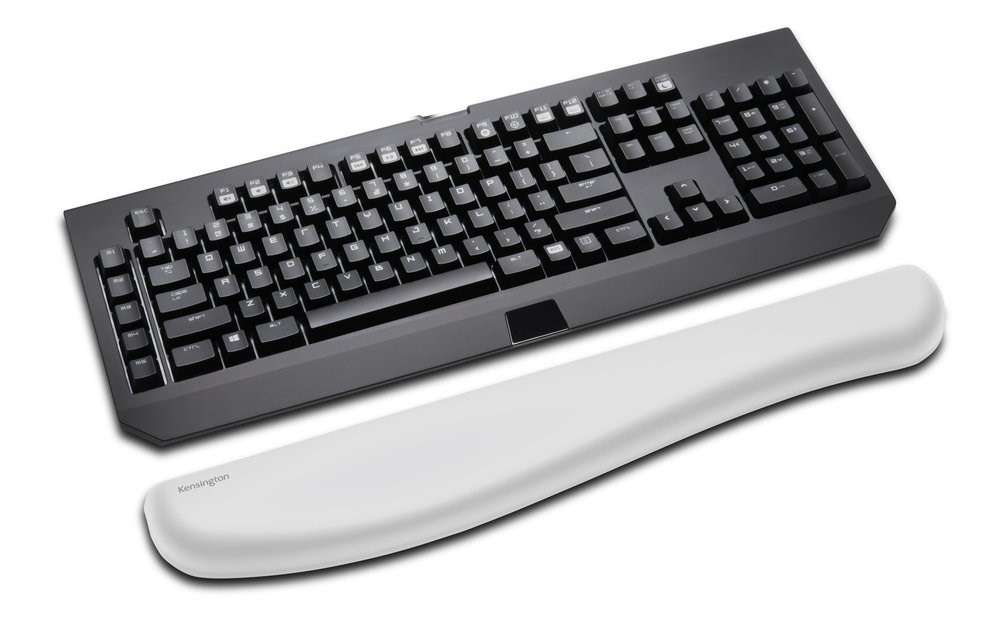 No matter how much cushion you provide, some people will always be players. If you can't get out the game, the ErgoSoft™ Wrist Rest for Mechanical and Gaming Keyboards specifically reinforces the WASD keys to help you find direction. This functional design was engineered specifically for players, by players, to cushion your hands through marathon sessions.  Get in the game with professional-level gaming accessories.
With the right size ErgoSoft™ wrist pad, you'll preserve your wrists through any repetitive motions your put your hands through. Each is made from a material that wipes clean with a damp cloth and will last for a lifetime.
Resist Wrist Pressure
Your wrists are important, and you'll start to lose your grip if you don't take care of them. Carpal tunnel syndrome causes pain and can weaken your hands. Pain, numbness, or tingling could last for up to six months or more. It's a common occurrence in careers that involve heavy computer usage without proper ergonomics.
Wrist pads, including a keyboard and mouse pad give your palms a place to rest. This properly aligns your arms and hands to relieve blood flow restrictions caused by extended computer usage. Those afflicted find it harder to grip objects as firmly as before and often require braces, drug treatments, and even surgery.
Kensington focuses on ergonomics because it's important to the overall health and well-being of people. So, to answer your question, Clueless in Cleveland, size does matter, but bigger isn't necessarily better. You need ergonomic cushions that fit the devices you're using.
If you're working with ultra-compact equipment, take solace knowing there are 100 million active Mac users just like you. That's not even counting PC users who love working mobile. I'm sure you'll find something just right for you.