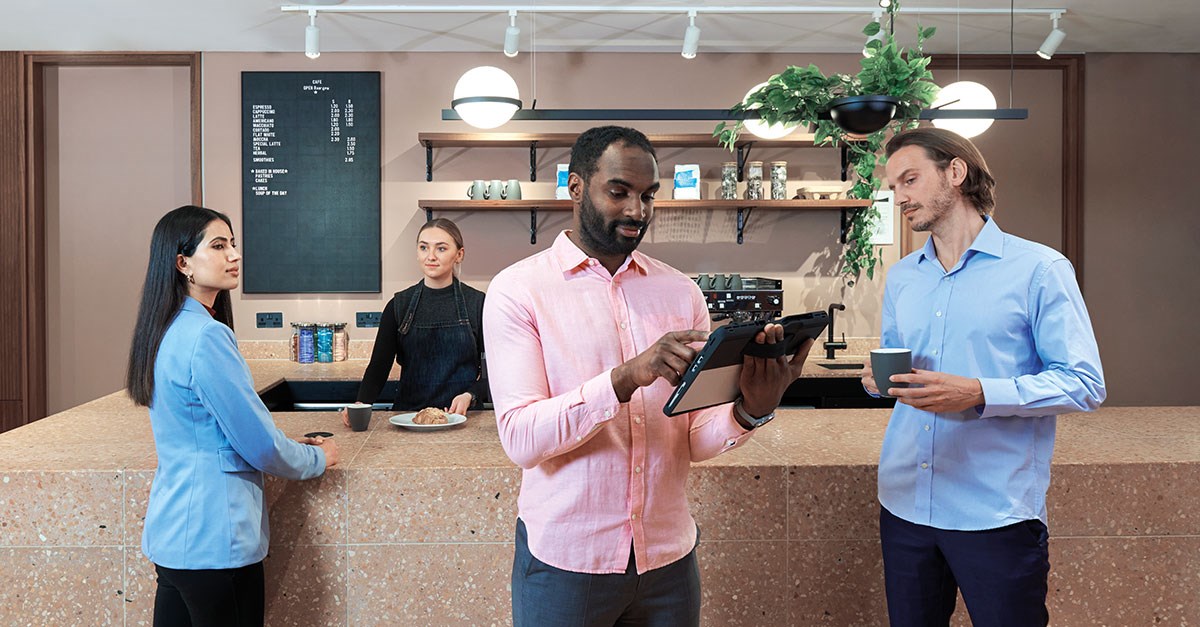 Whether you're working at a coffee shop or even in the office, Kensington privacy filters are a multipurpose tool with benefits that go further than just shielding sensitive data.
London, 19th May 2022 – In today's business landscape, professionals are more connected than ever, but they are also more vulnerable. With the increased popularity of hybrid working, there is a rise in collaboration solutions that give employees the flexibility and tools to work anywhere, anytime. However, the more agile your workforce is, the more at risk they are of visual hacking.
Visual hacking is the act of spying on sensitive and confidential information on one's computer screen. Whilst it's still a low-tech threat, visual hacking is easy, it happens quick, and most people don't notice it, posing a great security risk for individuals. Still, businesses are putting a lot of investment into data security but continue to overlook visual hacking as a threat. Kensington Privacy Screens are a quick and simple way to protect your data from prying eyes. 91% of visual hacks are successful, 68% of them go unnoticed, and 52% of screens are at risk. Privacy screens gives you more control over who sees your screen data.
Whether you're working on-the-go, at a coffee shop or even in the office, Kensington privacy filters are a multipurpose tool with benefits that go further than just shielding sensitive data.
Kensington Screen Filters are designed with comfort and convenience in mind:
Limited Viewing Angle – Limiting the screen viewing angle to +30°, Kensington privacy screen filters keeps prying eyes from accessing sensitive information. It ensures only the person using the device will be able to see what's on screen, giving you and your staff piece of mind.
Easy Attachment – Besides protecting your data, privacy filters are also simple to install. Choose between Direct-to-Screen Removal Filter, a more affordable plug-in option with easy-to-install fitting tabs which allow you to slide the screen in and out for repeated detachment and reattachment; or Magnetic Attachment for a more a more premium and convenient solution - the filter magnetically clips on to your screen's frame and is easily removable, no tools or adhesive needed.
Anti-Glare and Blue Light Filter – Why stop at privacy? The Kensington range features built-in anti-glare and blue light filters to reduce eye strain, filtering out harmful blue light rays by up to 22%, promoting natural sleep. Perfect for home workers who are likely to spend more time at their screens.
Anti-reflective – Not only does it protect your data, but it also cancels out annoying reflections from windows and bright lights – ideal for employees working at multiple locations.
Effective Screen Protection – Kensington filters can add an extra physical layer of protection to your screen, reducing the risk of scratches and other damage. This is particularly useful for working on the go, where accidents are more likely to happen.
As the market leader in physical security solutions, Kensington offers one of the widest product portfolios in the market. With over 150 products to support over 52,000 devices from different manufacturers, models and device types. Thanks to Kensington Accessory Finder, it's even easier to find the right filter for your set-up.
For the additional convenience of magnetic filter attachment, choose MagPro™, available for laptops and monitors. Exclusive to Kensington, MagPro™ features slim and subtle design, with simple-to-use magnets that sit around the edges of any laptop screen, allowing you to quickly attach and remove the filter as needed, while also allowing your laptop to close and enter sleep mode without removing. MagPro ™ is the perfect choice for hybrid workers, allowing them to quickly attach the filter when needed and remove it when not.
MagPro™ magnetic privacy screen filters for laptops
MagPro™ magnetic privacy screen filters for monitors
Kensington keeps abreast of the latest hardware releases, recently launching device specific MagPro™ Elite magnetic privacy screen filters for the 2021 MacBook Pro 14" and 16" models and Microsoft Surface Pro 8.
For the complete range of Kensington Privacy Filters, visit: https://www.kensington.com/privacy-screen-filters/
Follow Kensington on:
About Kensington
Kensington is a leading provider of desktop and mobile device accessories, trusted by IT, educators, business, and home office professionals around the world for more than 35 years. Kensington strives to anticipate the needs and challenges of the ever-evolving workplace and craft professional-tier award-winning solutions for organisations committed to providing peak professionals the tools they need to thrive. The company prides itself as The Professionals' Choice, and on its core values surrounding design, quality, support, and sustainability.
In office and mobile environments, Kensington's extensive portfolio of award-winning products provides trusted security, desktop productivity innovations, and ergonomic well-being.
Headquartered in San Mateo, California, Kensington is the inventor and worldwide leader in laptop security locks. Kensington is a division of ACCO Brands (NYSE: ACCO), one of the world's largest designers, marketers, and manufacturers of branded business, academic, and consumer products, sold in more than 100 countries across the globe.
Kensington is a registered trademark of ACCO Brands. Kensington The Professionals' Choice is a trademark of ACCO Brands. All other registered and unregistered trademarks are the property of their respective owners.
© 2022 Kensington Computer Products Group, a division of ACCO Brands. All rights reserved.