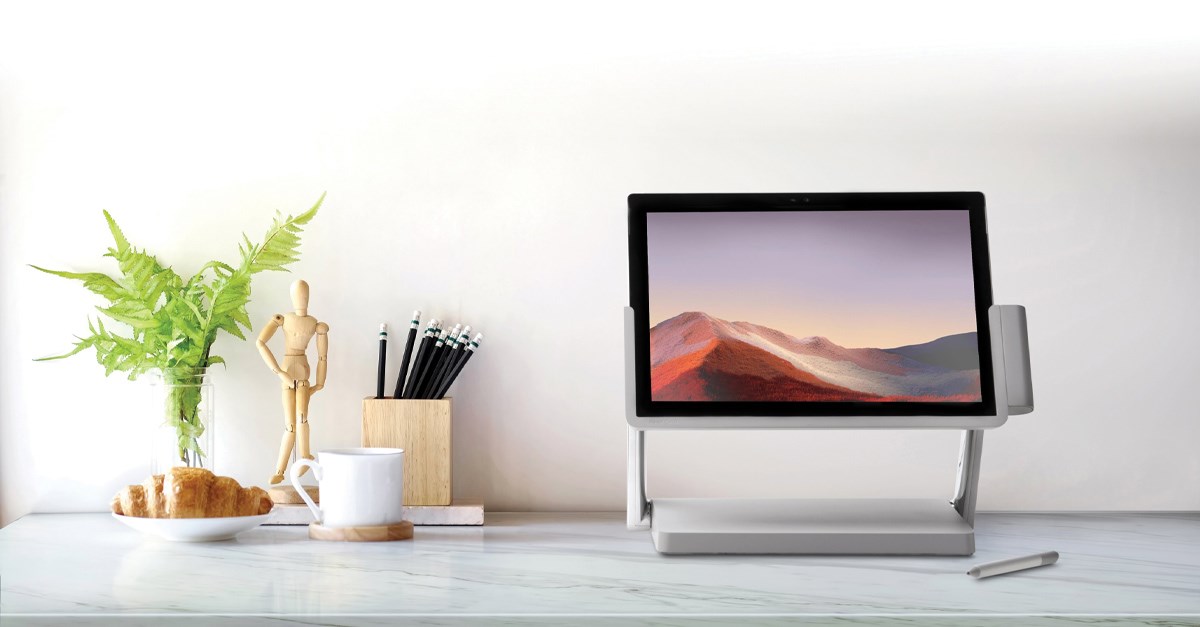 Microsoft's Surface Pro 7 is the latest in the company's versatile 2-in-1 tablet PC lineup. It's the perfect blend of productivity and design that can function as your primary workstation or a mobile laptop. The Surface Pen and Surface Dial increase the adaptability to any work environment. It's a drool-worthy addition to any professional's arsenal.
When paired with accessories bearing the prestigious "Designed for Microsoft Surface" sticker, you unlock the full potential of the Microsoft Surface Pro's powerful suite. Kensington worked with Microsoft to develop a range of officially licensed accessories - this means the product has been designed and tested to assure proper fit and function to deliver a great customer experience.
Let's dive into the gear needed to evolve your Surface Pro into a productivity powerhouse that's capable of adapting to the growing needs of your office.
Meet the Latest Surface Pro
The Microsoft Surface Pro 7 is an ultra-light, 2-in-1 touchscreen tablet with a 12.3" screen. You can write or draw on the screen using the Surface Pen or control an on-screen cursor with the Surface Dial. It's powered by a 10th Gen Intel® Core™ processor with up to 16GB RAM and up to 1TB SSD. For the first time, the Surface Pro adds a USB-C port to the familiar Microsoft Surface Pro design.
Microsoft Surface Pro 7 maintains the same sleek, minimalist design of its predecessors, along with the same size and form factor. This makes it easy to upgrade from an older model. It includes a headphone jack, micro-SD slot, USB 3.1 Type-A port, the newly added USB 3.1 Type-C port that replaces the mini-DP port and the magnetic Surface Connect charging port.
Enterprise-grade security and protection are built-in through Windows Hello and its face sign-in support. Microsoft Surface Pro 7 includes Windows 10 Home preinstalled, 5.0MP front-facing camera, 8.0MP rear-facing camera (both capable of 1080P video), dual far-field studio mics, 1.6W stereo speakers with Dolby® Audio™ Premium, and Wi-Fi 6 – all at just 1.7 pounds.
Kensington partnered with Microsoft directly to create unique solutions that turn your Surface Pro 4, 5, 6 and 7 into a Mini Surface Studio. At the heart is the SD7000 Surface Pro Docking Station, which expands the connectivity and functionality of this already-impressive tech.
Delivering the Best Possible Surface Pro Experience
The SD7000 was awarded the Best Surface Dock by Windows Central.  That's partially because it integrates Microsoft's proprietary Surface Connect technology to create a seamless dock that mirrors the Surface Studio design. Design is only half the equation – there's a lot of power underneath that sleek exterior.
We designed every aspect of the SD7000 alongside Microsoft to ensure it maximizes the full power available in the Surface Pro. Kensington's docking solution transforms this versatile tablet into an office workhorse capable of increasing quality and productivity across the board.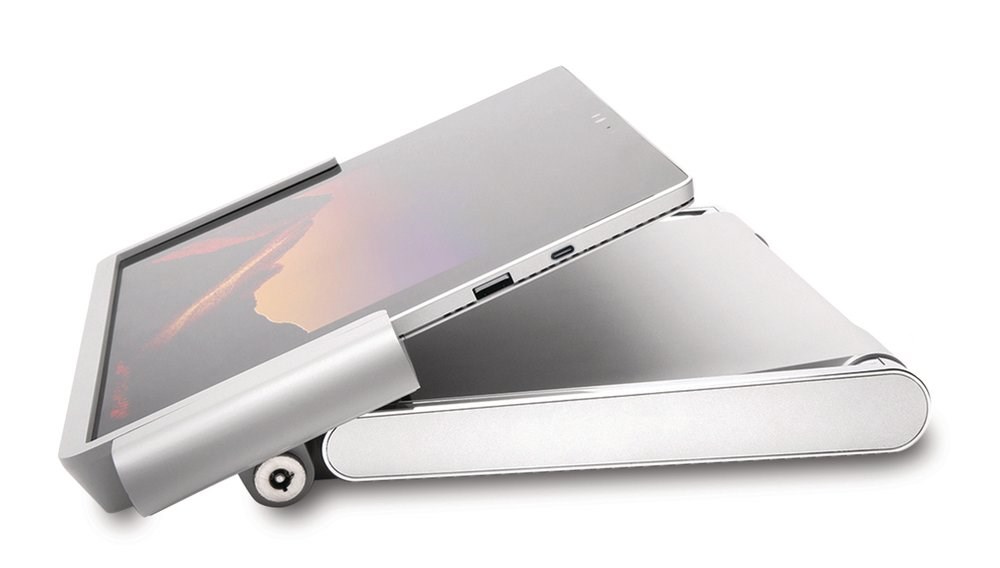 Use your Microsoft Surface Pro as an upright display, or adjust the dual-hinged design to the perfect drafting table angle (Studio Mode) to creatively use the Surface Pro as your desktop.
Dual 4K (up to 30Hz) video support through HDMI and DisplayPort opens new levels of productivity. You can connect multiple monitors while using the tablet itself as a third display, or for creative applications. Wired Gigabit Ethernet and five USB ports (4 USB-A 3.1 Gen1 and 1 USB-C 3.1 Gen1) expand your connectivity options even further to accommodate all your desktop accessories such as external USB drives, external keyboards, and more.
SD7000 includes the Kensington Security Slot which, when paired with our optional Microsoft Surface Pro Lock Module, provides unsurpassed protection for both your Surface Pro 7, as well as the SD7000 docking station.
Maximize Protection for Your Microsoft Surface Pro
When you purchase a Microsoft Surface Pro, you need protection for your investment. That's why Kensington created rugged cases to protect against damage. Our Rugged Cases for Surface Pro were built in conjunction with Microsoft to create a high-quality, form-fitting design that accommodates the kickstand, lock, and Surface Pen.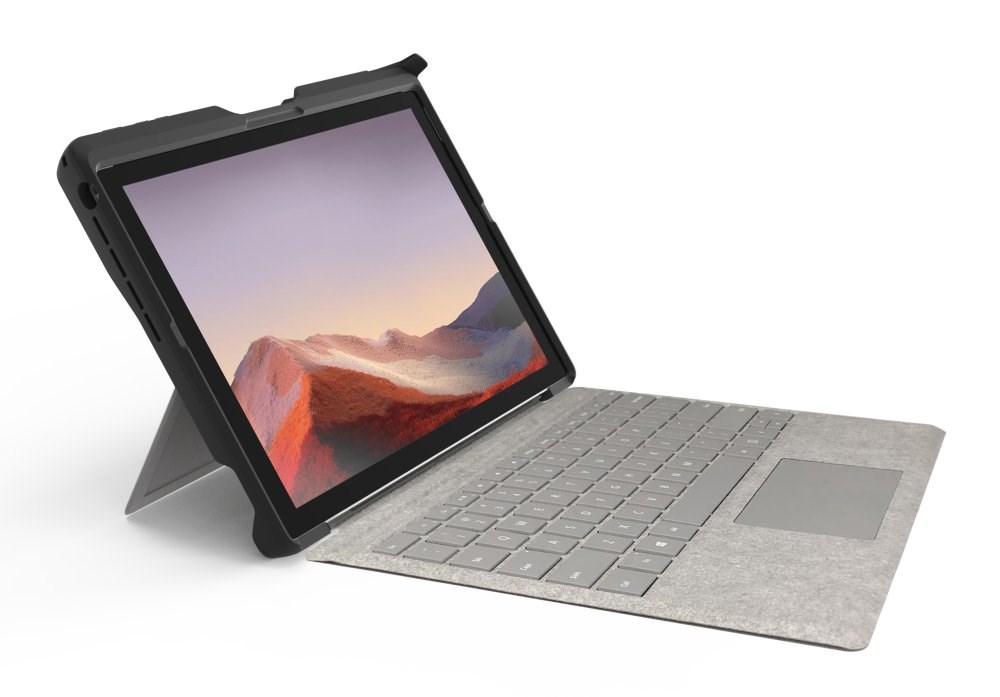 Further evolving protection for your Surface Pro, our BlackBelt™ 2nd Degree Rugged Case for Surface™ Pro increases the physical device protection. It's MIL-STD-810G drop-tested and TAA compliant for use in any federal government or other secure organization. Additionally, the BlackBelt™ Rugged Case with Integrated CAC Reader for Surface™ Pro also integrates Surface Pen tether and class A, B, and C FIPS 201-compliant smart card reader and rear camera lens cover for security purposes.
It's easy to use any of our rugged cases with any of your Surface Pro accessories. We provide physical device protection without getting in the way of the ports and connectivity options built-in to the Surface Pro.
As the inventor of the computer locking cable, we also have a variety of locking cables that carry the Designed for Microsoft Surface badge. Either the Keyed Cable Lock for Surface Pro or Keyed Dual Head Cable Lock for Surface Pro are great for the office, while the Portable Keyed Lock for Surface Pro provides a mobile option that fits easily in a briefcase or carry-on. If you prefer keyless, our Combination Lock for Surface Pro removes keys from the equation altogether.
Ensure Privacy on Microsoft Surface Pro
Privacy is a growing concern in today's always-on, always-connected environment. An estimated 53% of online users are more concerned about online privacy today than a year ago. This need for privacy isn't just a digital problem. Someone can be looking over your shoulder anywhere you work.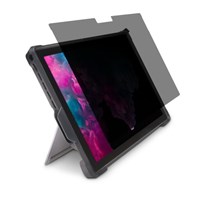 Privacy screens protect your data while working in public places. Kensington's FP123 Privacy Screen has a design for Surface Pro that's fully touch-screen compatible and limits viewing angle, light glare, and blue light to ensure your overall wellbeing while maintaining privacy.
Secure fingerprint authentication is also supported via our VeriMark™ FIDO U2F Fingerprint Key, which is great for users requiring 2nd Factor Authentication and support for Windows Hello. Our VeriMark™ IT FIDO2/WebAuthn Fingerprint Key offers the next generation in security for IT gatekeepers in corporate environments, offering a truly passwordless solution that leverages advancements in Match-in-Sensor technology while supporting Windows Hello and Windows Hello for Business.
Unique Productivity Solutions for Microsoft Surface Pro
Your business never takes a break and you can't afford your equipment slacking in productivity either. Microsoft Surface Pro was developed to empower today's workforce with the tools needed to get the job down in the office or out in the field.
Kensington developed the SD7000 in cooperation with Microsoft to deliver the best possible Surface Po experience. When paired with dual monitors, a Surface Pen, and a full suite of accessories that carry the Design for Microsoft Surface badge, this versatile touch screen laptop becomes an unbeatable power tool.
SD7000 was awarded the Best Surface Dock by Windows Central for a sleek design that fits the brand aesthetic while unlocking workstation capabilities fit for modern professionals. It maximizes productivity, while our unique cable locks, privacy screens, and cases ensure security, protection, and privacy.
Check out Kensington's wide selection of productivity tools "Designed for Microsoft Surface" in partnership with Microsoft.