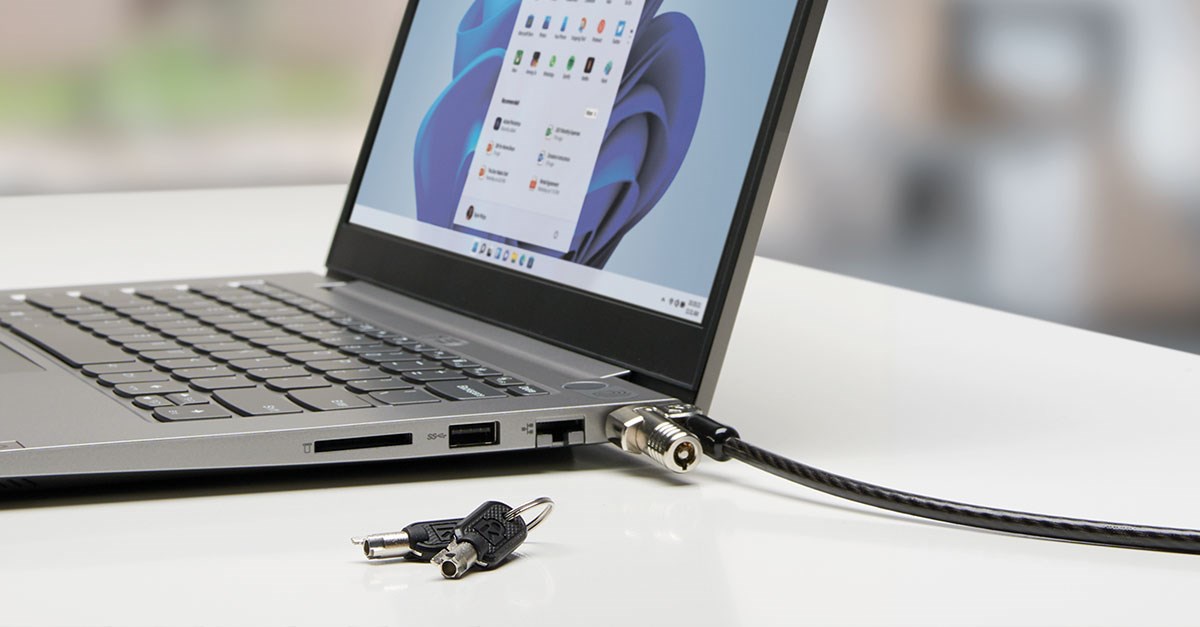 London, July 01 2021 – Global leader for IT solutions, Kensington has announced a complete range of security solutions for new HP, Lenovo and Asus devices featuring the Nano Security Slot.
Inventing the original laptop lock in 1992, Kensington set the standard in physical device security and has remained the global market leader. As laptop manufacturers have shifted to making smaller and more compact devices, the Kensington Nano Security Slot and NanoSaver® Laptop Lock Range continue to support customer's security well into the future.
70% smaller than the standard Kensington slot, the Nano Security Slot has already been adopted by HP, Lenovo and Asus (who together account for over 50% of new PC shipments) in their latest devices. A typical user has their laptop replaced every 3-5 years but can continue using their existing cable lock each time. However, devices using the smaller Nano Slot require an upgrade to a new NanoSaver® lock.
The change comes at a crucial time as companies continue to adjust to more flexible working solutions, with hybrid working environments becoming the norm, and employees having more choice over their workspace locations in addition to the office. With such varied scenarios, both users and businesses need to be confident in security, and the Kensington NanoSaver® Range provides just this with a wide range of solutions.
Nick Revell, European Product Manager for Security and Privacy, Kensington, commented: "Mobile devices are constantly being updated and with more innovation comes more innovative IT solutions. At Kensington, we have always set the standard and the Kensington NanoSaver® Lock is no different. We're thrilled to be able to provide simple and easy solutions for our customers, as their needs continue to change."
Resources:
Kensington NanoSaver® Solutions
Follow Kensington on:
About Kensington
Kensington is a leading provider of desktop and mobile device accessories, trusted by IT, educators, business, and home office professionals around the world for more than 35 years. Kensington strives to anticipate the needs and challenges of the ever-evolving workplace and craft professional-tier award-winning solutions for organisations committed to providing peak professionals the tools they need to thrive. The company prides itself as The Professionals' Choice, and on its core values surrounding design, quality, support, and sustainability.
In office and mobile environments, Kensington's extensive portfolio of award-winning products provides trusted security, desktop productivity innovations, and ergonomic well-being.
Headquartered in San Mateo, California, Kensington is the inventor and worldwide leader in laptop security locks. Kensington is a division of ACCO Brands (NYSE: ACCO), one of the world's largest designers, marketers, and manufacturers of branded business, academic, and consumer products, sold in more than 100 countries across the globe.
Kensington is a registered trademark of ACCO Brands. Kensington The Professionals' Choice is a trademark of ACCO Brands. All other registered and unregistered trademarks are the property of their respective owners.
© 2021 Kensington Computer Products Group, a division of ACCO Brands. All rights reserved.
Contact us: