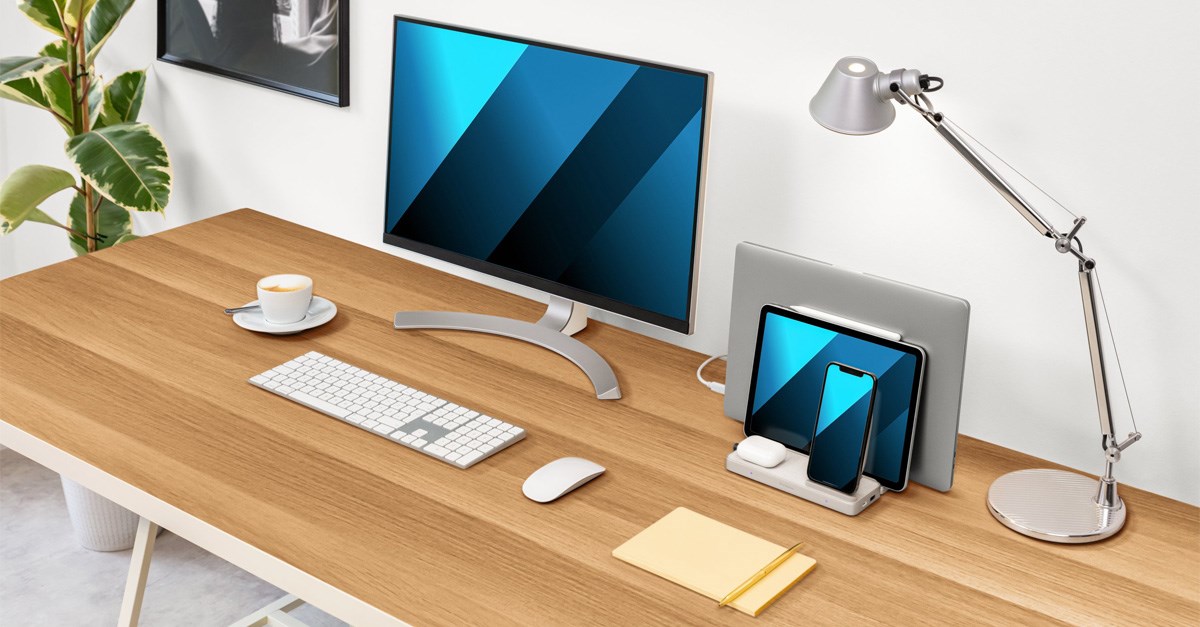 2020 was the year of the home office… Or at least the year that working from home became the norm. As organizations encouraged employees to work remotely, many created home office spaces that were, to put it charitably, less than ideal.
Nevertheless, the economy-wide pivot to remote work has had some positive outcomes overall, especially when it comes to productivity and savings. As result, many analysts are predicting that remote work is here to stay.
Working from home will likely become much more common than it once was. So, even if you have a small space to work with, now is as good a time as any to focus on making your home office a paragon of organization, efficiency, and productivity.
Less Clutter Leads to More Productivity
Recent studies have shown that messiness and clutter in your workspace can have several deleterious effects. Downsides to clutter and disorganization include the tendency to procrastinate as well as increases in stress, anxiety, and even depression.
The positive flipside to these findings is that decluttering and organizing a workspace leads to increased productivity. The simple connection between organization and enhanced work is great news. Decluttering and keeping your home office organized is a surefire way to increase your work output and efficiency.
Many employees have limited space available in their homes that they can convert into a permanent office environment. Organizing strategies that emphasize space-saving are at the forefront of considerations for how best to enhance your home office.
The Top 5 Products That Will Help You Save Space in Your Home Office
Our designers have been hard at work creating products that can help you save space, promote organization, and decrease clutter in your home office, no matter its size or layout. Here are the top 5 Kensington products that will help you save space and increase productivity while working from home.
1. StudioCaddy™ with Qi Wireless Charging for Apple Devices
Kensington's new StudioCaddy™ is designed to work with all your Apple devices, including MacBook Pro, MacBook Air, iPad and iPad Pro (up to 12.9"), iPhone, AirPods, and Apple Watch. The StudioCaddy™ saves valuable desk space, all while keeping your Apple devices organized so you can get the most out of them.
StudioCaddy™ is equipped with a Qi wireless charger for your iPhone, which works seamlessly for phones in portrait or landscape mode. The phone charger magnetically attaches and detaches from the iPad or MacBook storage area, so you can place it wherever is most convenient in your workspace. Additional power options are available with USB-A and USB-C ports.
StudioCaddy™ has a stable base and stand for viewing or storing an iPad or iPad Pro in either landscape or portrait orientation. StudioCaddy™ is compatible with most iPhone and iPad cases, including Kensington's incredibly strong BlackBelt line of protective cases. It also works with Apple Magic Keyboard and Apple Smart Keyboard Folio.
Keep your Apple products organized and at-hand with StudioCaddy's space-saving ergonomic design.
2. Organizing Monitor Stand
Kensington's Organizing Monitor Stand promotes comfort and organization with its adjustable height and built-in storage capabilities. Working for long periods of time with a monitor that is situated correctly not only improves posture, but also promotes neck and eye comfort.
The Organizing Monitor Stand can accommodate monitors up to 40 lbs. and has the space to stow a full-size keyboard underneath. Cubbies on each side provide storage for common office supplies. Built-in cable management capabilities help reduce clutter in your workspace. No setup is required so you can begin using your monitor stand right out of the box.
3. SmartFit® Space-Saving Monitor Arms
Designed for desks with minimal depth, our SmartFit® Space-Saving Monitor Arms make monitor adjustment easy, even in small spaces. Monitor arms come in single- and dual-monitor designs, allowing for simple and fast monitor adjustment no matter your setup.
Our easy-grip knob permits quick height adjustments from 9.4"-18.5", tilt and swivel capabilities of +/- 10°, and rotations of +/- 180° in either landscape or portrait mode. Using the SmartFit® System, you can easily position your monitor at the height you desire. Just match your hand size to the color on the included chart then set the height to your color and lock your monitor or monitors in place.
Installation is nonpermanent. Monitor arms come with all necessary installation tools (including a C-clamp that is oriented toward the front of the desk), making installation a snap. Our monitor arms are compatible with both sitting and standing desks. There is even a cable management system, eliminating clutter for a clean desktop.
The SmartFit® Space-Saving Monitor Arms are ideal for use in a home office, offering multiple space-saving possibilities and a modern look while keeping your monitors steady, stable, and oriented just how you like them.
4. SmartFit® Clamp-On Keyboard Drawer
The SmartFit® Clamp-On Keyboard Drawer ensures a comfortable typing position for wrists and forearms, all while saving space and reducing desktop clutter. The drawer is installed without tools through the use of sturdy, metal clamps. Installation won't damage your desktop surface. Kensington's SmartFit® system makes it easy to find the right height adjustment for maximum comfort.
Our smooth-moving rail has plenty of clearance, and can accommodate many kinds of keyboards, from slim to mechanical to gaming varieties.
5. StudioDock™ iPad Docking Station
Kensington's StudioDock™ iPad Docking Station helps you unlock all the creative potential of your iPad Pro. Our modern design enables magnetic attachment and removal of your USB-C iPad Pro 12.9" (2018 or later). The StudioDock™ iPad Docking Station also supports rapid-charging power delivery to your device, charging via USB-C at 37.5W. No drivers or downloads are necessary to begin using this innovative space-saving product.
Work Smarter From Home with Kensington
Kensington's design team continues to innovate and create products that can help you increase productivity while working from home, no matter the size limitations of your office. Our space-saving solutions ensure that you'll be able to make the most of your home office space.