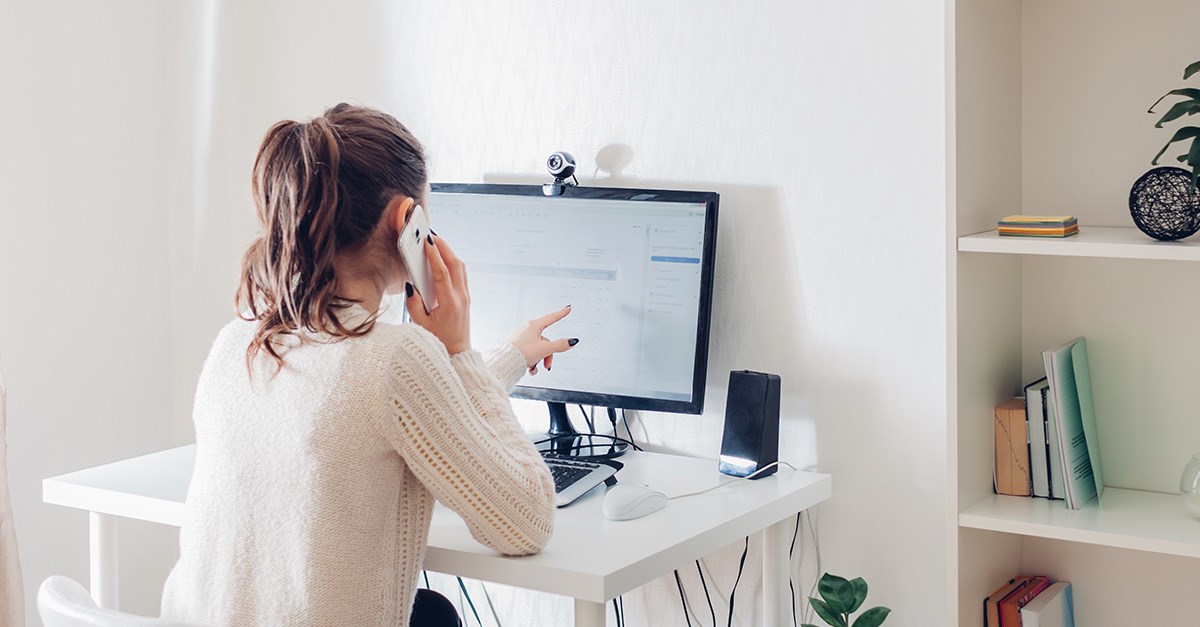 Changes to the work environment over the last few months have created a new reality for today's organisations. For those that had an existing Work from Home (WFH) policy in place, the transition has been less disruptive. However, organisations that had not previously addressed the issue have faced a scramble to set their staff set up with a home office environment - just to get through their daily workload.
Now the dust is settling and organisations are able to plan for similar events in the future, it's time to review how remote employees' workplace ergonomics stack up. Most businesses have dealt with immediate challenges, requiring the provision of a minimum set of tools for WFH, such as a laptop, mouse, keyboard, and in advanced cases, an additional monitor. While these pieces of equipment can get staff up and running, there is more that can be done to improve employee productivity with home office equipment.
Improving Your Employees Home Office Workplace Ergonomics
In the new reality, as an IT manager or business owner, you now have a responsibility to improve your employees' set up in the home office. You will want to consider the bigger picture and, if possible, enable your staff to remain productive from either the office or home environment.
Teams may have to resort to WFH for extended periods or indefinitely at any moment, so taking the time to prepare now can help you establish effective policies to deal with these situations. For some staff, you may even decide that WFH is now the normal operating procedure, with only limited visits to the office required. Whatever scenario keeps the company's employees productive, safe, and healthy in the long-term will ultimately serve the organisation best.
Many analysts suggest that WFH provided benefits to organisations over the last ten years. Now that it is a necessity, it may be time to review some of them. These benefits include:
Reduced time required to commute to and from the office, giving individuals more "productive" hours each day.
With the extra time available, remote employees work as much as 1.4 days more per month.
Budget savings with more staff operating remotely, as less office space is required.
Employees are happier and with the right toolbox, can be just as productive as they are in the office.
For most organisations, WFH has required a steep learning curve to enable remote teams. By taking a long-term view now, you can enable your staff to be just as productive from any location using the right policies and equipment.
The Challenges with an Ad Hoc Home Office Set Up
Even though WFH was a growing trend, most workers still do not have a home office in a true sense of the word. Makeshift workspaces remain the dominant solution for WFH employees, as 54% of workers didn't have a dedicated home office set up only a few months ago. Of the ones who did have a home office set up, it is likely that they used it for a few hours a week and not for full office hours over several months.
Ad hoc home offices can suffice in a pinch, but for consistent employee performance and a reliable remote workforce, you'll need to invest in your staff's home office setup. An inefficient set up could lead to repetitive strain injuries and back or neck issues. You will want to consider ergonomics, efficiency, and mobility as part of your strategy.
Before you think of equipment, make sure your employees are following the practical guidelines for setting up a home office. It's time to make it a policy that they transition from a makeshift workspace at the dinner table to a permanent desk in a private area (preferably with a window) that keeps your employees healthy and productive at all times.
Essential Home Office Equipment for Remote Workforces
To help your teams stay productive in any environment, you'll want to enable them with the right tools. The ideal home office environment has an ergonomic design with natural light and adequate ventilation. You may also want to consider the mobility of equipment and how easy it for staff to set up their workstations in different locations. Here are some of the equipment you can add to your staff's WFH and remote work toolboxes.
Improving Home Office Ergonomic Set-Ups
To improve employee's posture behind a desk depends on more than their desk and chair. You can improve sitting positions with foot and back support solutions. These products will help staff to maintain a healthy posture while sitting at any desk with adjustable tilt, angle, and height settings.
A monitor arm will allow remote employees to adjust screens to their sitting position for different tasks. Similarly, a laptop or monitor riser (with built-in air purifier) can improve their standard position of alignment between the screen and employee's eyes. You can also use ergonomic desk storage solutions to help staff organise for productivity.
Enhancing WFH Efficiency with Connectivity
Depending on how you expect staff to operate between the home and office, you'll want them to transition efficiently between the two environments. A docking station that enables your teams to connect a workstation to all their desk's peripherals can make the process quick and easy. For enhanced security, you may need to look for two-factor authentication (2FA) solution that uses biometrics.
Adding Mobility to Your Remote Workforce
If your teams will be working from the home and the office, you'll want to make it possible for them to move between these environments efficiently. Giving them the tools to remain mobile but productive depends on having a versatile workstation, including ergonomic input devices, a laptop or tablet, and a carry bag to transport all their equipment safely. To ensure devices remain secure, use one of our Kensington device locking solutions.
Empower Your Remote Workers with Solutions from Kensington
For organisations that are considering long-term solutions for business continuity need to provide the same standard of comfort to WFH employees. With the right equipment, employees who are operating remotely can be just as productive as they were in the office. You will need to provide your remote staff with the same (if not improved) standards of working environments.
At Kensington, we engineer our products to improve employee performance while limiting the adverse effects on their health. You can find the right toolbox for your remote workers that help keep them productive from any location.
Kensington's solutions can help your teams' transition between different environments seamlessly with an ideal home office.