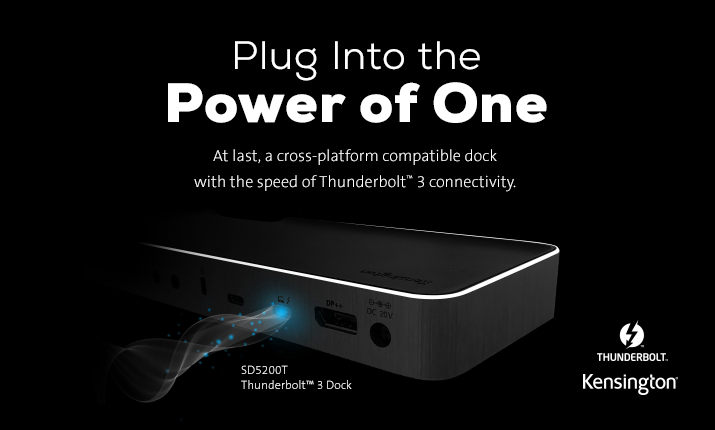 As the specialized features and capabilities of both the Windows and macOS have grown and developed, there is proven value in choosing the laptop that suits the business opportunity and the employee, rather than limiting the choice by the operating system.
Which is why Kensington engineered and tested our Thunderbolt™ 3 Universal Docking Station for optimal performance for both macOS and Windows users. The cross-platform compatible dock is the hyper-productivity solution specifically designed to support power users in mixed-computing environments with high transfer-speed requirements.
The Kensington Thunderbolt 3 Universal Docking Station leverages all the speed and throughput that Intel Thunderbolt 3 technology offers. Thunderbolt 3 provides data transfer speeds up to 40 Gbps and supports 5K or 4K for dual monitors at 4096 x 2160 dpi 30-bit color @ 60Hz with the crisp resolution, contrast and color depth of Ultra HD using DisplayPort or HDMI.
In a mixed-computing environment, it is vital to choose a docking station that was designed and tested for optimal performance with devices running both macOS and Windows operating systems. With the Kensington Thunderbolt™ 3 Universal Docking Station, your organization can standardize on a docking station without limiting the systems of your users now or in the future. You have the power and flexibility to use the right device for any task, and to grow and adapt without having to upgrade your docking station.
Kensington, the Professional's Choice is revolutionizing connectivity for mobile employees and power users with intense data-speed and throughput requirements in mixed-computing environments that need to maximize the capabilities of Thunderbolt, which is why the Kensington Thunderbolt 3 Universal Docking Station will be presented alongside other game-changing new technologies at the invitation-only ShowStoppers media reception at the 2018 Consumer Electronics Show. This annual event highlights the new products and technologies that are destined to transform the way people work and live and shape the technology landscape for the future.
In our next post, you'll learn more about how the Kensington Thunderbolt 3 Universal Docking Station optimizes performance speed for both macOS and Windows users.