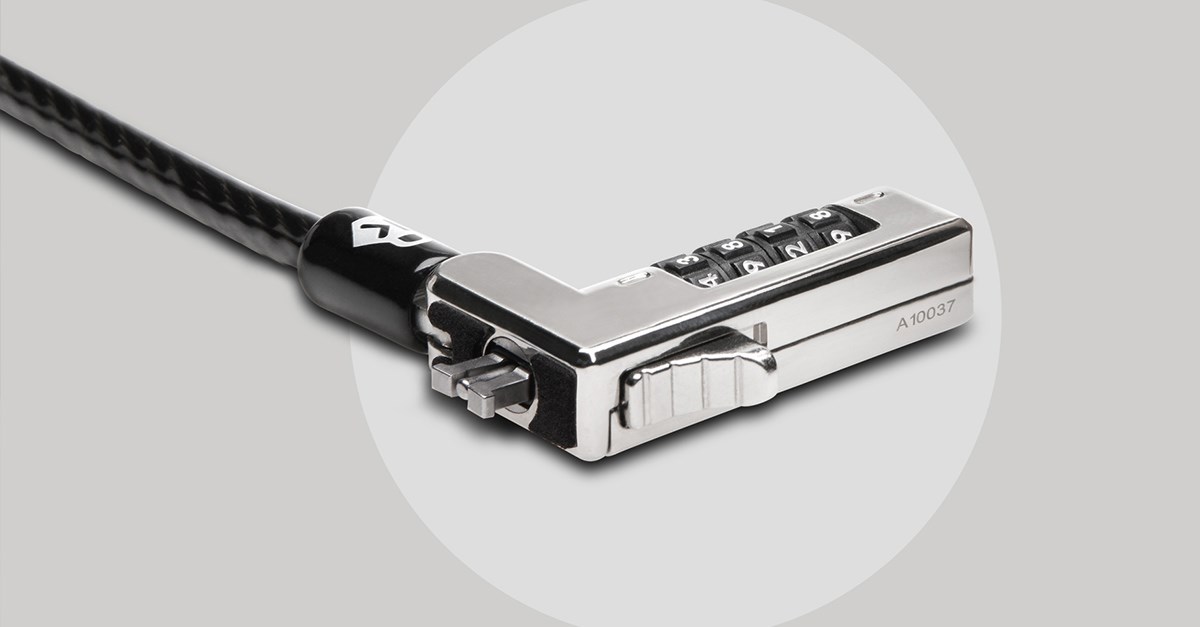 The most common security solutions for your devices are:
Security slots

, which physically secure your laptop to a place of your choosing and convenience.

Two-factor authentication devices

,

for safer

data access.

USB port locks,

which serve to prevent data theft or malicious uploads.
Our laptops and tablets are valuable not just because they represent significant investments, but also because of the sensitive business data and crucial personal information that lives on our devices.
In today's world of mobile workforces and BYOD trends, guarding against device theft is the first line of defense to save data from falling into the wrong hands. Mobile devices enable workplace flexibility, but that inherent portability also makes them more likely to be stolen.
To protect mobile devices and the sensitive information they contain, Kensington's comprehensive portfolio of physical security products—including keyed and combination locks, portable locks, and locking stations—provide a range of tough, reliable, and easy to use security solutions.
Let's take a look at the different locking options available, and some best practices for choosing the best lock for your work environment.
Whatever your physical security needs might be, Kensington has a locking solution to meet them.
Types of Locks and Security Solutions
Tips on Choosing the Best Laptop Lock for Your Environment 
Finding your Ideal Kensington Locking Solution
Laptop Lock and Slots: Final Thoughts
Types of Locks and Security Solutions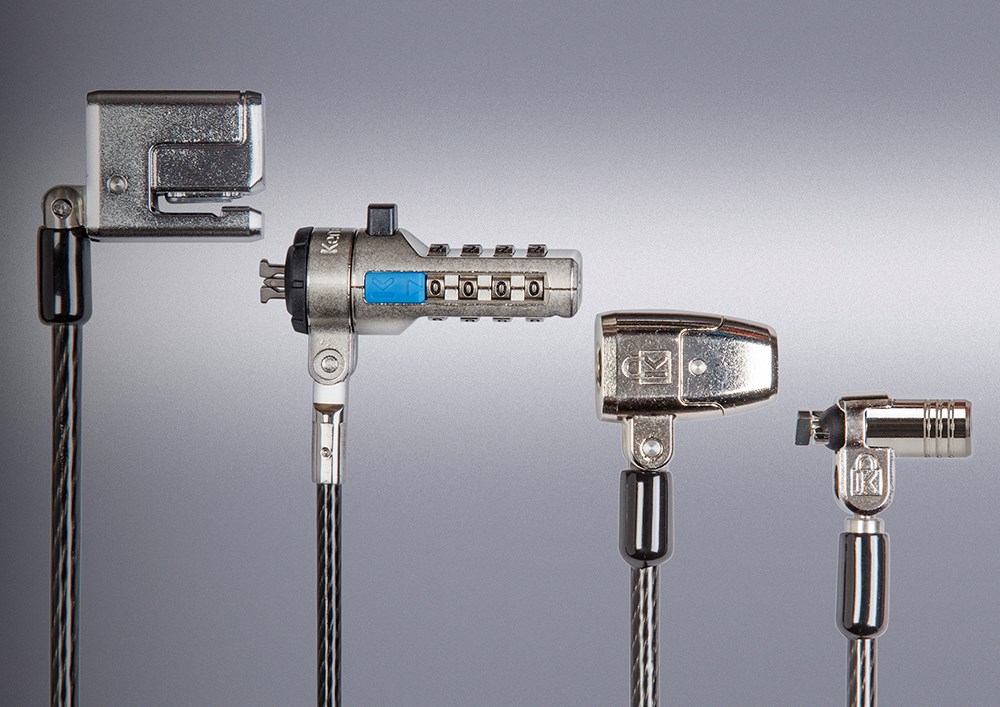 Security Slots
The Kensington Security Slot™ has been the industry standard for more than 25 years, and Kensington has developed slimmer slots for thin and light mobile devices as well.
The Kensington Nano Security Slot™ is 70% smaller than our traditional slot, which gives engineers more space for other components as they design the devices of the future.

It is ideal for ultra thin devices.
Our next-generation hardware protection offers more advanced security options. For light and thin laptops and tablets that are too slim for a standard lock slot, Kensington has designed a range of locks built to our tough standards that fit perfectly to secure these ultralight and mobile devices.
The Kensington ClickSafe® Security Anchor mounts into the Kensington Security Slot™ to provide simple, one-click security for ease of use.
The two most commonly-used locking options are our traditional keyed locks and combination locks, which are compatible with more than 90% of laptops, desktops, projectors, monitors, and printers from all major manufacturers
Every lock is engineered to rigorous specifications, made of aircraft-grade carbon steel, and built to last. Kensington's Register and Retrieve program ensures that a lost key can be easily replaced and a forgotten combination is simple to recover.
Biometric Security Solutions
Biometric security locks provide two- factor authentication (2FA) to protect against unauthorized access while offering a seamless and secure login experience.
USB Port Locks
 To reduce the risk of data theft or malicious uploads, Kensington's USB Port Locks physically block USB ports from unauthorized access.
Tips on Choosing the Best Laptop Lock for Your Environment  

Every individual and organization has different locking requirements, and Kensington has a security solution for every device and environment.
Know how you would want to anchor your device
Would you prefer to loop a cable lock around another object? Do you need to secure devices and peripherals to a desk with a durable desktop lock?
If your work environment is more flexible, a portable Lock and Anchor Point would instantly create a sturdy point through which you can secure a lock or cable.
Keep in mind what type of
device
you'll secure
You'll also want to consider the device you'll need to secure, and what kind of security slot it includes—or whether it has a security slot at all.
Does the device have a security slot—a Kensington Security Slot™, a Kensington Nano Security Slot™, a Kensington Mini Security Slot, or a different type?
If it is a device that lacks a security slot like an iPad or Surface, you'll want to look for one of Kensington's specialized locking solutions that work without a security slot.
You can always check compatibility with your device using our Lock Selector at Kensington.com/selector.
Review what kind of lock meet your requirements
Would a traditional keyed lock fit the bill, or would you prefer a combination lock?
Would you benefit from one of Kensington's advanced security options, such as a biometric security lock that offers extra protection via 2FA or a USB Port Lock that prevents unauthorized access by physically blocking USB ports?
Consider how much control over devices is needed
This applies specially for IT Professionals looking to select a locking solution for their organization.
Kensington offers a range of custom keyed solutions—from master keyed locks to supervisor keyed locks to like keyed locks—to allow users to select the ideal level of IT control over the equipment while helping employees safeguard against theft and avoid losing productivity due to misplaced keys.
Once you have a strong sense of what your physical security requirements are, you'll be well prepared to select the perfect lock to protect your device and data.
Finding your Ideal Kensington Locking Solution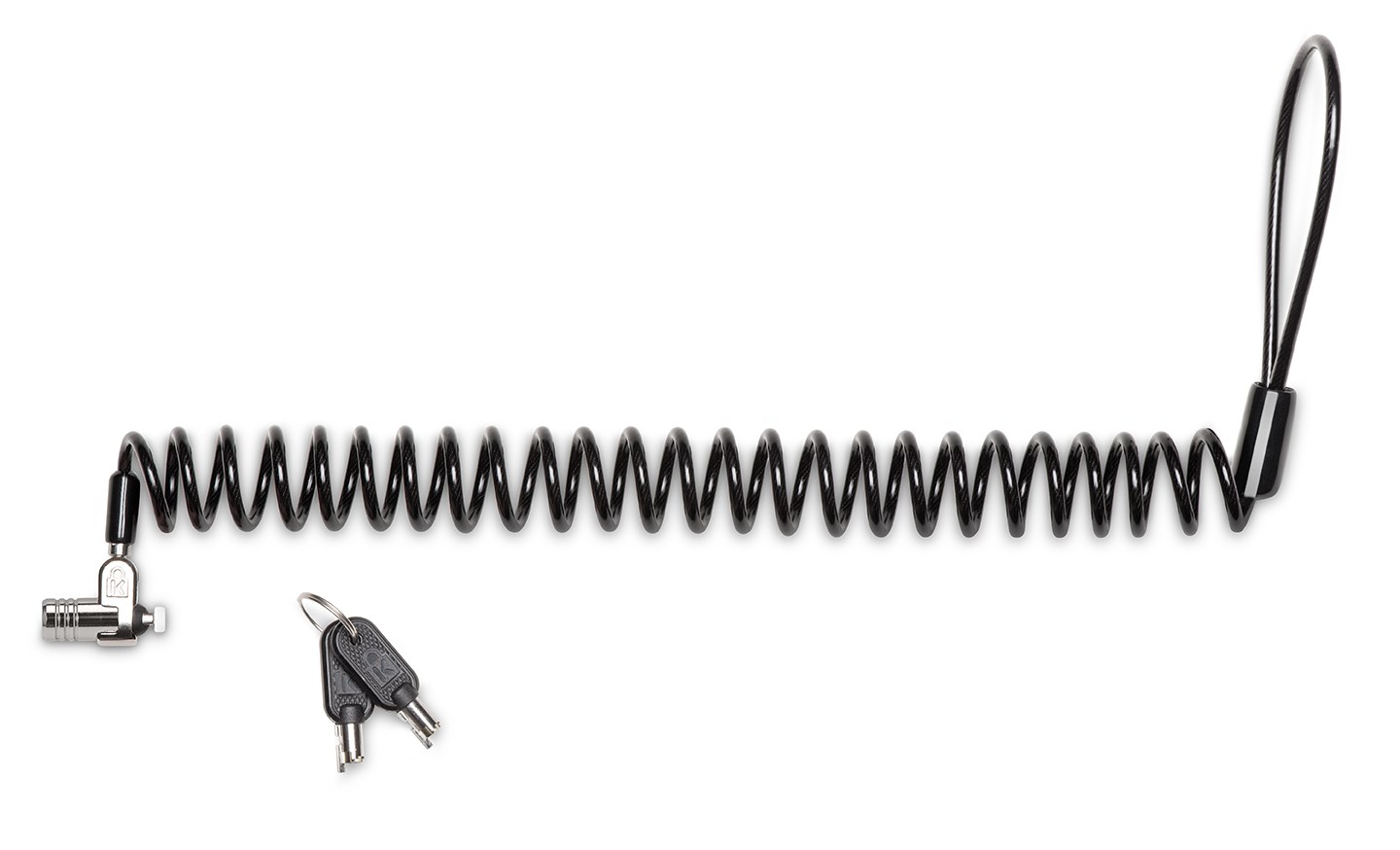 Different security scenarios will require different locking solutions. Let's take a look at a few common ones.
For Coffee Shop Enthusiasts
For those who prefer to work in a coffee shop or other public place, Kensington's MicroSaver® 2.0 Portable Keyed Laptop Lock keeps your device safe by attaching to the Kensington Security Slot™.
The self-coiling carbon steel cable stretches up to 6 feet to secure your device to a nearby object, and shrinks down to 3 inches for easy packing. With Kensington's Register and Retrieve program, you can be sure that you'll always be able to easily replace your key.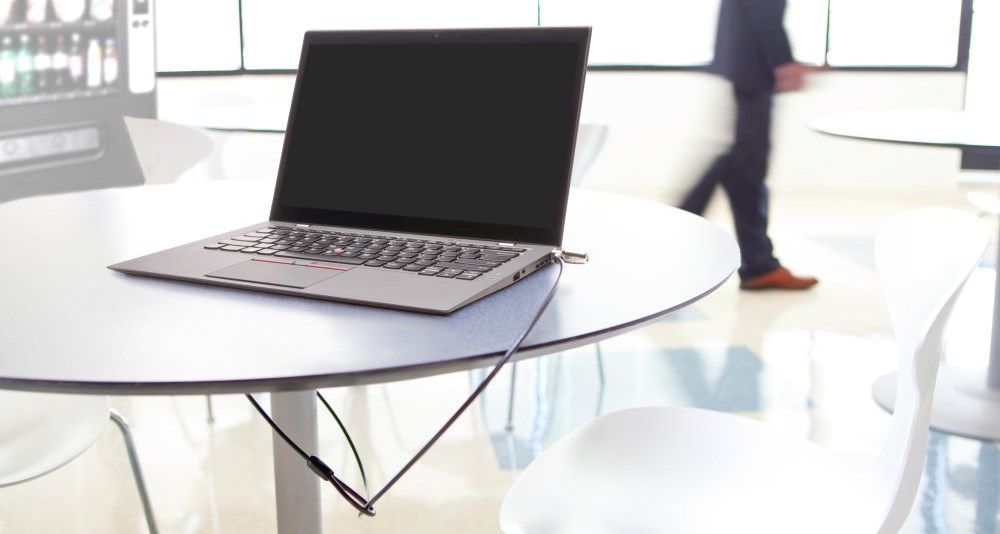 For IT Professionals
If you're an IT professional looking for the best way to secure employee devices in your organization, you may be concerned that the perceived inconvenience of using a lock might impede employee compliance.
Choosing a lock designed for ease of use like Kensington's ClickSafe 2.0 Keyed Laptop Lock would offer tough protection with the convenience of one-click keyless engagement.
The ClickSafe lock head snaps onto the ClickSafe Security Anchor after it has been installed into the Kensington Security Slot™ found in most laptops, and can be custom keyed to provide the right level of access for your organization.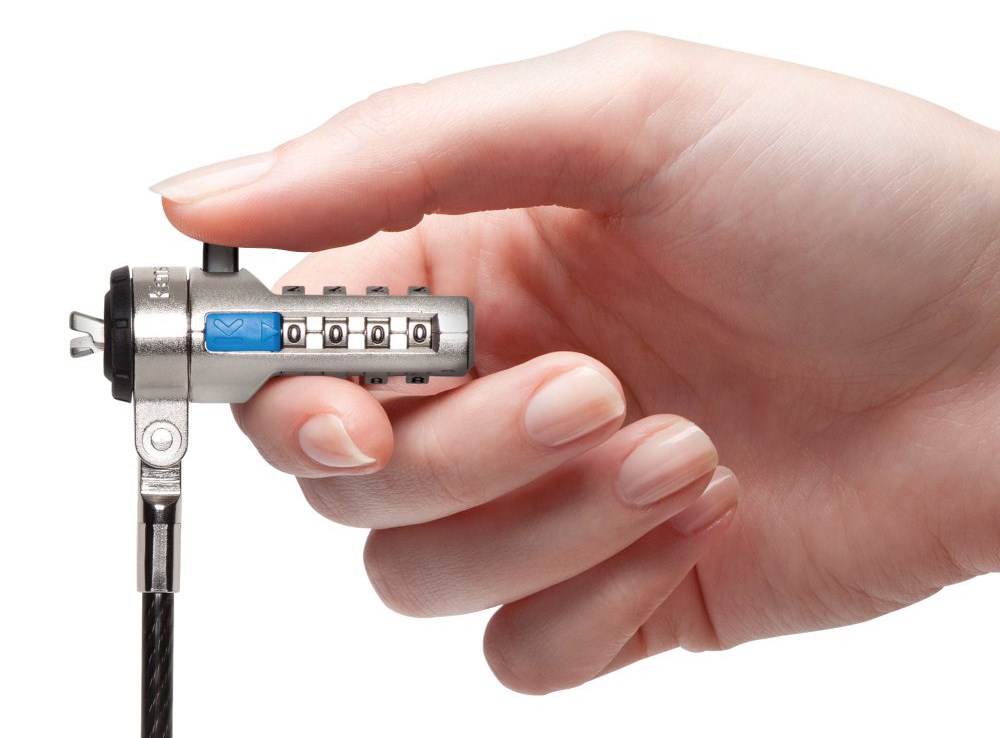 For Devices Without Security Slots
The new N-17 Keyed & Combination Locks fit seamlessly into the latest Dell laptops and tablets with a wedge lock slot to create the strongest connection between the lock head and slot.
For Surface users, Kensington's Keyed Lock for Surface Pro & Go offers easy to use, non-invasive locking technology that requires no device modifications, preserving the Surface Pro's hardware warranty and aesthetics.
Kensington's comprehensive range of keyed, combination, and next-gen locking solutions has the perfect lock for every device and work environment.
Laptop Lock and Slots: Final Thoughts
Since Kensington first invented the laptop lock in 1992, we've sold enough locks and cables to circle the globe twice.
As the #1 brand in locking security, we design locking solutions that are tough, reliable, and easy to implement and use.
Let Kensington help you select the perfect locking solution and enjoy the peace of mind of knowing your devices and data are protected by the gold standard of locking security.