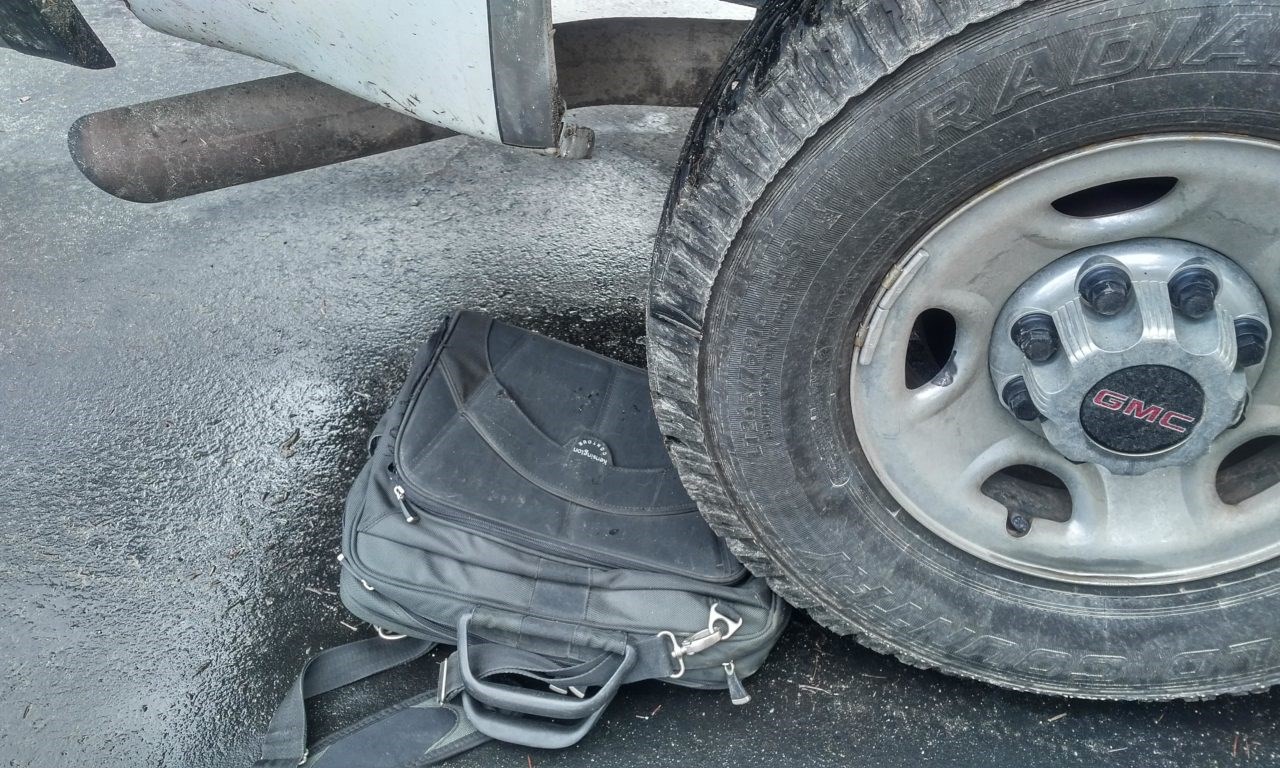 Haven't we all had one of those crazy  "Murphy's Law" days where we are trying to juggle so many tasks and responsibilities that invariably something goes wrong or some little detail slips through the cracks?
Well if we are lucky, it is just a minor crisis that is quickly forgotten. But not always…
We heard recently from a Kensington customer whose ordinary day could have turned into a huge disaster. But fortunately, while Tim's attention was on taking care of one of his clients in Castlegar, BC, his Kensington Contour bag was taking care of him.
Here is what happened in his own words:
Last April, I was visiting a client's home in the evening with another financial advisor. We were both parked in the driveway, her car behind my truck.  After the meeting (it was dark) we came outside and were chatting, so I set my bag down in front of her car.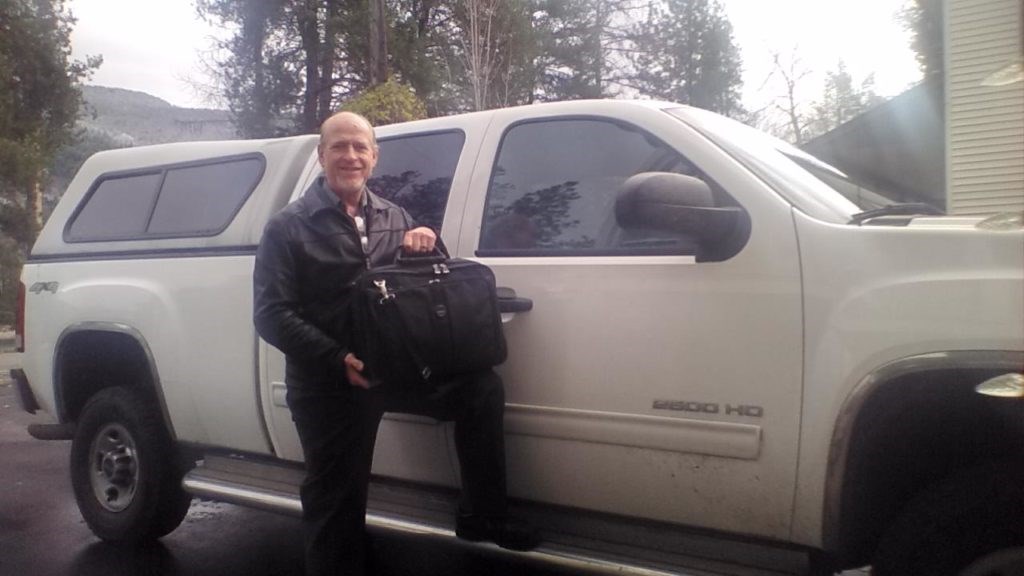 After a few minutes, she left and I got into my truck (a GMC Sierra 2500HD 4X4) and started to back up.  I felt my tire bump against something that I thought was a curb, so I just gave it a bit more gas and went over it (like you tend to do in a big 4x4!).  When I felt the front tire go over the same bump, I thought to myself "it can't be a curb." 
As I continued to back up, the "bump" came into the headlights and I realized it was my laptop!!  
Groan...
Well, I thought it was toast, but I got out and retrieved the bag.  It was lying with the rigid contour pad up, and I had driven across it lengthwise, a tire track right down the middle.  The rigid contour panel had broken internally into a few pieces and the zipper on one side of the panel had torn away, but it actually looked surprisingly intact. Expecting the worst, I unzipped the case and pulled out my laptop... Amazingly, the screen wasn't even cracked!  I pushed the start button and it started right up and ran perfectly!! Naturally, I was thrilled!
I'm still using the same laptop 8 months later with no problems. I have told this story to numerous friends and colleagues, most of whom couldn't believe it but at least a couple have since bought the bag!
I want to thank you for such an excellent design.  I will use one of your bags for as long as I have a laptop, believe me!
Cheers, 
Tim
Thank you for sharing your story with us Tim. Everyone at Kensington is really dedicated to delivering solutions that help our customers focus on their work and what they do best. We are so glad that your story had a happy ending and want to treat you to a new laptop case or other Kensington item of your choice to thank you for sharing with us.
The legal department here at Kensington wants me to remind you that our laptop bags are not guaranteed to protect against being driven over by a 3/4-ton truck, so don't try this at home!
But for those everyday disasters and groan-worthy moments, Kensington stands behind our products with repair and replacement warranties. You can find out more about our warranties on the Products portion of the Kensington website.