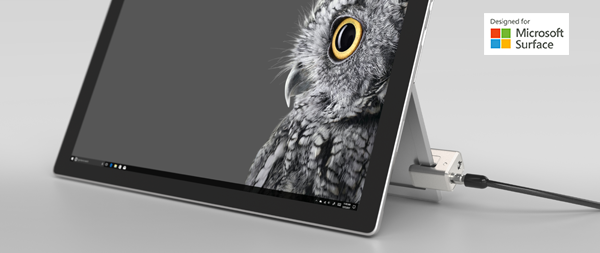 Introducing the New Keyed Cable Lock for Surface Pro
As soon as you start working on a Surface Pro, you can't imagine how you ever got your job done without it. You can work just as well in a crowded airport reviewing the latest sales figures as you can when you are the last one in your office making late-night changes to the presentation that you are giving in the morning. But that amazing portability means that a thief could take advantage of any small distraction to steal your Surface Pro as well as all the sensitive information on it.
To keep you protected so that you can focus on your work, Kensington has created a keyed cable lock specifically Designed for the Microsoft Surface Pro line of products, which is the first of its kind available anywhere. You know that you can trust your device—and your livelihood—to the company that invented laptop locks and has been the trusted leader in security solutions for decades.
Kensington has designed and tested the lock to stand up to everything someone might use to try to steal your Surface Pro. The carbon steel cable resists and deters cutting while the lock uses Kensington's patented anti-pick Hidden Pin technology and resists all forms of tampering.
Since no lock can protect your investment if it is sitting in a box on your desk or dangling somewhere in a mass of cables, the Kensington Cable Lock is easy to install and easy for you to attach and detach every time you want to take advantage of the portability of the Surface Pro.
Check back soon to learn more about how the Cable Lock protects your Surface Pro without getting in the way of its innovative design and robust set of features.