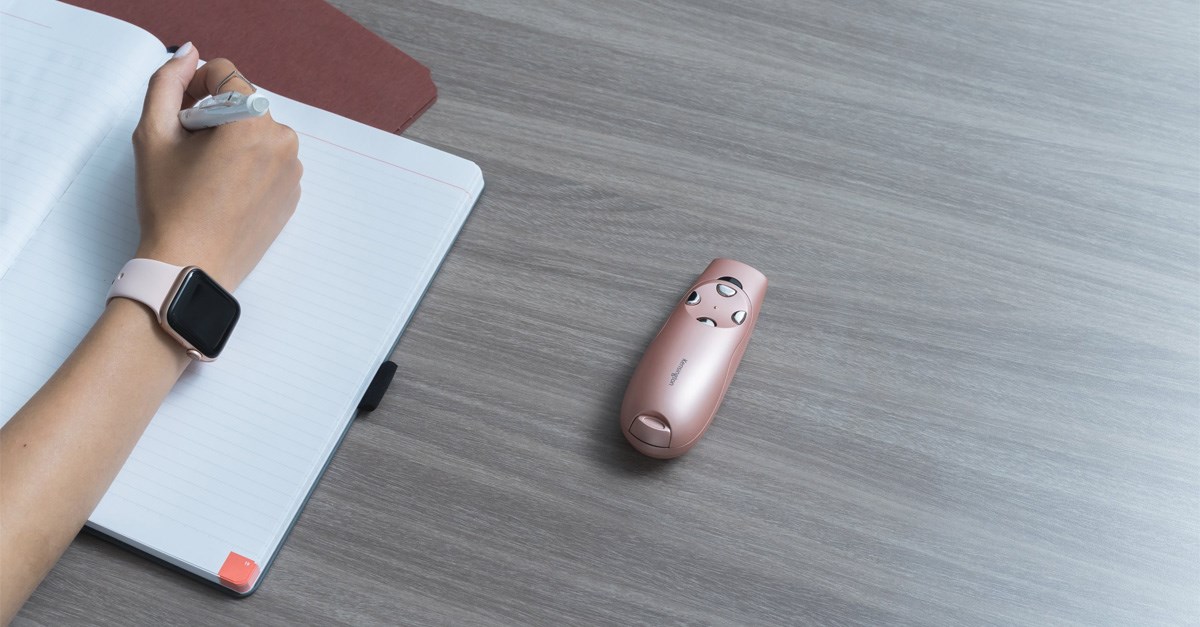 Giving a presentation can be uncomfortable, even when it's just for a routine office meeting. Controlling your presentation with a laptop or other computer feels clumsy and can leave you tethered to one spot. It's hard to get comfortable while restrained. Thankfully the Presenter Expert™ with Green Laser has you covered, with intuitive buttons, secured AES encryption, and extended wireless range.
Best of all, you're not stuck with one color. In addition to our black model, Kensington is proud to announce two new colors to the Presenter Expert™ family – Pearl White and Rose Gold.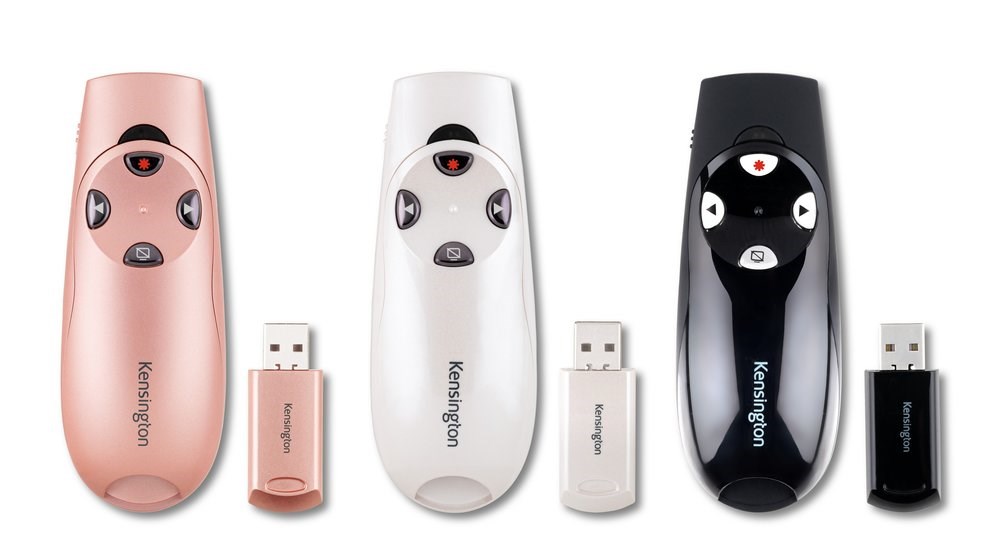 These brilliant new customized colors give you a chance to showcase your personality while you break the chain binding you to your computer. Bring a new level of professionalism to your presentation without fumbling through your bag, looking for that hidden black pointer device and USB receiver. Stand out like your ideas with Kensington's Presenter Expert™ with Green Laser.
Customized Personality for Any Environment
It's hard to feel confident while you're fumbling around in your black laptop bag through a pile of black cords to find a small, black presenter. There's nothing worse than depending on only your laptop during a meeting that can make or break your career.
Kensington's Rose Gold Presenter Expert™ with Green Laser is the perfect way to stand out like a pro. It's a reliable, intuitive, and easy-to-use wireless presenter with an added splash of personality. This makes it easy to find it in your bag and keeps your audience watching your hands throughout the presentation.
Moreover, its green laser pointer is 10 times brighter than your standard red laser. This means even the people at the back of the room can clearly see what you're highlighting during even the brightest of indoor conditions. It also gives you an extended wireless range of up to 150 feet, but this isn't just your average laser pointer.
It's a plug and play-compatible device for both Windows and Mac computers. There's no need for drivers to superpower your presentations, so you don't need to wait while anything installs. You can just plug it in and start wowing your coworkers. All it takes is a small USB receiver with a 2.4 GHz wireless, secured AES encryption.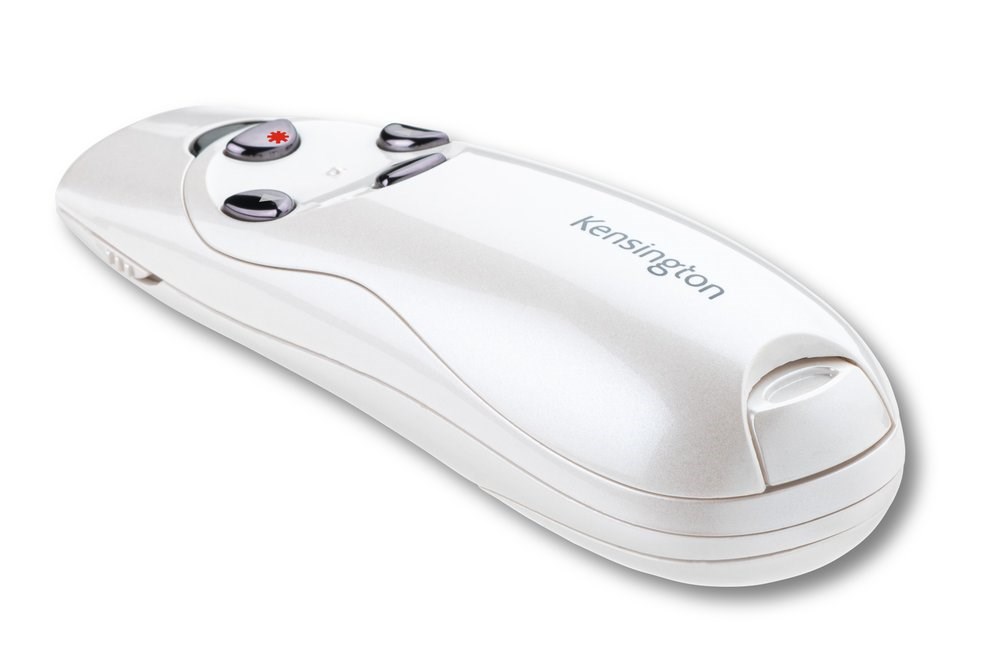 With its sleek, glistening design, the Pearl White Presenter Expert™ with Green Laser looks like a Mac accessory. It's not just the color – Kensington engineered an intuitive, four-button layout that makes it easy to navigate through PowerPoint or Keynote slides. Stop dealing with technical issues while you remain tethered to your keyboard and mouse.
Pick up Kensington's Presenter Expert™ in Rose Gold or Pearl White to expand your presentation beyond the screen, in many ways. Not only can you walk around the room, but you can also add an element of stage performance to your on-screen slide presentation. Point things out that aren't even on the screen with a dynamic mixed-media presentation that incorporated real-life elements.
Intuitive Buttons and Comfortable Design
Click left or right to move back and forth through your presentation. One button hides your screen so you can respond to an important notification in private. The other toggles the green laser pointer on or off. You have complete control over what your audience sees and how you interact with your presentation both on and off the screen.
The device's contoured design makes it comfortable to hold. Meanwhile, internal receiver storage provides the convenience of keeping both parts together when not in use. This lets you use the trademark green laser of Presenter Expert™ even without a computer. At the touch of a button, you can take control of any room and stand out from your peers.
Stand Out Without Compromising on Quality
Of course, there's no reason to stand out if you're not bringing quality. That's why Kensington uses only the finest of materials and design principles to ensure Presenter Expert™ lives up to its name. Each presenter and receiver are uniquely paired to prevent any interference from other wireless devices in the room. This isolates the secured AES 128-bit encryption to increase reliability.
Besides the updated device colors, the green laser's extra brightness outshines standard red laser presenters. It provides extended usability and viewing distance while ensuring you can always highlight the important pieces of information you're covering. Nobody will miss a beat of your presentation, thanks to Kensington's Presenter Expert™ in Rose Gold and Pearl White.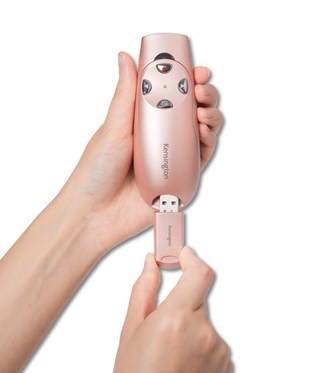 You'll outshine the competition too, when you pull one of these unique, bold designs out of your laptop bag. Feeling it in your hand is like a high-quality executive pen with your name engraved on it. Everyone else in the office may have ideas, but you get the job done and do it with style and grace. That's why you need the best wireless presenter in the industry.
Kensington offers industry-standard security and usability options to ensure you always have optimal working conditions. Your office should work for you, not the other way around. With our intuitive buttons, you'll feel like Presenter Expert™ was customized to your personality. This dedication to quality is what makes customers comfortable trusting Kensington's solutions.
Discover Your Personalized Solution Today
Kensington is a leader in workplace and computer accessories for a reason. Each device is engineered to augment the out-the-box capabilities of your equipment. Every generation of technology has new hurdles, and we help you overcome them to continue building a productive business. We adapt to changing technologies, so you don't have to.
You have ideas that can transform your business into its next growth evolution. You can land that major client account that generates the bulk of this year's income. You can earn your boss's respect and gain that promotion to partner. The sky is the limit. You can give the presentation of a lifetime, but you need professional tools you can trust.
With Kensington's Presenter Expert™ with Green Laser in Rose Gold or Pearl White, nothing can stop you. Our award-winning design principles and industry-standard security features are an unbeatable combination. That's why businesses big and small across every industry trust Kensington for all their office accessory solutions.
Kensington's Presenter Expert™ with Green Laser is available in Rose Gold or Pearl White this spring. It will be priced at $89.99 and available for shipping worldwide. Bulk orders are also available. Please contact us to speak with a wholesale representative.
Check out Kensington's complete lineup of wireless presenter remotes. Our selection of styles and color options will match any aesthetic in your office.