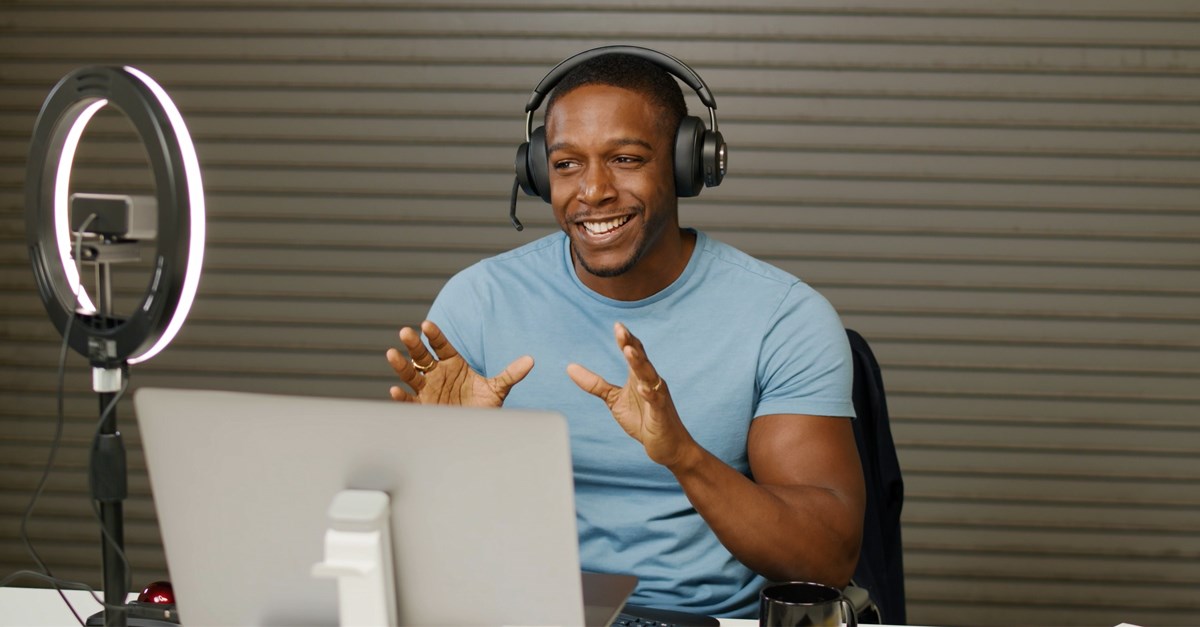 Creating great content isn't easy. And it's a lot harder to focus on building your audience if you get distracted every time you switch from one device to another.
It's also a challenge to keep your desk organized and maximize your space when you have products to review or guests sharing your video frame.
And when you're already surrounded by the equipment and accessories you need to be creative and get your projects done, every square inch counts.
If you're going to thrive as a creator, you'll need the latest products to control your environment, build confidence, and gain credibility. If you're someone who –
Streams on YouTube
Streams on Twitch
Records podcasts
Records social media videos
Listens to streaming audio
All of the above
– you need easy access to audio from multiple devices and a professional, clutter-free space to do your best work.
The Kensington® Universal 3-in-1 Pro Audio Headset Switch can help with all of that and more.
Control Your Environment with Kensington and Leave Audio Frustrations Behind
We created the Kensington Audio Switch for setups just like yours. Controlling your creative environment today starts with a professional desk setup powered by smart technology.
Imagine recording a product video review on your laptop, using FaceTime on your iPad, and listening to music from your phone while you work – all from the same headset with the same great sound quality.
The Kensington Audio Switch gives you this power by pairing your favorite wired or wireless headset with up to three devices. After a quick setup, you can toggle between the audio from each one with the push of a button.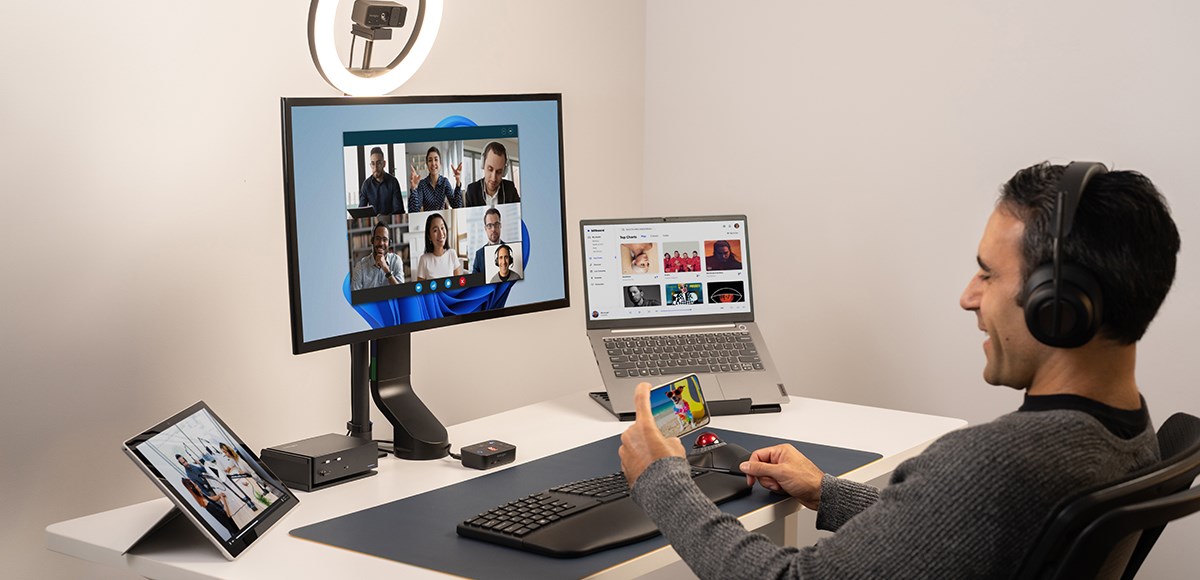 Here's how:
Plug the Kensington Pro Audio Headset Switch into a USB-A or USB-C port on your primary device using the cable provided. (Every audio switch comes with a USB-C to USB-A connection cable and a USB-A female to USB-C male adapter for ease of use.)
In your device's System Preferences, choose the Audio Switch as your primary audio input and output source.
Plug your wired headphones into the Switch, or pair it with the wireless headset of your choice.
Use the switch's remaining Bluetooth device connections to pair one or two other devices with the Kensington Audio Switch.
When your devices are all connected, test the Switch by using the channel buttons and sending audio from different sources to your headset.
The Kensington Audio Switch works with Bluetooth® wireless, USB-C, USB-A, and 3.5mm wired audio connections. After a few hours (minutes, really), the audio annoyances that have slowed your work for so long will become a thing of the past.
Interested in upgrading your setup with professional-grade equipment? See how Kensington can help.
Build Confidence with Seamless Switching
The Kensington Audio Switch lets content creators, influencers, and streamers move seamlessly between audio sources.
But that's only the beginning.
Dedicated channel buttons with LED lights provide visual confirmation that your connections are active when you want them to be. No more scrambling or struggling to find the right headset for the right system at the right moment.
The easy-to-reach volume controls integrate with whatever system you're using, so you don't have to dig for the settings in Spotify or Apple Music to make adjustments. And a big, obvious mute button silences both microphone inputs and outputs across all devices.
Also, the mute button glows red so that you can be confident that you aren't sharing sensitive information with the wrong audience.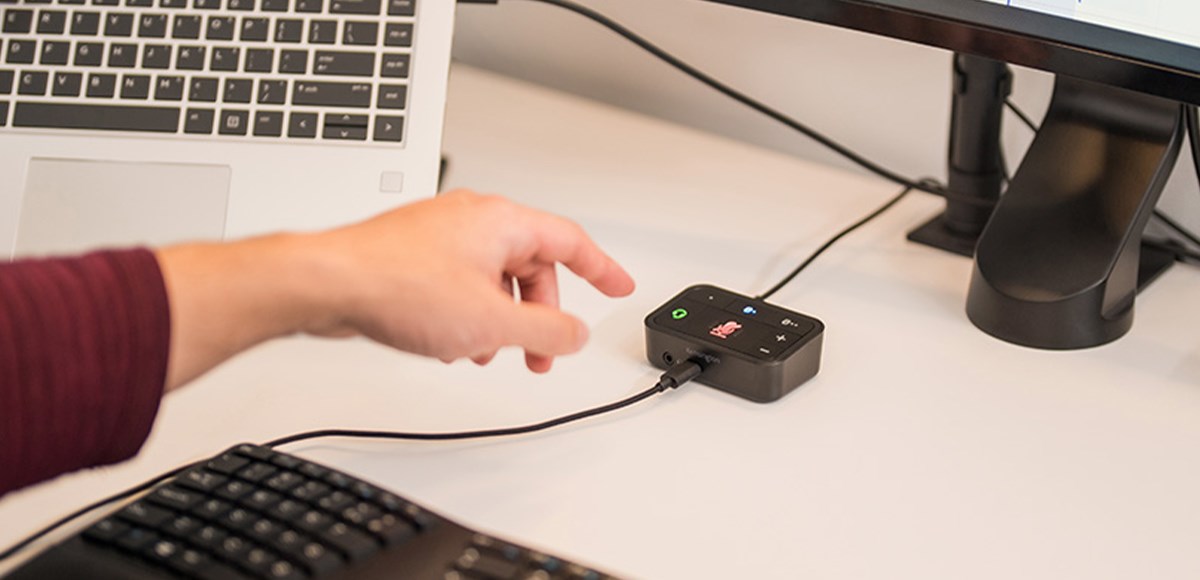 These features make it easy to stay locked in and minimize distractions, even when you're multitasking or moving between different platforms and projects.
And if you take a lunch break or take your headset outside of wireless range, you don't have to worry. The adaptive Bluetooth® 5.0 technology in the Switch remembers the devices you've connected to automatically, so you don't have to reconfigure it every time you reopen your laptop or walk back to your desk from another room.
Gain Credibility with a Clutter-Free Environment
The Kensington® Audio Switch also features a sleek, compact design that doesn't crowd your workspace. It's smaller than a standard computer mouse and might be even more useful.
Fewer products on your desk mean less stress and more freedom to make use of your environment. The Kensington Audio Switch reduces audio-related clutter by eliminating the need for multiple headsets.
As anyone who's tried to create content already knows, finding the space to think and flesh out ideas is a lot easier when you have… actual space to do that in.
And instead of losing your train of thought while you untangle a set of wired headphones, you can keep that train a-rolling.
Also, if your working environment changes from day to day, don't be afraid to take the Switch with you! Unlike everything else on your desk, the Switch doesn't require a power outlet or a charger – just the connection cable, which is included.
Finally, let's not overlook the aesthetic component of adding the Kensington Audio Switch to your setup.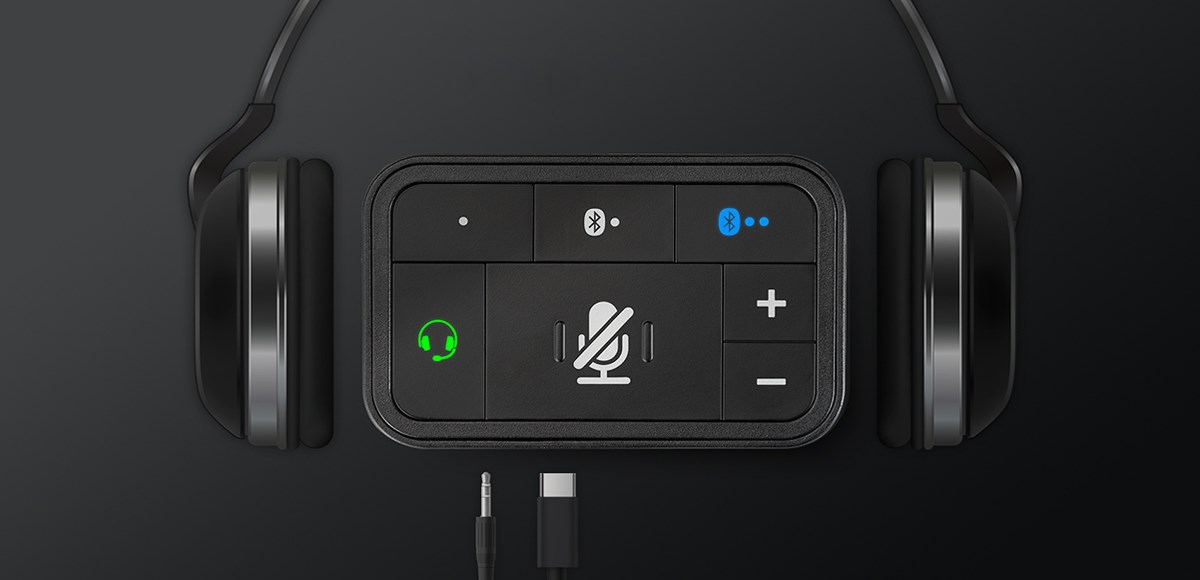 When you're streaming on Twitch, making videos for YouTube and TikTok, or creating other forms of visual content, it's important to get the look right – especially if you're trying to build a brand.
With that in mind, a cool-looking bit of gear will make your desk look a lot more credible than a pile of loose earbuds and unplugged headphones snaking through the background. So instead of spending your valuable time decluttering your desk and switching headsets, stay in the creative zone and look professional onscreen with the Kensington Audio Switch.
Communicate like a pro with Kensington professional audio solutions