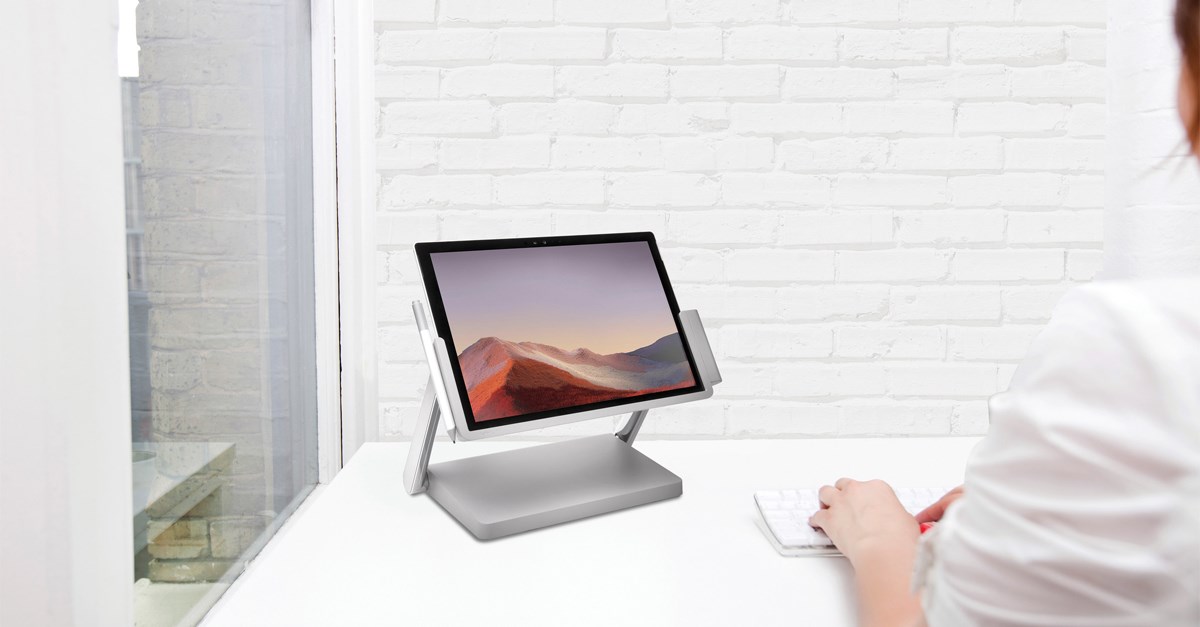 Leading docking stations, wellness monitor stands, trackballs, and more will be on display.
San Mateo, CA – October 21, 2019 – Kensington®, the worldwide leader of desktop computing and mobility solutions for IT, business, and home office professionals and The Professionals' Choice, will feature the latest workplace accessories to improve productivity, connectivity, and ergonomics at ShowStoppers @ MWC Los Angeles 2019.
Surface Pro users can experience the desktop of the future with the SD7000 Surface Pro Docking Station (K62917, SRP $399.99). Built on Microsoft's proprietary Surface Connect technology, the SD7000 enables users to expand their desktop setup to include two 4K external monitors (up to 30Hz), a wired network connection, and connections for favorite USB accessories. An innovative two-position hinge allows the Surface Pro to be comfortably positioned upright in desktop mode or down in studio mode to provide the ultimate docking solution for Surface Pro7, 6, 5, and 4.
The LD5400T Thunderbolt 3 Universal Dual 4K Dock with K-Fob™ Smart Lock (K39470, SRP $299.99) offers the productivity benefits of a Thunderbolt 3 docking experience with cutting-edge laptop locking technology to create a game-changing 2-in-1 solution for both Windows and Mac users. Thunderbolt 3 technology allows a single port to provide lightning fast data transfer speeds up to 40Gbps and connectivity to Thunderbolt 3-enabled devices, USB devices, and dual 4K UHD displays—all while supplying up to 85W of power to the host device.
Ideal for hot-desking and mixed deployment environments, Kensington's SD5500T Thunderbolt™ 3 and USB-C Hybrid Dual 4K Docking Station - Windows and Mac (K38130, SRP $259.99) is one of the first docks to deliver the unrivaled transfer speeds of Thunderbolt 3 (up to 40Gbps), while also supporting USB-C laptops (up to 10Gbps).
Extend connectivity with 17 ports and enjoy true-to-life 4K video for up to three monitors with Kensington's SD4900P USB-C Alt Mode + DisplayLink Triple Video Hybrid Docking Station (K36800, SRP $279.99). Perfect for graphic designers, photographers, and multi-user/hot desking environments, the SD4900P eliminates the frustration of compatibility issues while supporting spectacular 4K video on multiple monitors.
Take control of your workspace climate with the CoolView™ Wellness Monitor Stand with Desk Fan (K55855, SRP $59.99), which features a dual-fan system that provides quiet and gentle airflow. As part of the WellView™ family of monitor stands, it combines the ergonomic benefits of raising a user's monitor height with the wellness benefits of a thermally optimized personal environment. The WellView™ family's interchangeable, modular design enables one monitor stand to support the detachable CoolView™ Desk Fan, WarmView™ Personal Heater, and FreshView™ Desktop Air Purifier modules, which fit seamlessly into the stand's base.
The ergonomist-approved Pro Fit® Ergo Wireless Keyboard in Black (K75401, $49.99) or Gray (K75402, SRP $49.99) is split and sloped with adjustable reverse tilt and a built-in wrist rest to support comfort and neutral alignment for hands, wrists, and forearms. The wireless keyboard offers a replaceable receiver, a three-mode power-saving switch, and dual wireless with government-grade 128-bit AES encryption that delivers the flexibility of 2.4 GHz and Bluetooth 4.0 LE.
Designed to complement your desktop and office aesthetic, the Orbit® Trackball with Scroll Ring (K72337US, $39.99) the popular choice of professionals everywhere for everyday precision, productivity, and comfort. These features include the innovative scroll ring that allows easy scrolling up and down pages, customizable buttons, optical tracking, a detachable wrist rest, ambidextrous design, and plug-and-play ease for Mac or PC.
Kensington will showcase these innovative office accessories at ShowStoppers @ MWC Los Angeles 2019. Visit Kensington on Monday, October 21 from 5-7 pm to learn more about the latest advances to boost workplace productivity, connectivity, and ergonomic comfort.
Resources
Digital images: https://flic.kr/s/aHsmHz3wWc
Follow Kensington on:
About Kensington
Kensington is a leading provider of desktop and mobile device accessories, trusted by IT, educators, business, and home office professionals around the world for more than 35 years. Kensington strives to anticipate the needs and challenges of the ever-evolving workplace and craft professional-tier award-winning solutions for organizations committed to providing peak professionals the tools they need to thrive. The company prides itself as The Professionals' Choice, and on its core values surrounding design, quality, and support.
In office and mobile environments, Kensington's extensive portfolio of award-winning products provides trusted security, desktop productivity innovations, and ergonomic well-being.
Headquartered in San Mateo, California, Kensington is the inventor and worldwide leader in laptop security locks. Kensington is a division of ACCO Brands (NYSE: ACCO), one of the world's largest designers, marketers, and manufacturers of branded business, academic, and consumer products, sold in more than 100 countries across the globe.
 2019 Kensington Computer Products Group, a division of ACCO Brands. All rights reserved.