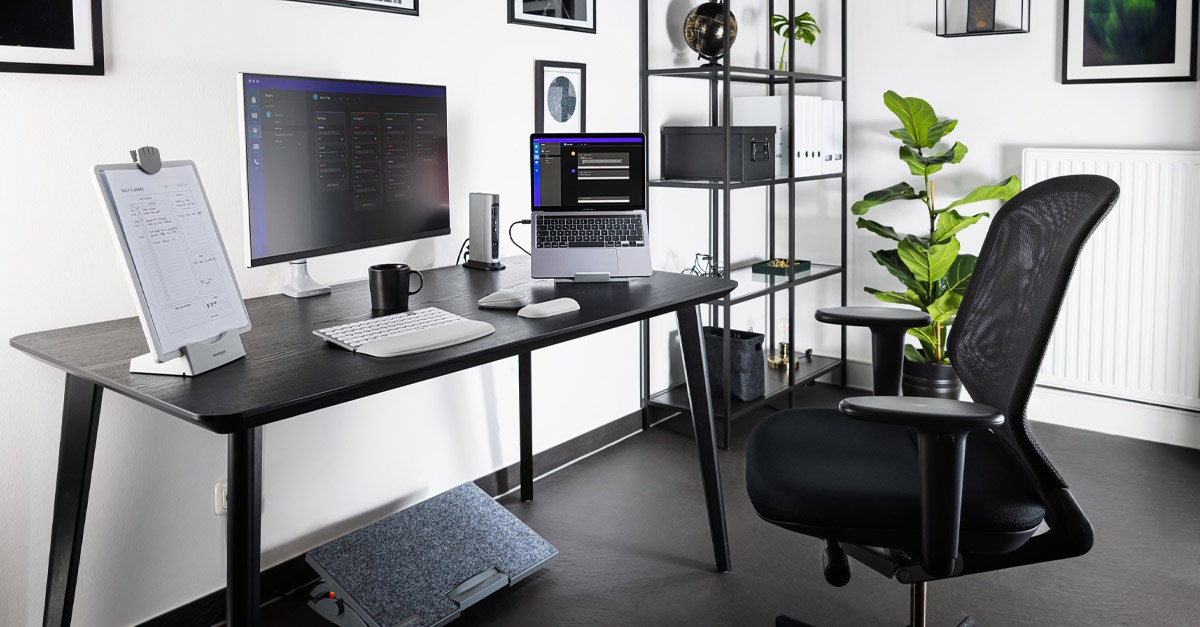 Are you working from home or are you living at work? That's the big question many people face as the pandemic has forced many to work remotely to contain COVID-19 while sustaining businesses.
According to a study by Gallup, roughly 56 percent of workers in the United States are working remotely all or part of the time. The same study found out that most are not ready to return to the office, and 23 percent would rather stay remote if they have a choice.
While some people will see a work from home setup as a healthier option because you do not have to commute to work, don't have to dress up, that might not be the case for others.
Creating a work-life balance is difficult enough when working at the office, but it can be just as hard when you're working and living in the same space.
5 Tips to be Happier and Healthier Working from Home
Working from home presents several challenges for employees.
The home offers a sense of privacy. It is your haven amid all the chaos of daily life. With a WFH setup, your work occupies this space whether you like it or not.
Some people may be lucky enough to have a dedicated home office, but a lot of people may end up working on their dining table or slouched on their sofa. This can lead to problems such as decreased productivity or even musculoskeletal disorders. A poll also revealed that 51 percent of those working from home experienced burnout, and 52 percent of respondents don't plan to decompress during the pandemic even when facing burnout.
If you are struggling to find that balance between living and working at home, below are some working from home tips for you so you can stay healthy and productive.
1. Virtual Commute
While work is literally just a few steps away from where you sleep in a WFH setup, a virtual commute will be beneficial to avoid burnout and be more productive. This "me" time in the morning and at the end of the day provides the transition you need just like when working at the office.
You can spend your virtual commute listening to your favorite music, enjoy a cup of coffee, read a book, or get some exercise done. It can serve as your commute into work before dealing with your to-do list and other workday stressors. It can also be an end-of-day review to reflect on the decisions you made while working.
The virtual commute is important for your wellness because it allows you to shift roles and mindset properly. This allows you to handle stress better and lets your brain recover so you can function better.
2. Separate Work from Life and Life from Work
It is also essential to create a designated area that you can use while working from home. You can send emails while you're in bed or do video conferencing while at the dining table, but it will be best to invest in a separate workspace. WFH allows so much flexibility but having that different workspace has several benefits.
When you go to your workspace, it will tell others at home that you are working and should not be disturbed. You can also set it up so you have all the materials you need for work readily available. More importantly, your brain will be conditioned to switch into work mode once you go to your workspace.
3. Get Comfortable with Ergonomic Products
Once you have that separate office space, you need to set it up to be an ergonomic space. When working from home, having the right equipment will set you up for success. Good ergonomic design ensures you are comfortable while working and saves you from the likelihood of experiencing back pain and other musculoskeletal disorders.
At Kensington, we have a comprehensive line of products to help you achieve a comfortable workspace setup:
4. Set Your "Office Hours"
Aside from investing in ergonomic office equipment, it is also best to structure your day. This will allow you to focus and prioritize your workload.
You need to set when you will begin and when you will end work. This allows you to have a clear line between working from home and living at home. It will help if you can organize your day to have a schedule for mealtimes, meetings, and other work stuff. You also have to consider the time of the day when you are energized and can accomplish a lot.
Setting your office hours will help you achieve that balance so work doesn't take away from time for yourself or your family.
5. Keep Moving!
When working from home, you can easily be glued to your office chair for hours. Make a conscious effort to get up every hour. You can do some stretching, walk around, or even stroll around the block for some fresh air. You can also schedule a quick workout during your lunch break or in between meetings.
These pauses during your work hours can help you recharge through the day. It gives your mind that much-needed break.
Don't forget to stay hydrated and prepare healthy meals. A happy tummy can help us focus and be productive. Always remind yourself to stock your pantry with healthy snacks and meals while staying away from junk food.
Establish a Healthy Balance Between Life and Work
Working from home offers a ton of flexibility. Set up your home so you will not easily be distracted by the comforts your home provides and set boundaries so work will not prevent you from enjoying time with your family or having time for yourself.
Kensington has a complete line of products to help set up a comfortable workspace to help you succeed.