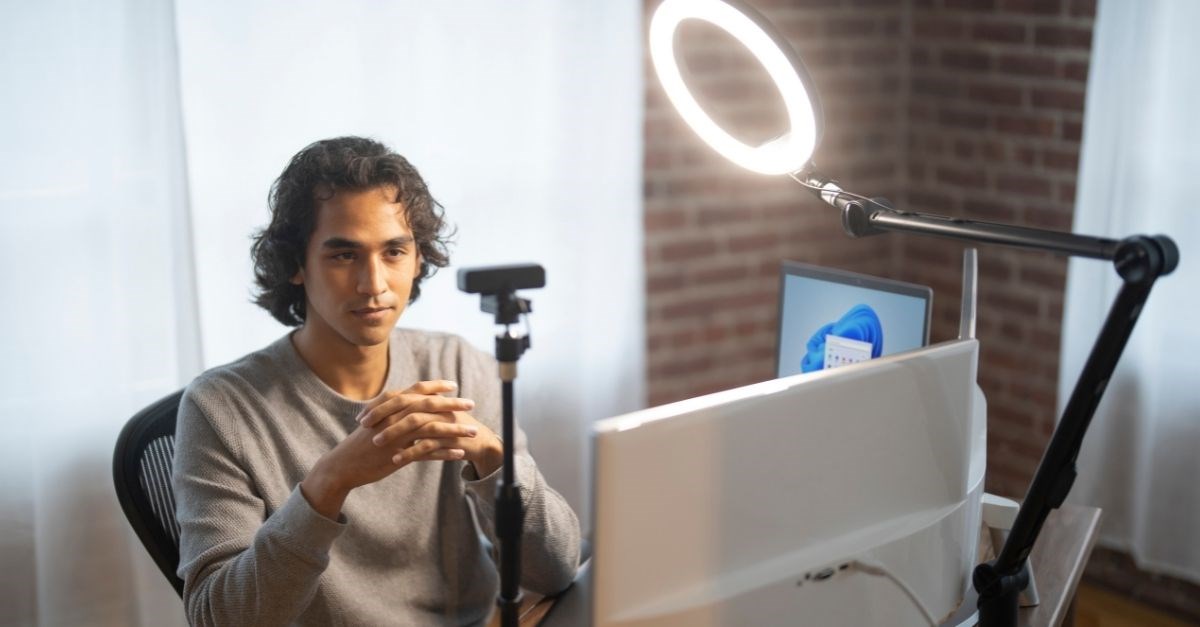 4 practical tips to look your best on video call:
It's common for people to think that, since they are working from home, they can dress and act more casually for work. Some even believe this applies to video conference calls. Just because you are on video doesn't mean you shouldn't look your best. 
Since more companies employ a remote and hybrid workforce, the need to remain connected with employees grew. In 2020, the daily traffic of video conferencing saw an increase of 535%.
Unfortunately, not everyone knows how to conduct themselves on a video call. You must dress appropriately and avoid behavior that is distracting to others. If video conferencing isn't something you have done much of in the past, you may feel awkward or uncomfortable participating. While that is understandable, you must still take part in the activity. 
If you are video conferencing for work and want to look your best, practicing these four easy tips will help you feel more confident and look more professional.
4 Tips to Look Your Best on Video Call
Video conferencing is an essential tool to keep companies growing, especially in the face of a global crisis. If you are looking for ways to feel more comfortable being on a video conference call, here are some things you can do to feel better prepared for video conferencing.
1. Dress for Success
You don't always have to dress in business-professional attire, but you don't want to come to the meeting dressed like you just rolled out of bed. 
If showing up to an executive meeting in your pajamas isn't something you would do in person, don't do it on a video call. Dress modestly, preferably in clothing with solid prints in muted or pastel colors. 
You should try to avoid flashy patterns or colors, as they can distract your audience. Make sure what you choose is clean and pressed. It isn't a good idea to wear a wrinkled shirt, as others will notice.
Take note of what others are wearing. If the dress code for the video conference is more casual, you should still consider wearing a blouse or button-down shirt versus a t-shirt. You may also want to keep a blazer handy to dress up if need be.
2. Use Angles to Your Advantage
For optimal appearance in a video conference call, you should place your webcam just above your eye level and angle it slightly downward. You should mount it no higher than your hairline. 
If the camera is too low or high, the angles can exaggerate your facial features and distort your appearance. Not only is this unflattering, but it is also distracting to the other people on the video call. 
Along with good angles, you will want to ensure that you mount your webcam securely. Some webcams come with adjustable mounting gear. If yours doesn't, you may need to invest in a mount that you can adjust. 
That way, you can guarantee your camera doesn't fall or dislodge itself from your chosen angle. Investing in your setup in these ways will ensure you get the best angle every time.
3. Have Appropriate Lighting
Good lighting is essential whenever you are on camera. Having your desk space too dark or bright can be a major distraction in video conferencing. 
Soft lighting from the front is ideal. A ring light is an excellent addition to your set-up for more controlled lighting. 
Sit facing the lighting source. Mount your ring light on your monitor, near the webcam or on a stand just behind the monitor. 
Minimize the other lighting in the room, particularly from windows or light sources behind you. You may want to invest in shades or dark drapes that can filter out some of the outside light. 
If you cannot obtain a ring light or another artificial lighting source, the best alternative is natural light. Sit facing a large window if possible. That way, the light source remains in front of you.
Do not sit with the lighting source behind you. You want to avoid this because when the light source is behind you, your image is backlit, making it difficult for other viewers to see you during the video conference call.
Reasons good lighting matters include:
Illuminates facial expression for better non-verbal communication    
Minimizes distractions
Provides more realistic color rendering
Achieves the highest quality video
4. Have a Clean Background
Visual background distractions during a video conference cause people to feel more anxious and less focused. According to psychologists, people's brains prefer order. 
When the environment is visually disturbing, it drains your cognitive resources. Limiting visual distractions are best when on a video call.
If you can, sit with your back against a solid or muted wall that is clutter-free. This showcases you as a professional, with an intentional workspace versus having a pile of dirty clothes or an unmade bed in your background. 
If that is not possible, make your bed and tidy up the space behind you. You can also use a background if your video conferencing software enables that.
Some people choose to use a screen behind them. That way, all visual distractions are hidden, and you don't need to worry about whether your space is clean and tidy. If you don't have a screen, a pressed sheet will work. Just make sure it is clean and stain-free. 
Looking Your Best on Video Conference Calls
At Kensington, we know that looking your best on video calls takes some preparation to get it just right. Practice this type of set-up and play around with lighting, angles, and clothing choices for best results.
Doing that will help you figure out where you feel most comfortable and look your best. On your next video conference call, you'll present more confidently, knowing you look polished and professional.
Learn about Kensington solutions for equipping your home office and video conferencing setup.